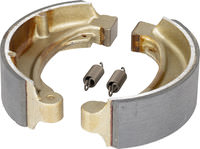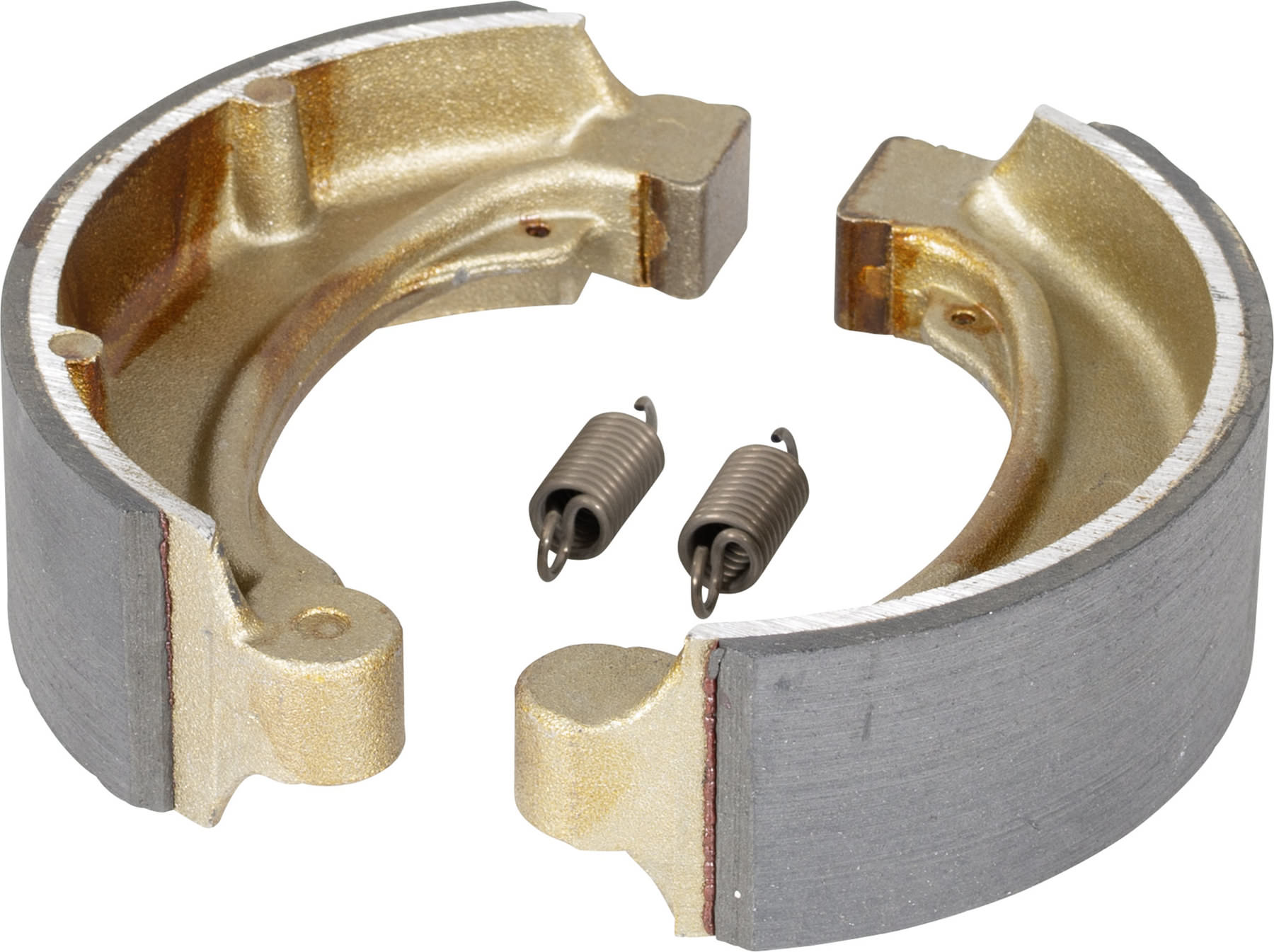 The product will be ordered from the manufacturer for you. Depending on availability, longer delivery times are also possible. We'll let you know if that's the case. You can of course cancel your delivery at any time free of charge.
Available in 7-21 days
Free delivery on orders over €199.00
2 year return policy
Fast delivery
MCS 831
TRW Brake shoe:

Versatile, tried-and-tested mixture
High-quality constituents, including carbon, ceramic and resins.
One of the excellent features of this organic material is its long service life.
Brake shoe sets are supplied with springs where necessary.
All-metal components containing no heavy metal
The price quoted is per set.
You MUST observe the safety instructions printed on the packaging and run the pads in by driving a few miles without any hard braking to prevent glazing.
List of compatible motorcycles
Manufacturer details: TRW

Every second counts when you brake!

TRW Lucas has been manufacturing premium-quality motorbike spare parts since 1976 (ISO 9001, ISO/TS 16949) and is the German market leader for brake discs, brake pads and steel-braided lines. Every time that product tests have been carried out by trade publications over the past 30 years, they have confirmed the excellent quality of these products. They have won test after test. Every second counts when you brake! Don't settle for anything less than quality products from the market leader.

Professional technical expertise is essential to fit this article. We therefore urge you to have it installed by a motorcycle workshop!
Safety data sheets
Instructions/Guides
Product
Art. No.
Availability
Price
Actions
LUCAS BRAKE-SHOES ORGAN. - MCS 921
10044533

The item is in stock and will be delivered in 2-5 working days. Note: Stocks are updated online every hour on working days from 7 a.m. to 8 p.m., so there is a good chance that the products are available if they appear online.

Available

€23.95 1
MCS 831
10044837

The product will be ordered from the manufacturer for you. Depending on availability, longer delivery times are also possible. We'll let you know if that's the case. You can of course cancel your delivery at any time free of charge.

Available in 7-21 days

€24.95 1
TRW BRAKE SHOE ORGAN. - MCS 941
10044934

The item is in stock and will be delivered in 2-5 working days. Note: Stocks are updated online every hour on working days from 7 a.m. to 8 p.m., so there is a good chance that the products are available if they appear online.

Available

€50.95 1
TRW BRAKE SHOE ORGAN. - MCS 945
10044939

The item is in stock and will be delivered in 2-5 working days. Note: Stocks are updated online every hour on working days from 7 a.m. to 8 p.m., so there is a good chance that the products are available if they appear online.

Available

€50.95 1
TRW BRAKE-SHOES ORGAN. - MCS 800
10045184

The item is in stock and will be delivered in 2-5 working days. Note: Stocks are updated online every hour on working days from 7 a.m. to 8 p.m., so there is a good chance that the products are available if they appear online.

Available

€17.95 1
TRW BRAKE-SHOES ORGAN. - MCS 805
10044509

The item is in stock and will be delivered in 2-5 working days. Note: Stocks are updated online every hour on working days from 7 a.m. to 8 p.m., so there is a good chance that the products are available if they appear online.

Available

€26.95 1
TRW BRAKE-SHOES ORGAN. - MCS 806
10044507

The item is in stock and will be delivered in 2-5 working days. Note: Stocks are updated online every hour on working days from 7 a.m. to 8 p.m., so there is a good chance that the products are available if they appear online.

Available

€42.95 1
TRW BRAKE-SHOES ORGAN. - MCS 807
10044503

The item is in stock and will be delivered in 2-5 working days. Note: Stocks are updated online every hour on working days from 7 a.m. to 8 p.m., so there is a good chance that the products are available if they appear online.

Available

€32.95 1
TRW BRAKE-SHOES ORGAN. - MCS 852
10044516

The item is in stock and will be delivered in 2-5 working days. Note: Stocks are updated online every hour on working days from 7 a.m. to 8 p.m., so there is a good chance that the products are available if they appear online.

Available

€44.95 1
TRW BRAKE-SHOES ORGAN. - MCS 853
10044514

The item is in stock and will be delivered in 2-5 working days. Note: Stocks are updated online every hour on working days from 7 a.m. to 8 p.m., so there is a good chance that the products are available if they appear online.

Available

€35.95 1
TRW BRAKE-SHOES ORGAN. - MCS 855
10044511

The item is in stock and will be delivered in 2-5 working days. Note: Stocks are updated online every hour on working days from 7 a.m. to 8 p.m., so there is a good chance that the products are available if they appear online.

Available

€20.95 1
TRW BRAKE-SHOES ORGAN. - MCS 907
10044524

The item is in stock and will be delivered in 2-5 working days. Note: Stocks are updated online every hour on working days from 7 a.m. to 8 p.m., so there is a good chance that the products are available if they appear online.

Available

€33.95 1
TRW BRAKE-SHOES ORGAN. - MCS 952
10044532

The item is in stock and will be delivered in 2-5 working days. Note: Stocks are updated online every hour on working days from 7 a.m. to 8 p.m., so there is a good chance that the products are available if they appear online.

Available

€29.95 1
TRW BRAKE-SHOES ORGAN. - MCS 953
10044518

The item is in stock and will be delivered in 2-5 working days. Note: Stocks are updated online every hour on working days from 7 a.m. to 8 p.m., so there is a good chance that the products are available if they appear online.

Available

€20.95 1
TRW BRAKE-SHOES ORGAN. - MCS 955
10044521

The item is in stock and will be delivered in 2-5 working days. Note: Stocks are updated online every hour on working days from 7 a.m. to 8 p.m., so there is a good chance that the products are available if they appear online.

Available

€29.95 1
TRW BRAKE-SHOES ORGAN. - MCS 957
10044522

The item is in stock and will be delivered in 2-5 working days. Note: Stocks are updated online every hour on working days from 7 a.m. to 8 p.m., so there is a good chance that the products are available if they appear online.

Available

€46.95 1
TRW BRAKE-SHOES ORGAN. - MCS 959
10044528

The item is in stock and will be delivered in 2-5 working days. Note: Stocks are updated online every hour on working days from 7 a.m. to 8 p.m., so there is a good chance that the products are available if they appear online.

Available

€43.95 1
TRW BRAKE-SHOES ORGAN. - MCS 962
10045182

The item is in stock and will be delivered in 2-5 working days. Note: Stocks are updated online every hour on working days from 7 a.m. to 8 p.m., so there is a good chance that the products are available if they appear online.

Available

€20.95 1
TRW BRAKE-SHOES ORGAN. - MCS 984
10045186

The item is in stock and will be delivered in 2-5 working days. Note: Stocks are updated online every hour on working days from 7 a.m. to 8 p.m., so there is a good chance that the products are available if they appear online.

Available

€28.95 1
TRW BRAKE-SHOES ORGAN. - MCS 994
10045187

The item is in stock and will be delivered in 2-5 working days. Note: Stocks are updated online every hour on working days from 7 a.m. to 8 p.m., so there is a good chance that the products are available if they appear online.

Available

€22.95 1
TRW BRAKEPADS ORGAN. - MCS 821
10044508

This product is available at week 43.
Current calendar week: 39

Available as of calendar week 43

€29.95 1
TRW BRAKESHOES ORGANIC - MCS 809
10044515

The item is in stock and will be delivered in 2-5 working days. Note: Stocks are updated online every hour on working days from 7 a.m. to 8 p.m., so there is a good chance that the products are available if they appear online.

Available

€43.95 1
TRW BRAKESHOES ORGANIC - MCS 812
10044506

The item is in stock and will be delivered in 2-5 working days. Note: Stocks are updated online every hour on working days from 7 a.m. to 8 p.m., so there is a good chance that the products are available if they appear online.

Available

€20.95 1
TRW BRAKESHOES ORGANIC - MCS 822
10044525

The product will be ordered from the manufacturer for you. Depending on availability, longer delivery times are also possible. We'll let you know if that's the case. You can of course cancel your delivery at any time free of charge.

Available in 7-21 days

€41.95 1
TRW BRAKESHOES ORGANIC - MCS 967
10044935

The item is in stock and will be delivered in 2-5 working days. Note: Stocks are updated online every hour on working days from 7 a.m. to 8 p.m., so there is a good chance that the products are available if they appear online.

Available

€46.95 1
TRW BRAKESHOES ORGANIC - MCS 968
10044517

The item is in stock and will be delivered in 2-5 working days. Note: Stocks are updated online every hour on working days from 7 a.m. to 8 p.m., so there is a good chance that the products are available if they appear online.

Available

€29.95 1
TRW ORGANIC BRAKE SHOES - MCS 804
10044502

The item is in stock and will be delivered in 2-5 working days. Note: Stocks are updated online every hour on working days from 7 a.m. to 8 p.m., so there is a good chance that the products are available if they appear online.

Available

€16.95 1
TRW ORGANIC BRAKE SHOES - MCS 835
10044510

The item is in stock and will be delivered in 2-5 working days. Note: Stocks are updated online every hour on working days from 7 a.m. to 8 p.m., so there is a good chance that the products are available if they appear online.

Available

€34.95 1