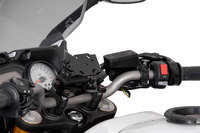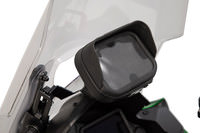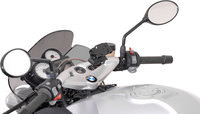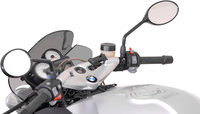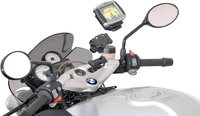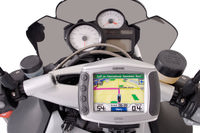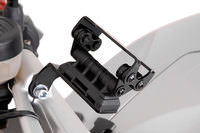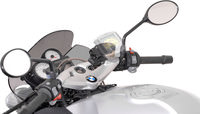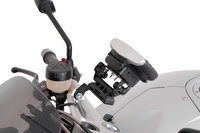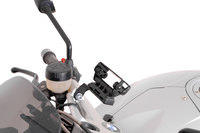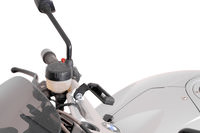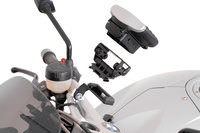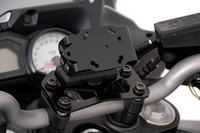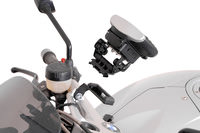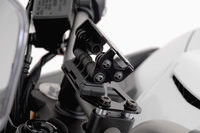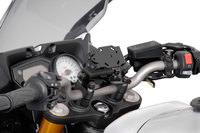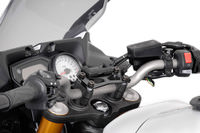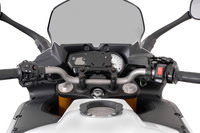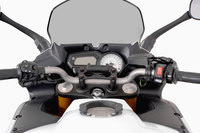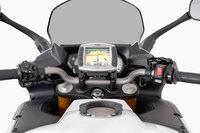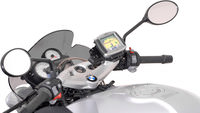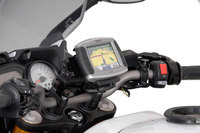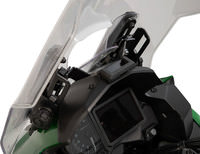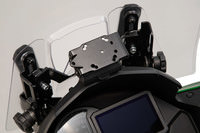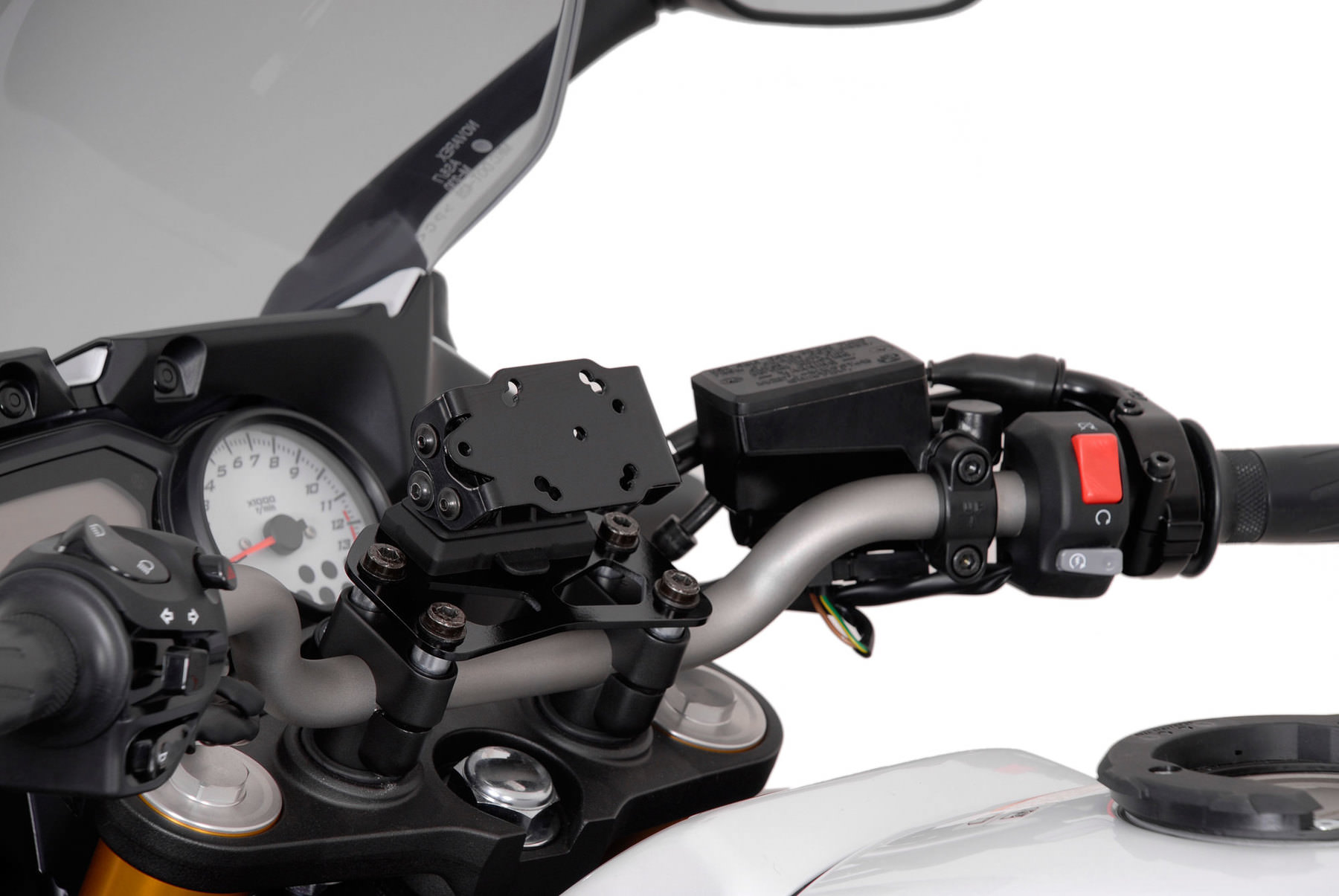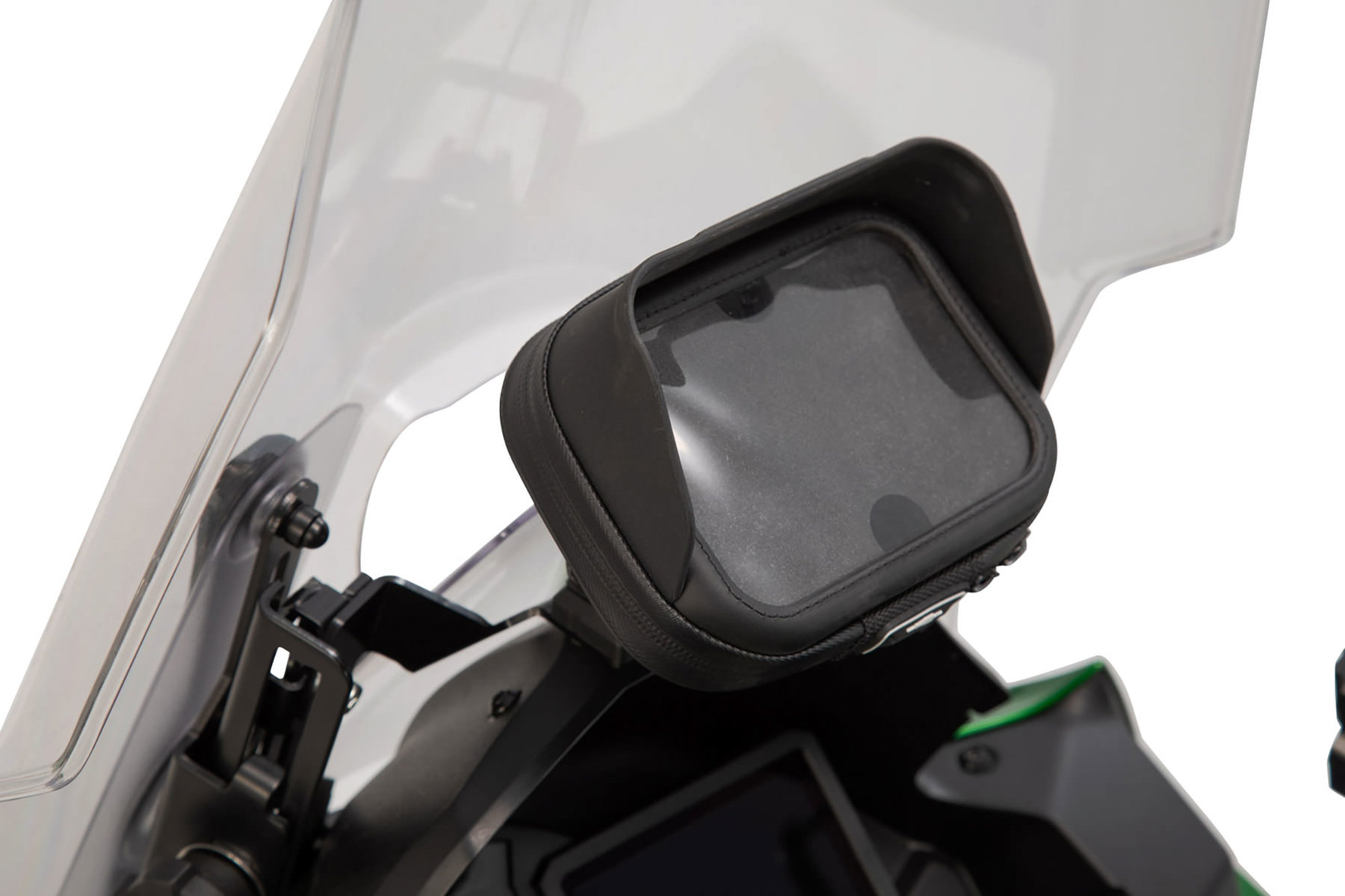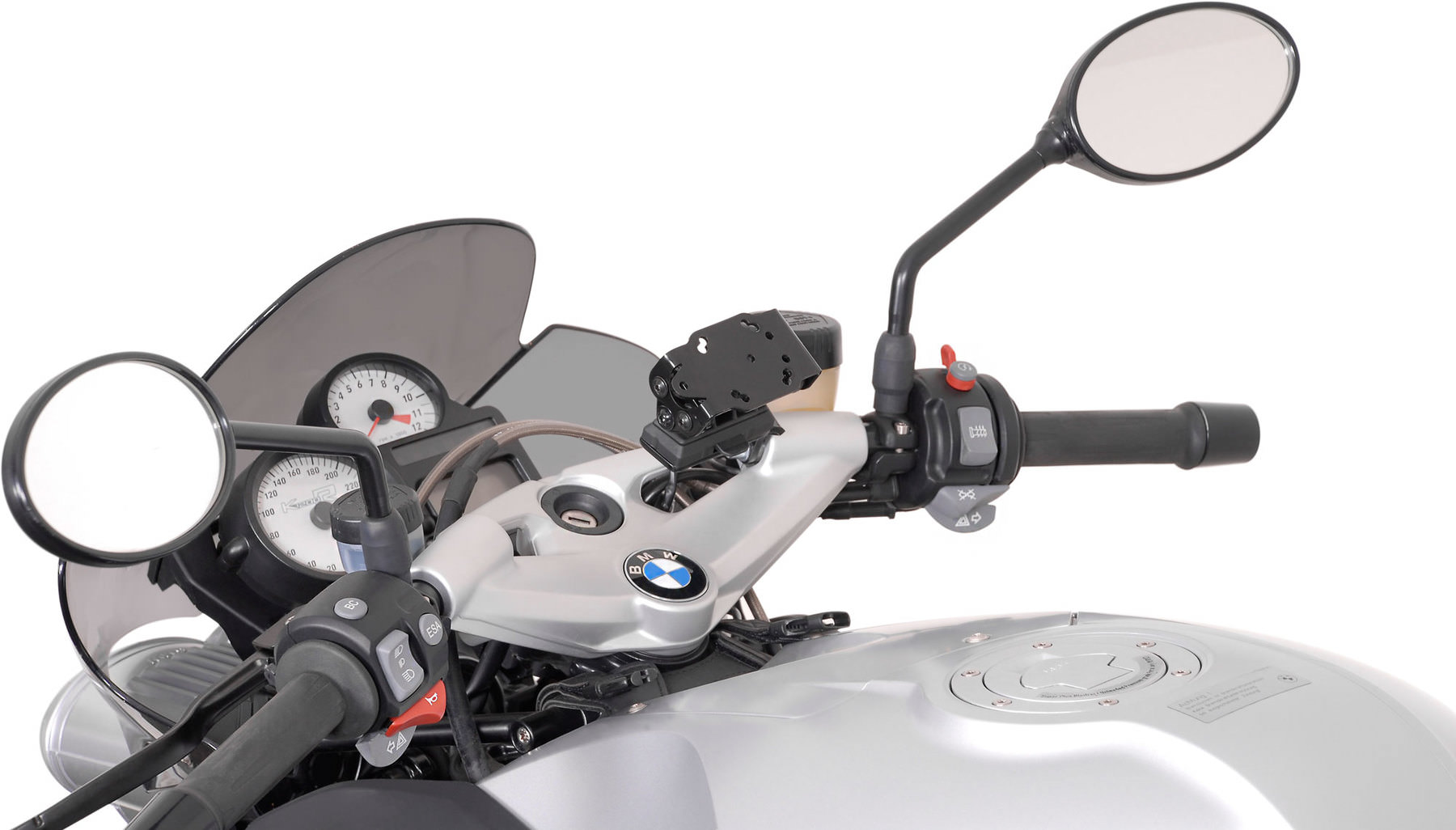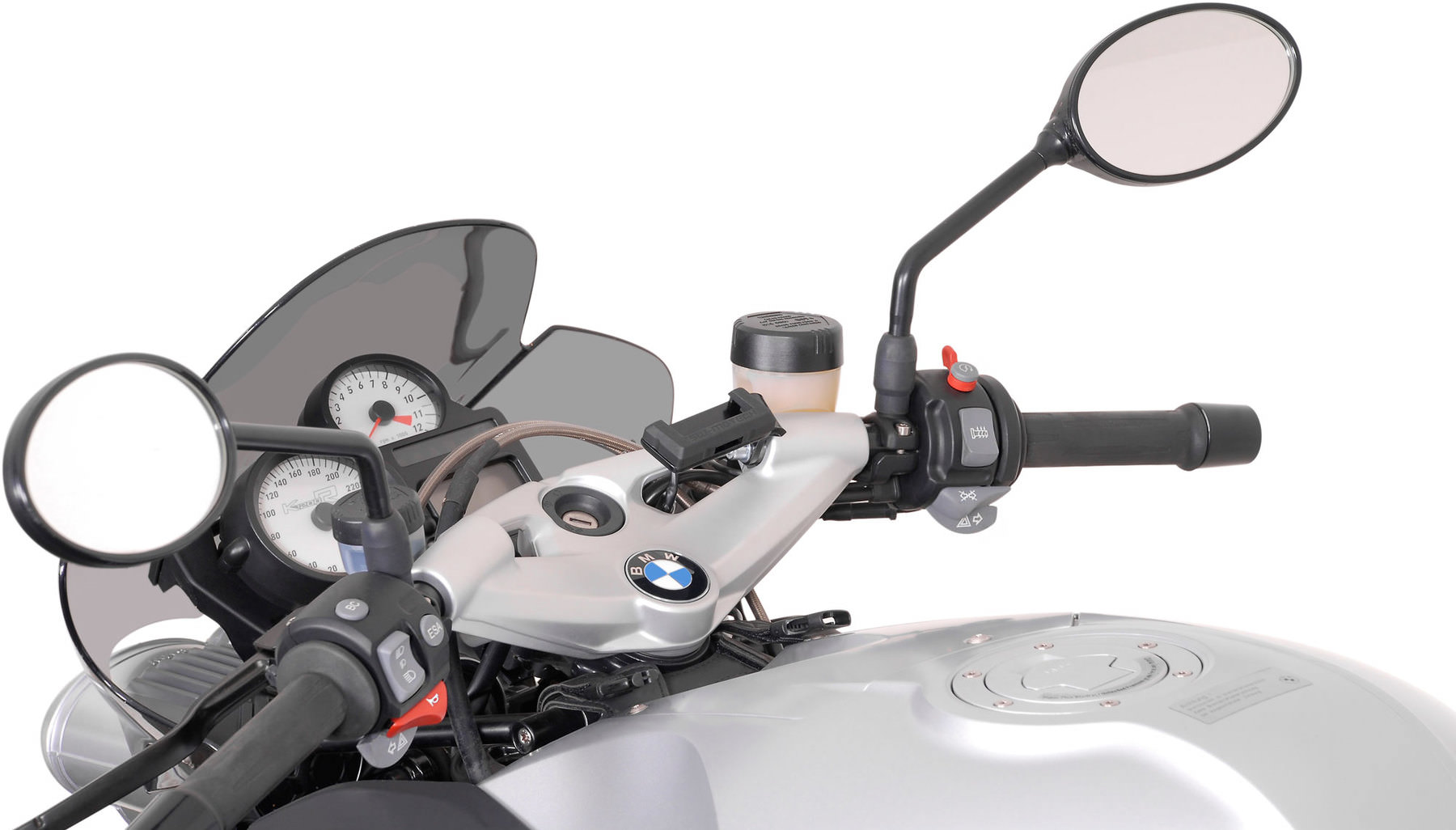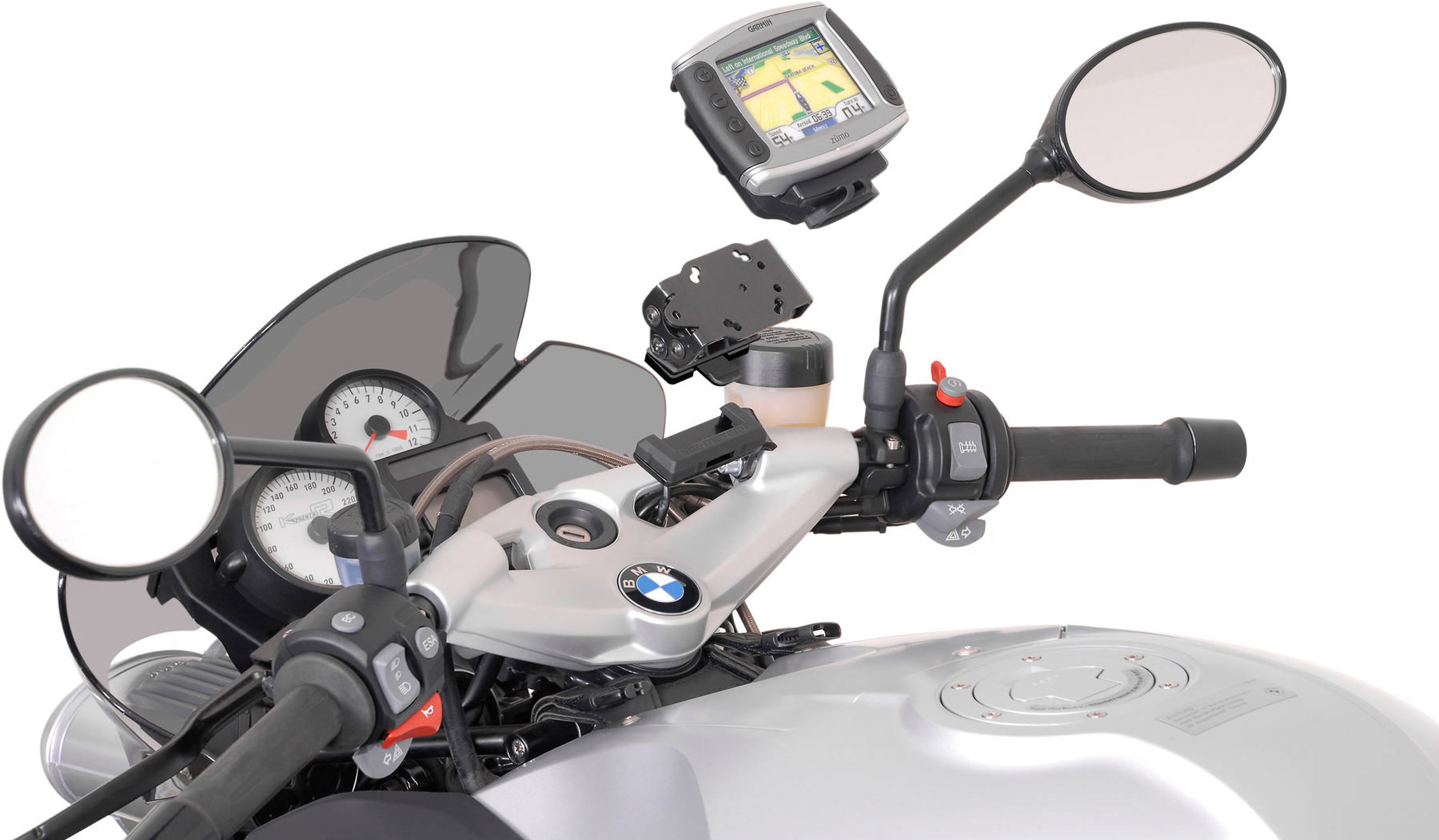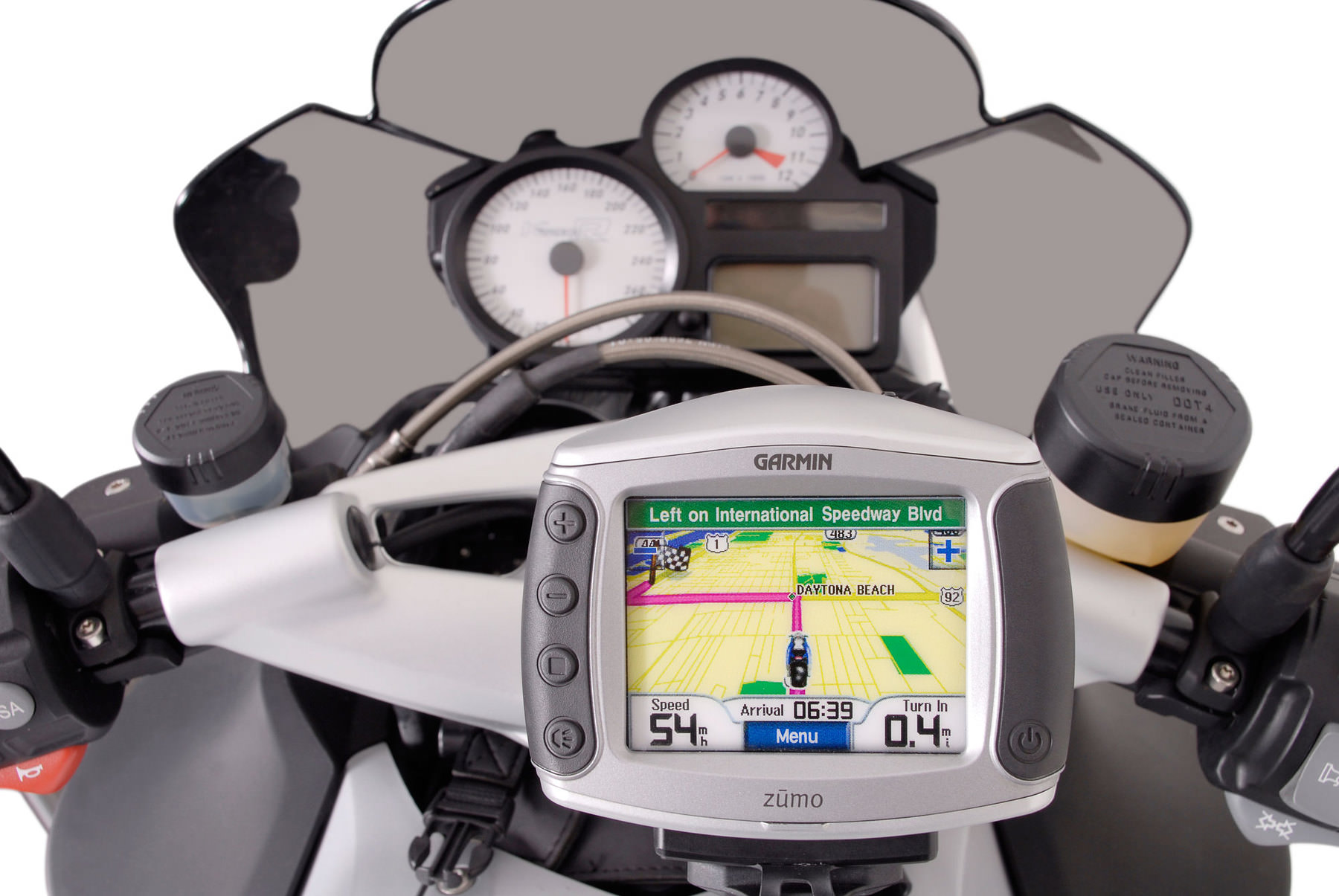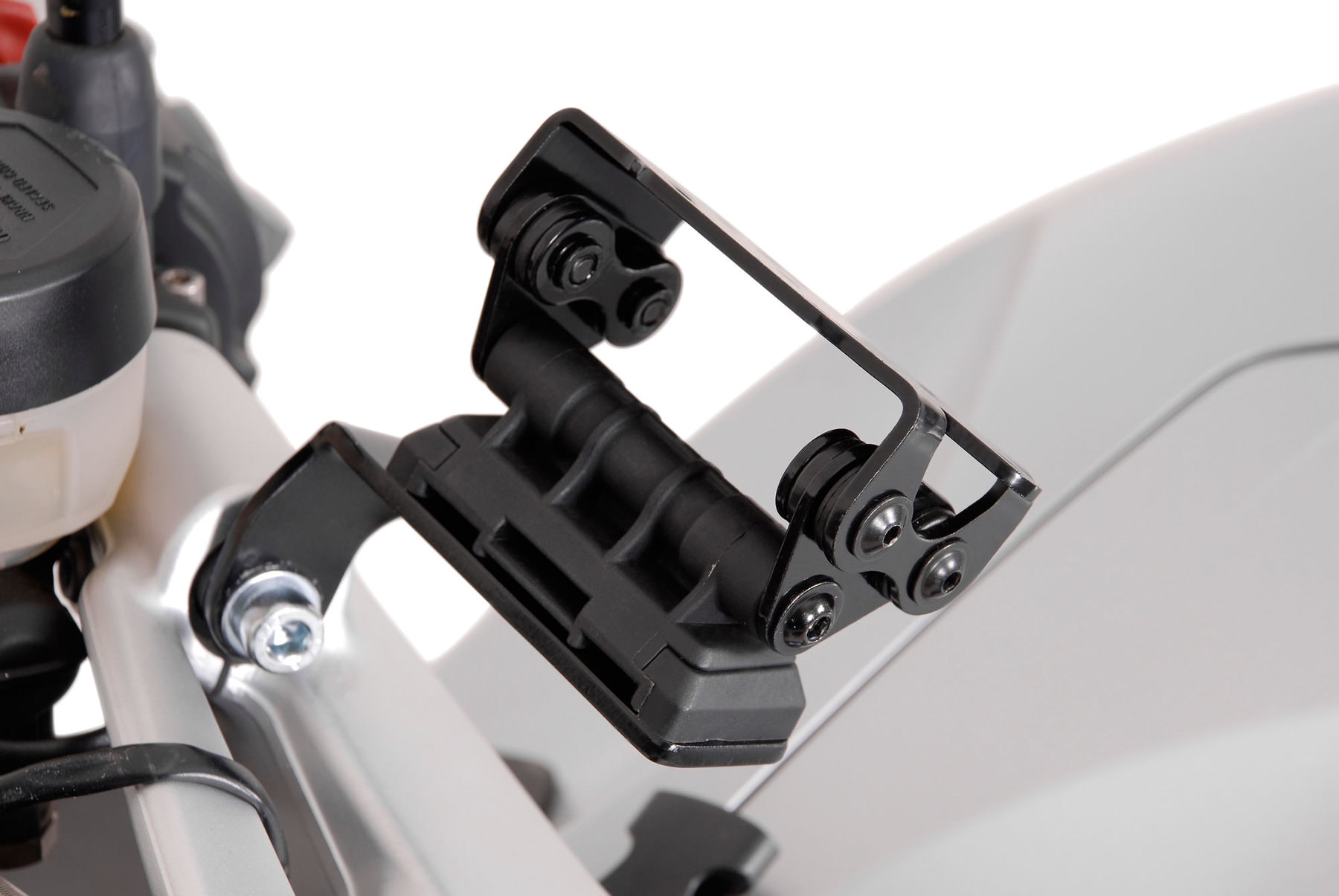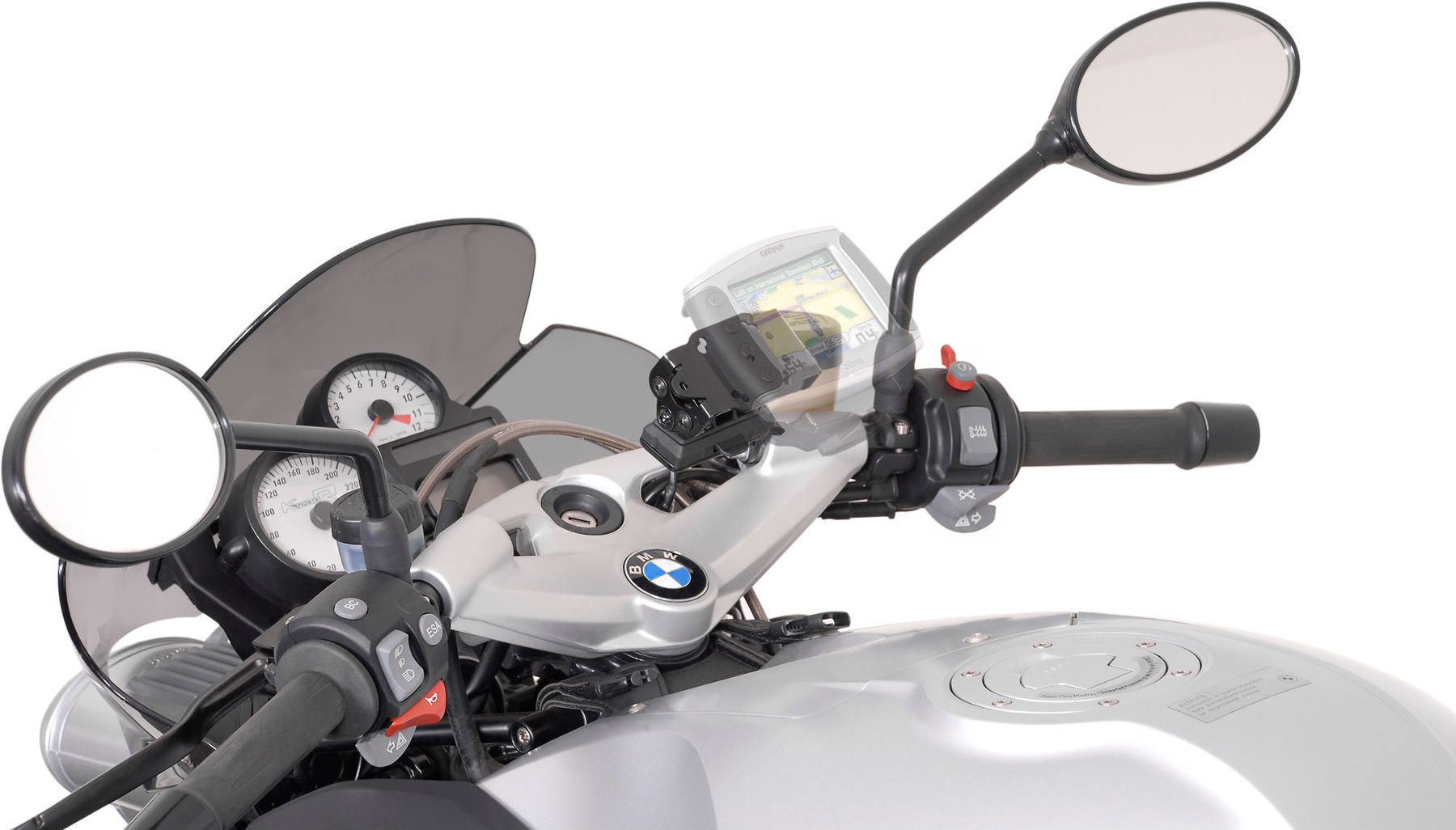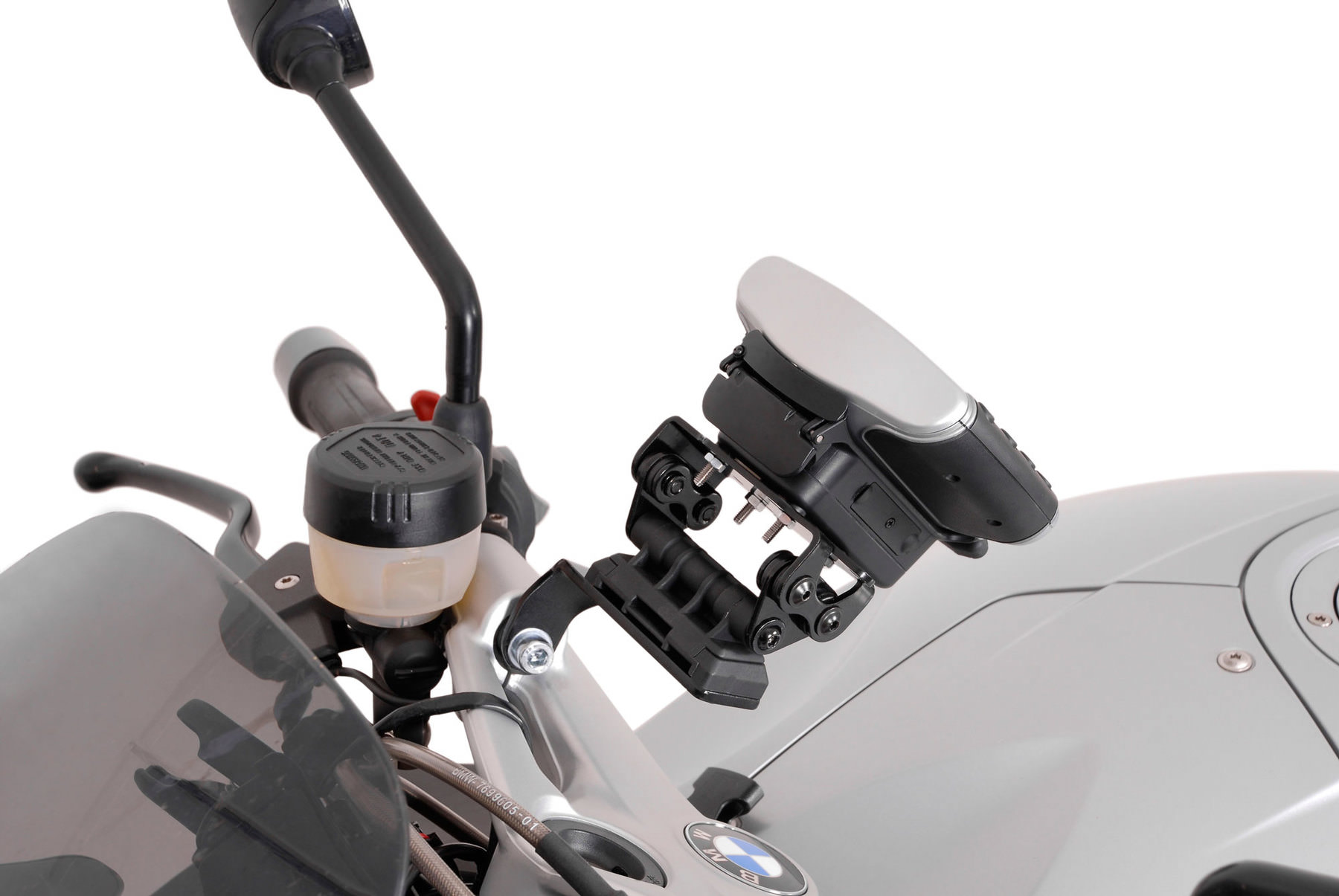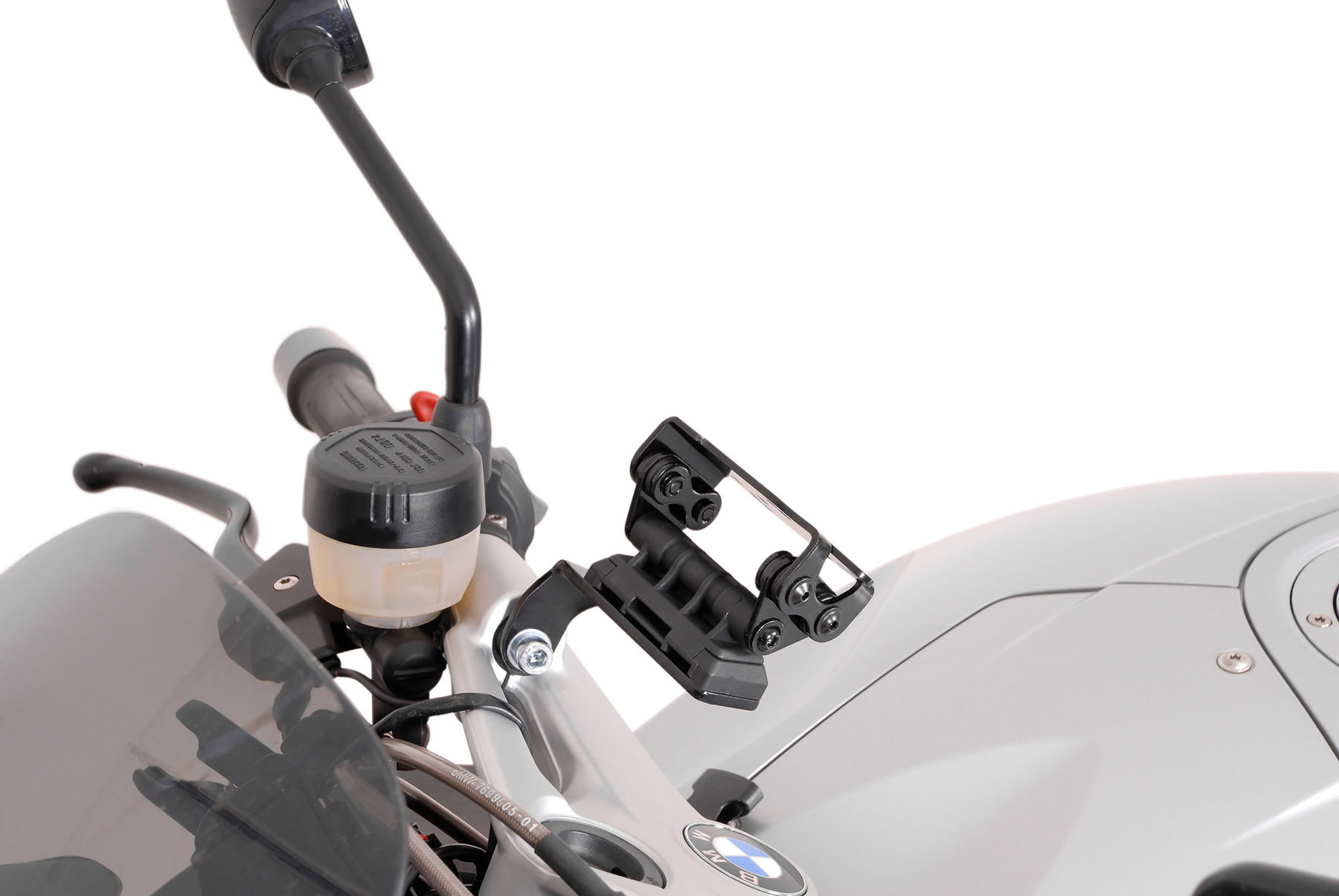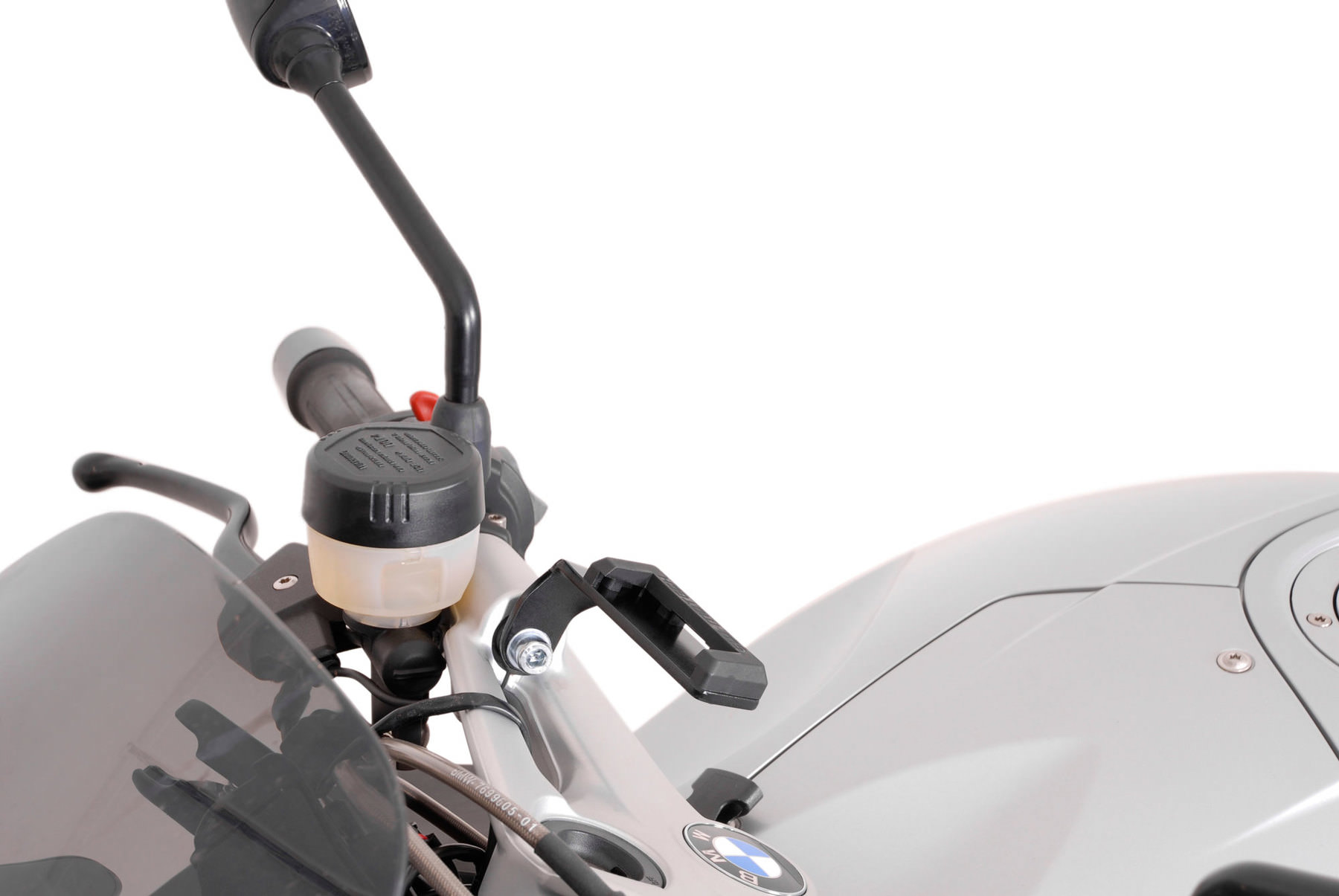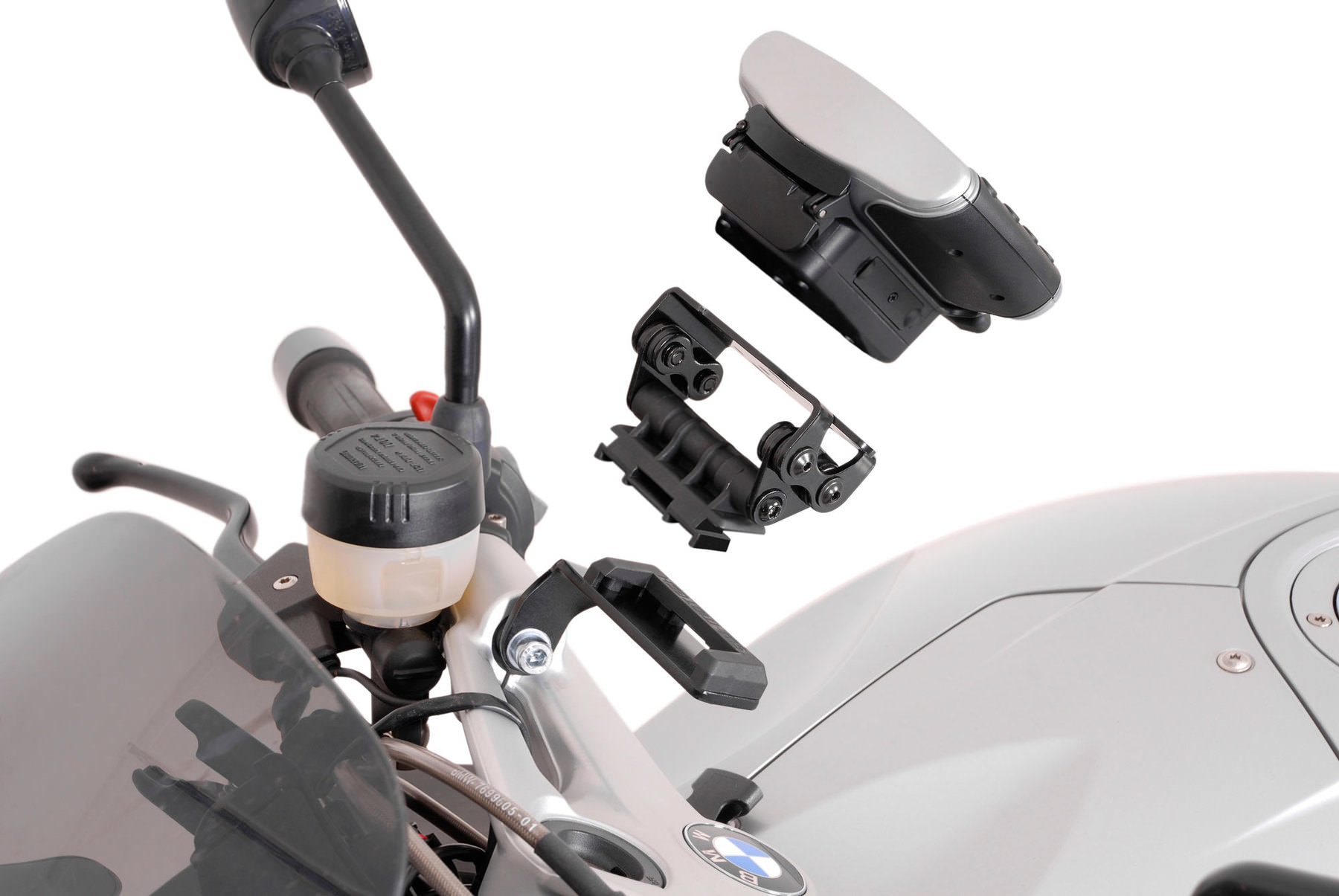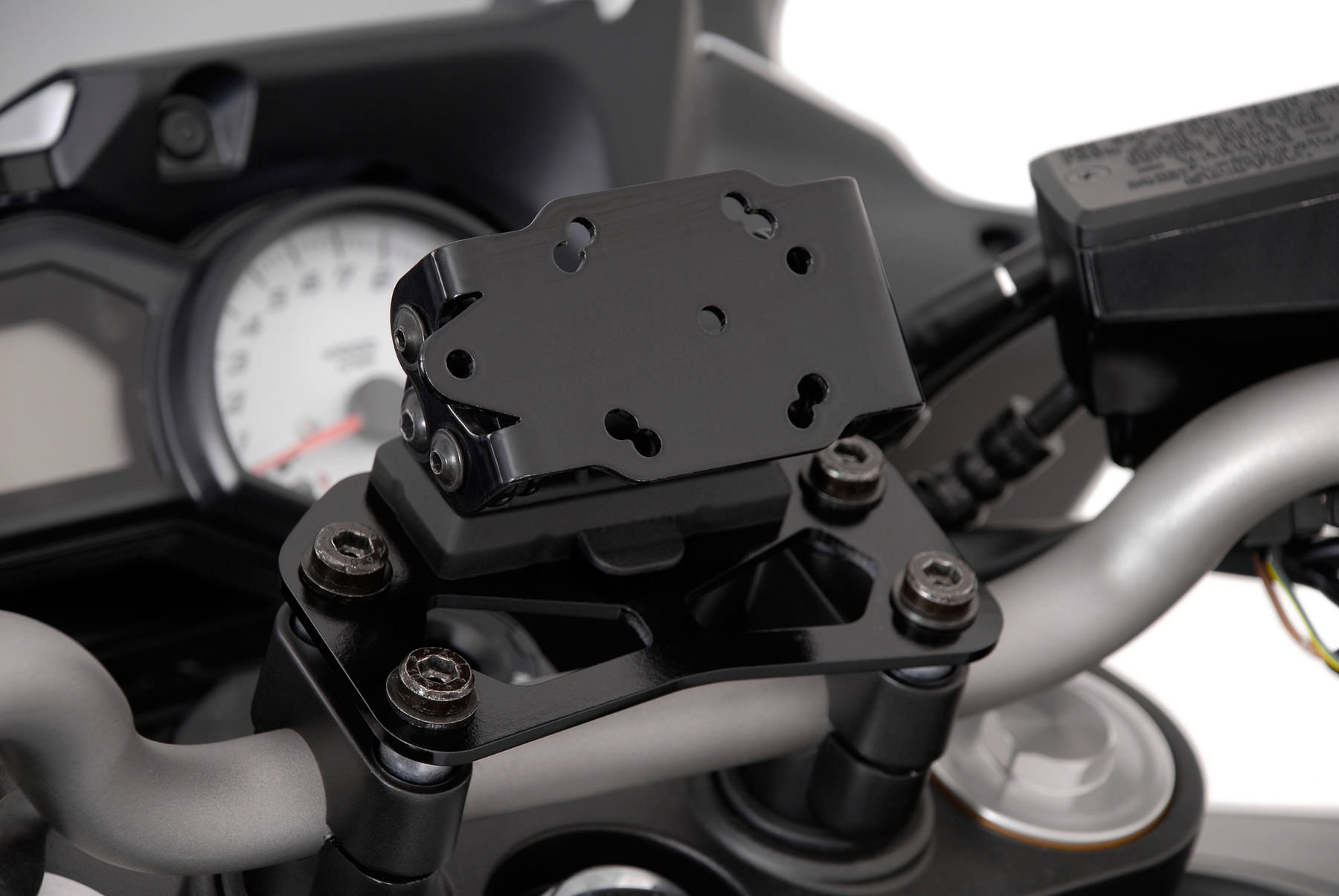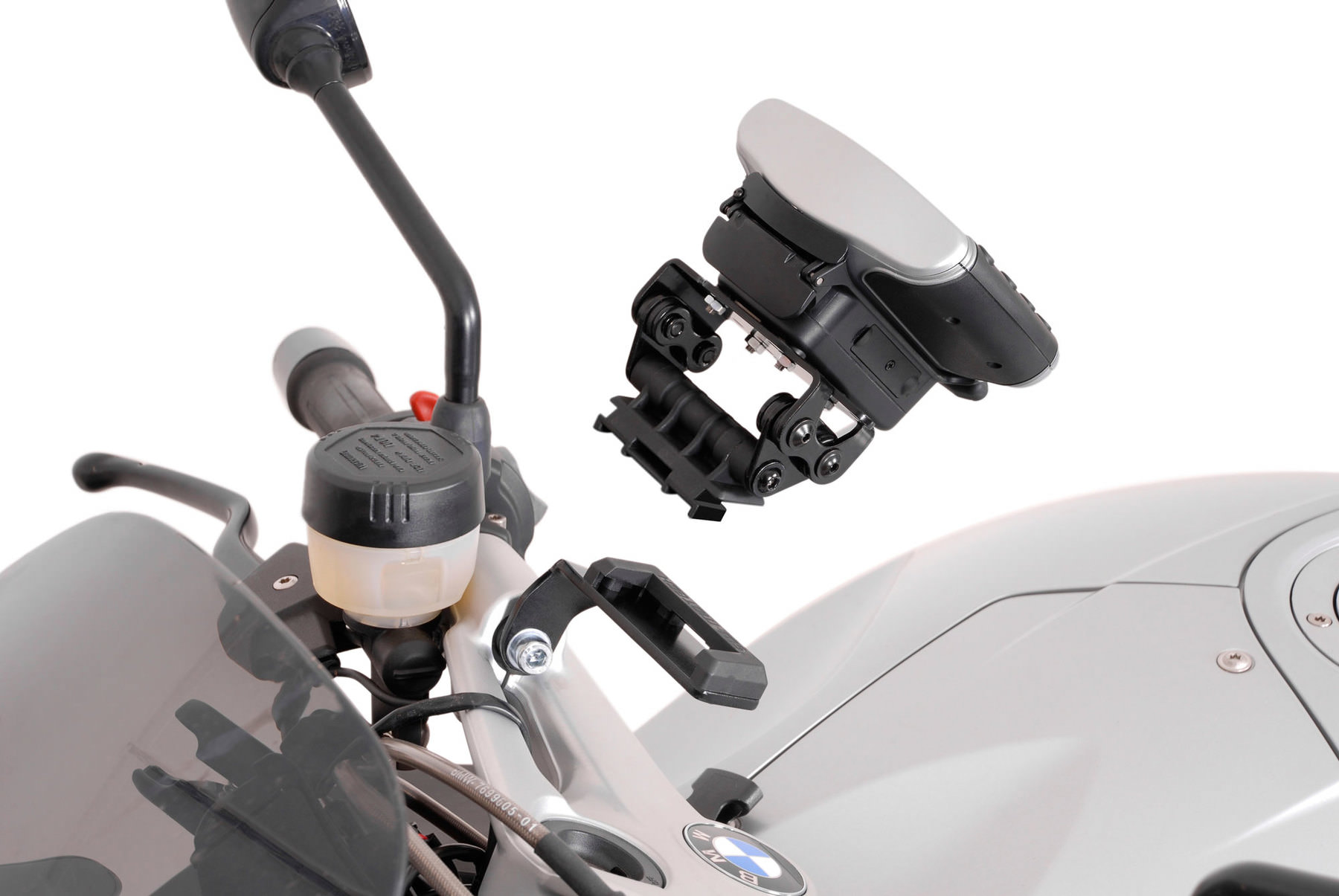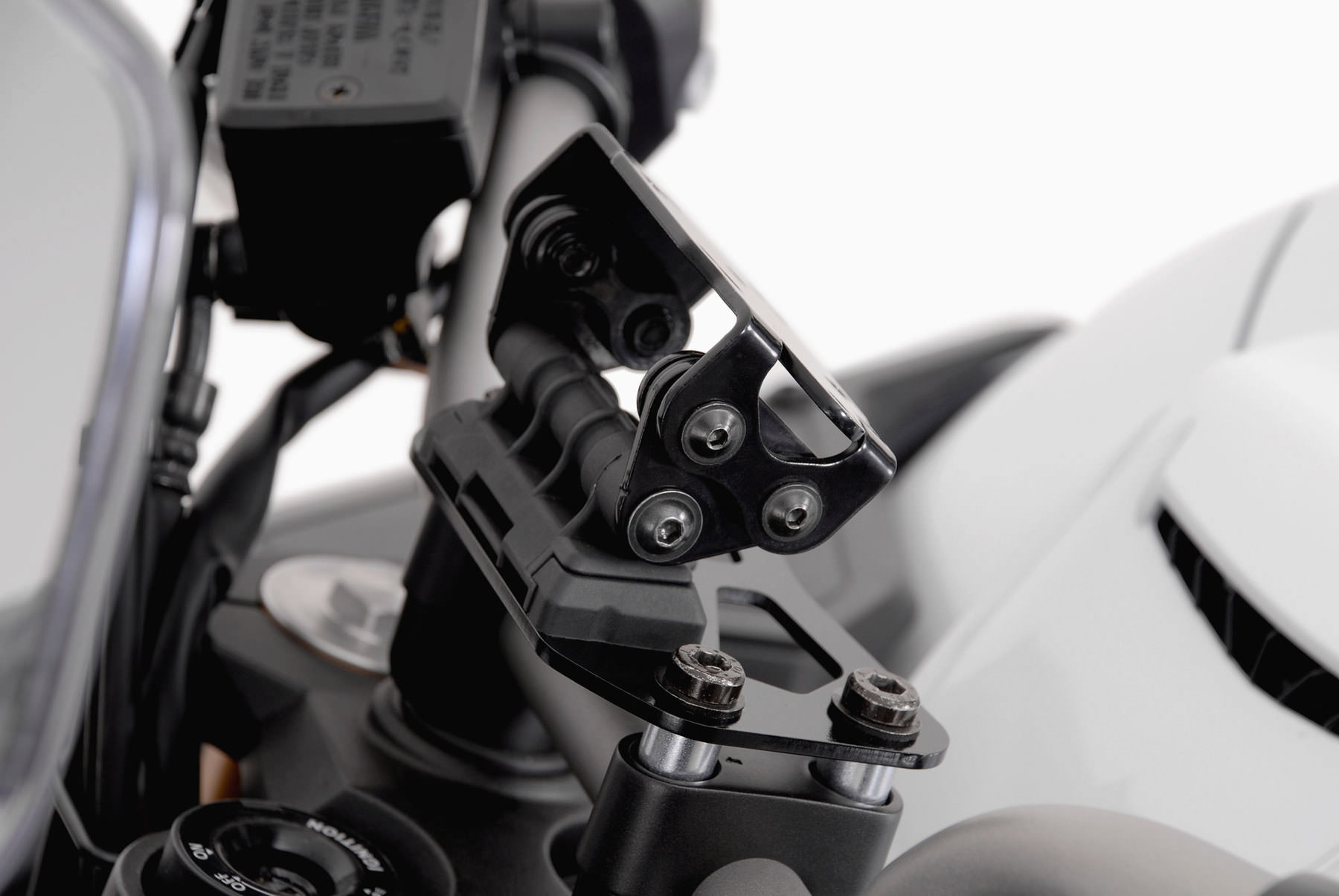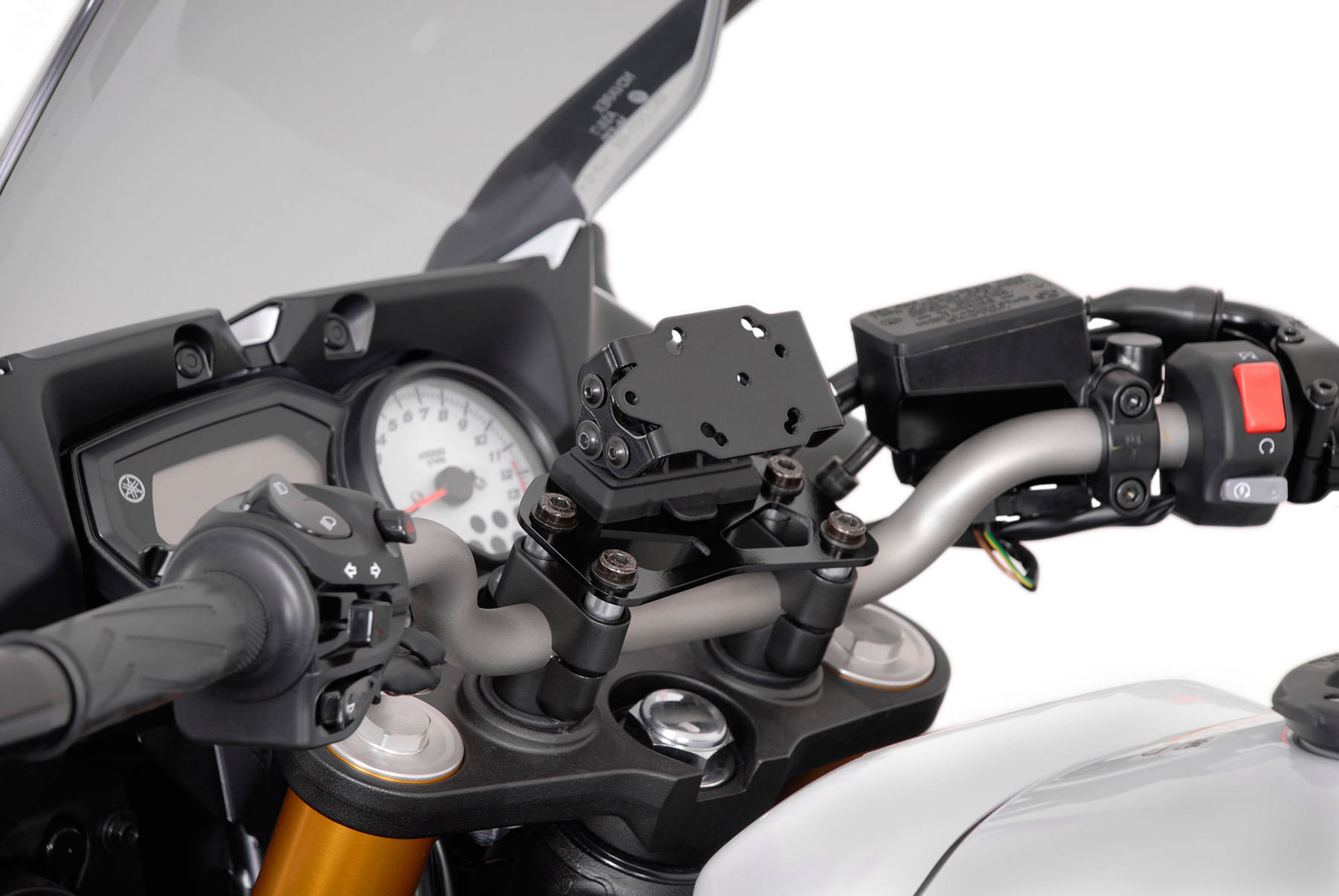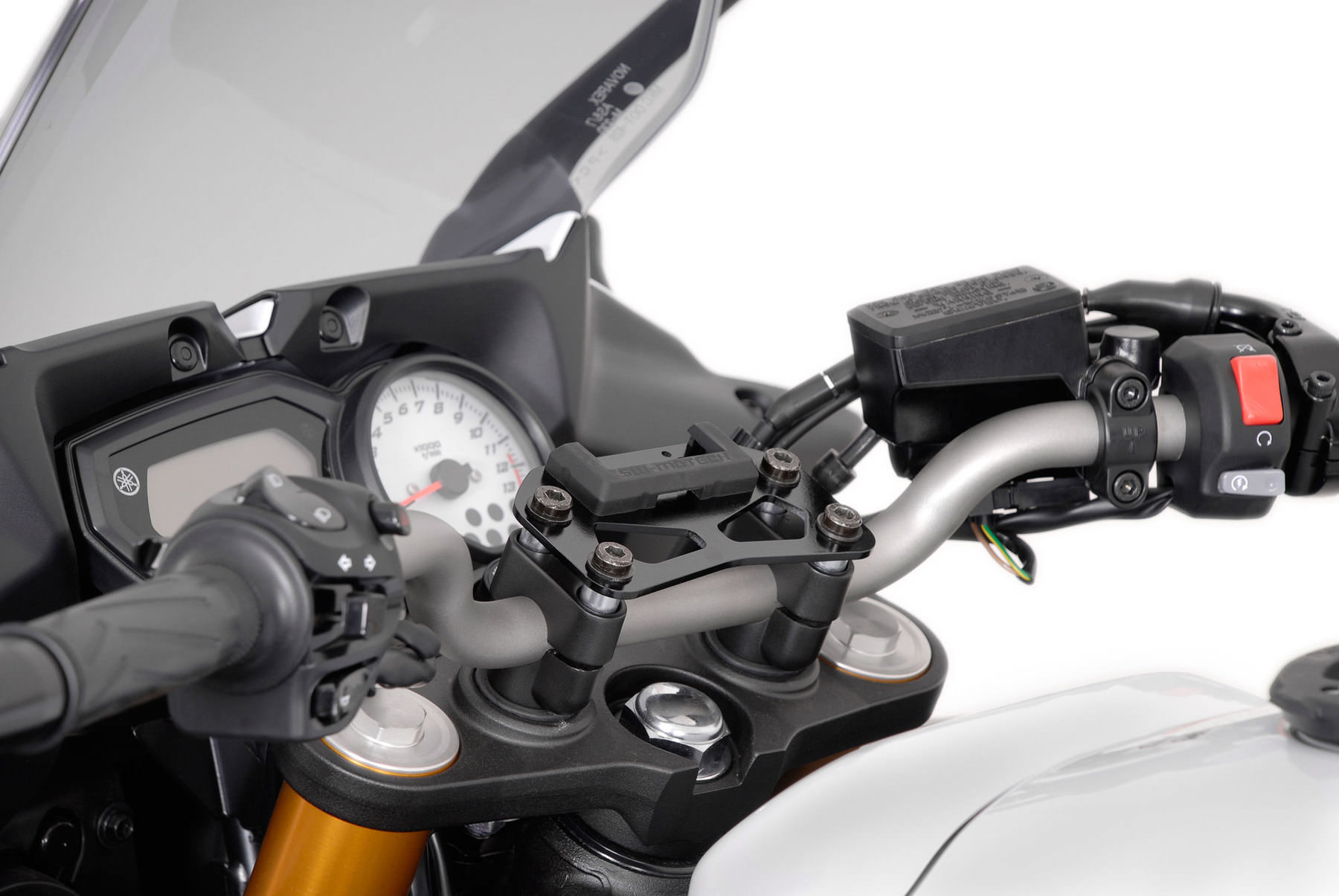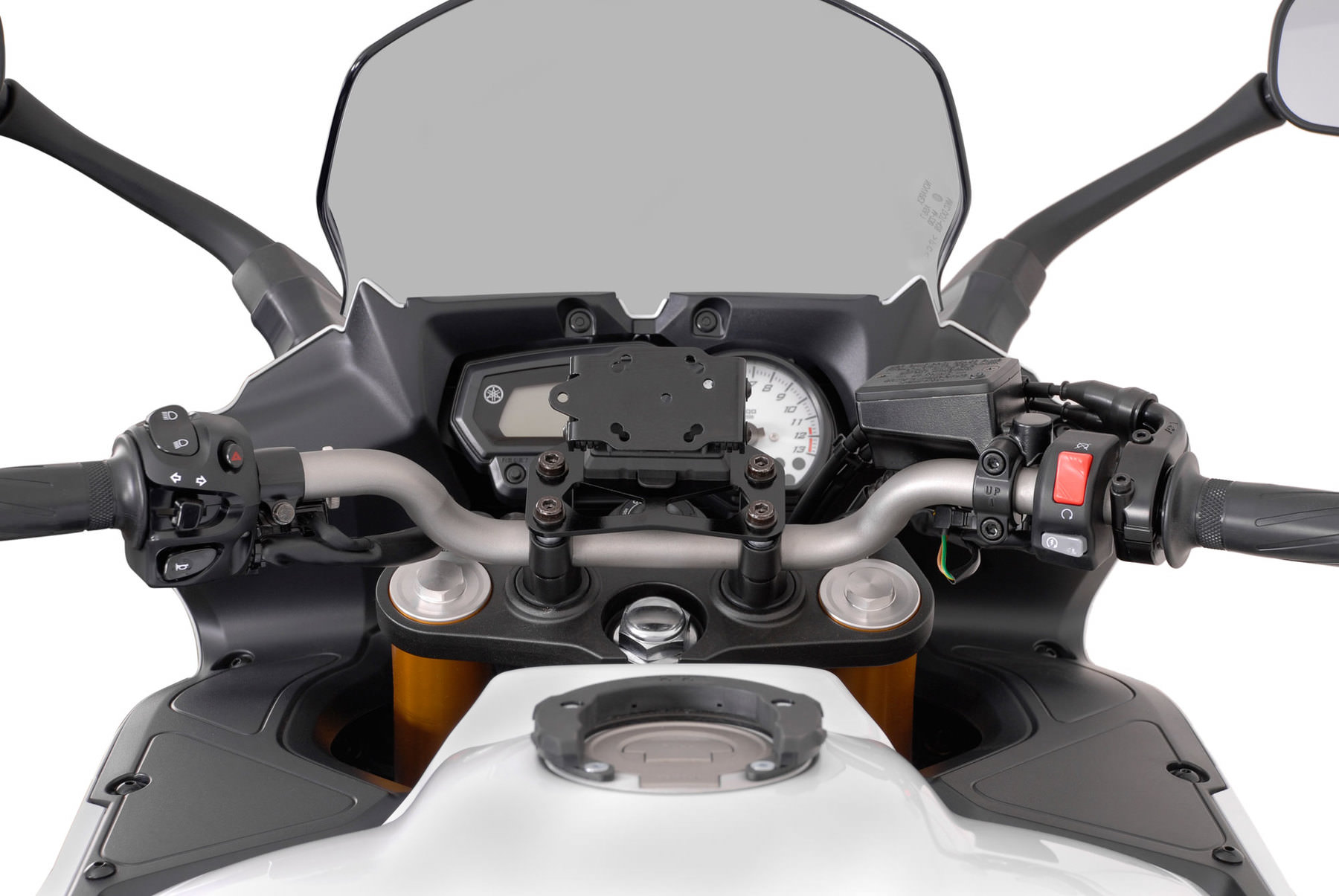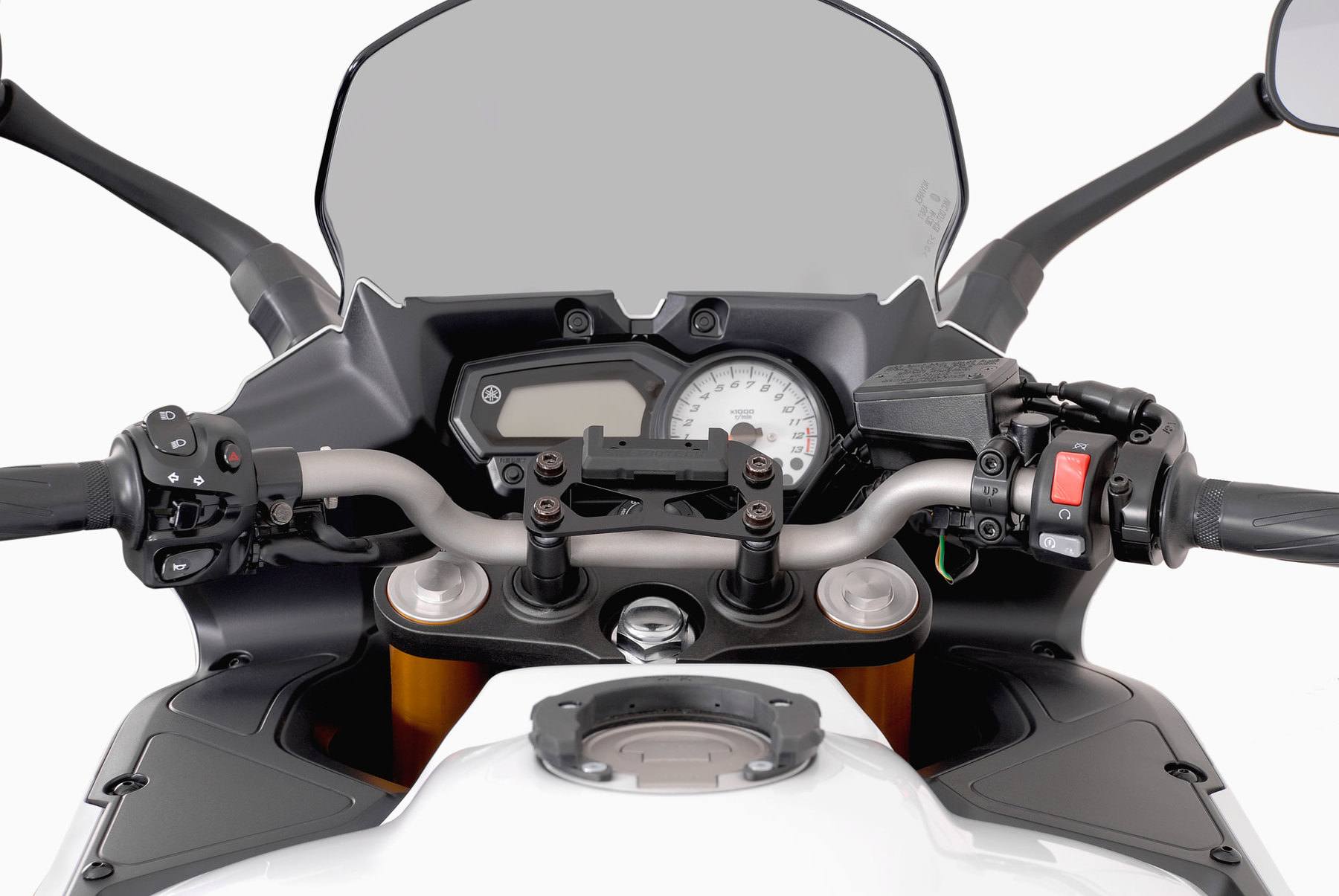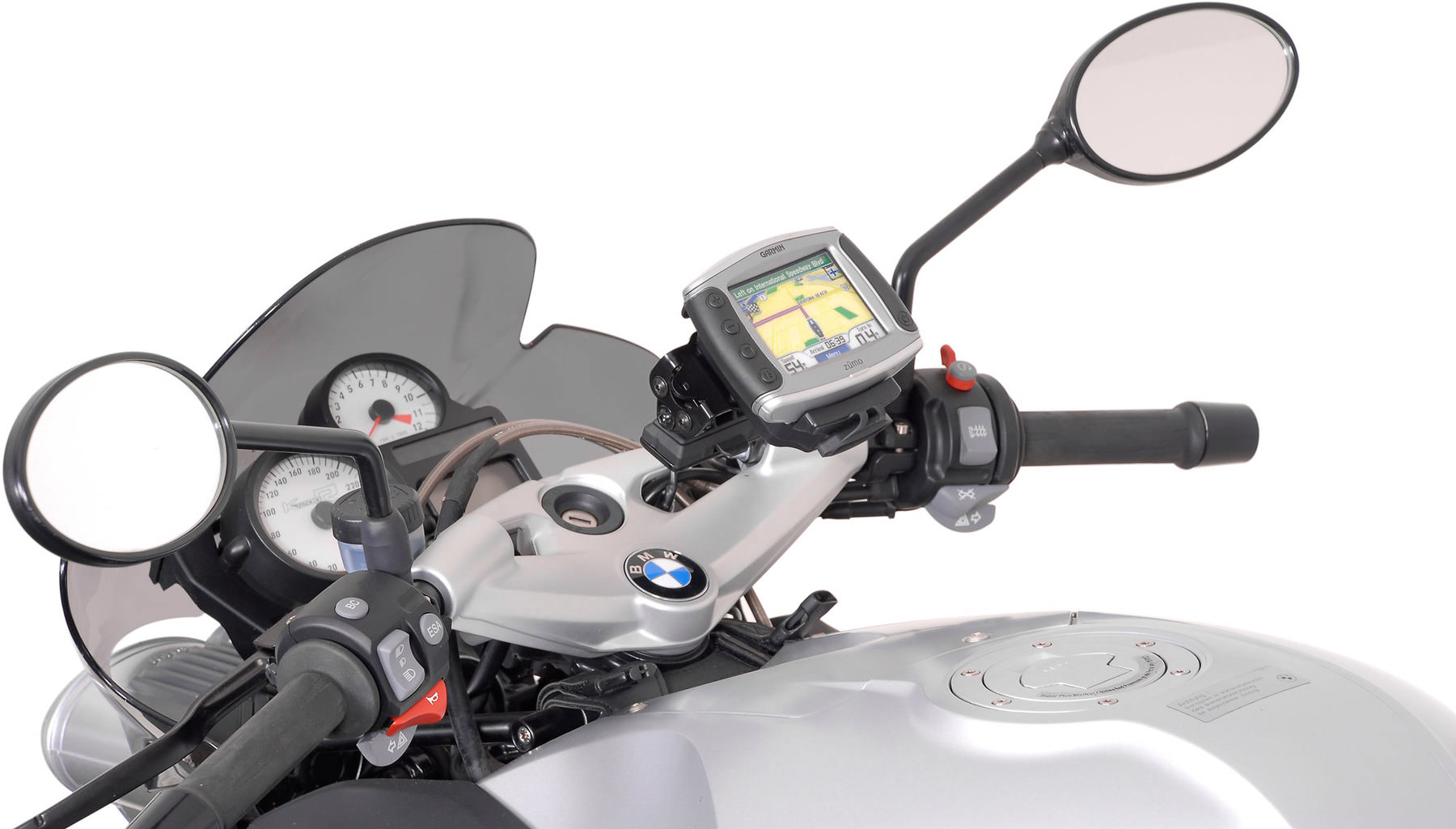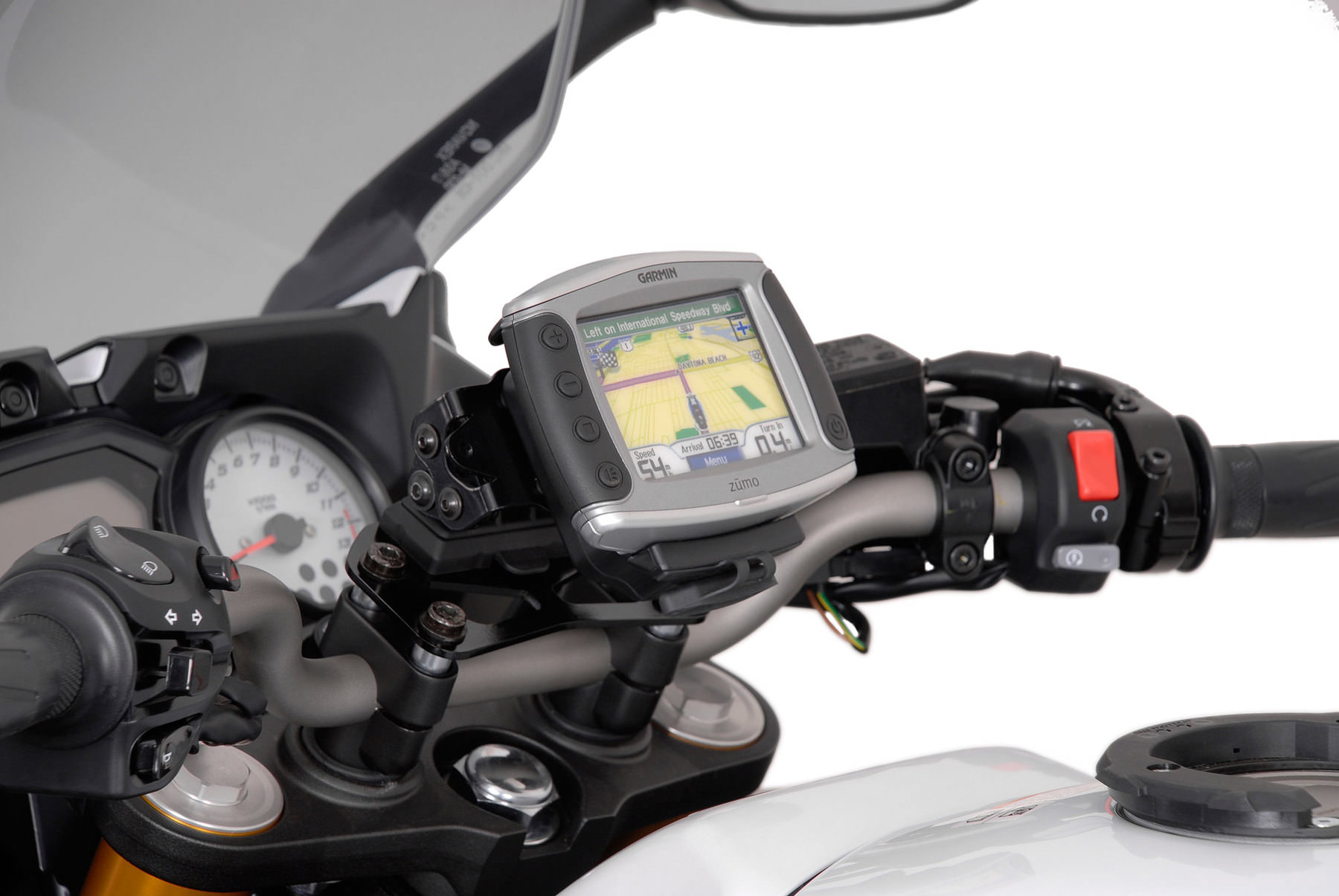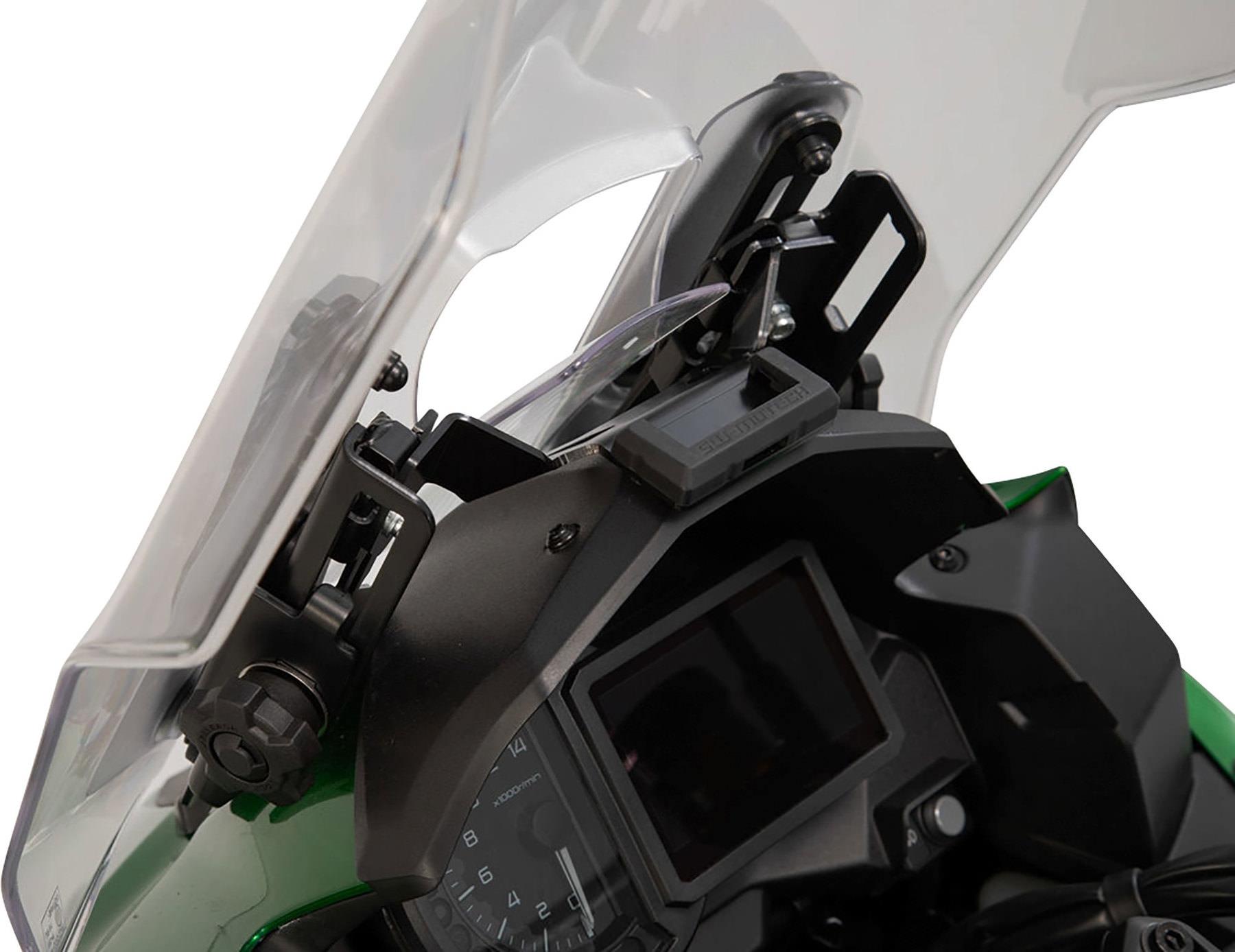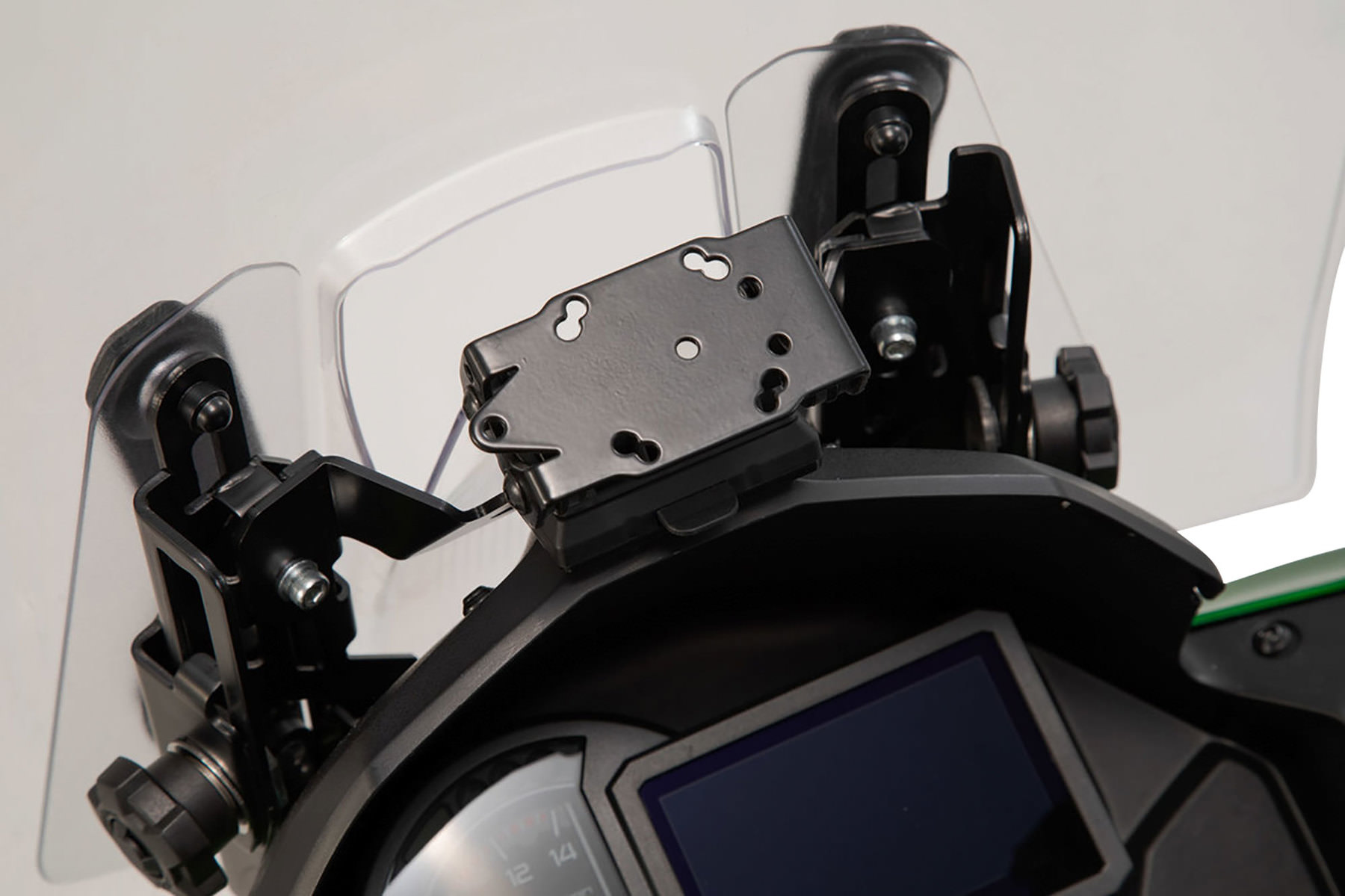 Quick Lock GPS-Bracket
type specific
Unfortunately, this product is not compatible with this motorcycle.
Unfortunately, this product is not compatible with this motorcycle. You can find the right for the here: .
Free delivery on orders over €199.00
2 year return policy
Fast Delivery
Go to currency converter
Please select the desired exchange rate* and enter an amount.
* The source of the exchange rate is the European Central Bank. (As at 17.09.2020). The exchange rate is for information purposes only; it does not provide binding prices for an exchange. In practice, for individual exchanges, the prices for buying and selling currencies can deviate to a greater or lesser extent from these rates – depending on the country, financial institution or bureau de change and also the method of payment. The conversion is given as an indication only.
Quick Lock GPS-Bracket
type specific
SW-Motech - model-specific, quick-detach QuickLock GPS sat nav holder for attaching to the handlebar fixing screws (e.g. tubular handlebar mount or handlebar clip).

These model-specific sat nav holders enable you to integrate your sat nav into your motorbike cockpit perfectly. They are vibration-dampened and are specially designed for mounting on the listed motorbike models. The sat nav holder attaches to either the handlebar's screw mount, the clip-on handlebar or other places (depends on the motorcycle - please have a look at the related mounting instructions). The quick-release function means you can simply remove the top section of the holder complete with your sat nav in an instant. These sat nav holders are compatible with the TomTom Rider and Garmin zumo* model range. They are also suitable for attaching the moto-detail sat nav cases. All the holders are black powder-coated and have a swivelling, removable top section.

Comprises:

Vibration-dampened GPS sat nav holder
Fittings
Installation instructions
Important! Illustrations of the product are only examples, please have a look at the related mounting instructions for mounting details! The additional adapter kit with item-no 10001678 is necessary for mounting the Garmin Zumo 340/350 or 660.
Manufacturer details: SW-Motech

Engineering for motorbikes

SW-MOTECH stands for competence in the development and production of practical solutions in the areas of luggage systems, navigation, ergonomics and safety - all perfectly designed to meet your riding needs. These products stand out thanks to their distinct look, constant high performance, patented technologies and elaborate innovations. Quality, durability and precision are of utmost importance. SW-MOTECH is the ideal companion for every adventure, no matter whether you are on the way to work, on a weekend tour or around globe.
Product
Art. No.
Availability
Price
Actions
QUICK-LOCK GPS MOUNT - MODEL-SPECIFIC
10049170

The product will be ordered from the manufacturer for you. Depending on availability, longer delivery times are also possible. We'll let you know if that's the case. You can of course cancel your delivery at any time free of charge.

Available in 7-21 days

€60.00 1
QUICK-LOCK GPS MOUNT - MODEL-SPECIFIC
10013424

The item is in stock and will be delivered in 2-4 working days. Note: Stocks are updated online every hour on working days from 7 a.m. to 8 p.m., so there is a good chance that the products are available if they appear online.

Available

€50.00 1
QUICK-LOCK GPS MOUNT - MODEL-SPECIFIC
10012600

The item is in stock and will be delivered in 2-4 working days. Note: Stocks are updated online every hour on working days from 7 a.m. to 8 p.m., so there is a good chance that the products are available if they appear online.

Available

€60.00 1
QUICK-LOCK GPS MOUNT - MODEL-SPECIFIC
10013421

The item is in stock and will be delivered in 2-4 working days. Note: Stocks are updated online every hour on working days from 7 a.m. to 8 p.m., so there is a good chance that the products are available if they appear online.

Available

€60.00 1
QUICK-LOCK GPS MOUNT - MODEL-SPECIFIC
10013422

The item is in stock and will be delivered in 2-4 working days. Note: Stocks are updated online every hour on working days from 7 a.m. to 8 p.m., so there is a good chance that the products are available if they appear online.

Available

€60.00 1
QUICK-LOCK GPS MOUNT - MODEL-SPECIFIC
10013423

The item is in stock and will be delivered in 2-4 working days. Note: Stocks are updated online every hour on working days from 7 a.m. to 8 p.m., so there is a good chance that the products are available if they appear online.

Available

€60.00 1
QUICK-LOCK GPS MOUNT - MODEL-SPECIFIC
10013425

The item is in stock and will be delivered in 2-4 working days. Note: Stocks are updated online every hour on working days from 7 a.m. to 8 p.m., so there is a good chance that the products are available if they appear online.

Available

€50.00 1
QUICK-LOCK GPS MOUNT - MODEL-SPECIFIC
10013426

The product will be ordered from the manufacturer for you. Depending on availability, longer delivery times are also possible. We'll let you know if that's the case. You can of course cancel your delivery at any time free of charge.

Available in 7-21 days

€59.95 1
QUICK-LOCK GPS MOUNT - MODEL-SPECIFIC
10013427

The product will be ordered from the manufacturer for you. Depending on availability, longer delivery times are also possible. We'll let you know if that's the case. You can of course cancel your delivery at any time free of charge.

Available in 7-21 days

€60.00 1
QUICK-LOCK GPS MOUNT - MODEL-SPECIFIC
10004512

The item is in stock and will be delivered in 2-4 working days. Note: Stocks are updated online every hour on working days from 7 a.m. to 8 p.m., so there is a good chance that the products are available if they appear online.

Available

€50.00 1
QUICK-LOCK GPS MOUNT - MODEL-SPECIFIC
10013428

The item is in stock and will be delivered in 2-4 working days. Note: Stocks are updated online every hour on working days from 7 a.m. to 8 p.m., so there is a good chance that the products are available if they appear online.

Available

€60.00 1
QUICK-LOCK GPS-BRACKET - TYPE SPECIFIC
10012052

The item is in stock and will be delivered in 2-4 working days. Note: Stocks are updated online every hour on working days from 7 a.m. to 8 p.m., so there is a good chance that the products are available if they appear online.

Available

€60.00 1
QUICK-LOCK GPS-BRACKET - TYPE SPECIFIC
10004582

The item is in stock and will be delivered in 2-4 working days. Note: Stocks are updated online every hour on working days from 7 a.m. to 8 p.m., so there is a good chance that the products are available if they appear online.

Available

€60.00 1
QUICK-LOCK GPS-BRACKET - TYPE SPECIFIC
10004583

The item is in stock and will be delivered in 2-4 working days. Note: Stocks are updated online every hour on working days from 7 a.m. to 8 p.m., so there is a good chance that the products are available if they appear online.

Available

€50.00 1
QUICK-LOCK GPS-BRACKET - TYPE SPECIFIC
10004584

The item is in stock and will be delivered in 2-4 working days. Note: Stocks are updated online every hour on working days from 7 a.m. to 8 p.m., so there is a good chance that the products are available if they appear online.

Available

€60.00 1
QUICK-LOCK GPS-BRACKET - TYPE SPECIFIC
10004585

The item is in stock and will be delivered in 2-4 working days. Note: Stocks are updated online every hour on working days from 7 a.m. to 8 p.m., so there is a good chance that the products are available if they appear online.

Available

€50.00 1
QUICK-LOCK GPS-BRACKET - TYPE SPECIFIC
10004588

The item is in stock and will be delivered in 2-4 working days. Note: Stocks are updated online every hour on working days from 7 a.m. to 8 p.m., so there is a good chance that the products are available if they appear online.

Available

€60.00 1
QUICK-LOCK GPS-BRACKET - TYPE SPECIFIC
10012075

The item is in stock and will be delivered in 2-4 working days. Note: Stocks are updated online every hour on working days from 7 a.m. to 8 p.m., so there is a good chance that the products are available if they appear online.

Available

€60.00 1
QUICK-LOCK GPS-BRACKET - TYPE SPECIFIC
10012053

The item is in stock and will be delivered in 2-4 working days. Note: Stocks are updated online every hour on working days from 7 a.m. to 8 p.m., so there is a good chance that the products are available if they appear online.

Available

€60.00 1
QUICK-LOCK GPS-BRACKET - TYPE SPECIFIC
10012067

The item is in stock and will be delivered in 2-4 working days. Note: Stocks are updated online every hour on working days from 7 a.m. to 8 p.m., so there is a good chance that the products are available if they appear online.

Available

€60.00 1
QUICK-LOCK GPS-BRACKET - TYPE SPECIFIC
10012068

The item is in stock and will be delivered in 2-4 working days. Note: Stocks are updated online every hour on working days from 7 a.m. to 8 p.m., so there is a good chance that the products are available if they appear online.

Available

€60.00 1
QUICK-LOCK GPS-BRACKET - TYPE SPECIFIC
10012069

The item is in stock and will be delivered in 2-4 working days. Note: Stocks are updated online every hour on working days from 7 a.m. to 8 p.m., so there is a good chance that the products are available if they appear online.

Available

€60.00 1
QUICK-LOCK GPS-BRACKET - TYPE SPECIFIC
10012074

The item is in stock and will be delivered in 2-4 working days. Note: Stocks are updated online every hour on working days from 7 a.m. to 8 p.m., so there is a good chance that the products are available if they appear online.

Available

€60.00 1
QUICK-LOCK GPS-BRACKET - TYPE SPECIFIC
10004569

The product will be ordered from the manufacturer for you. Depending on availability, longer delivery times are also possible. We'll let you know if that's the case. You can of course cancel your delivery at any time free of charge.

Available in 7-21 days

€60.00 1
QUICK-LOCK GPS-BRACKET - TYPE SPECIFIC
10004573

The item is in stock and will be delivered in 2-4 working days. Note: Stocks are updated online every hour on working days from 7 a.m. to 8 p.m., so there is a good chance that the products are available if they appear online.

Available

€60.00 1
QUICK-LOCK GPS-BRACKET - TYPE SPECIFIC
10004568

The item is in stock and will be delivered in 2-4 working days. Note: Stocks are updated online every hour on working days from 7 a.m. to 8 p.m., so there is a good chance that the products are available if they appear online.

Available

€60.00 1
QUICK-LOCK GPS-BRACKET - TYPE SPECIFIC
10004549

The item is in stock and will be delivered in 2-4 working days. Note: Stocks are updated online every hour on working days from 7 a.m. to 8 p.m., so there is a good chance that the products are available if they appear online.

Available

€60.00 1
QUICK-LOCK GPS-BRACKET - TYPE SPECIFIC
10004537

The item is in stock and will be delivered in 2-4 working days. Note: Stocks are updated online every hour on working days from 7 a.m. to 8 p.m., so there is a good chance that the products are available if they appear online.

Available

€50.00 1
QUICK-LOCK GPS-BRACKET - TYPE SPECIFIC
10004536

The item is in stock and will be delivered in 2-4 working days. Note: Stocks are updated online every hour on working days from 7 a.m. to 8 p.m., so there is a good chance that the products are available if they appear online.

Available

€60.00 1
QUICK-LOCK GPS-BRACKET - TYPE SPECIFIC
10004567

The item is in stock and will be delivered in 2-4 working days. Note: Stocks are updated online every hour on working days from 7 a.m. to 8 p.m., so there is a good chance that the products are available if they appear online.

Available

€60.00 1
QUICK-LOCK GPS-MOUNT - TYPE SPECIFIC
10004505

The item is in stock and will be delivered in 2-4 working days. Note: Stocks are updated online every hour on working days from 7 a.m. to 8 p.m., so there is a good chance that the products are available if they appear online.

Available

€60.00 1
QUICK-LOCK GPS-MOUNT - TYPE SPECIFIC
10004522

The item is in stock and will be delivered in 2-4 working days. Note: Stocks are updated online every hour on working days from 7 a.m. to 8 p.m., so there is a good chance that the products are available if they appear online.

Available

€60.00 1
QUICK-LOCK GPS-MOUNT - TYPE SPECIFIC
10004507

The product will be ordered from the manufacturer for you. Depending on availability, longer delivery times are also possible. We'll let you know if that's the case. You can of course cancel your delivery at any time free of charge.

Available in 7-21 days

€50.00 1
QUICK-LOCK GPS-MOUNT - TYPE SPECIFIC
10004514

The item is in stock and will be delivered in 2-4 working days. Note: Stocks are updated online every hour on working days from 7 a.m. to 8 p.m., so there is a good chance that the products are available if they appear online.

Available

€60.00 1
QUICK-LOCK GPS-MOUNT - TYPE SPECIFIC
10004515

The item is in stock and will be delivered in 2-4 working days. Note: Stocks are updated online every hour on working days from 7 a.m. to 8 p.m., so there is a good chance that the products are available if they appear online.

Available

€60.00 1
QUICK-LOCK GPS-MOUNT - TYPE SPECIFIC
10004518

The item is in stock and will be delivered in 2-4 working days. Note: Stocks are updated online every hour on working days from 7 a.m. to 8 p.m., so there is a good chance that the products are available if they appear online.

Available

€50.00 1
QUICK-LOCK GPS-MOUNT - TYPE SPECIFIC
10004519

The item is in stock and will be delivered in 2-4 working days. Note: Stocks are updated online every hour on working days from 7 a.m. to 8 p.m., so there is a good chance that the products are available if they appear online.

Available

€60.00 1
QUICK-LOCK GPS-MOUNT - TYPE SPECIFIC
10004520

The product will be ordered from the manufacturer for you. Depending on availability, longer delivery times are also possible. We'll let you know if that's the case. You can of course cancel your delivery at any time free of charge.

Available in 7-21 days

€50.00 1
QUICK-LOCK GPS-MOUNT - TYPE SPECIFIC
10004521

The item is in stock and will be delivered in 2-4 working days. Note: Stocks are updated online every hour on working days from 7 a.m. to 8 p.m., so there is a good chance that the products are available if they appear online.

Available

€60.00 1
QUICK-LOCK GPS-MOUNT - TYPE SPECIFIC
10004528

The item is in stock and will be delivered in 2-4 working days. Note: Stocks are updated online every hour on working days from 7 a.m. to 8 p.m., so there is a good chance that the products are available if they appear online.

Available

€49.95 1
QUICK-LOCK GPS-MOUNT - TYPE SPECIFIC
10004524

The item is in stock and will be delivered in 2-4 working days. Note: Stocks are updated online every hour on working days from 7 a.m. to 8 p.m., so there is a good chance that the products are available if they appear online.

Available

€60.00 1
QUICK-LOCK GPS-MOUNT - TYPE SPECIFIC
10004525

The item is in stock and will be delivered in 2-4 working days. Note: Stocks are updated online every hour on working days from 7 a.m. to 8 p.m., so there is a good chance that the products are available if they appear online.

Available

€49.95 1
QUICK-LOCK GPS-MOUNT - TYPE SPECIFIC
10004534

The item is in stock and will be delivered in 2-4 working days. Note: Stocks are updated online every hour on working days from 7 a.m. to 8 p.m., so there is a good chance that the products are available if they appear online.

Available

€60.00 1
QUICK-LOCK GPS-MOUNT - TYPE SPECIFIC
10004538

The item is in stock and will be delivered in 2-4 working days. Note: Stocks are updated online every hour on working days from 7 a.m. to 8 p.m., so there is a good chance that the products are available if they appear online.

Available

€60.00 1
QUICK-LOCK GPS-MOUNT - TYPE SPECIFIC
10004548

The item is in stock and will be delivered in 2-4 working days. Note: Stocks are updated online every hour on working days from 7 a.m. to 8 p.m., so there is a good chance that the products are available if they appear online.

Available

€60.00 1
QUICK-LOCK GPS-MOUNT - TYPE SPECIFIC
10004554

The item is in stock and will be delivered in 2-4 working days. Note: Stocks are updated online every hour on working days from 7 a.m. to 8 p.m., so there is a good chance that the products are available if they appear online.

Available

€50.00 1
QUICK-LOCK GPS-MOUNT - TYPE SPECIFIC
10004558

The item is in stock and will be delivered in 2-4 working days. Note: Stocks are updated online every hour on working days from 7 a.m. to 8 p.m., so there is a good chance that the products are available if they appear online.

Available

€45.00 1
QUICK-LOCK GPS-MOUNT - TYPE SPECIFIC
10004559

The item is in stock and will be delivered in 2-4 working days. Note: Stocks are updated online every hour on working days from 7 a.m. to 8 p.m., so there is a good chance that the products are available if they appear online.

Available

€60.00 1
QUICK-LOCK GPS-MOUNT - TYPE SPECIFIC
10004560

The item is in stock and will be delivered in 2-4 working days. Note: Stocks are updated online every hour on working days from 7 a.m. to 8 p.m., so there is a good chance that the products are available if they appear online.

Available

€60.00 1
QUICK-LOCK GPS-MOUNT - TYPE SPECIFIC
10004503

The item is in stock and will be delivered in 2-4 working days. Note: Stocks are updated online every hour on working days from 7 a.m. to 8 p.m., so there is a good chance that the products are available if they appear online.

Available

€60.00 1