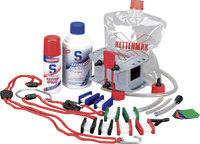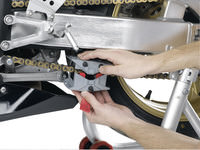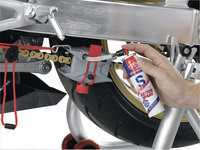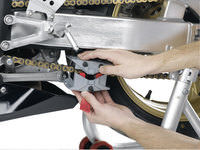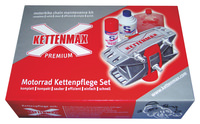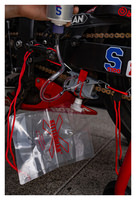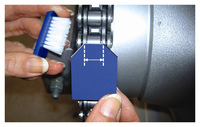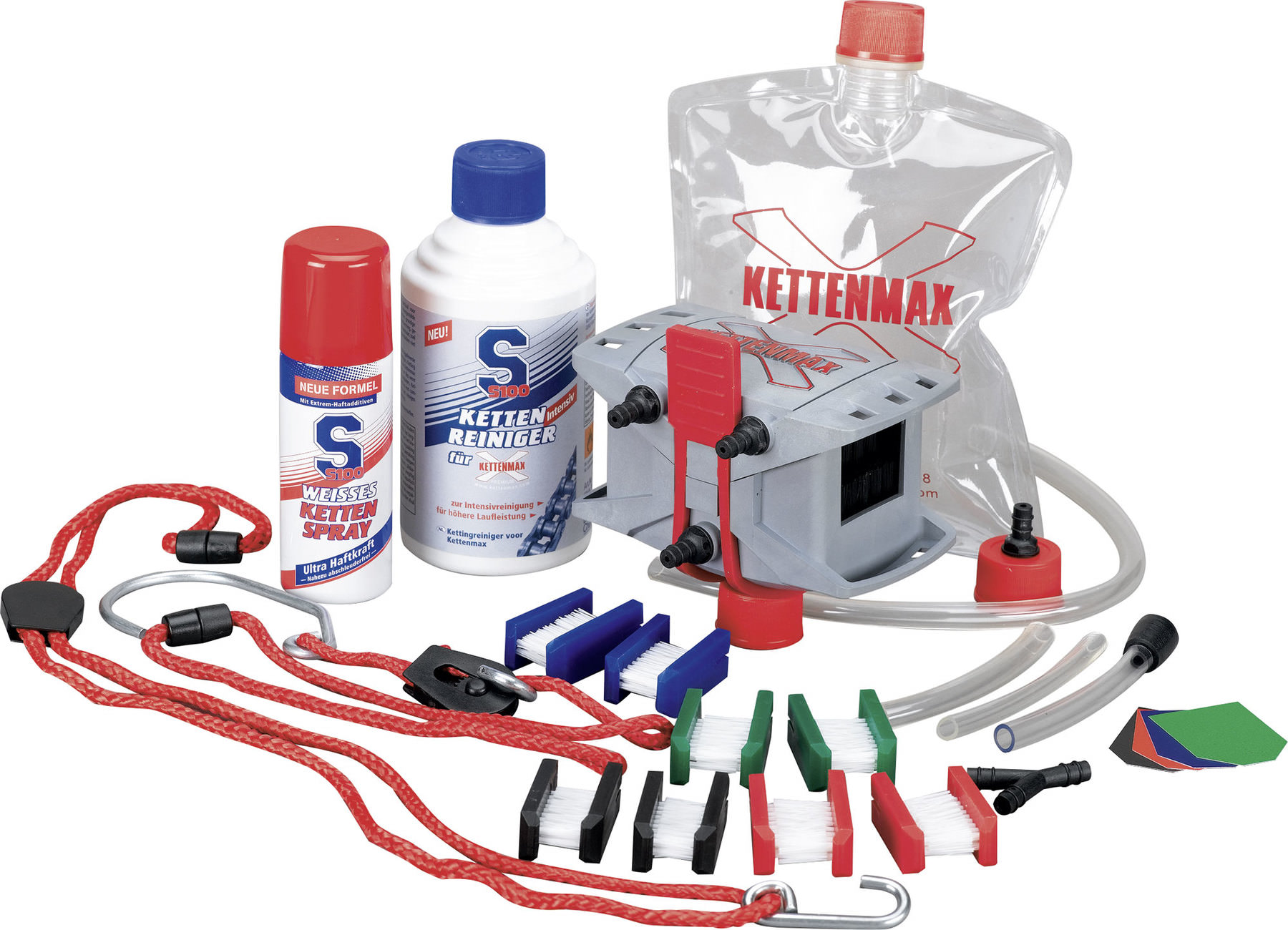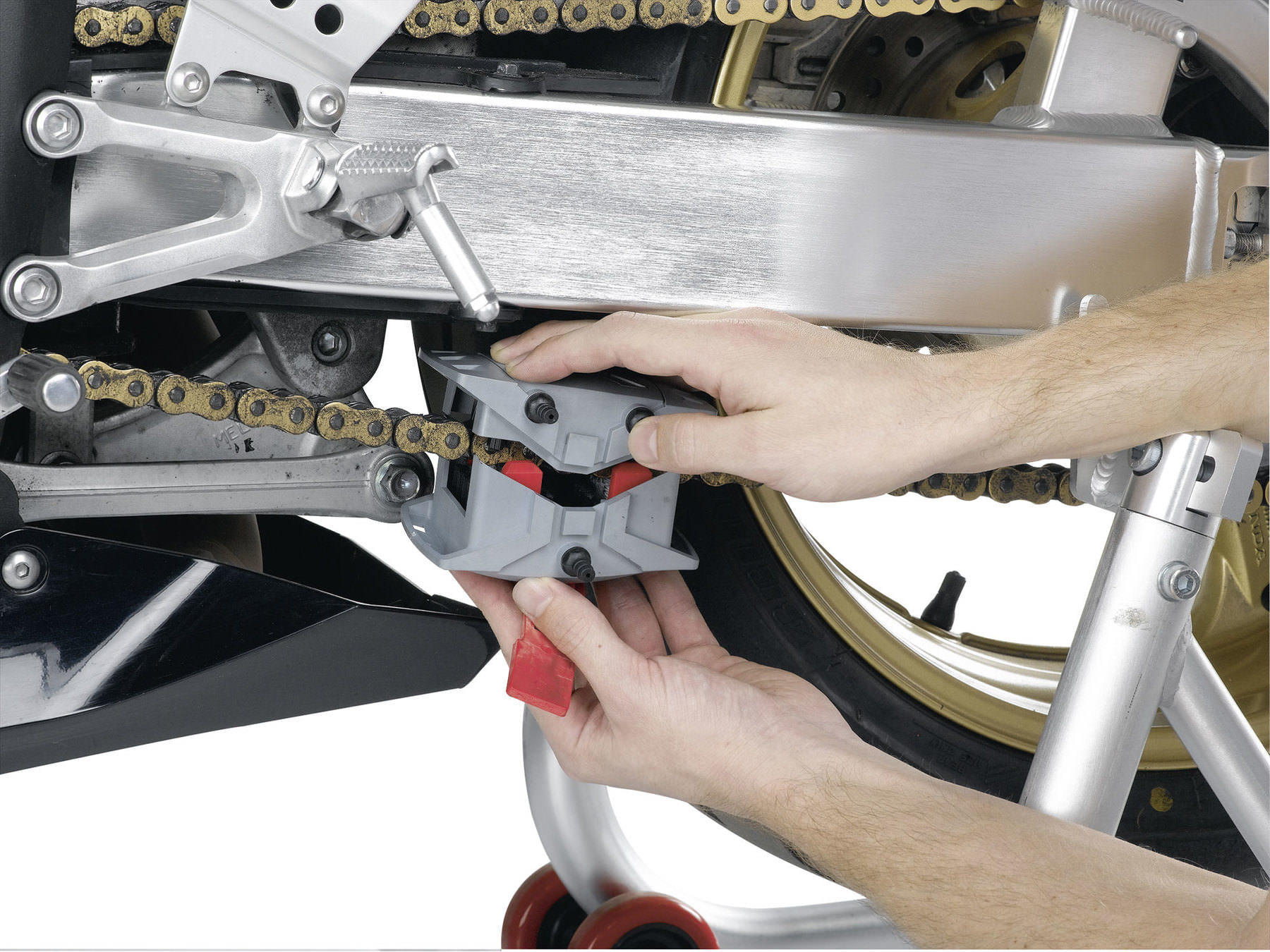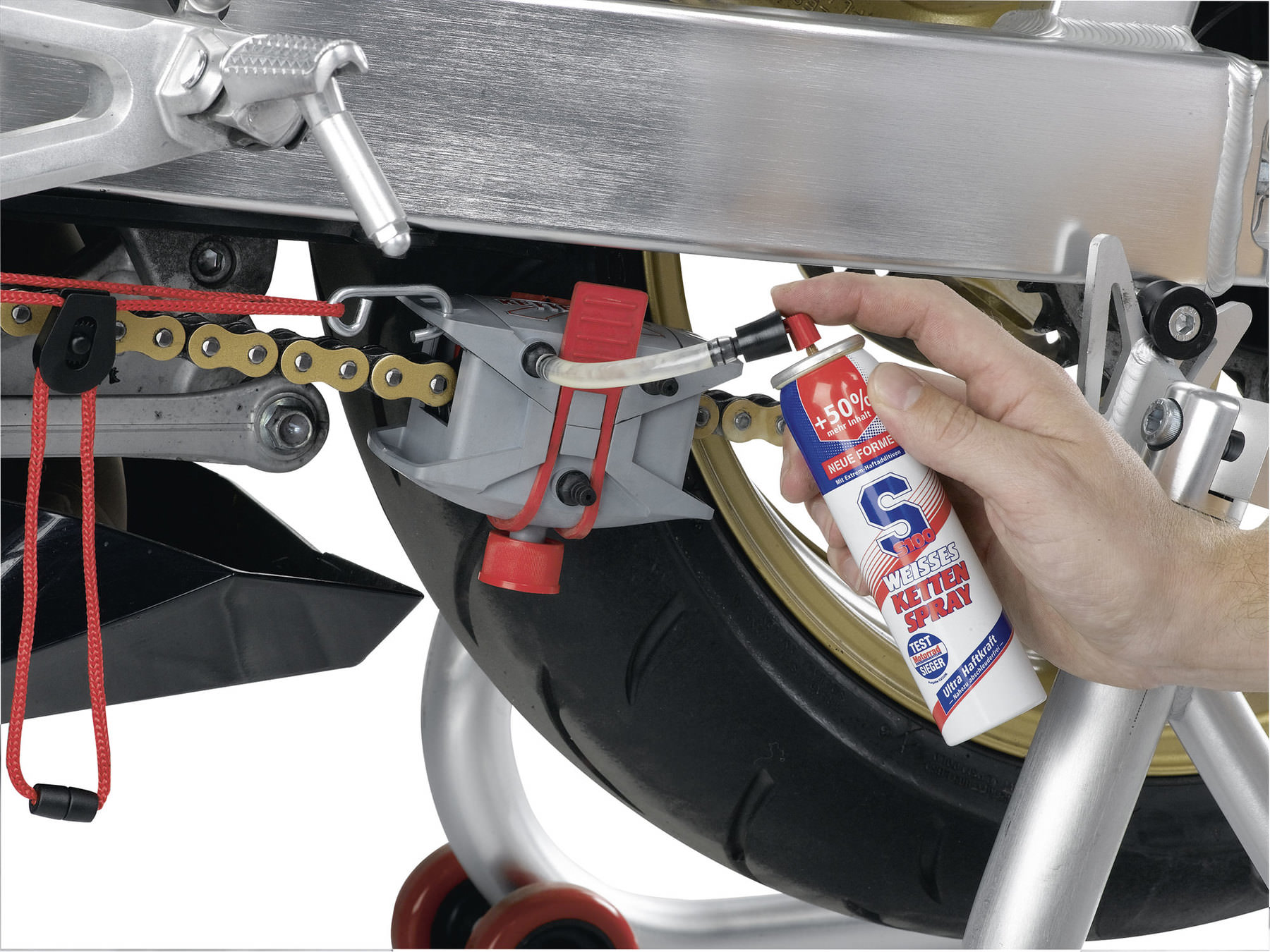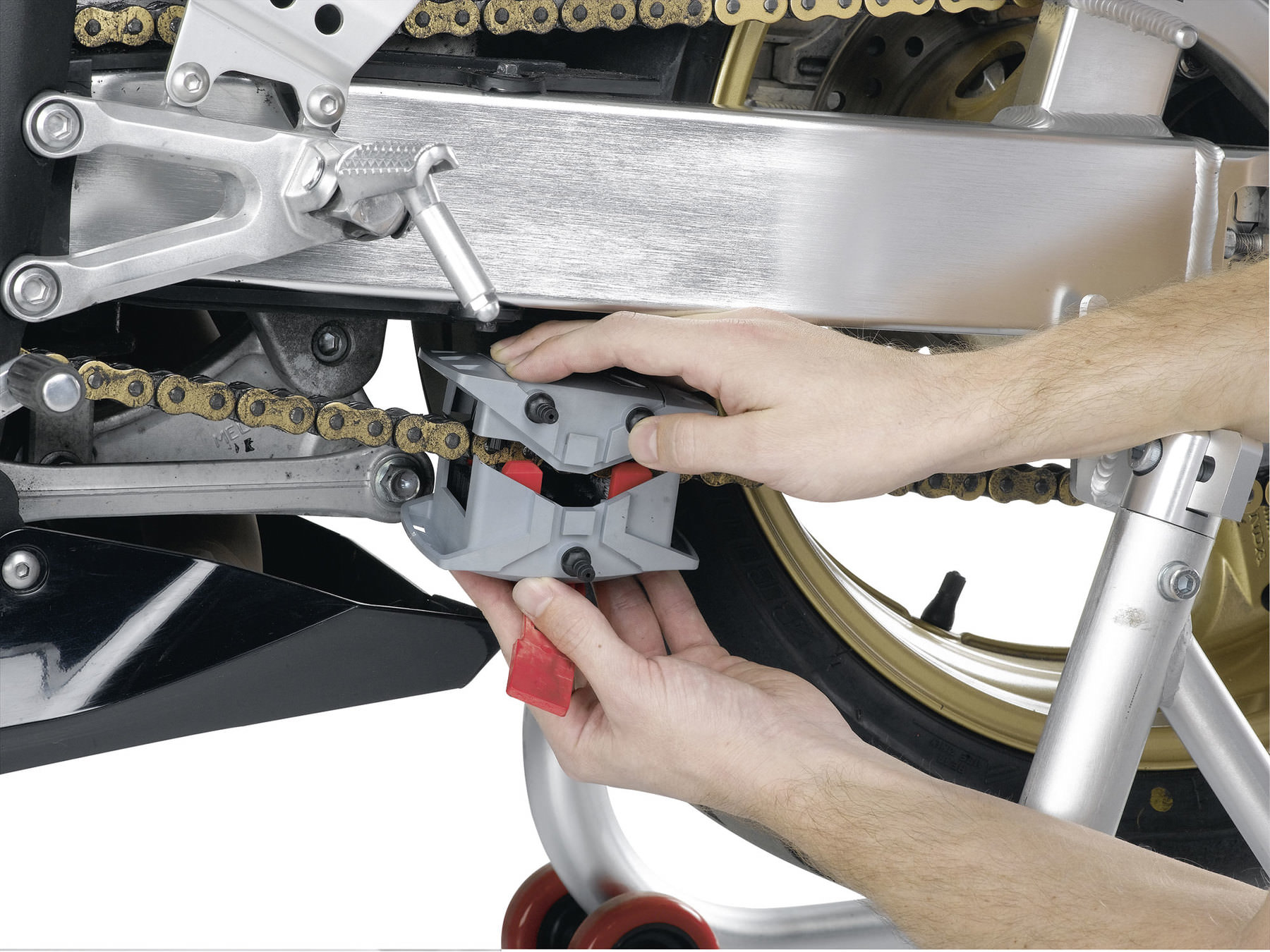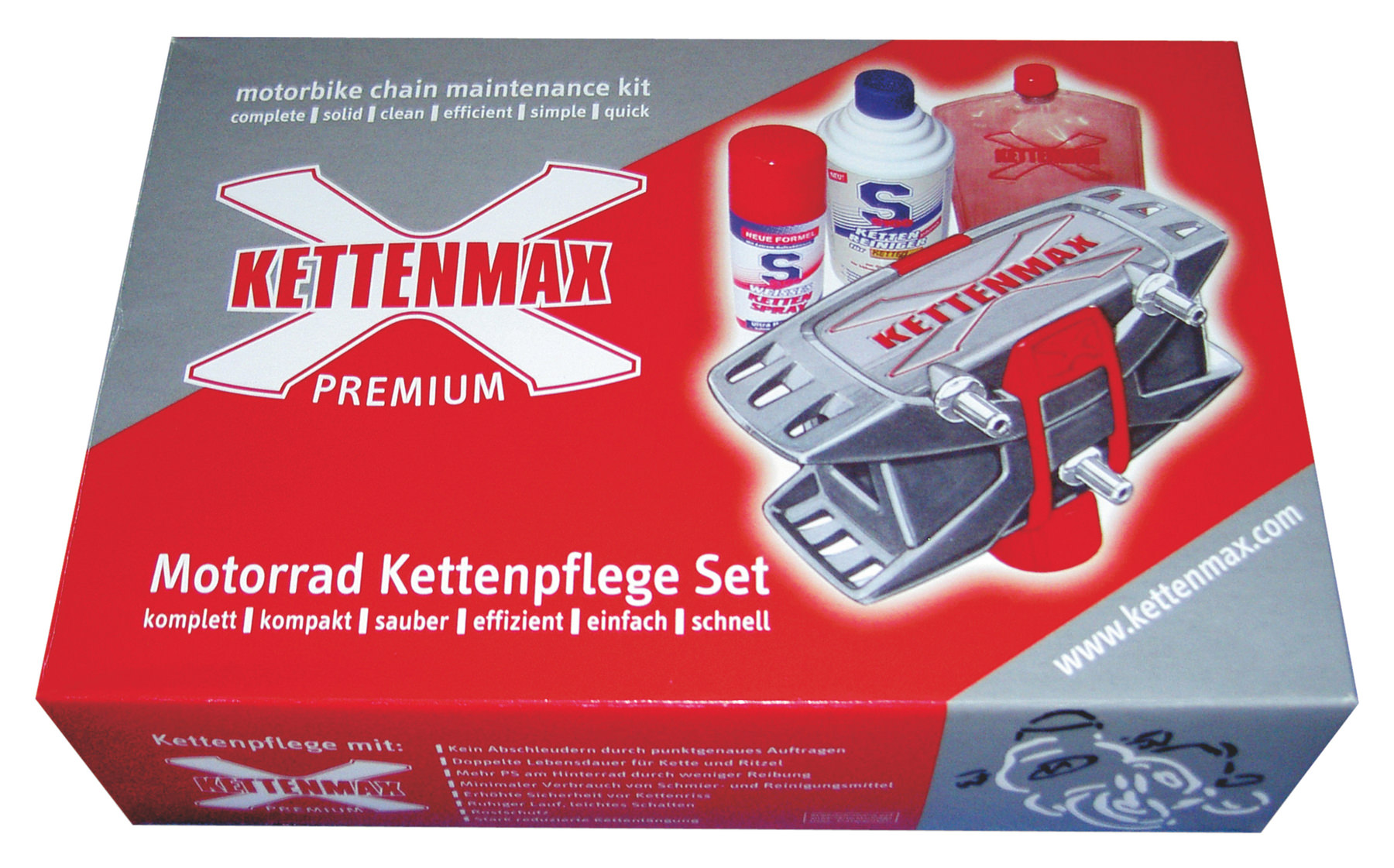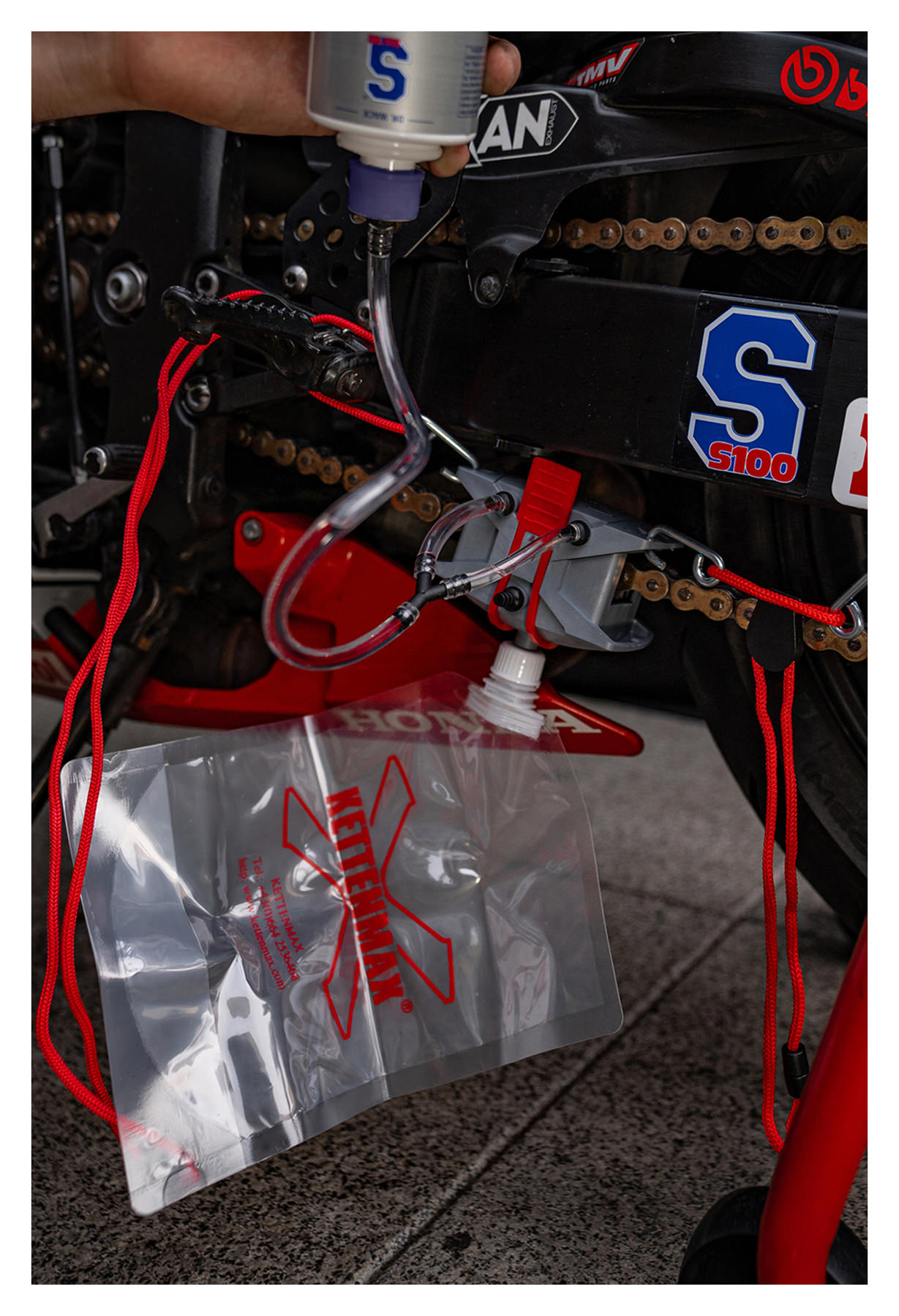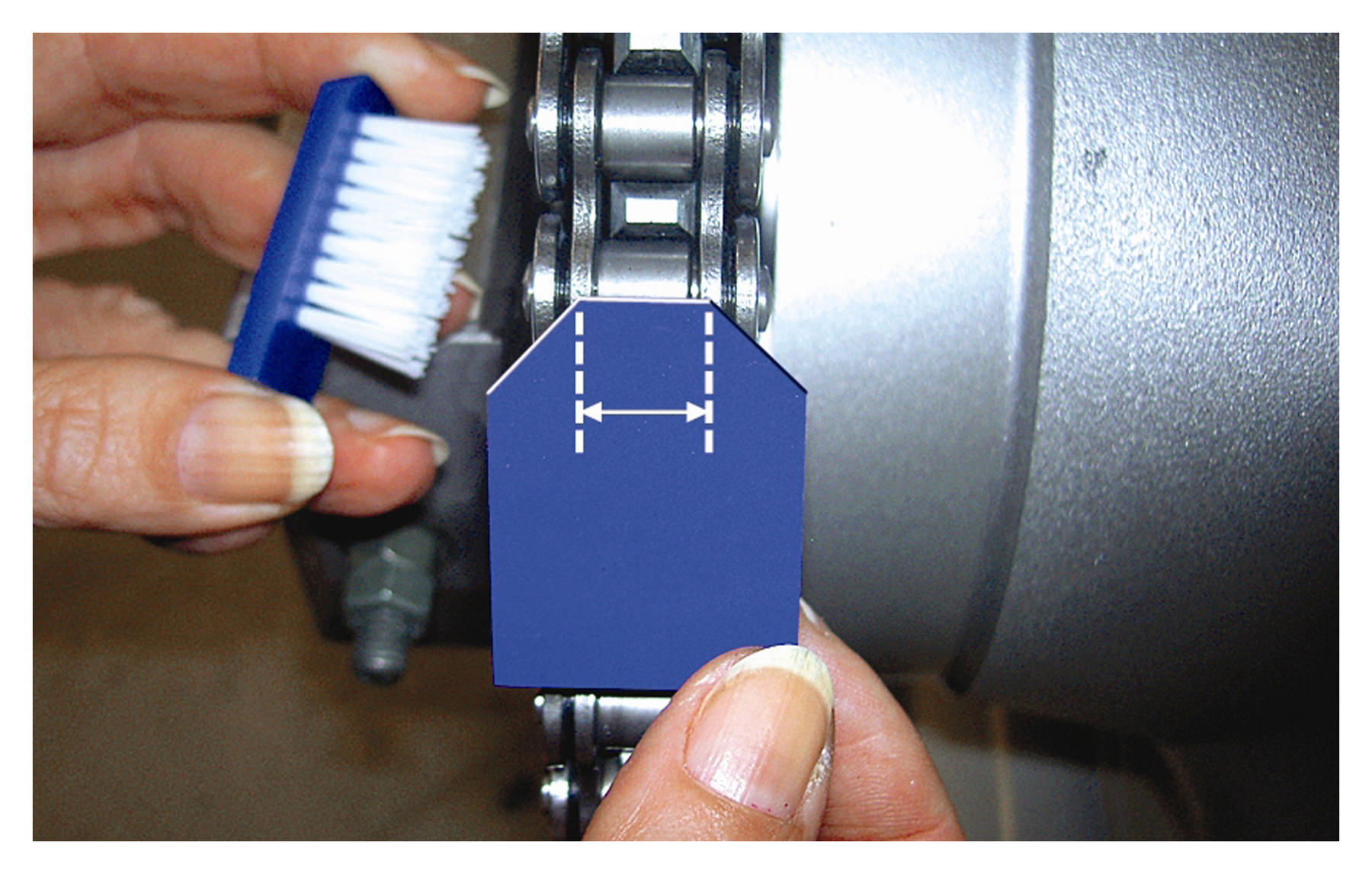 KETTENMAX PREMIUM CHAIN CLEANING & LUBRIC. DEVICE
Kettenmax PREMIUM Kettenreinigung und Kettenschmierung Motorradketten
Kettenmax Premium Chain
Cleaning & Lube Device
Exporting this item to the country you have selected is unfortunately not possible.
Delivery not possible
2 Price comparison with current year's Louis price.
Free delivery on orders over €199.00
2 year return policy
Fast delivery
Kettenmax Premium Chain
Cleaning & Lube Device
Perfect all-round chain care - that's what the Kettenmax *Premium* Cleaning and Lube Device delivers. You get a complete system that includes the necessary S100 Liquid Cleaner (250 ml) and Chain Spray (75 ml).
The sturdy Kettenmax *Premium* is made of high-quality materials and built to last. A quick-lock fastener makes the device very easy to install, while the compact dimensions mean that fitting it to your chain is very simple, even in the proximity of the wheel rim. The Kettenmax comes with the right brush for every chain (21 brushes in total). Templates are provided to help you select the correct brush. A special drain bag is supplied, which you attach to the Kettenmax to catch any excess cleaning liquid and lubricant. Perfect for environmentally friendly disposal of the residues. This drain bag is reusable.
1 upper box, 1 lower box with screw connection for drain bag, 3 double-row spray brushes, 4 side cleaning brushes (red), 4 side cleaning brushes (green), 4 side cleaning brushes (blue), 4 side cleaning brushes (black), 2 brush wipers, 3 threaded nozzles, 1 rubber closure, 1 drain bag with screw top, 1 lubrication adapter, 1 large hook, 2 small hooks, 2 cords with quick fastener, 1 long connecting tube, 2 short connecting tubes, 1 Y connector, chain templates, screw top with hose connector, 1 S100 Chain Cleaner 250 ml, 1 S100 Chain Spray (containing hydrocarbons).

Very important:
The Kettenmax is suitable for use on almost all motorcycles with a chain drive. The following exceptions are known:
Kawasaki VN800, Kawasaki ZZR1100, Honda Shadow 600
Advantages of a chain maintained with Kettenmax *Premium*:

Chain and sprockets are kept perfectly clean, lubricated and protected against rust.
Extends service life by 200%-300%, which saves you money.
Much less work to keep your chain in good shape A chain maintained with Kettenmax stretches 30% less, which means lots more miles before the tension needs adjusting.
More power to the rear wheel. Chain friction is a cause of power loss between engine and tyre. Chain care with Kettenmax considerably reduces friction, which means more horsepower is transmitted to the rear wheel.
Lubricant is not flung off onto the rear tyre, firstly, because it's sprayed on in small, measured amounts and, secondly, because of the precise application and distribution. Tested on the race track
No spray gets on the frame or rim. The lubricant spray is applied direct to the inner side of the chain by the Kettenmax system.
Very economical use of cleaner and lubricant because they only go where they're needed, with no waste. That saves you money and is good for the environment.
The reward for Kettenmax care is exact gear-shifting with minimum effort.
Your chain will run smoothly, and gear shifting is more responsive. Chain care with Kettenmax prevents chain slap, clanking and squeal, resulting in a quietly purring chain and greater safety. The most common cause of a broken chain is inadequate care. Increased friction and heat lead to premature wear and weaken the chain. Chain care with Kettenmax effectively prevents this, and therefore greatly helps improve safety.
Danger. Extremely flammable aerosol. Highly flammable liquid and vapour. Pressurised container: may burst if heated. May be fatal if swallowed and enters airways. Causes skin irritation. May cause drowsiness or dizziness. Toxic to aquatic life with long lasting effects. Contains fatty acids, tall-oil reaction products with boric acid (H3BO3) and diethanolamine. May produce an allergic reaction.
Manufacturer details: Kettenmax-Premium

Go to Kettenmax-Premium brand shop
Chain bucket for motorcycle

It was just for private use on his own motorcycle that Josef Pesl began working on designing a cleaning system for drive chains. But because all his friends and acquaintances suddenly wanted to own such a handy piece of kit for themselves, he soon began to mass produce them. The Kettenmax is now patented globally and has a first class reputation - not only in Europe - as the clean solution for those who want to preserve the performance of their chains.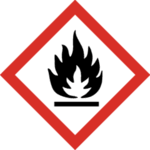 GHS02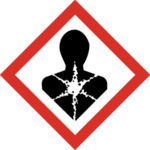 GHS08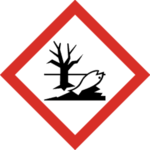 GHS09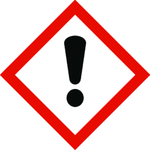 GHS07
Safety data sheets
Instructions/Guides
Product
Art. No.
Availability
Price
Actions
KETTENMAX PREMIUM CHAIN - CLEANING/LUBR. DEVICE
10003115

Exporting this item to the country you have selected is unfortunately not possible.

Delivery not possible

€59.99

1 2 €46.18 1
2 Price comparison with current year's Louis price.
Issue 07-2020
"Motorrad" magazine tested various chain sprays in its 7-2020 issue. The white S100 Chain Spray was declared TEST WINNER/VERY GOOD. The following features were given special mention:

- Outstanding lubricating performance
- Sufficiently low soiling
- Very good corrosion inhibitor
- Very good penetration

(Seven of the products tested were rated "Good", while three were judged "Very Good")
Issue 07-2007
The verdict from "mopped" magazine was:

Great for regular and year-round bikers. Now even more user-friendly...
Issue 06-2007
Test verdict from "Motorradfahrer" magazine:

Chain cleaning may not be absolutely essential, but regular lubrication certainly is. The Kettenmax does both of these jobs really well, in both ecological and economical terms..."