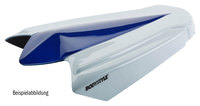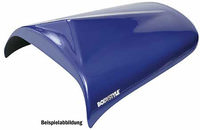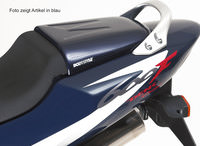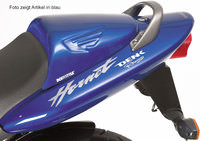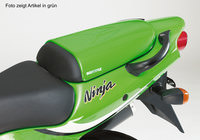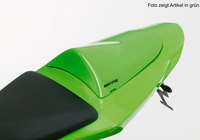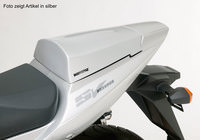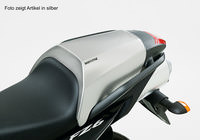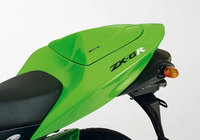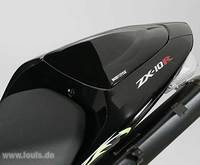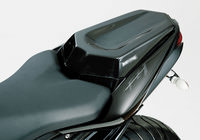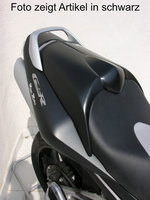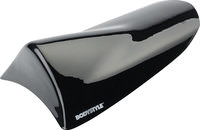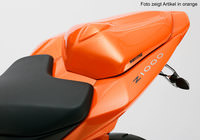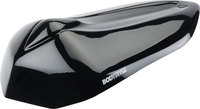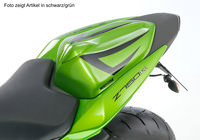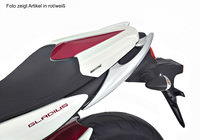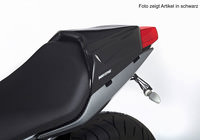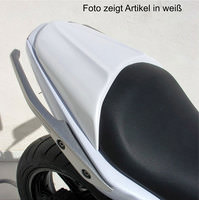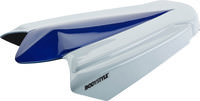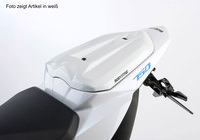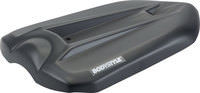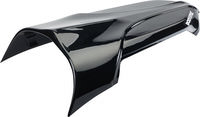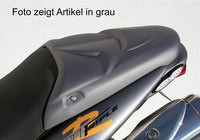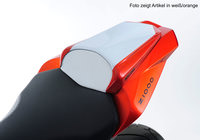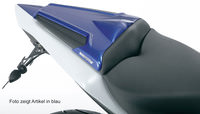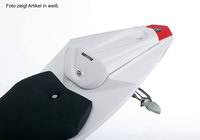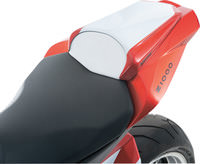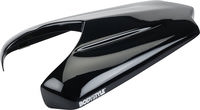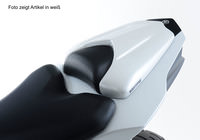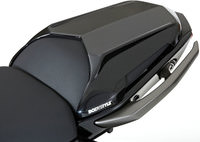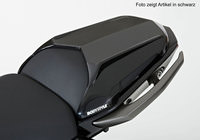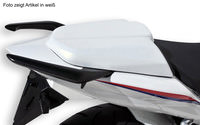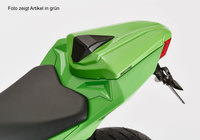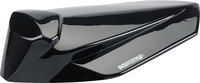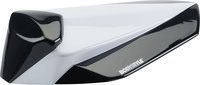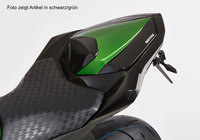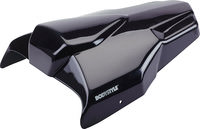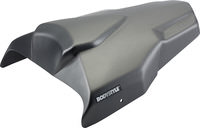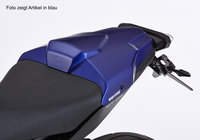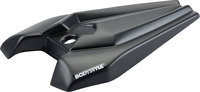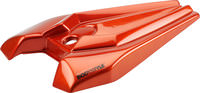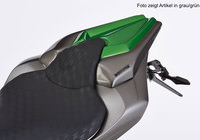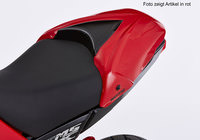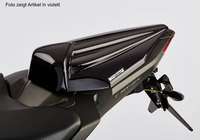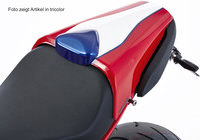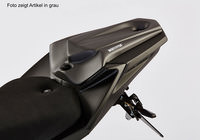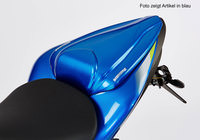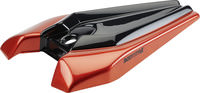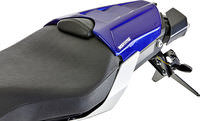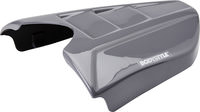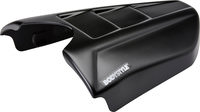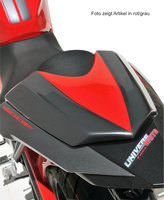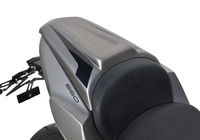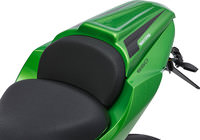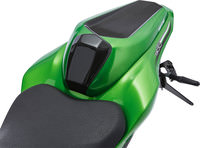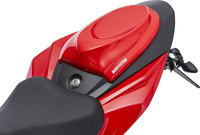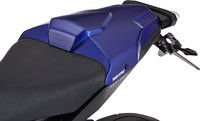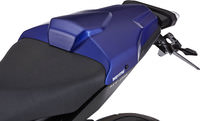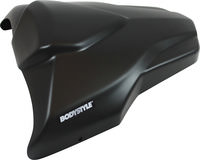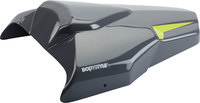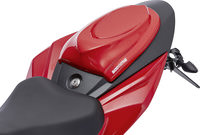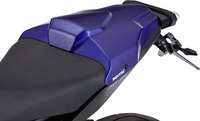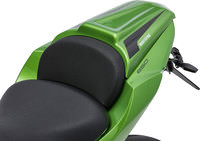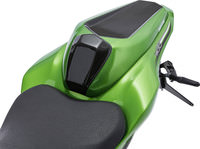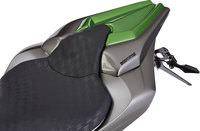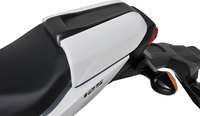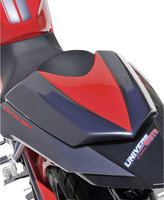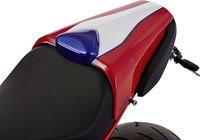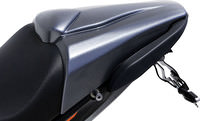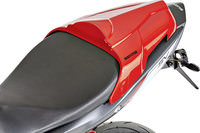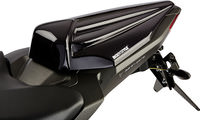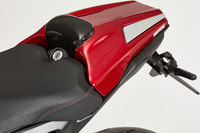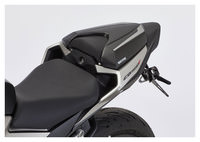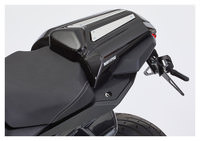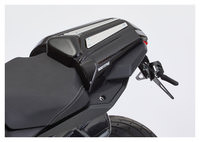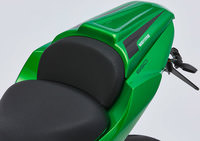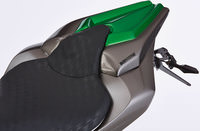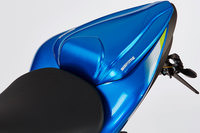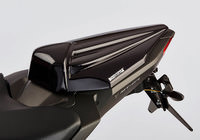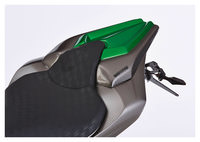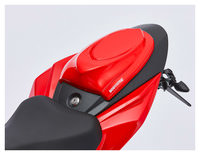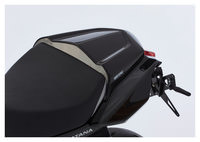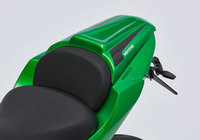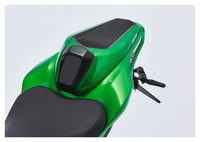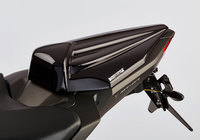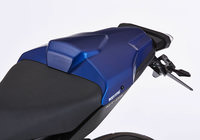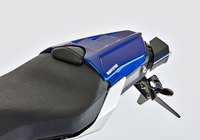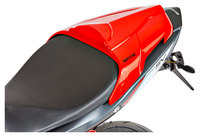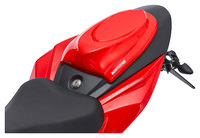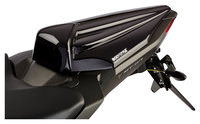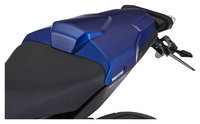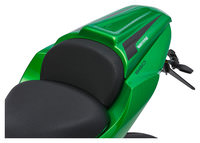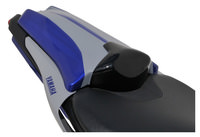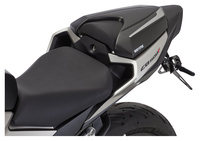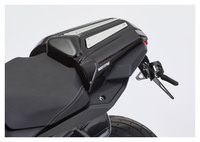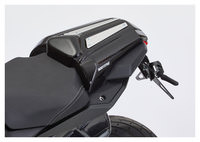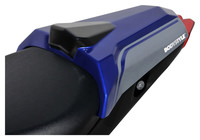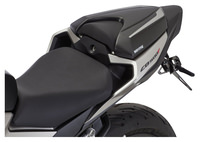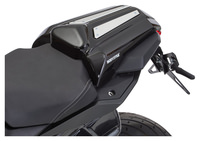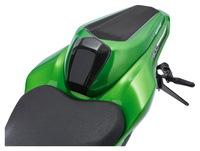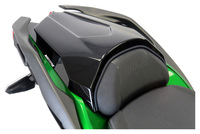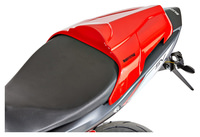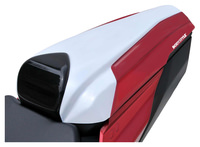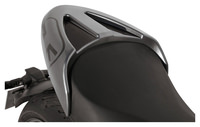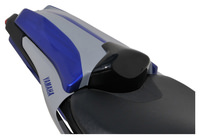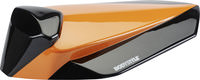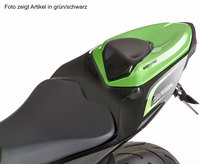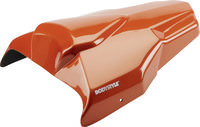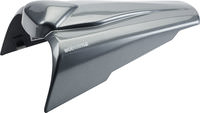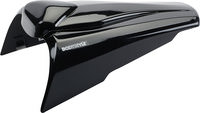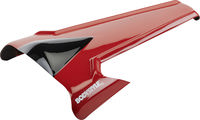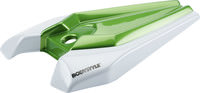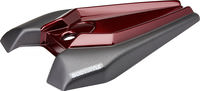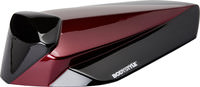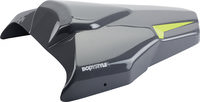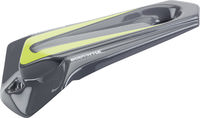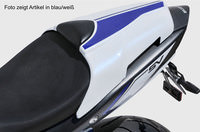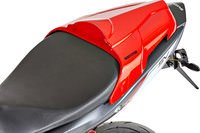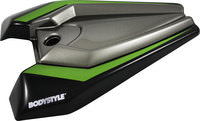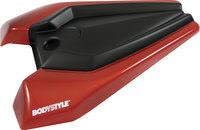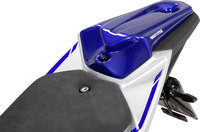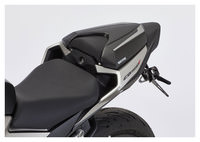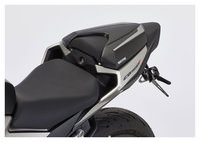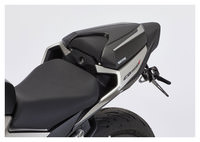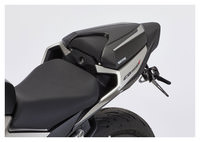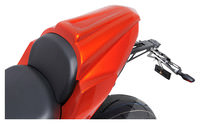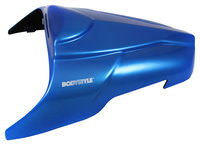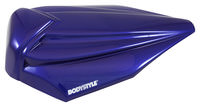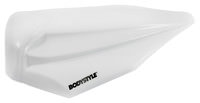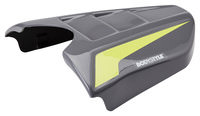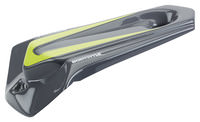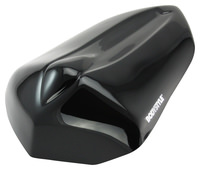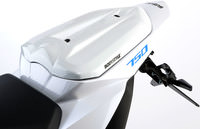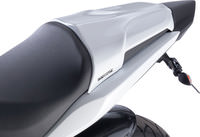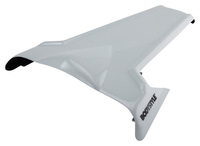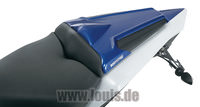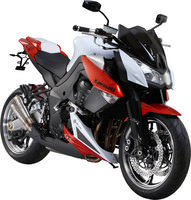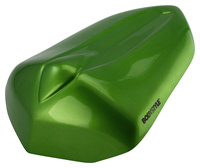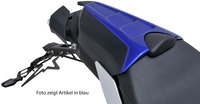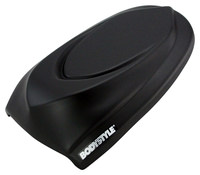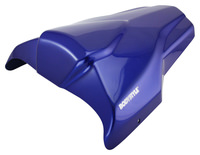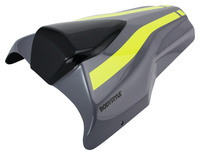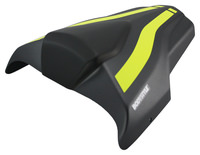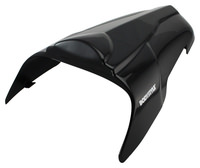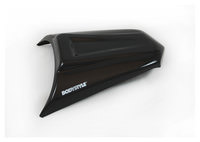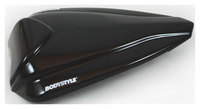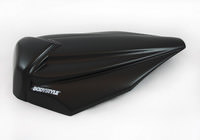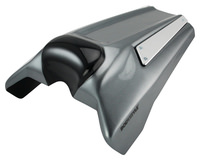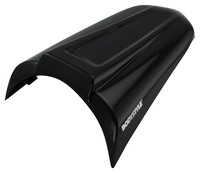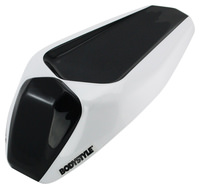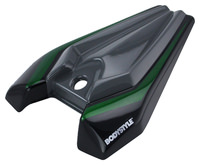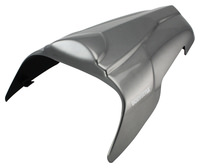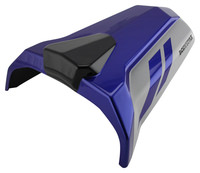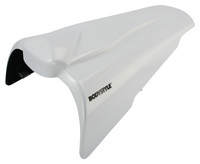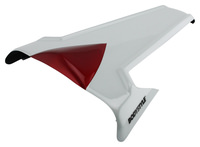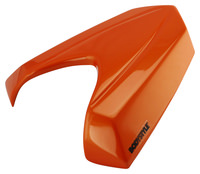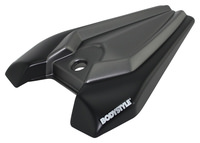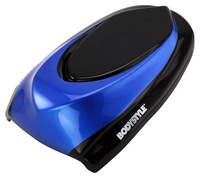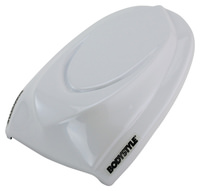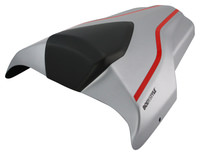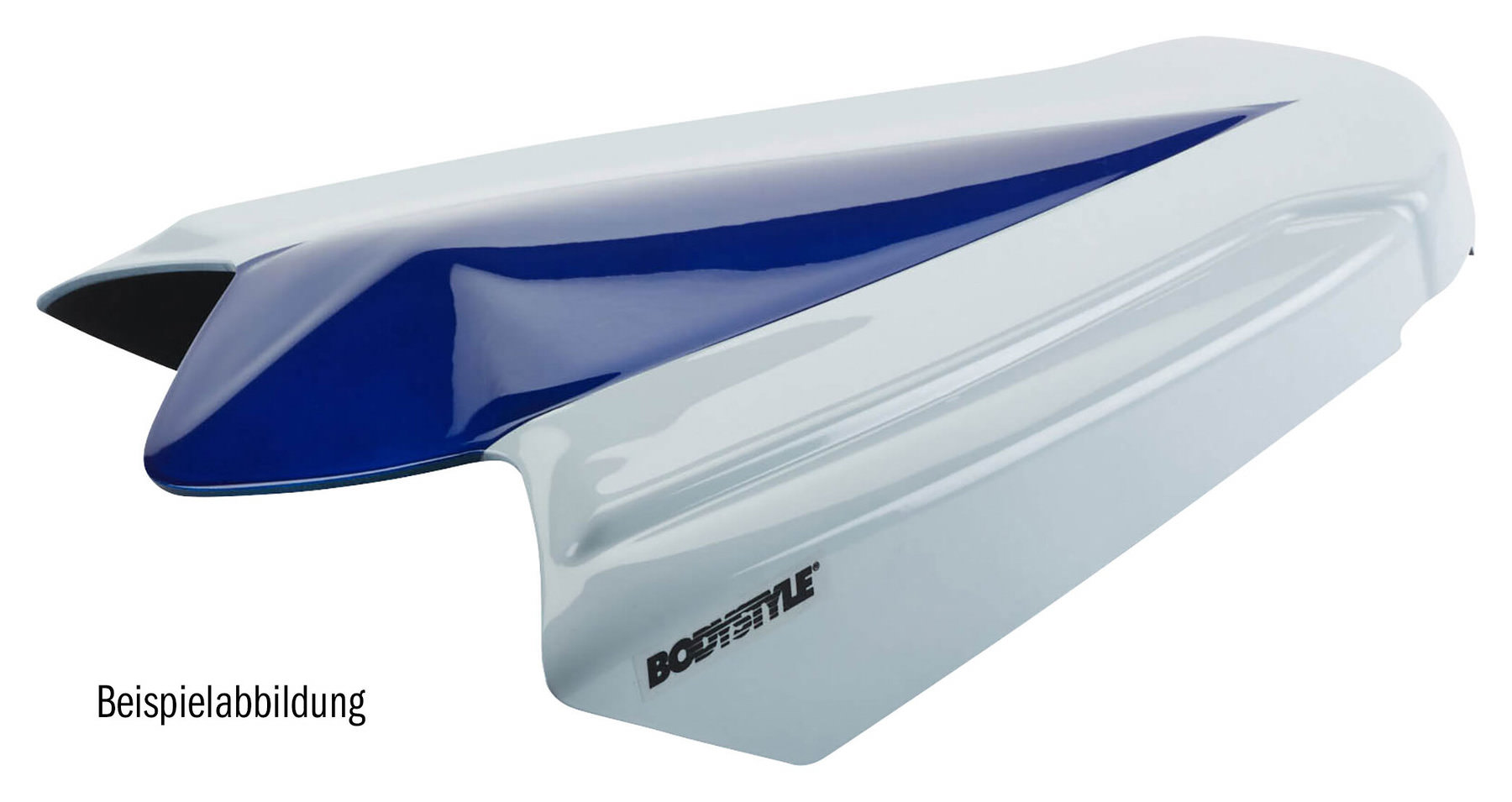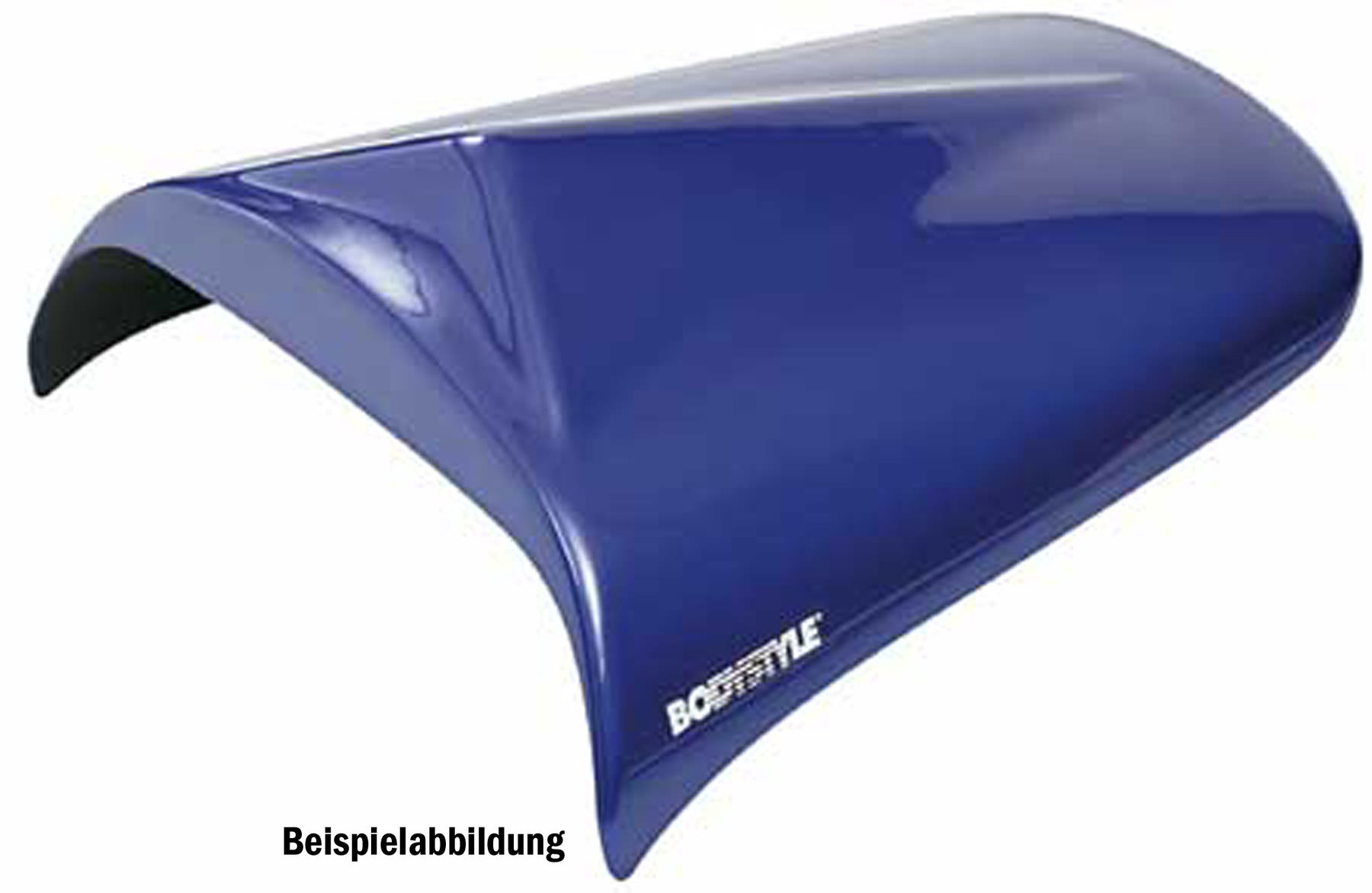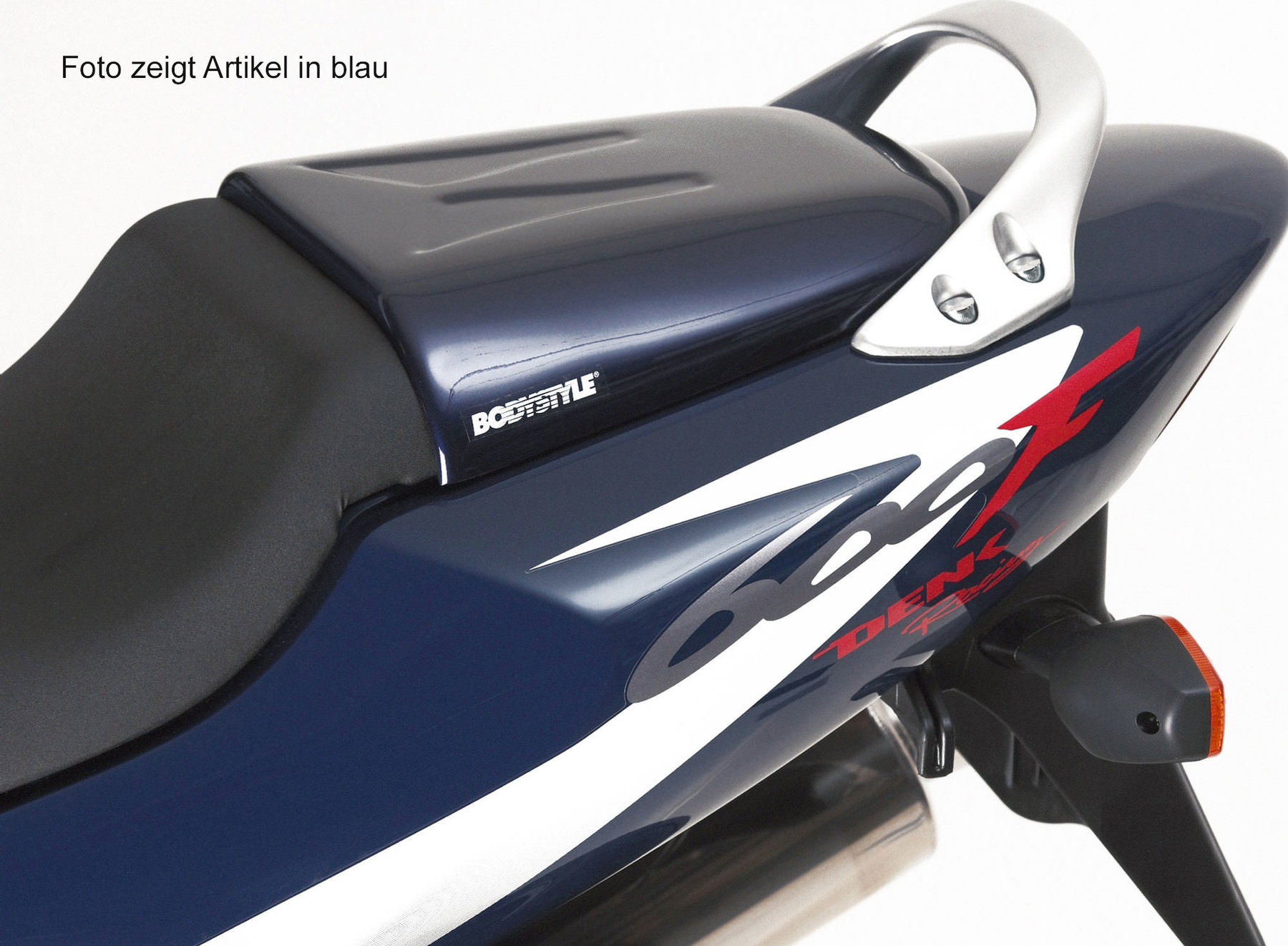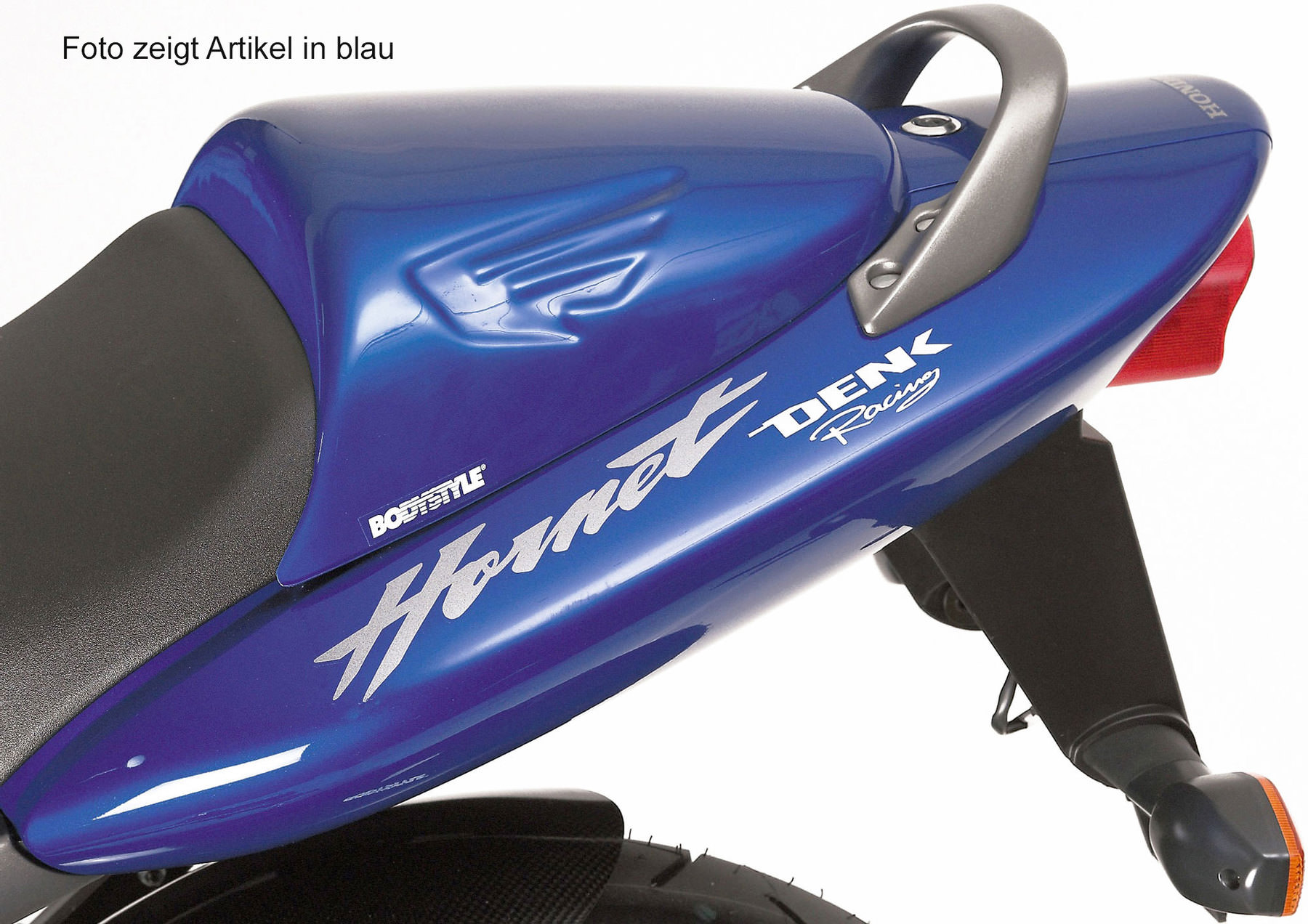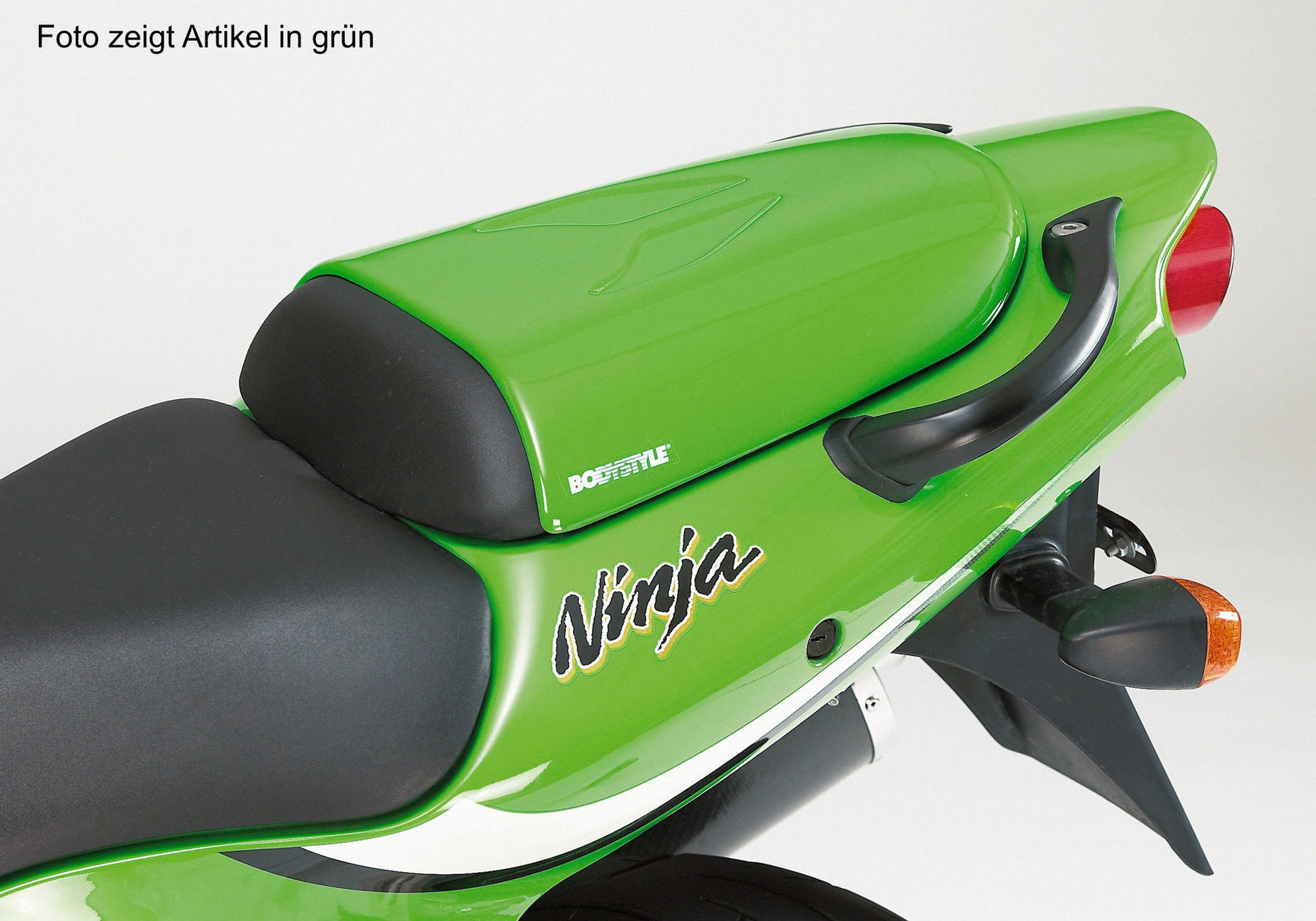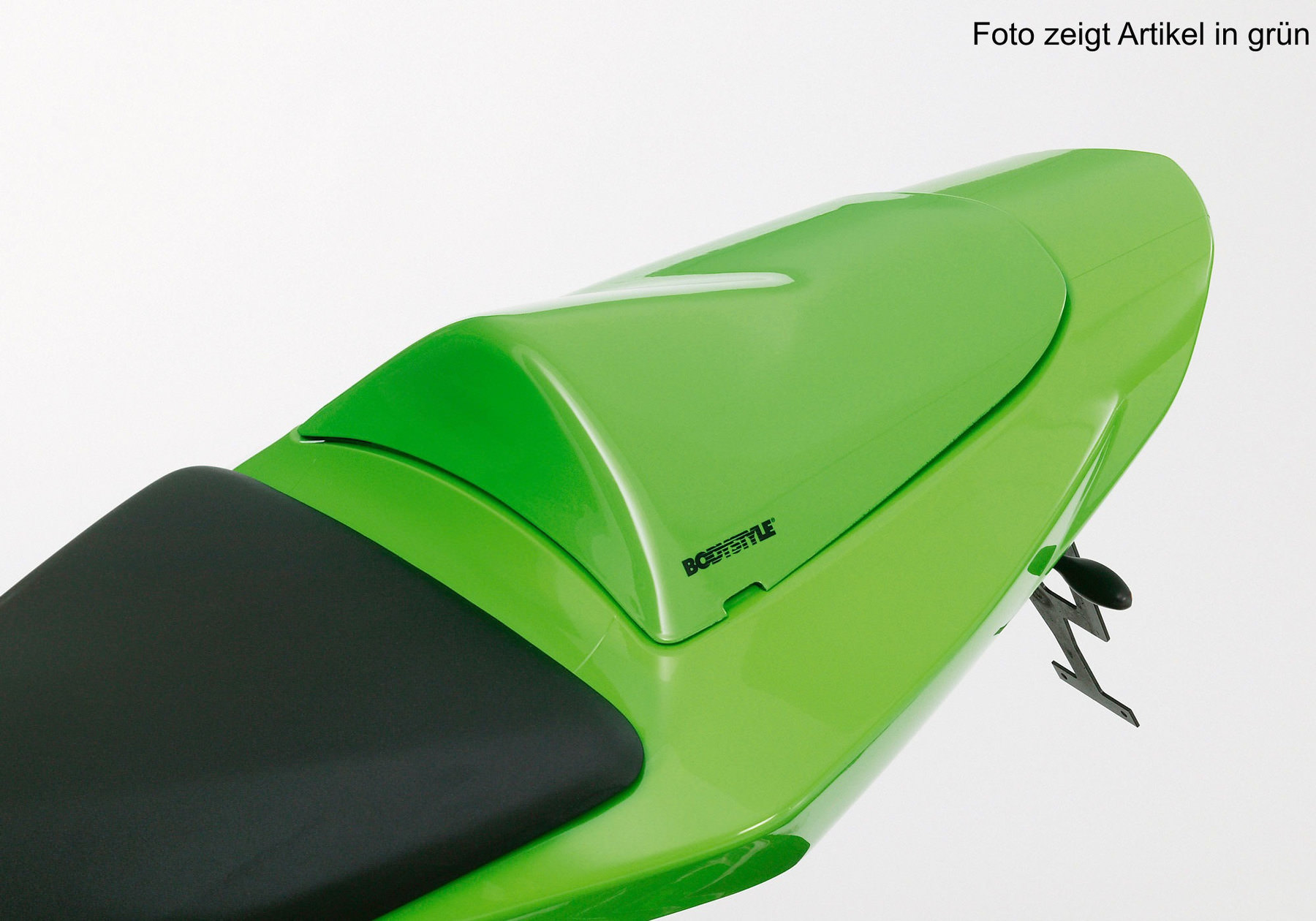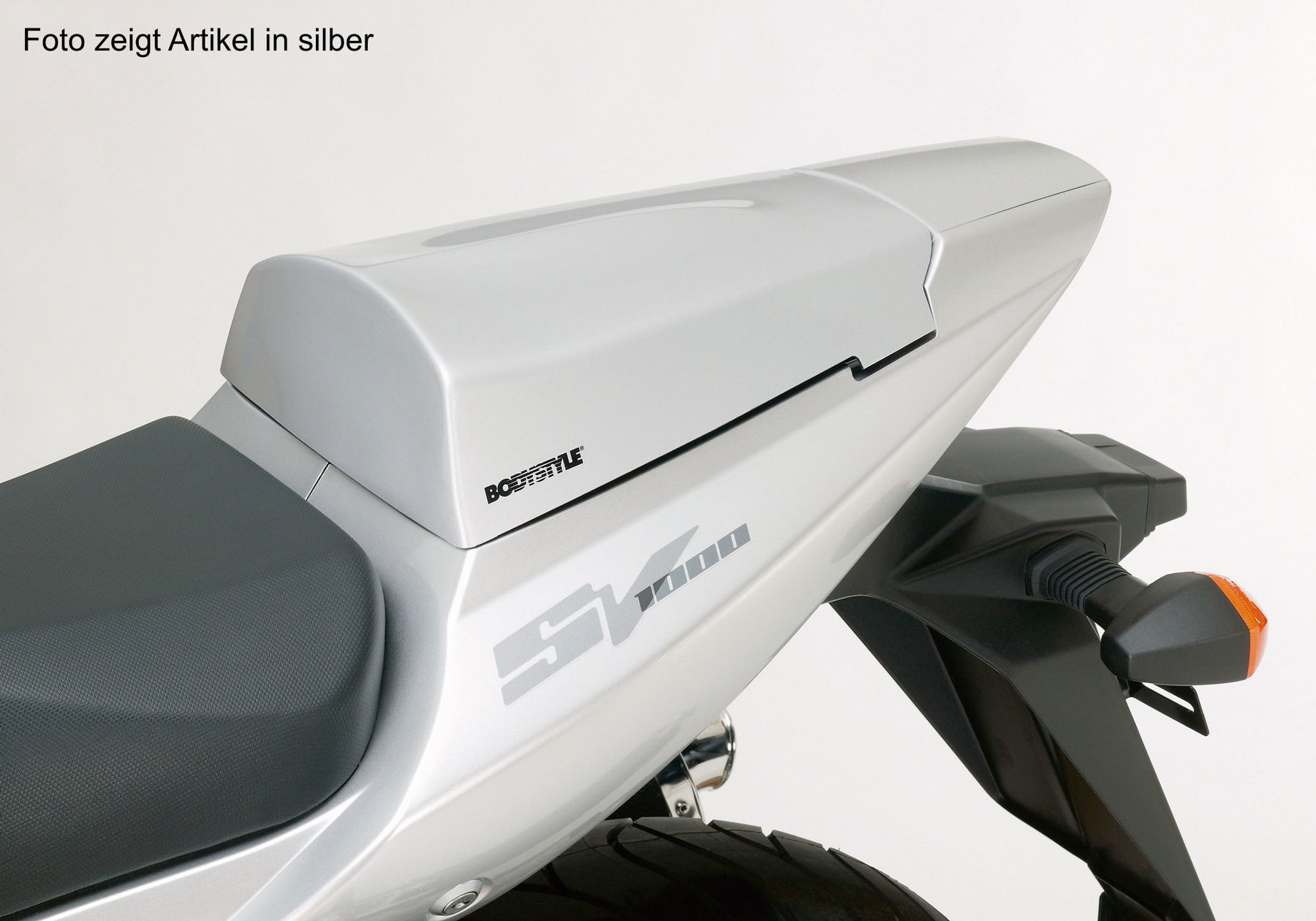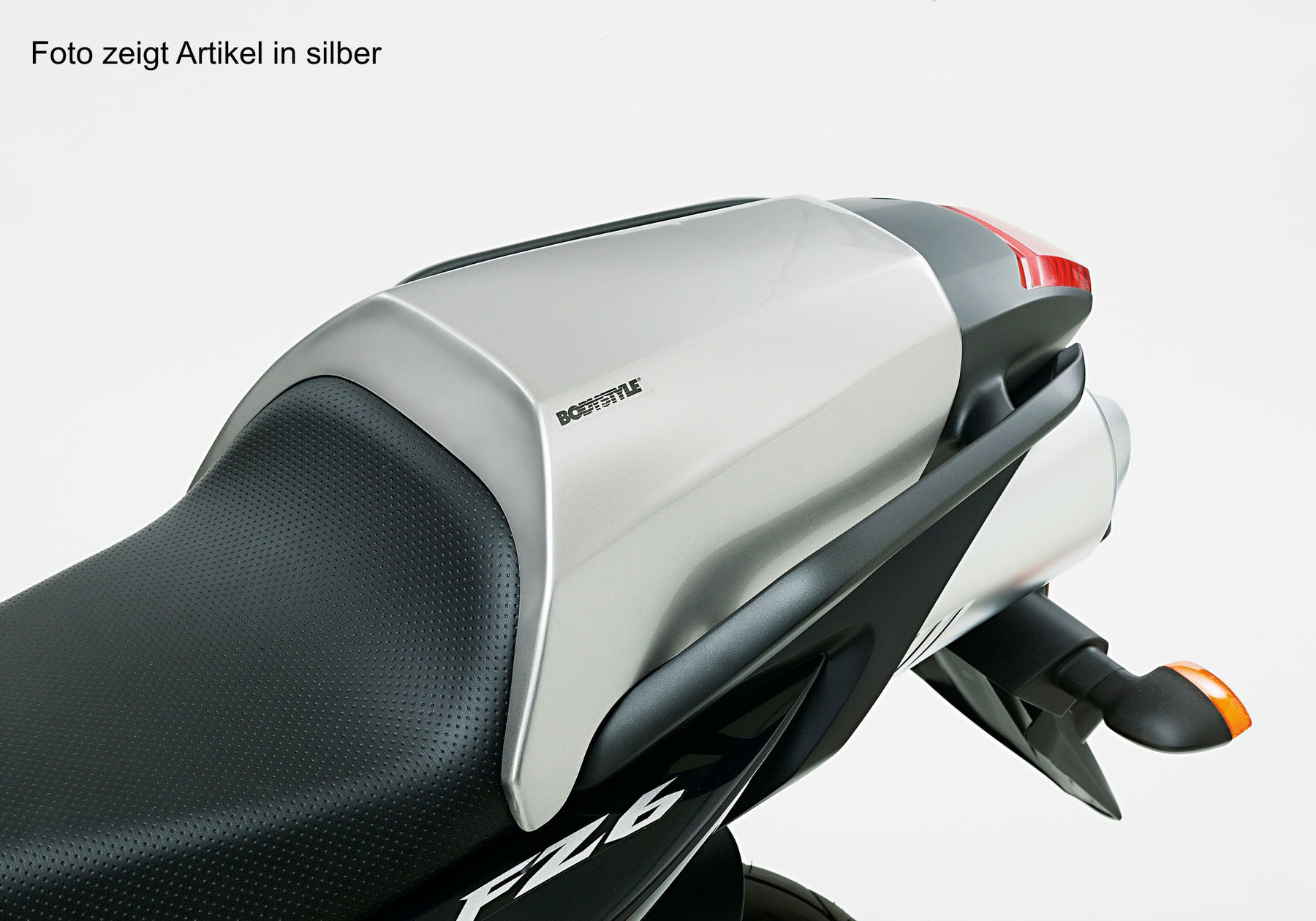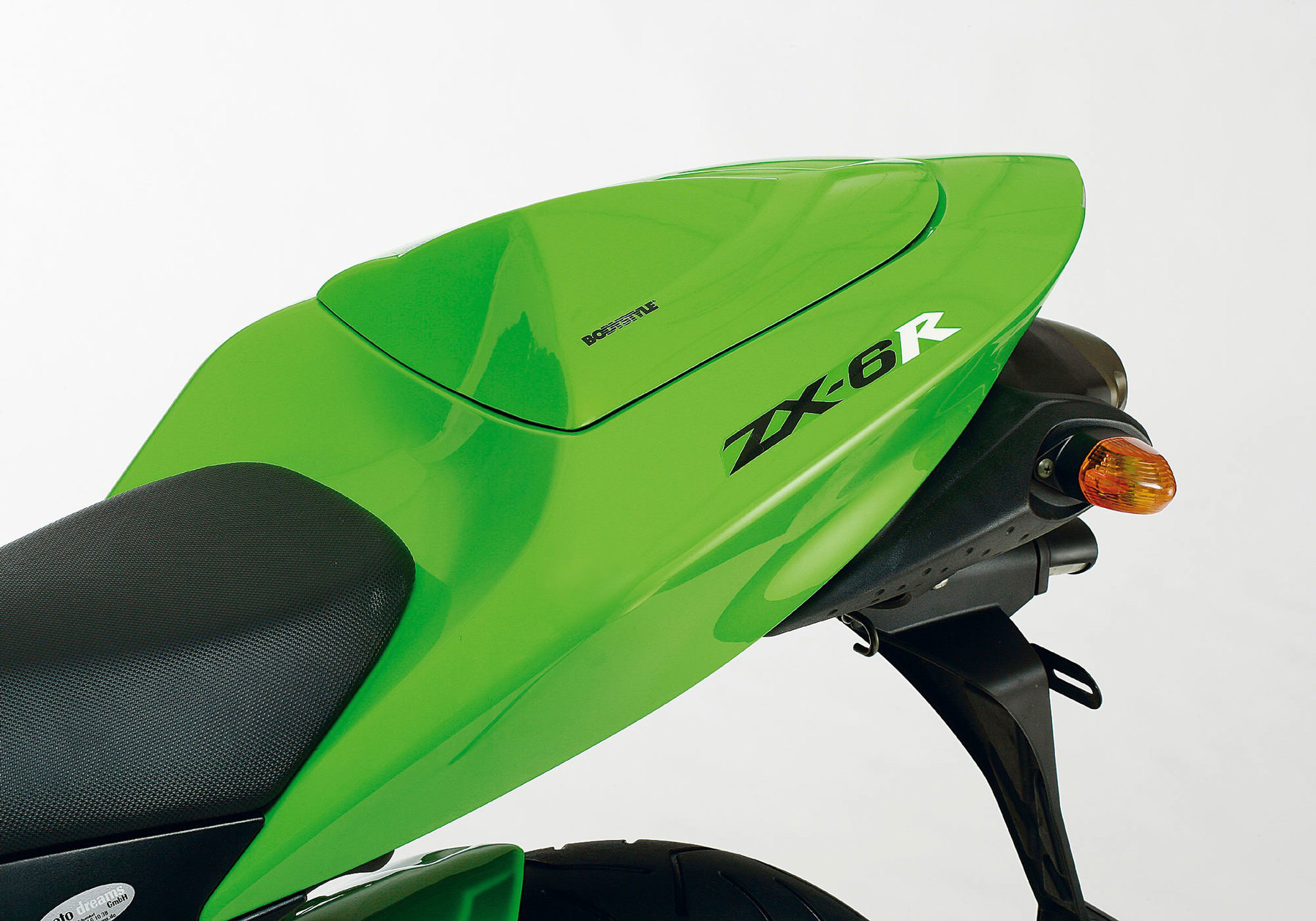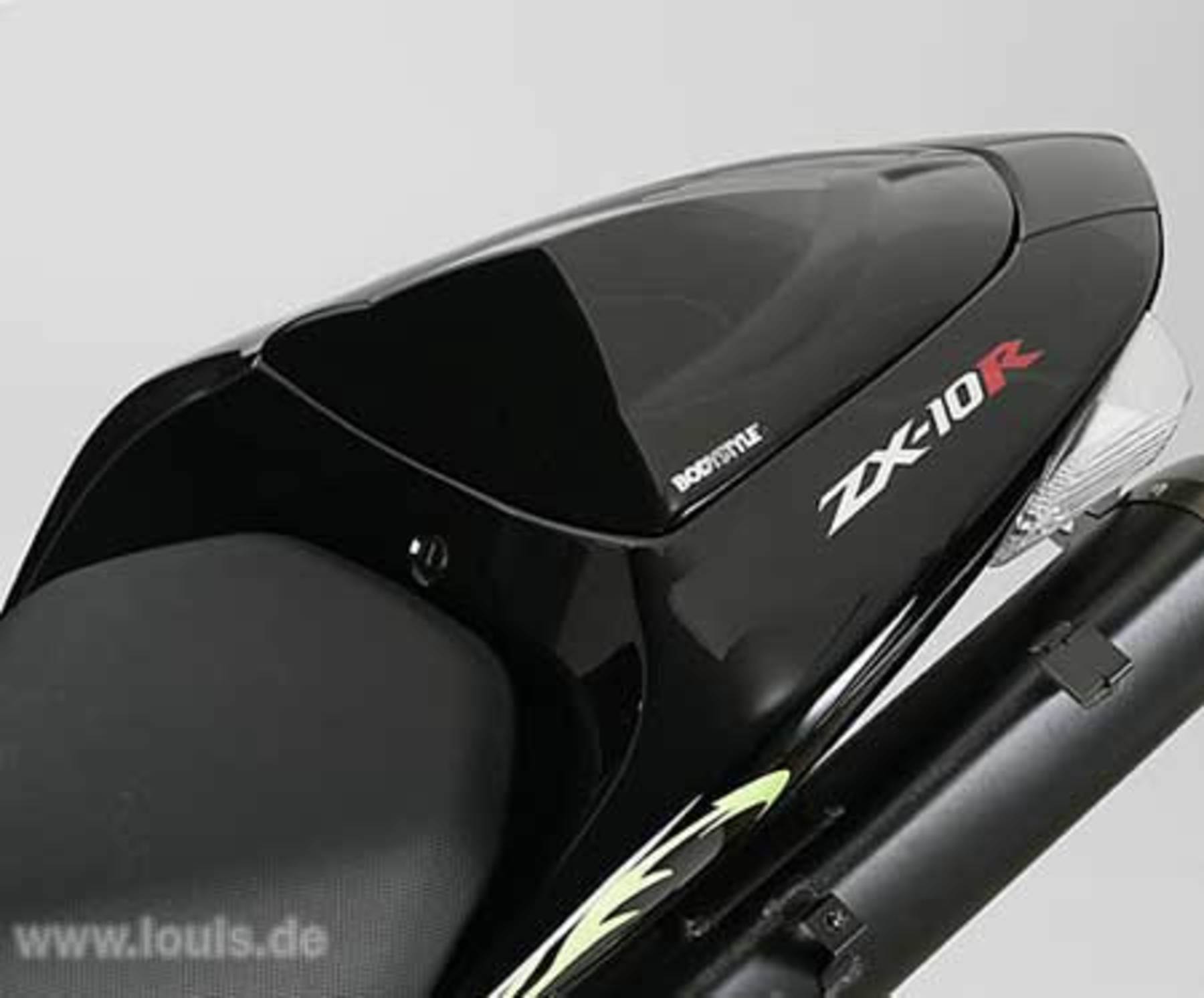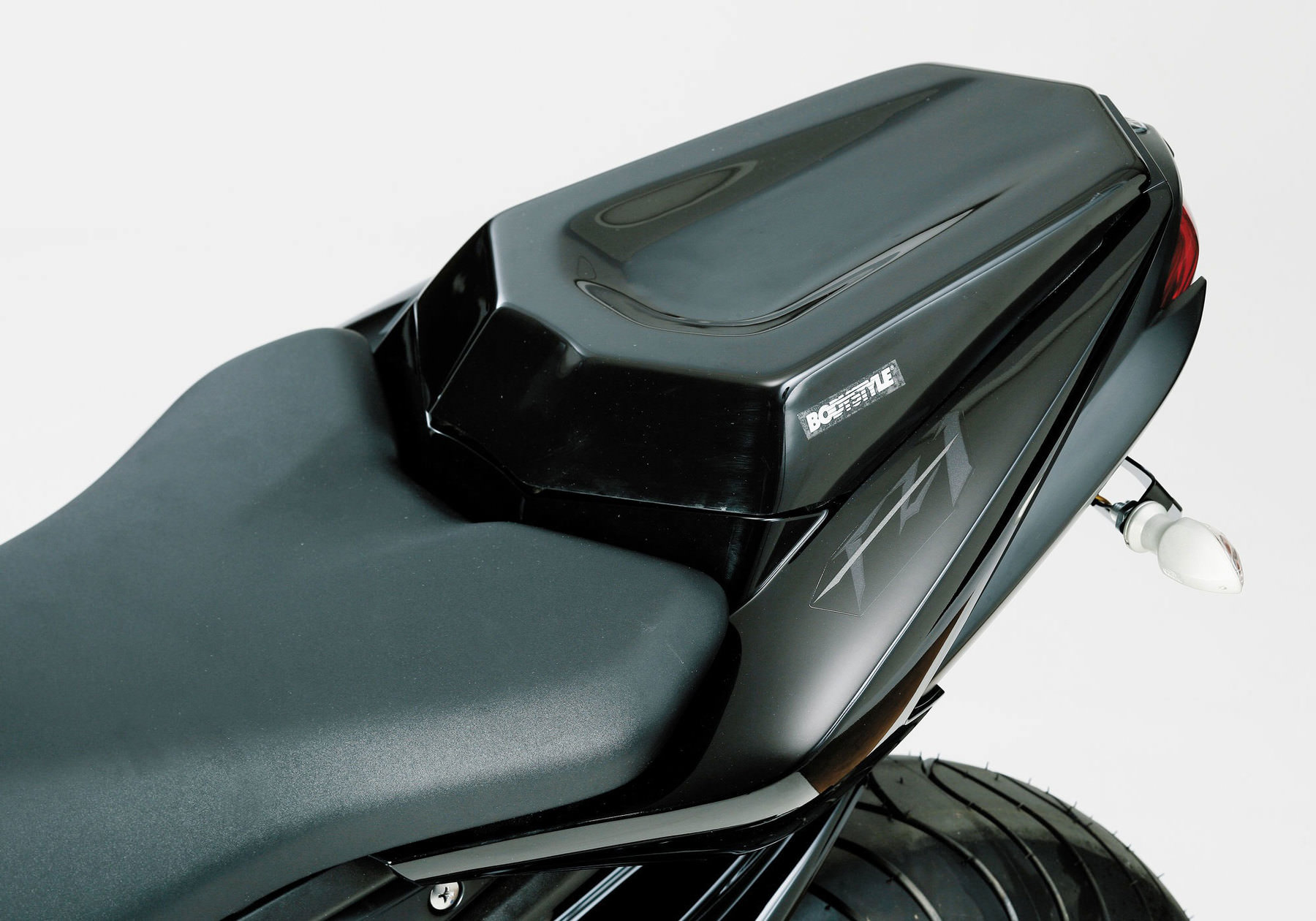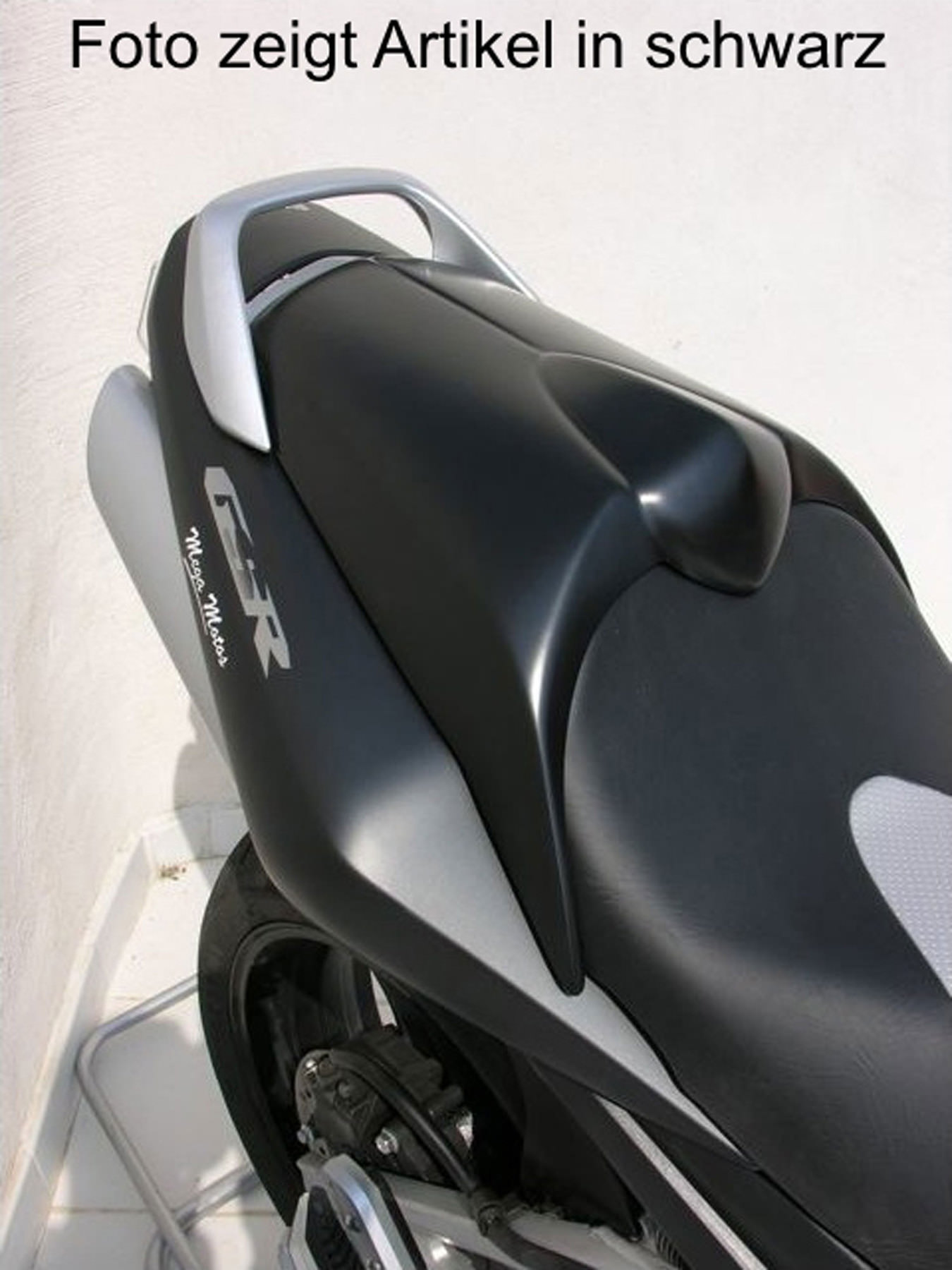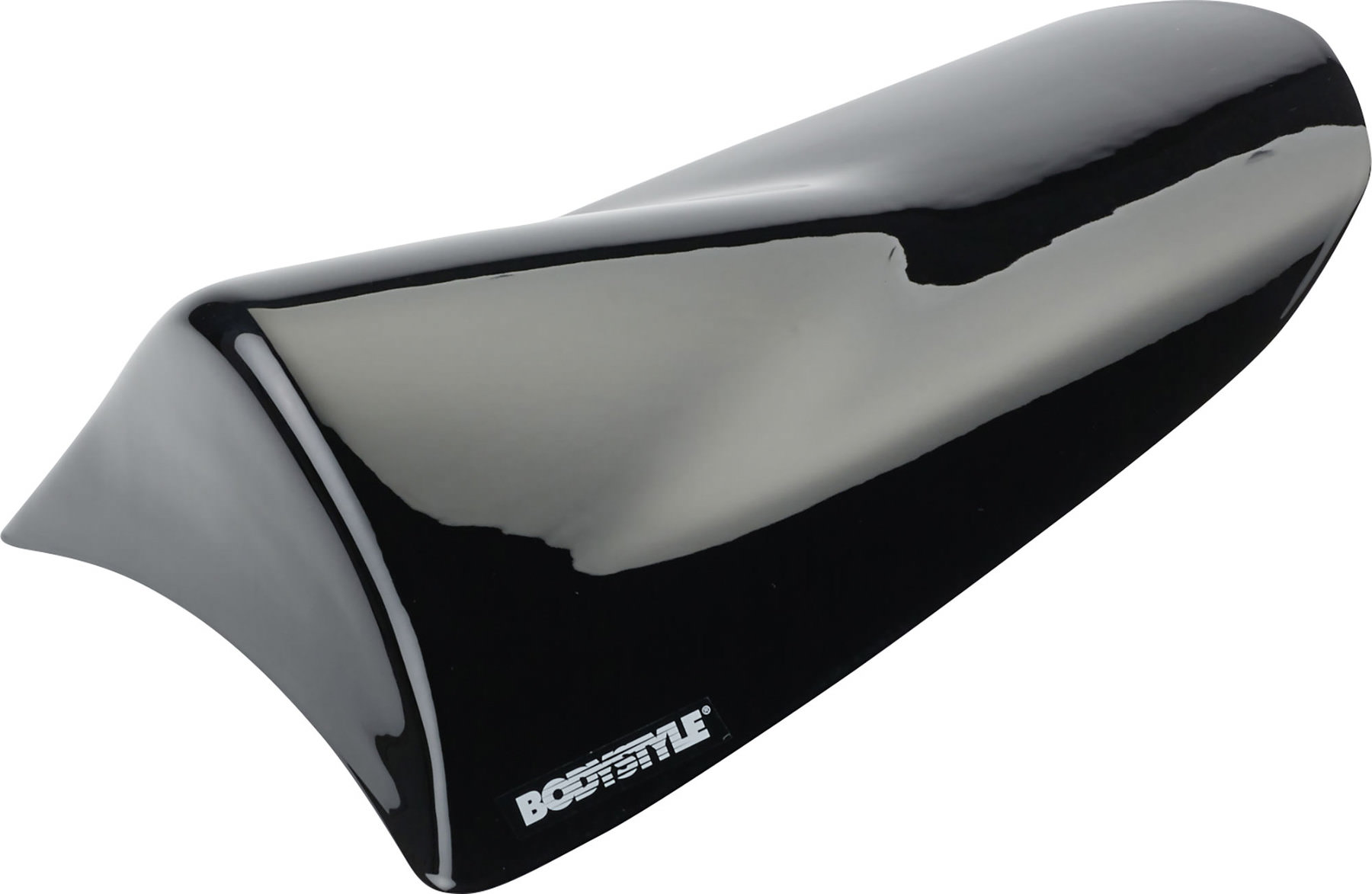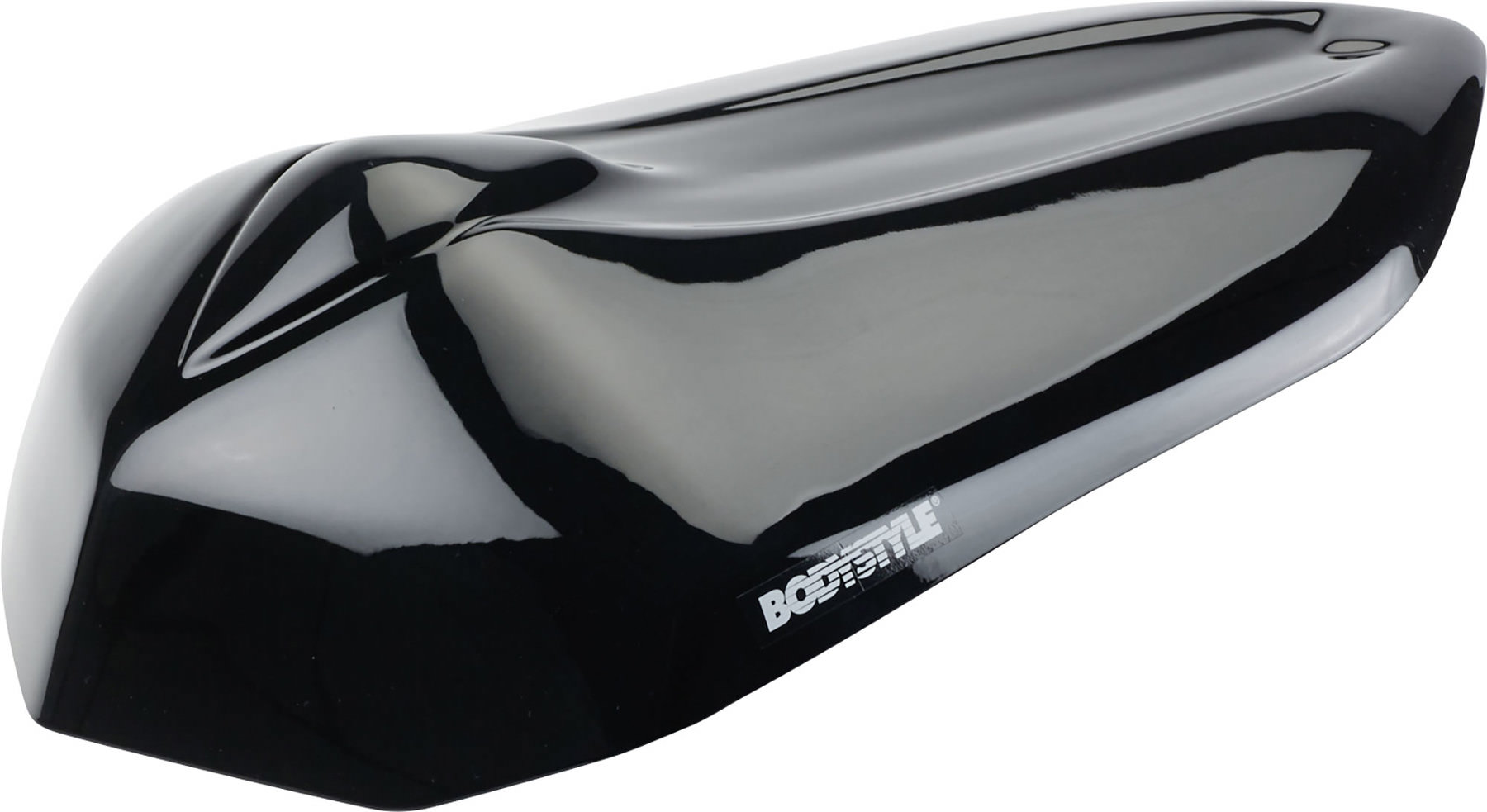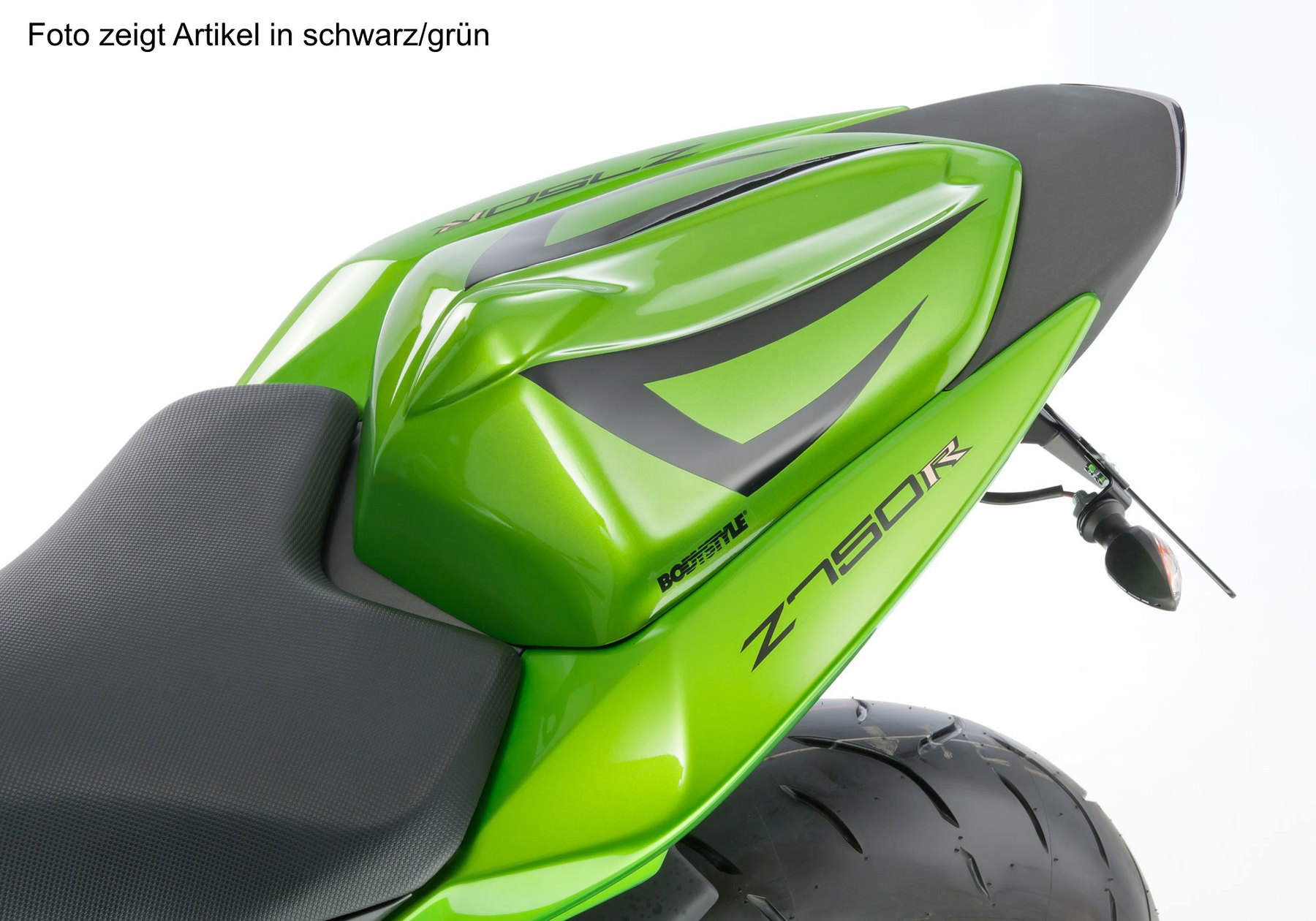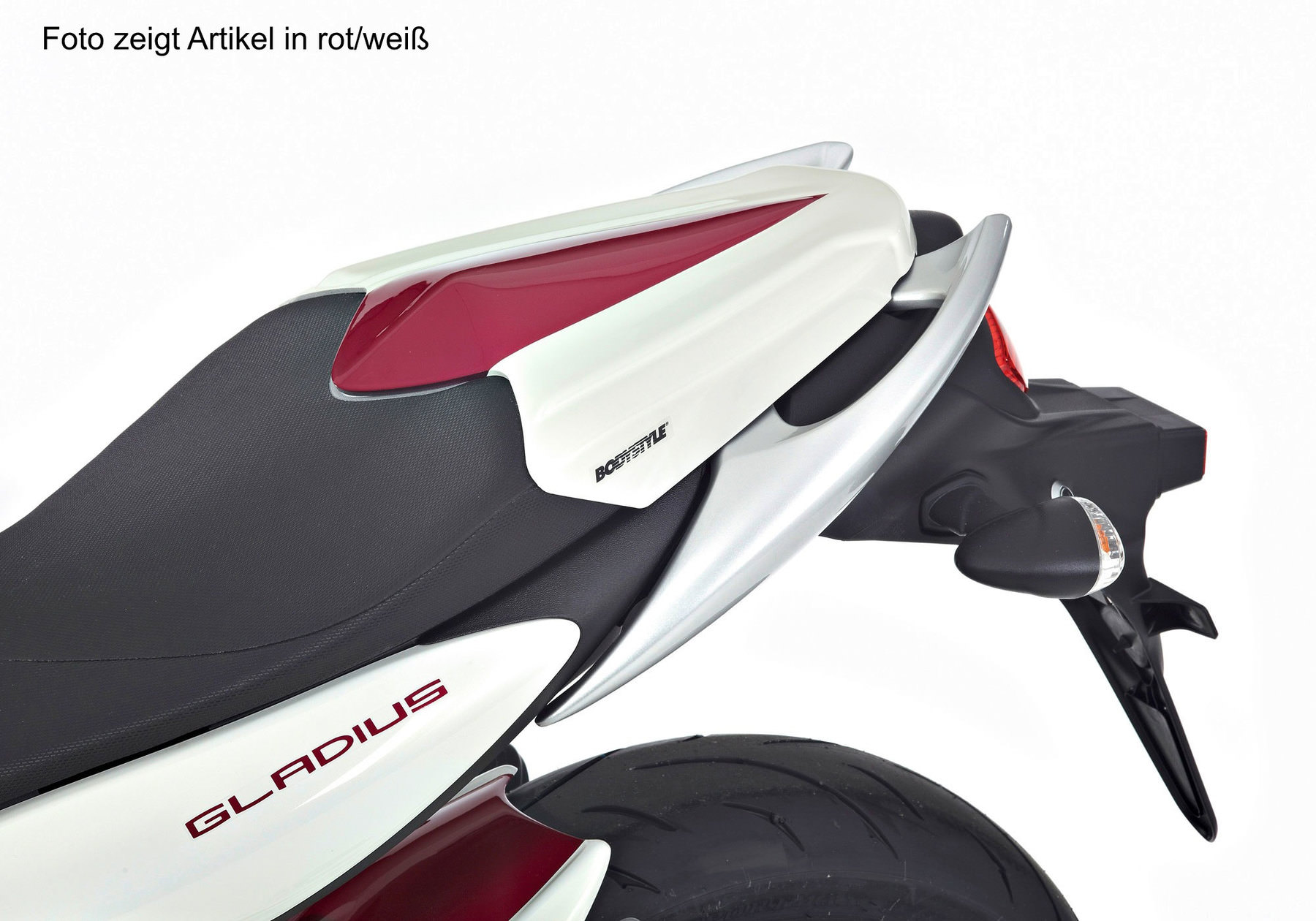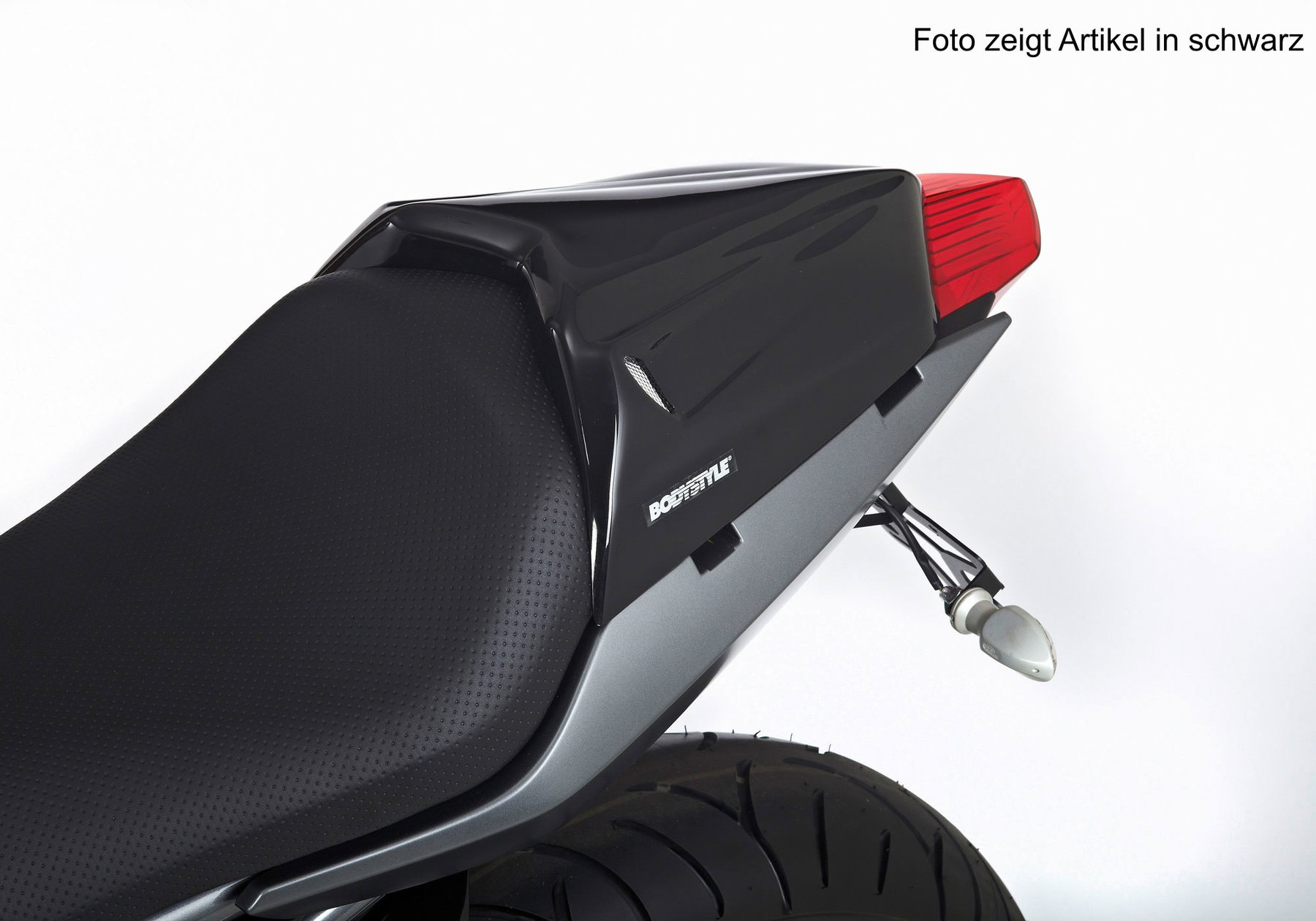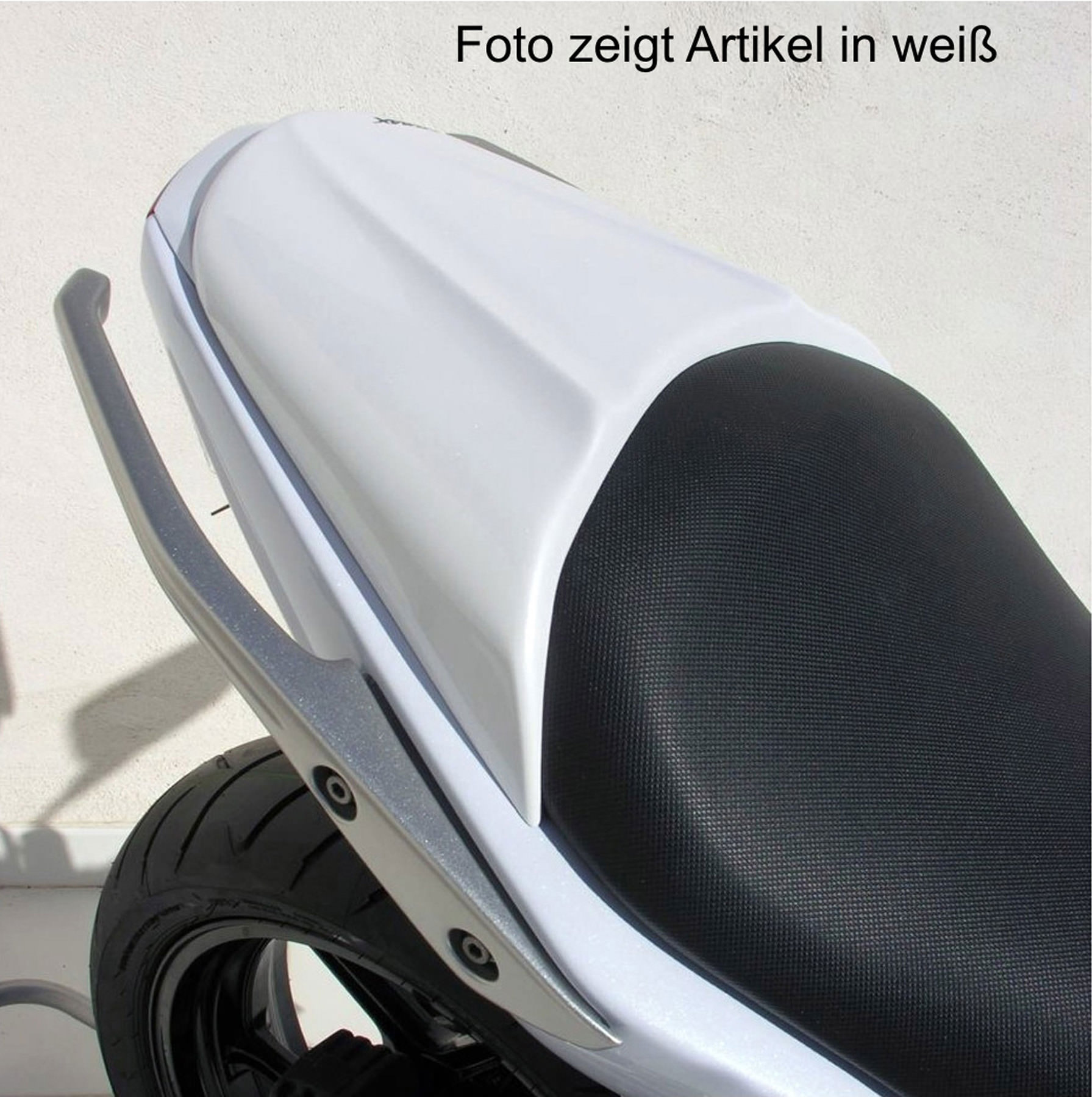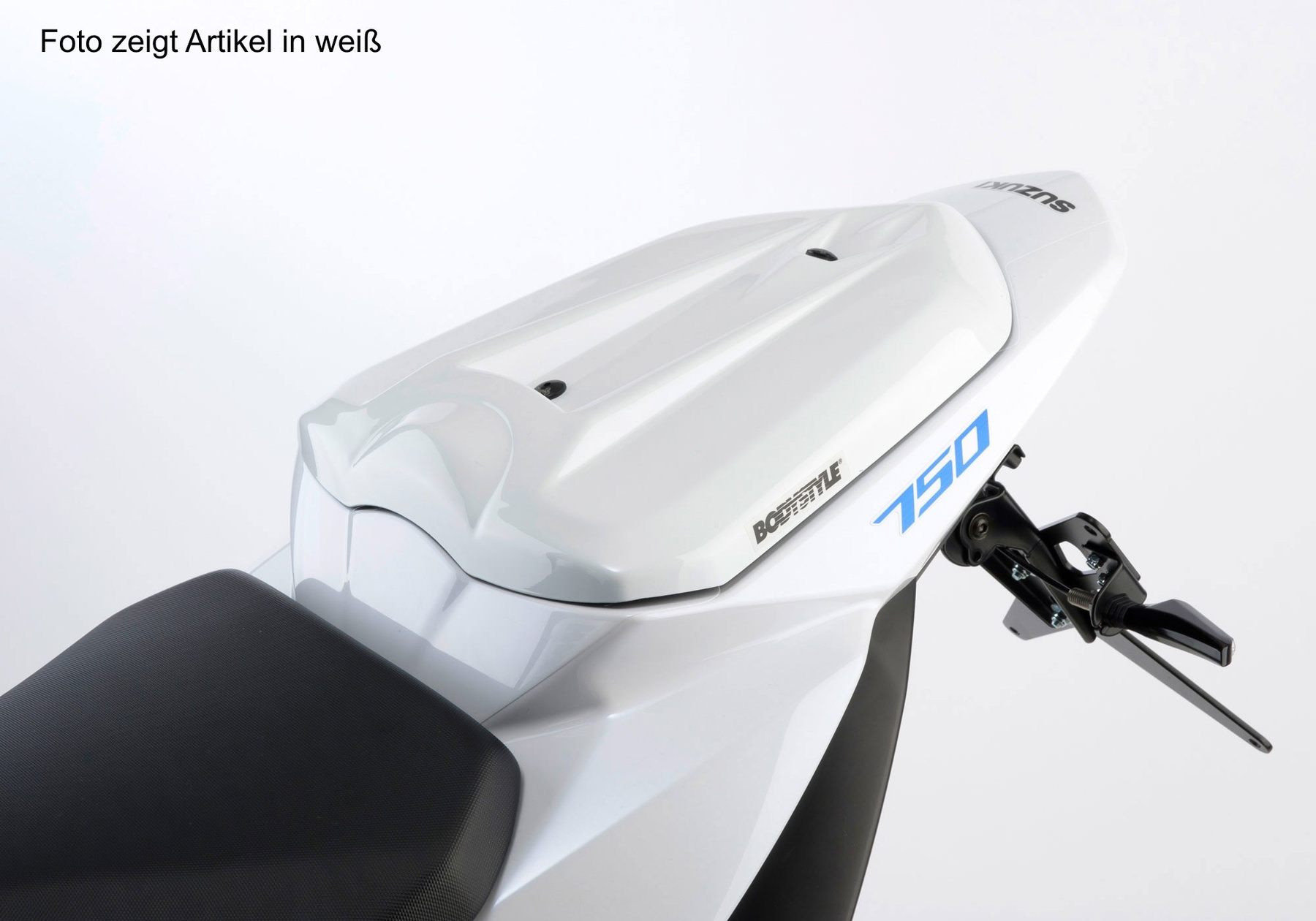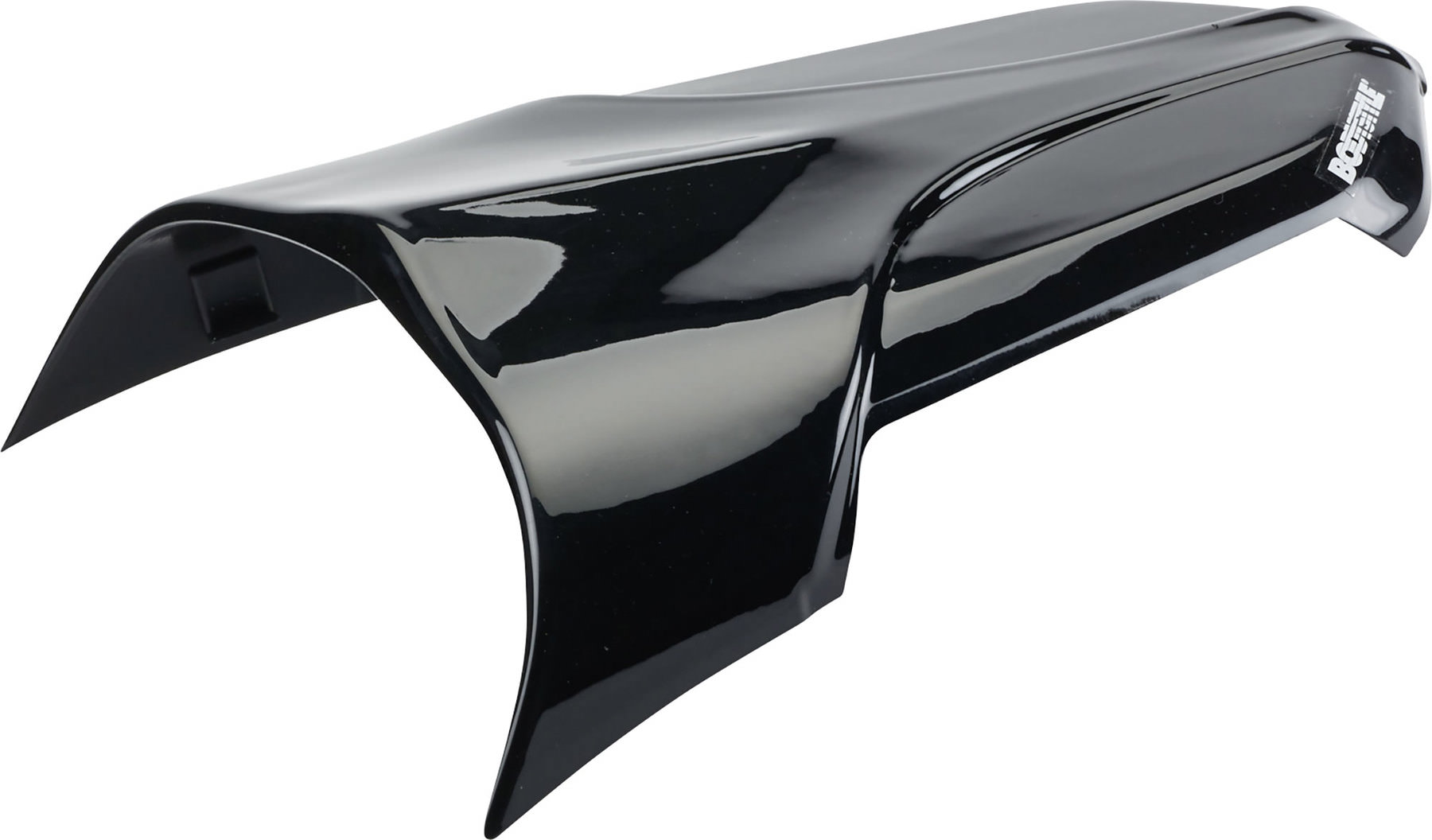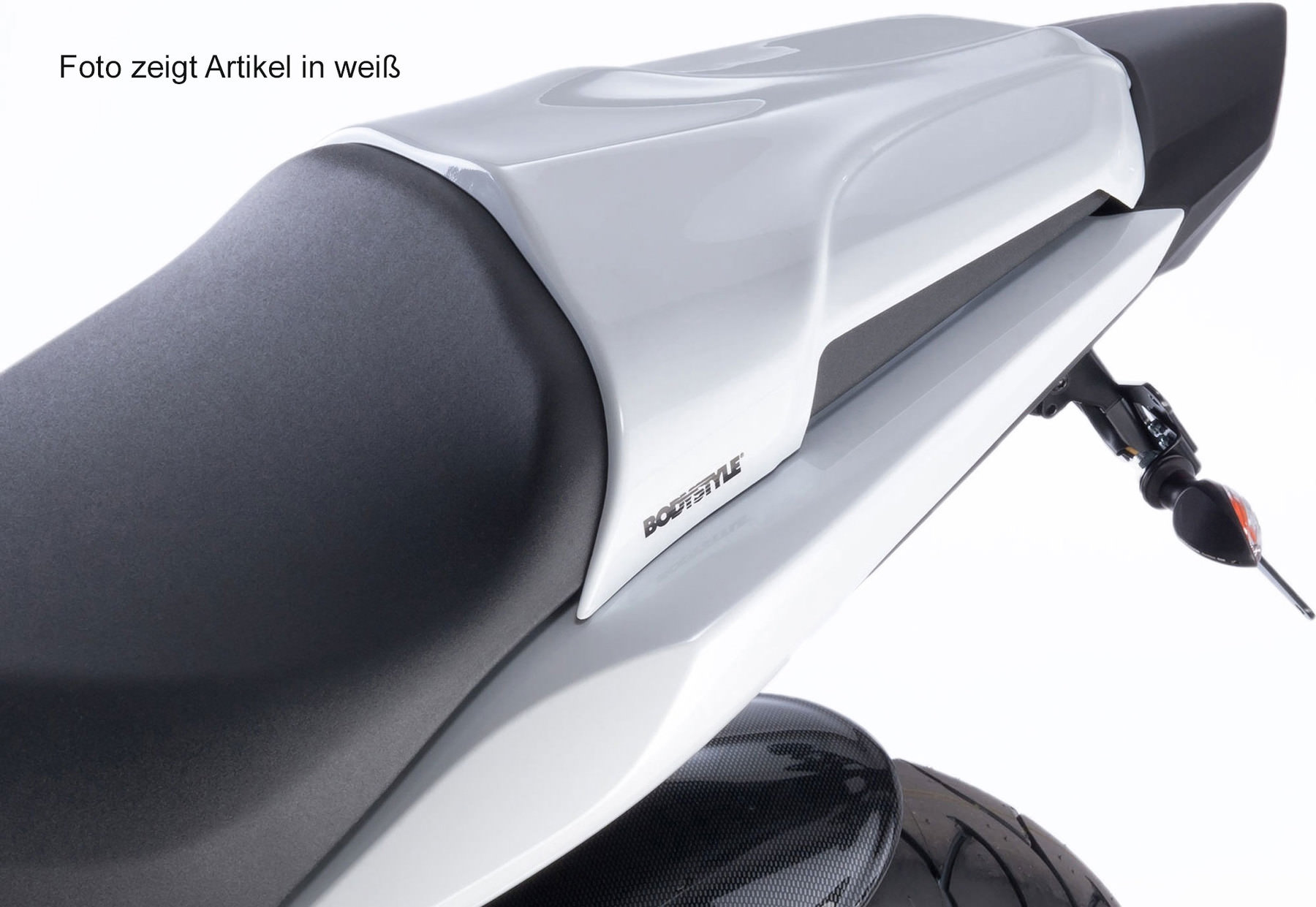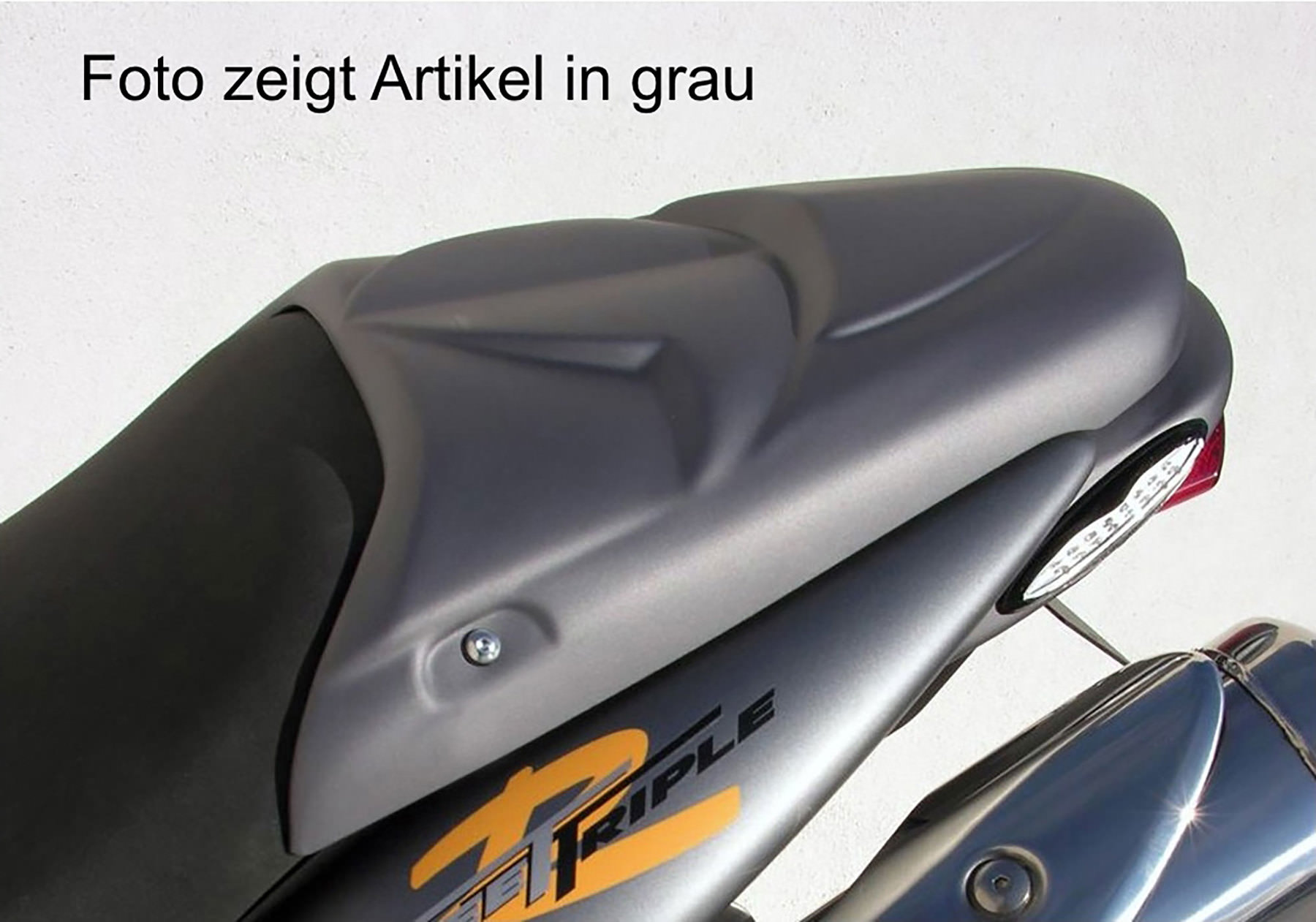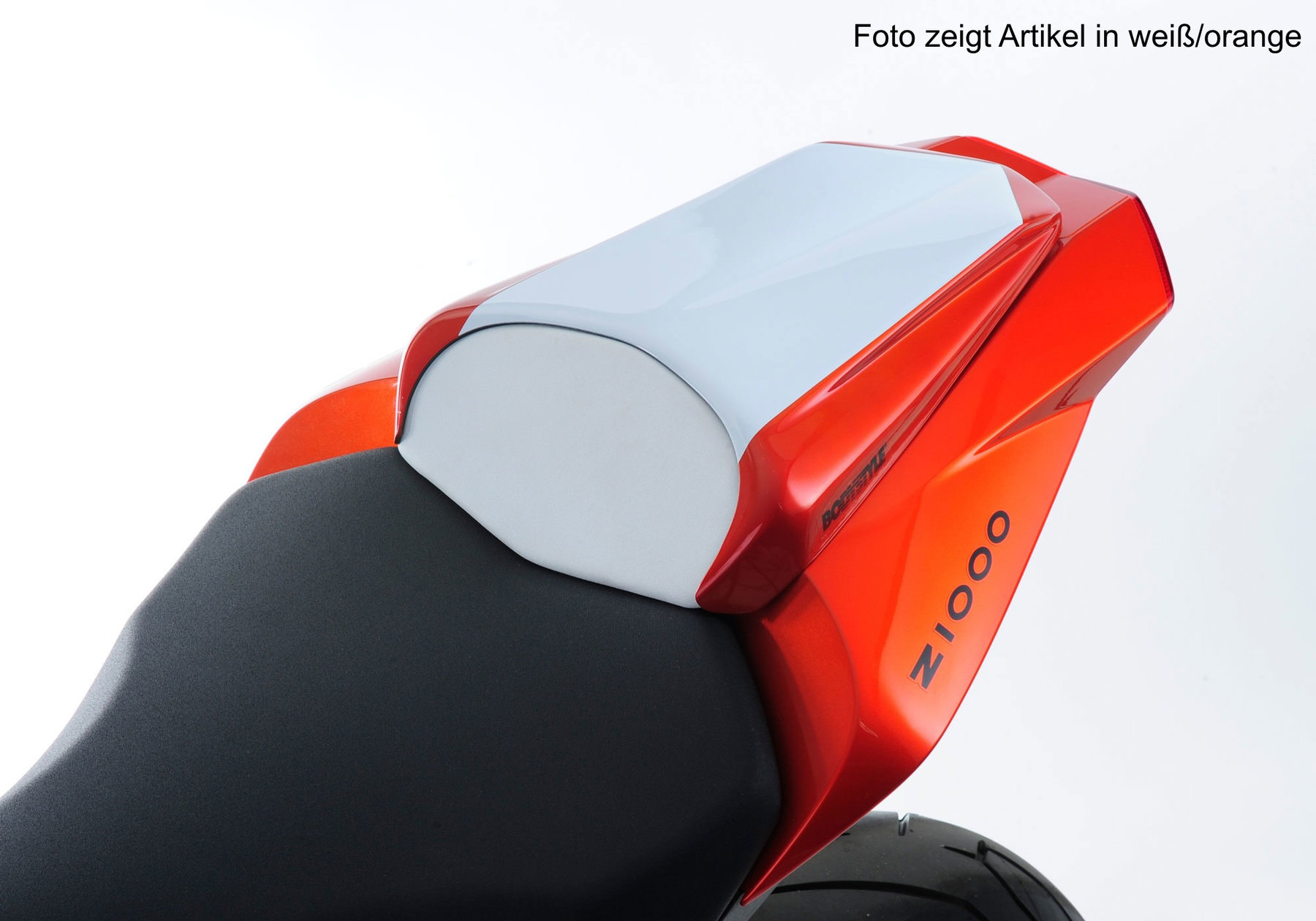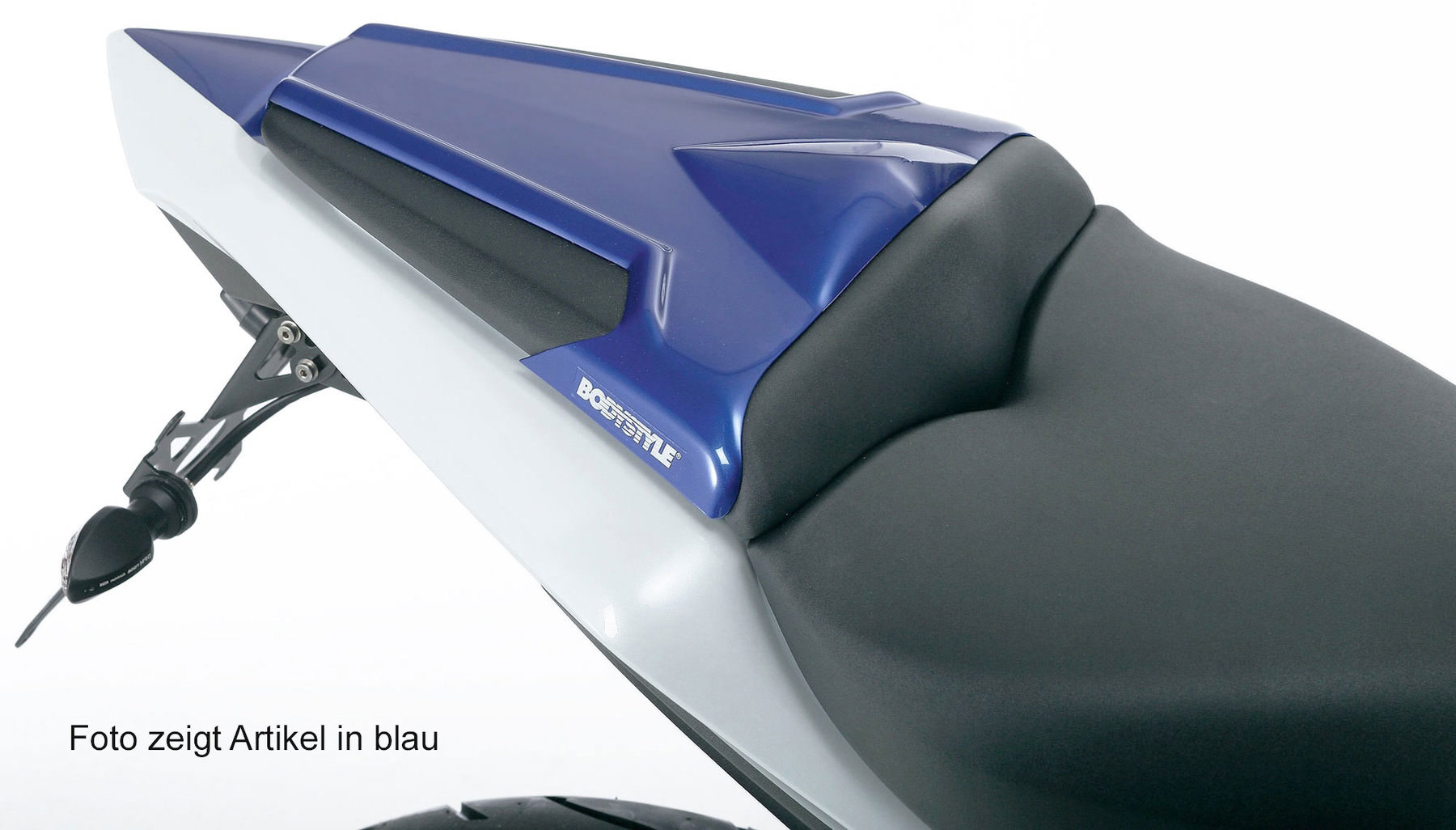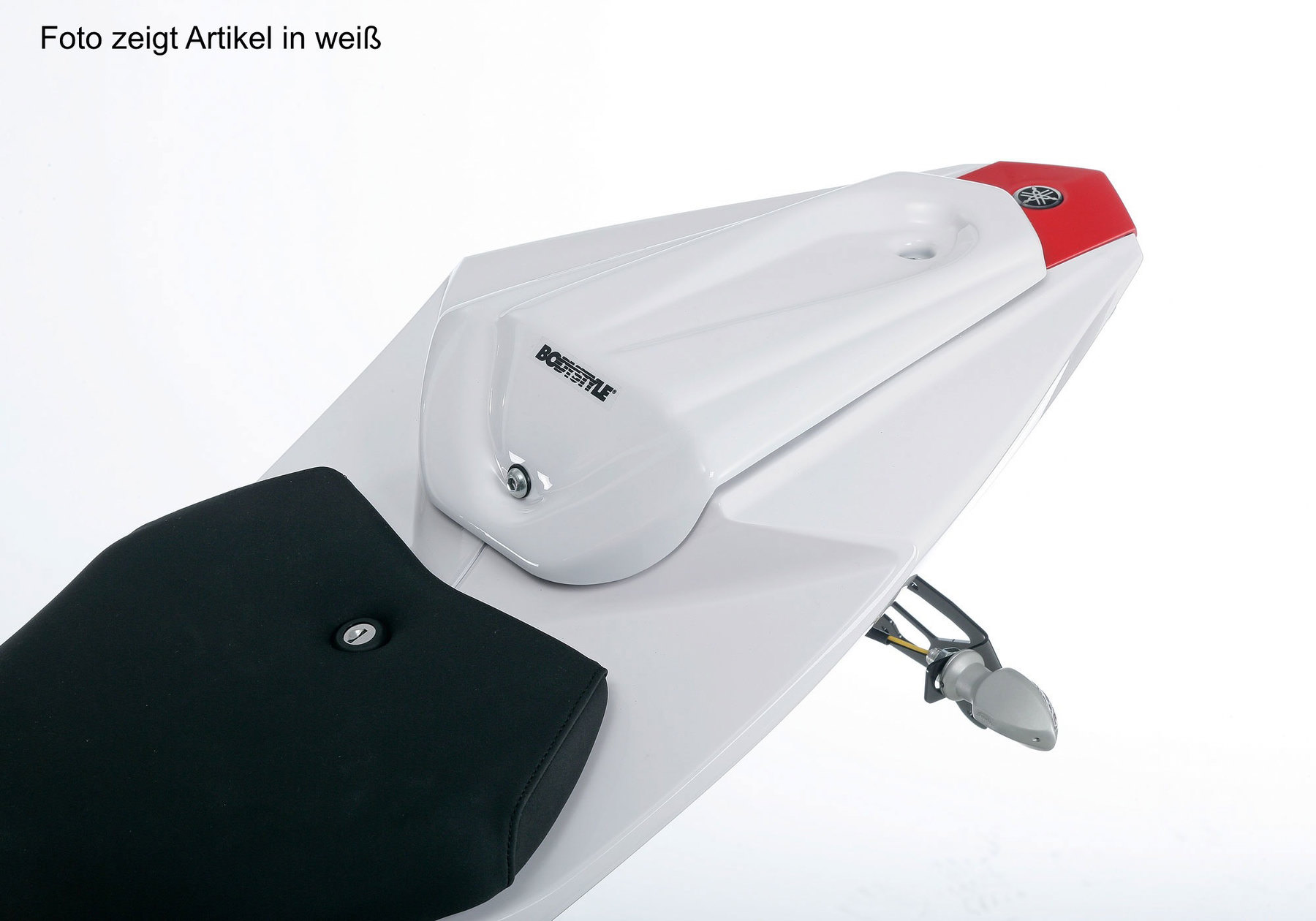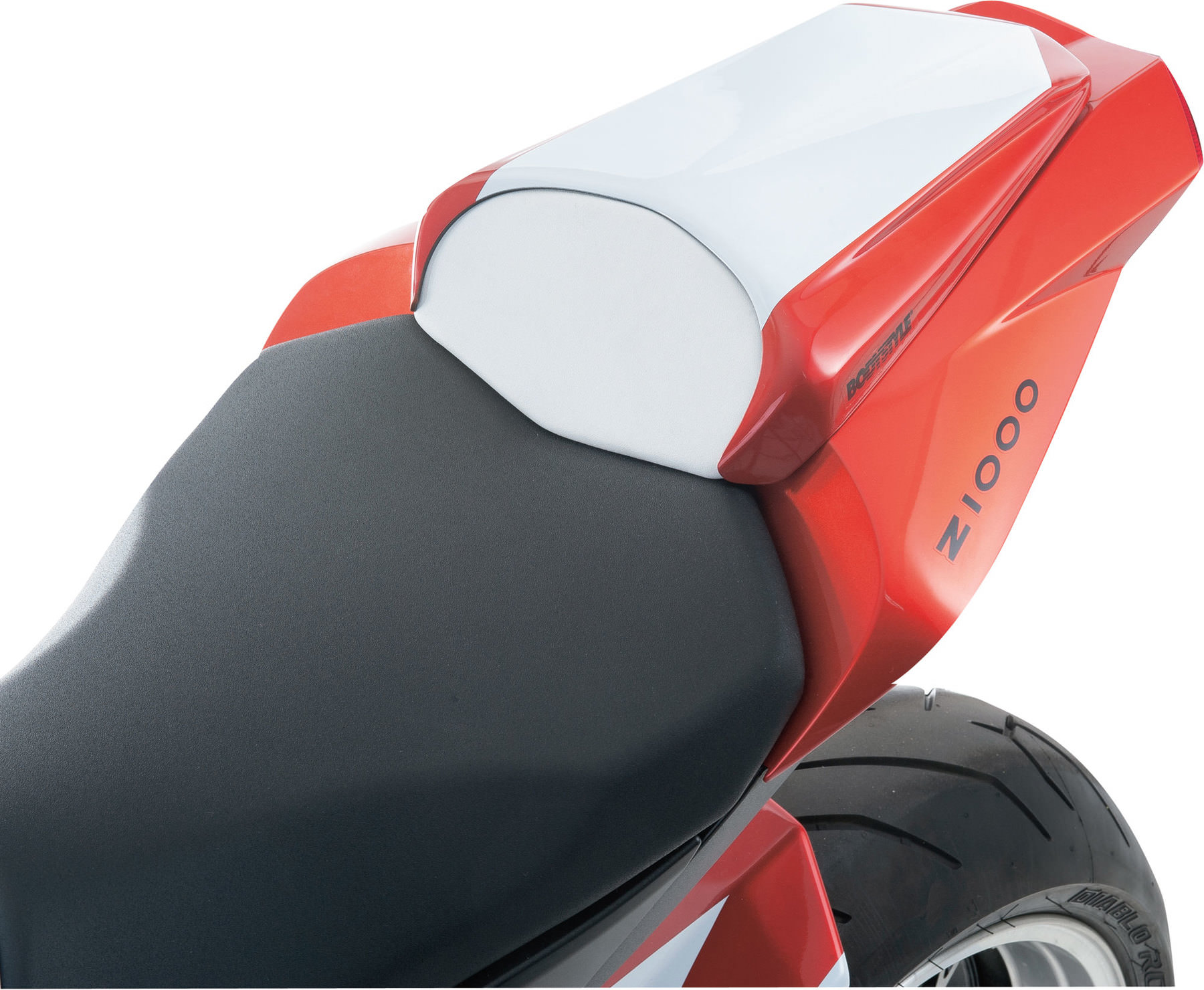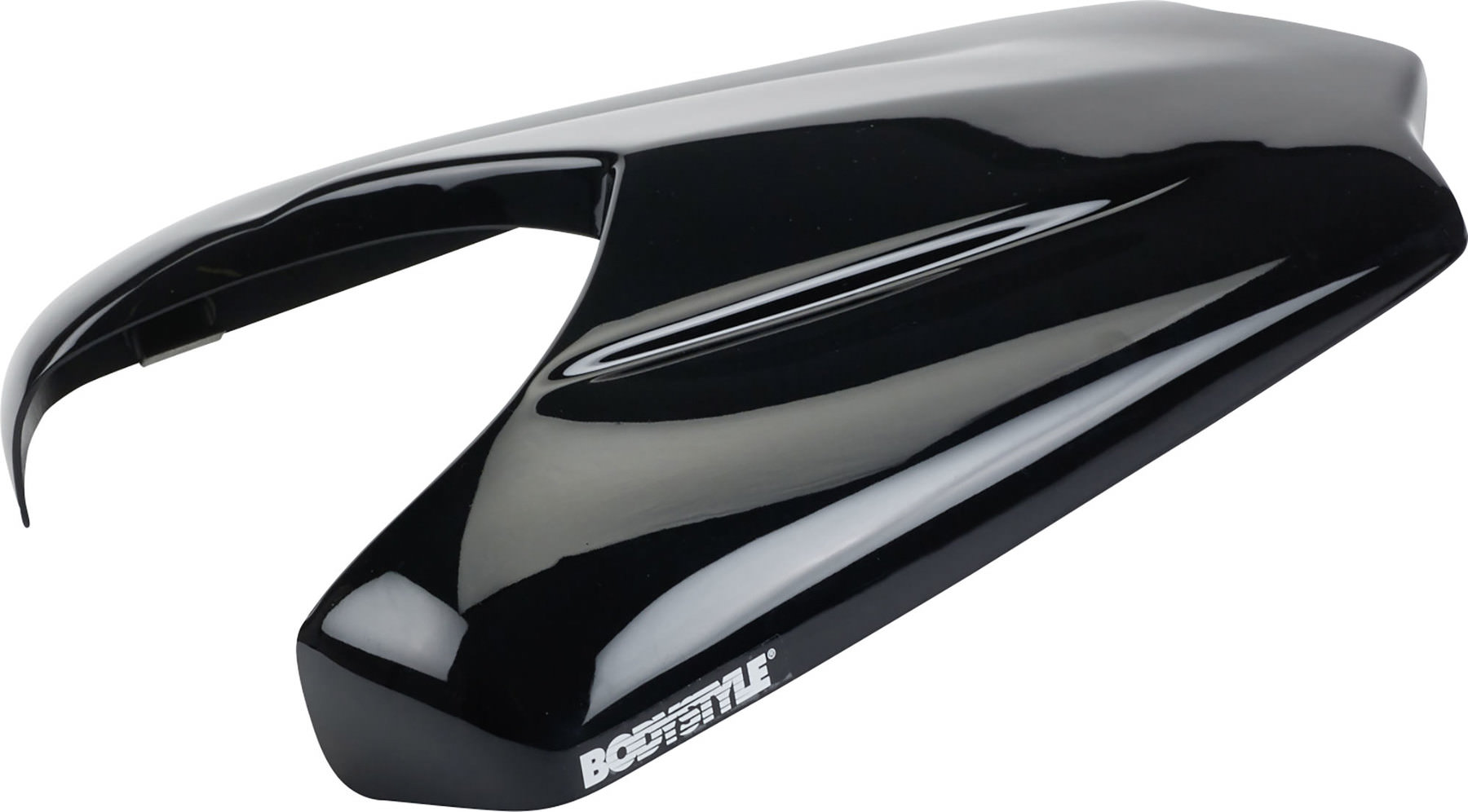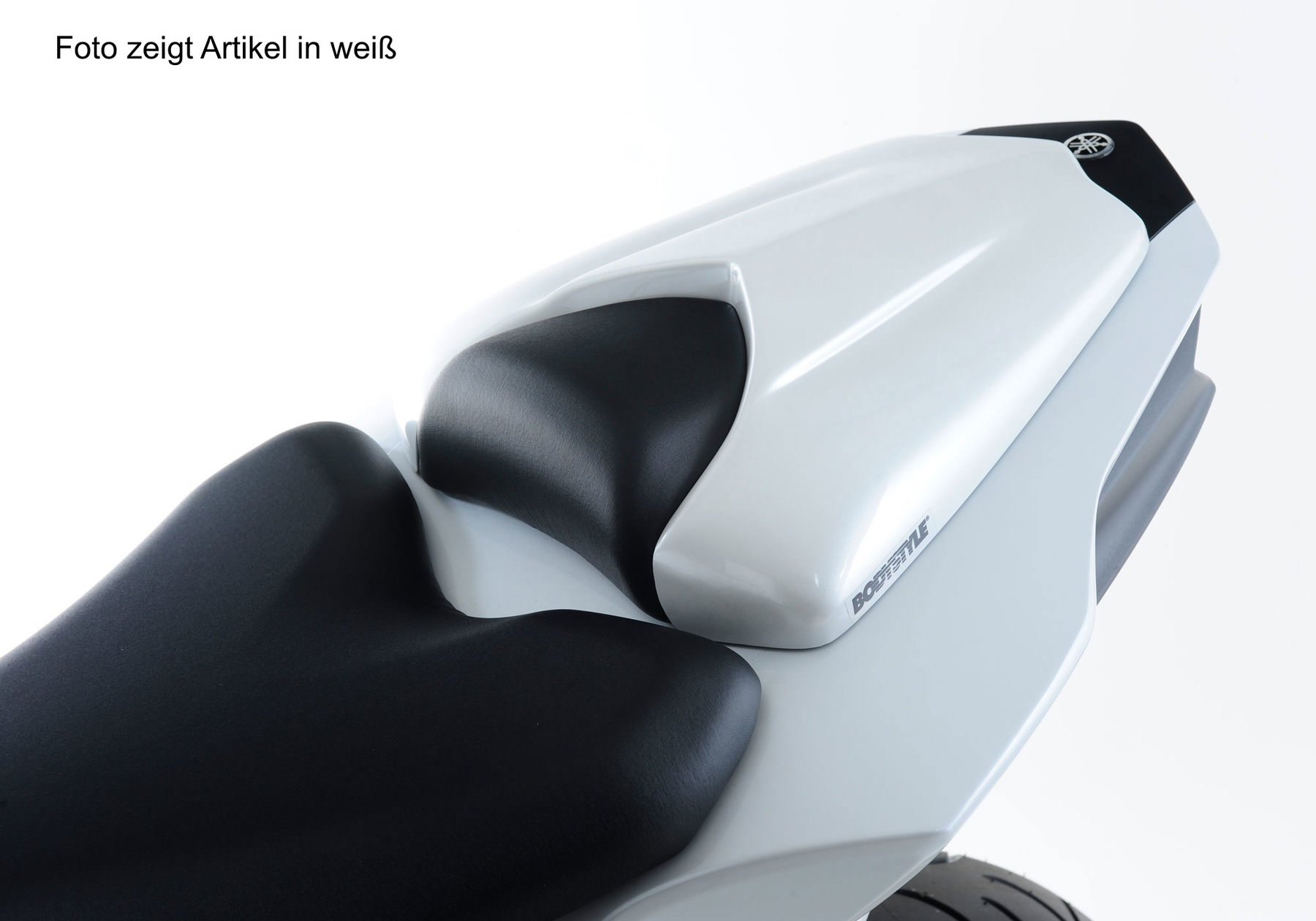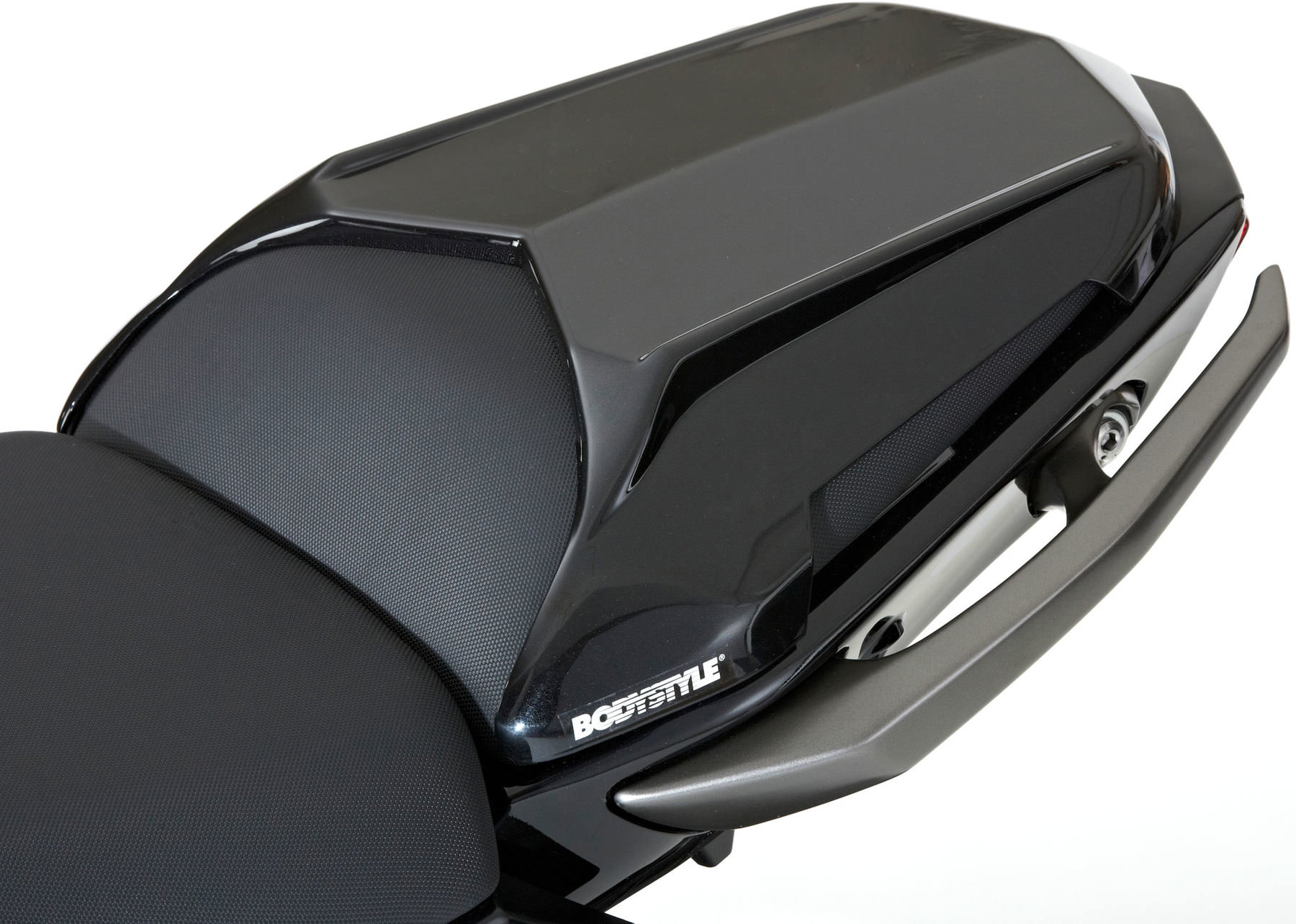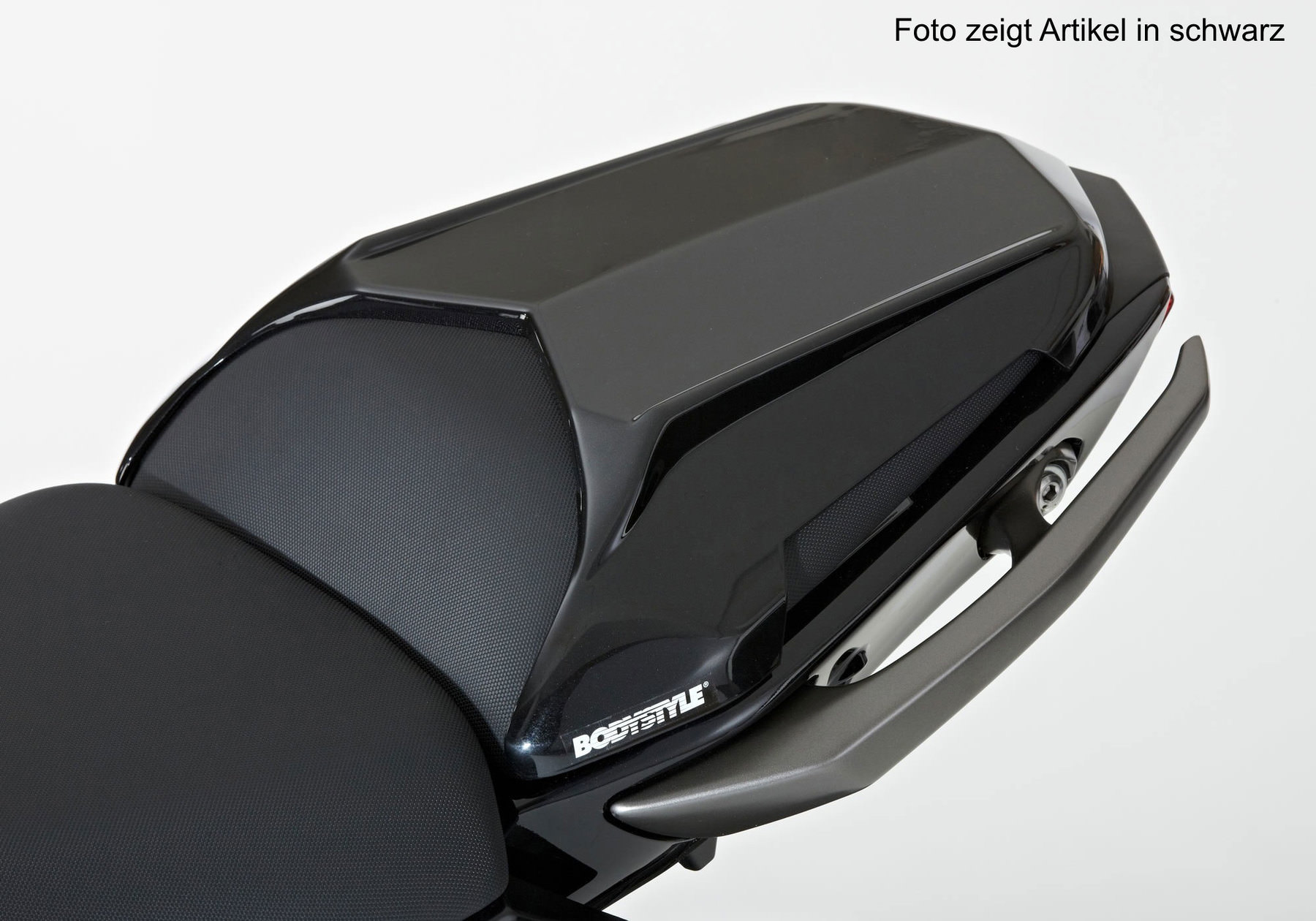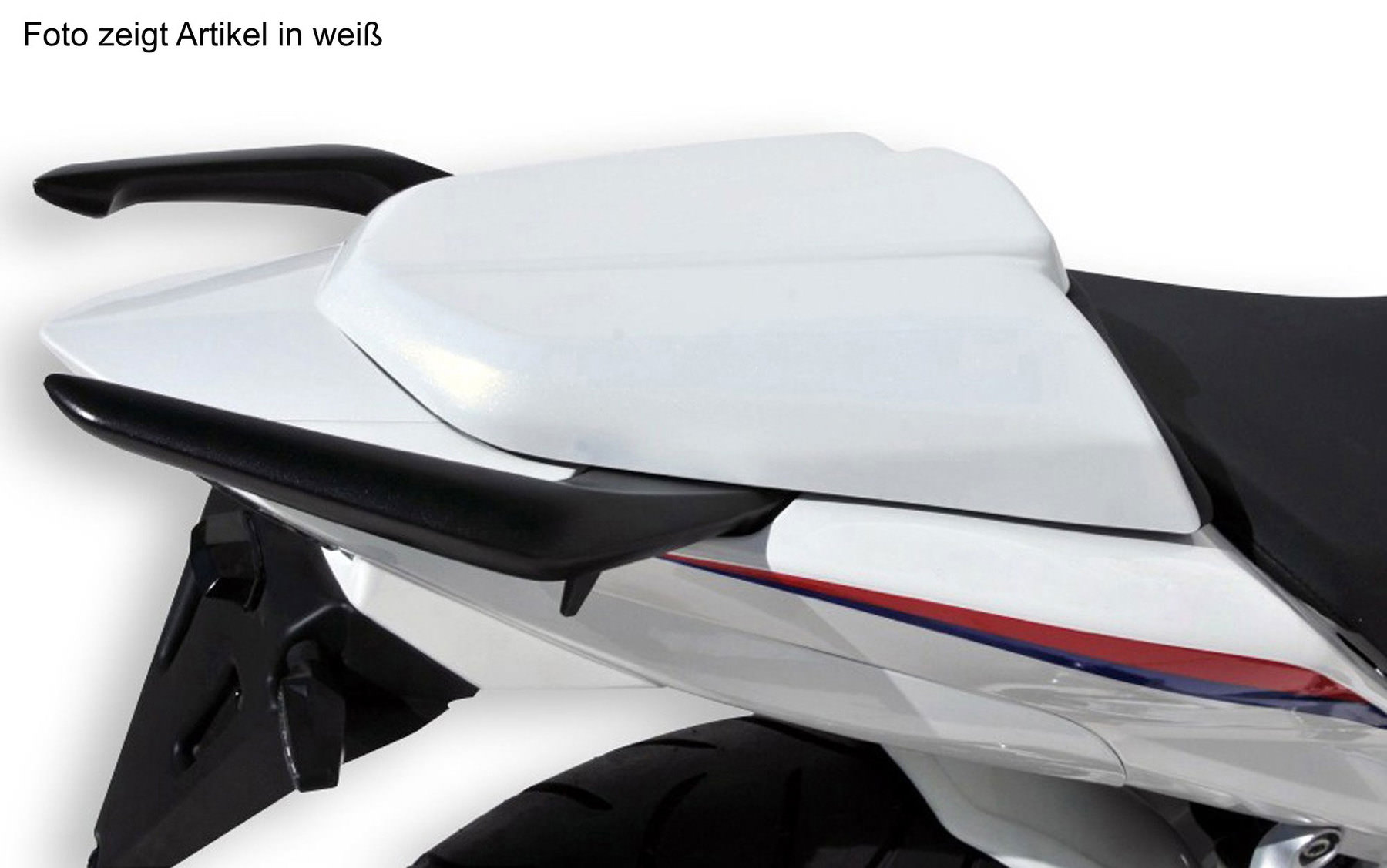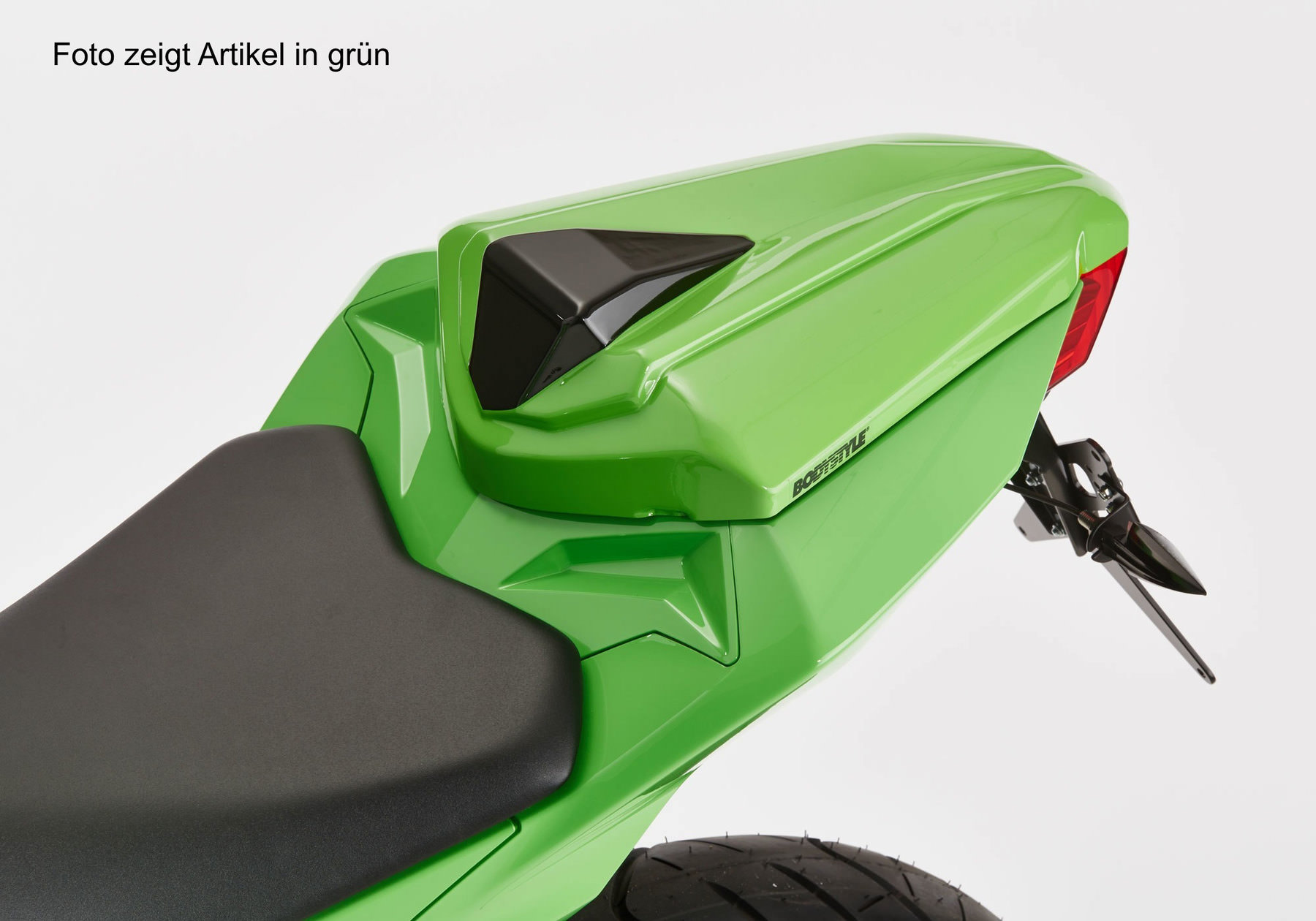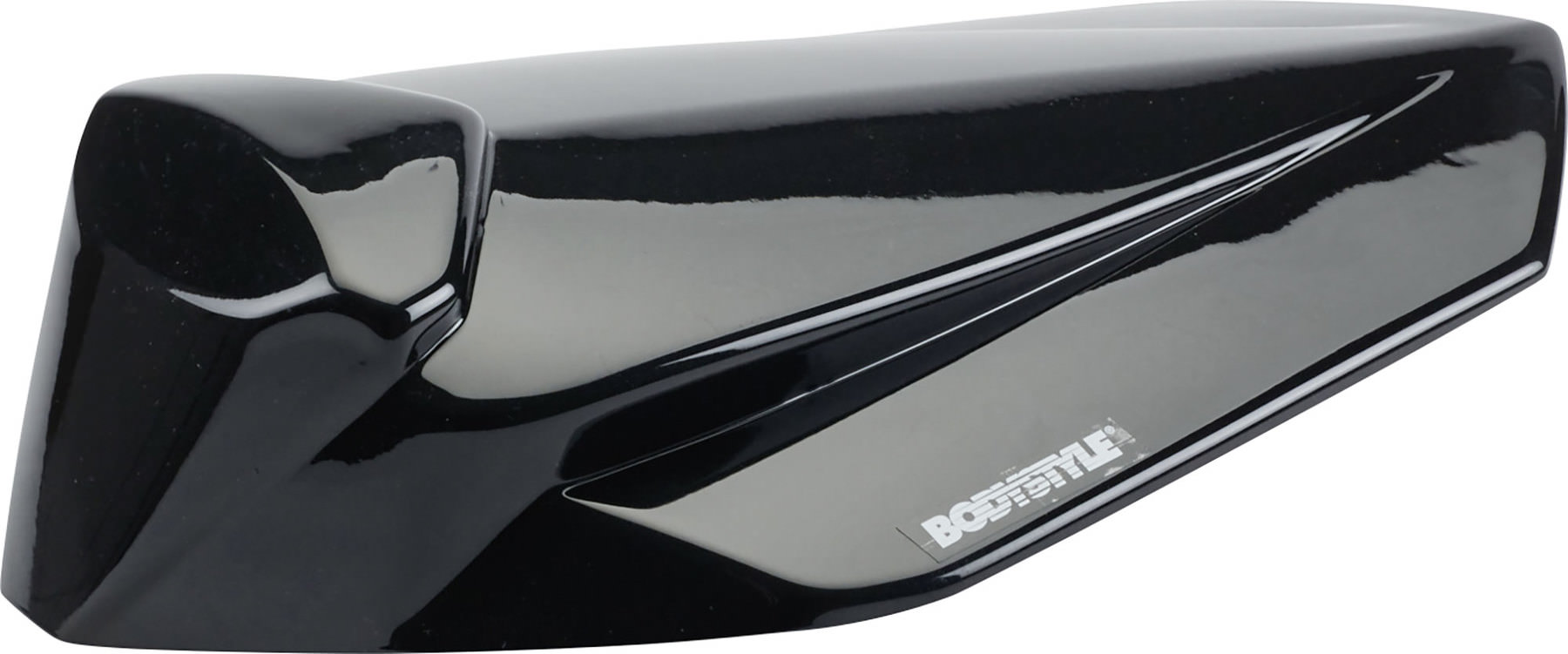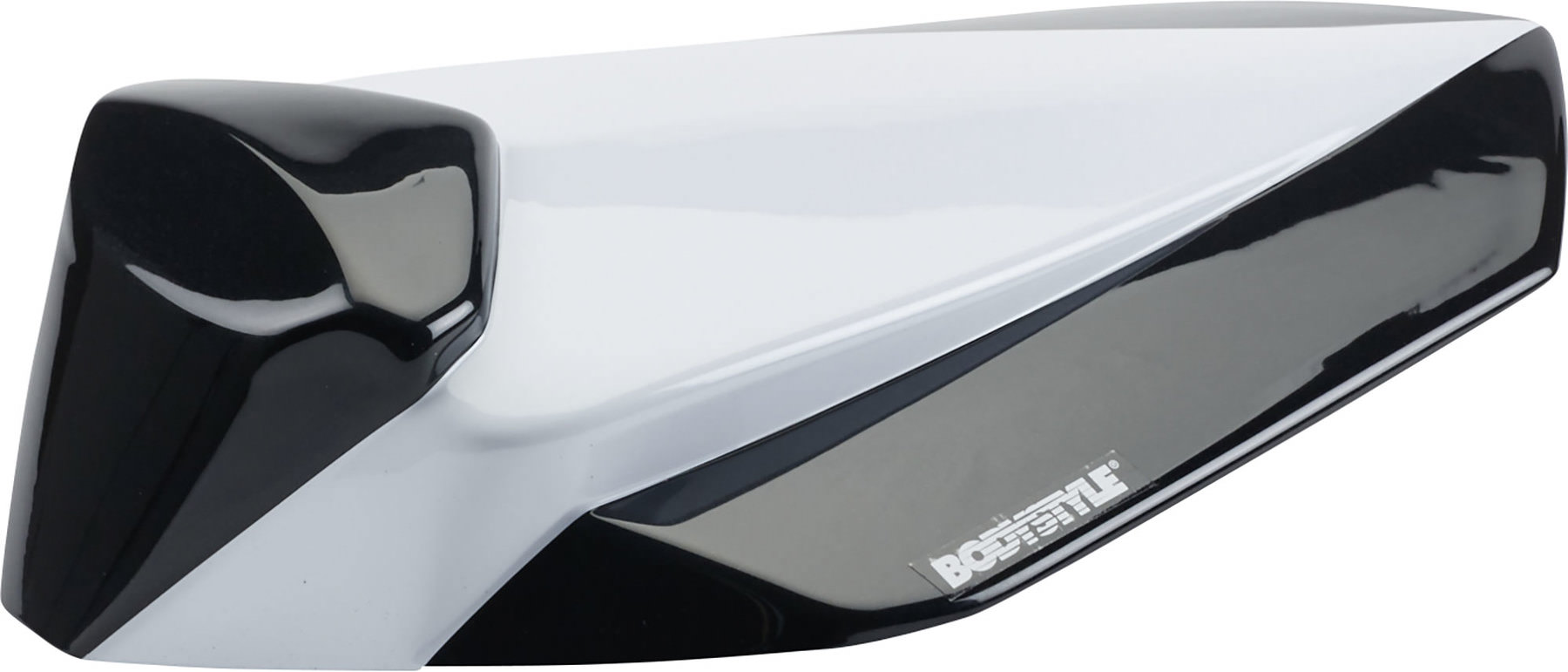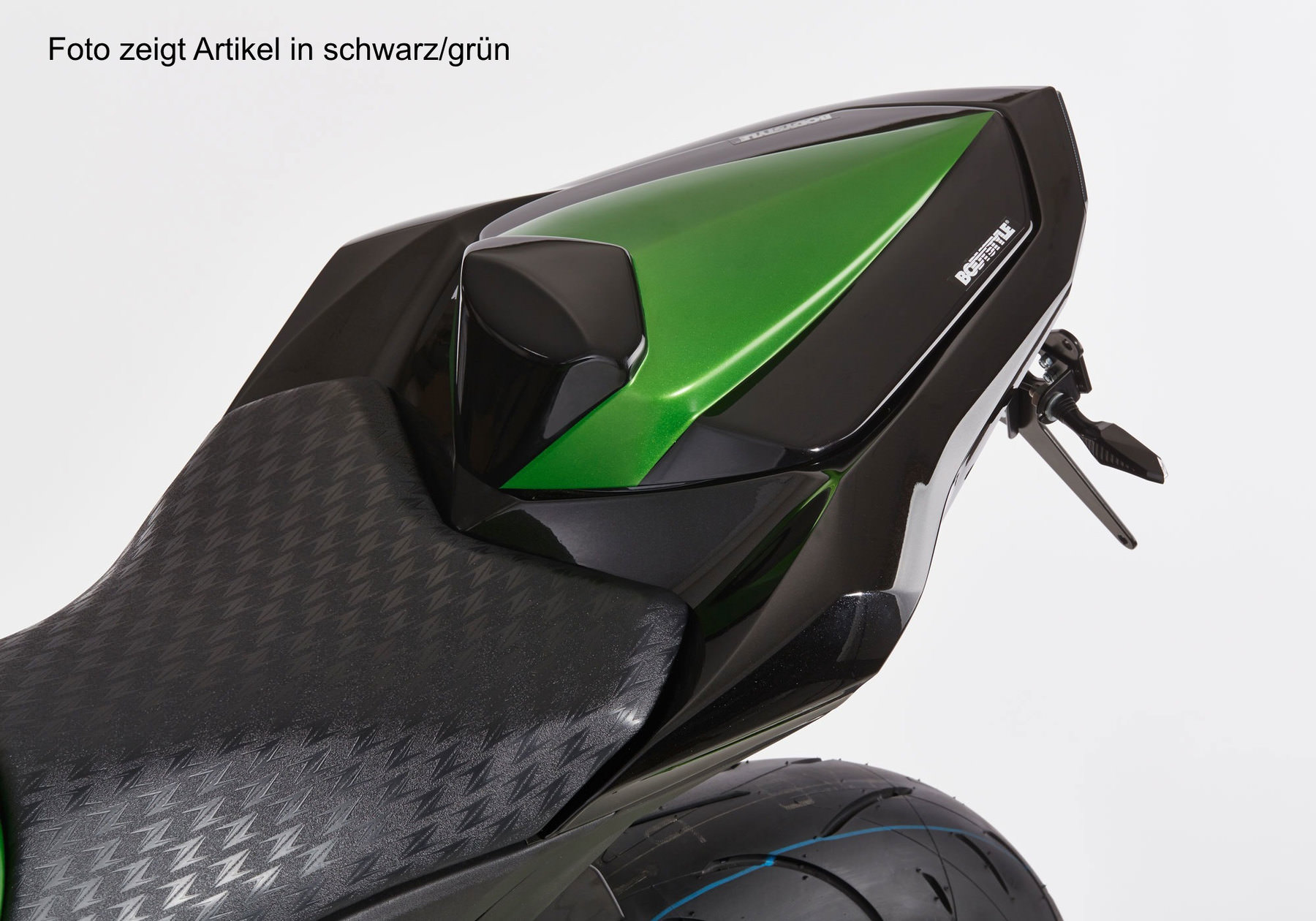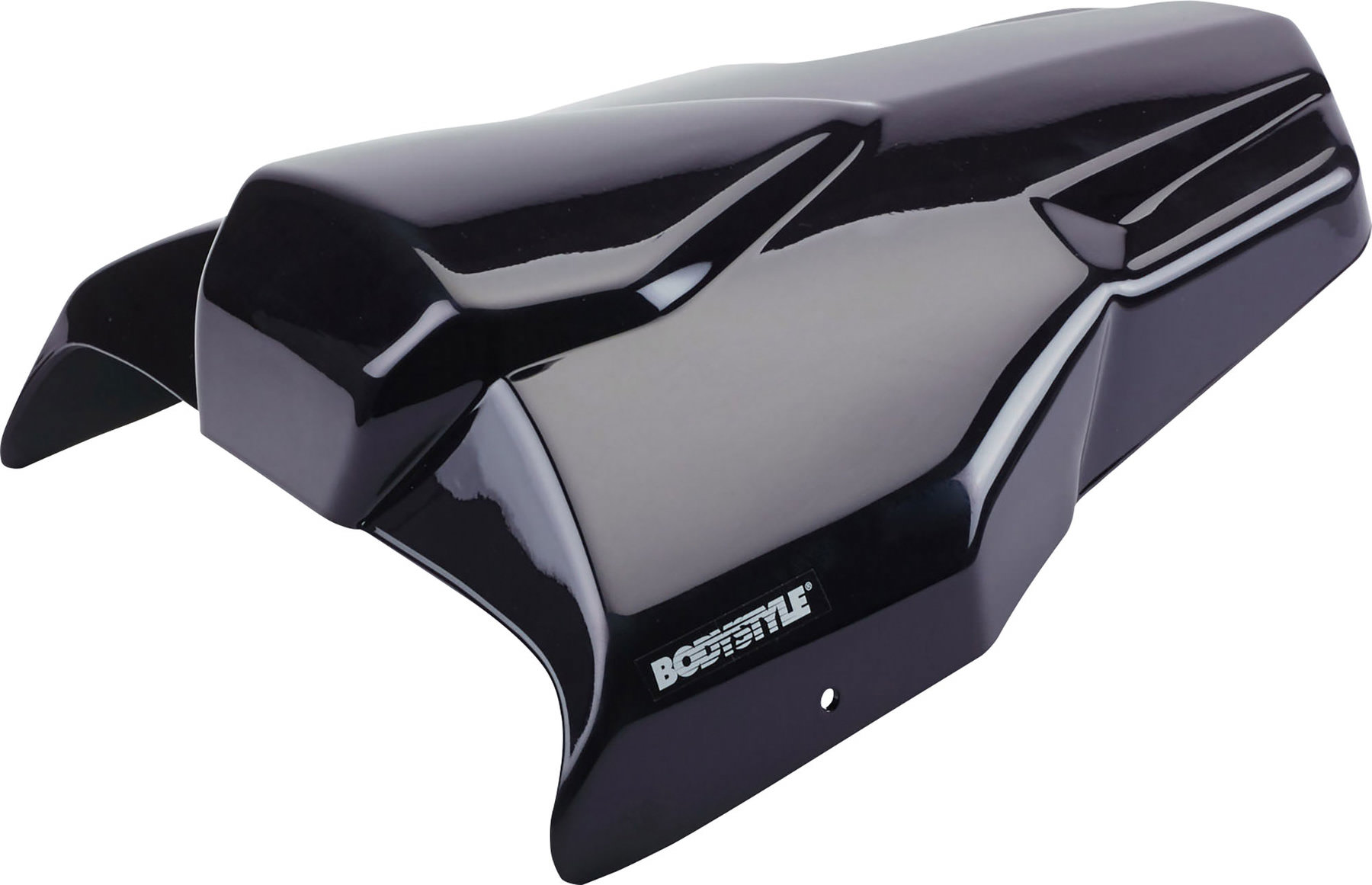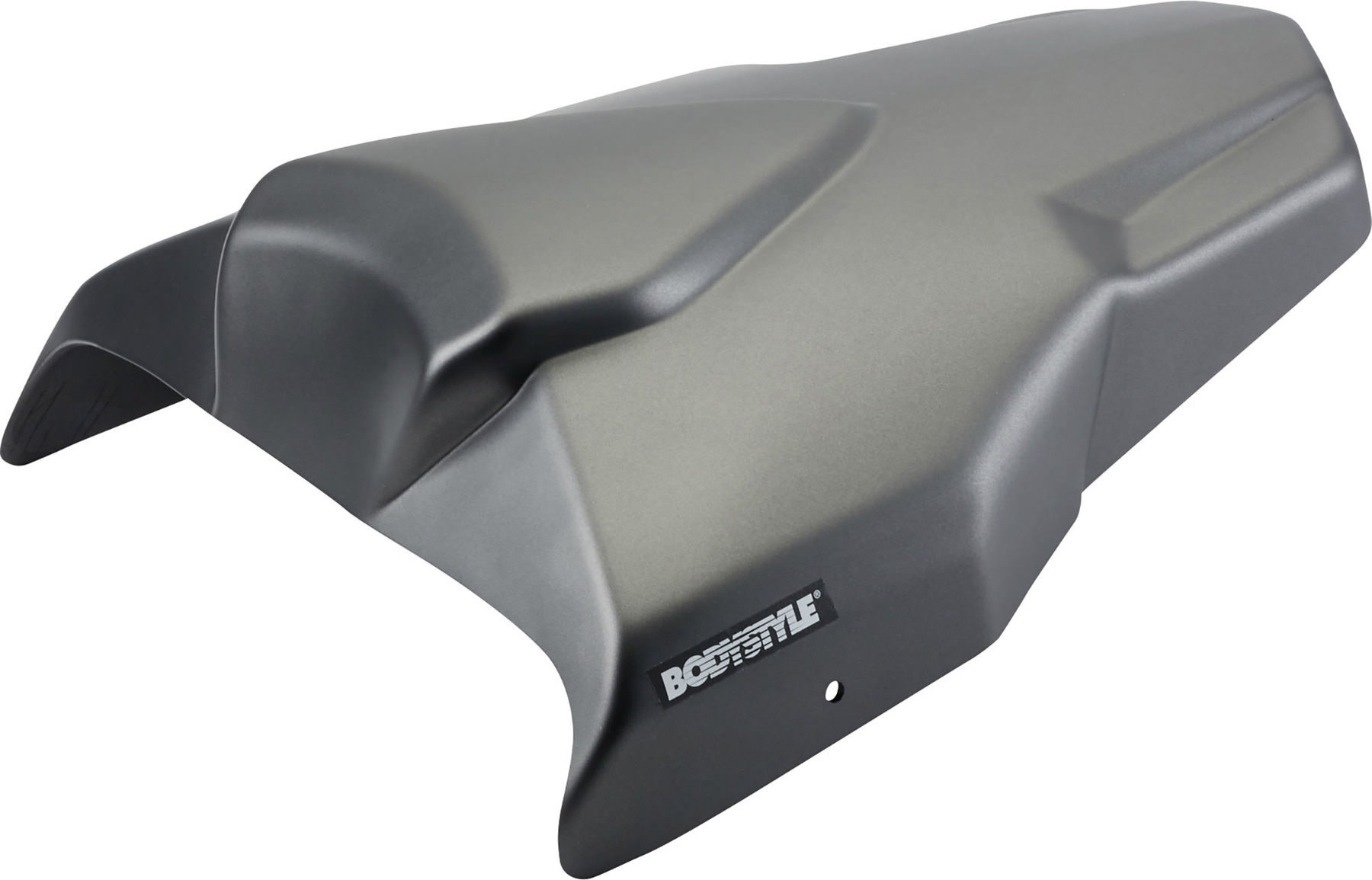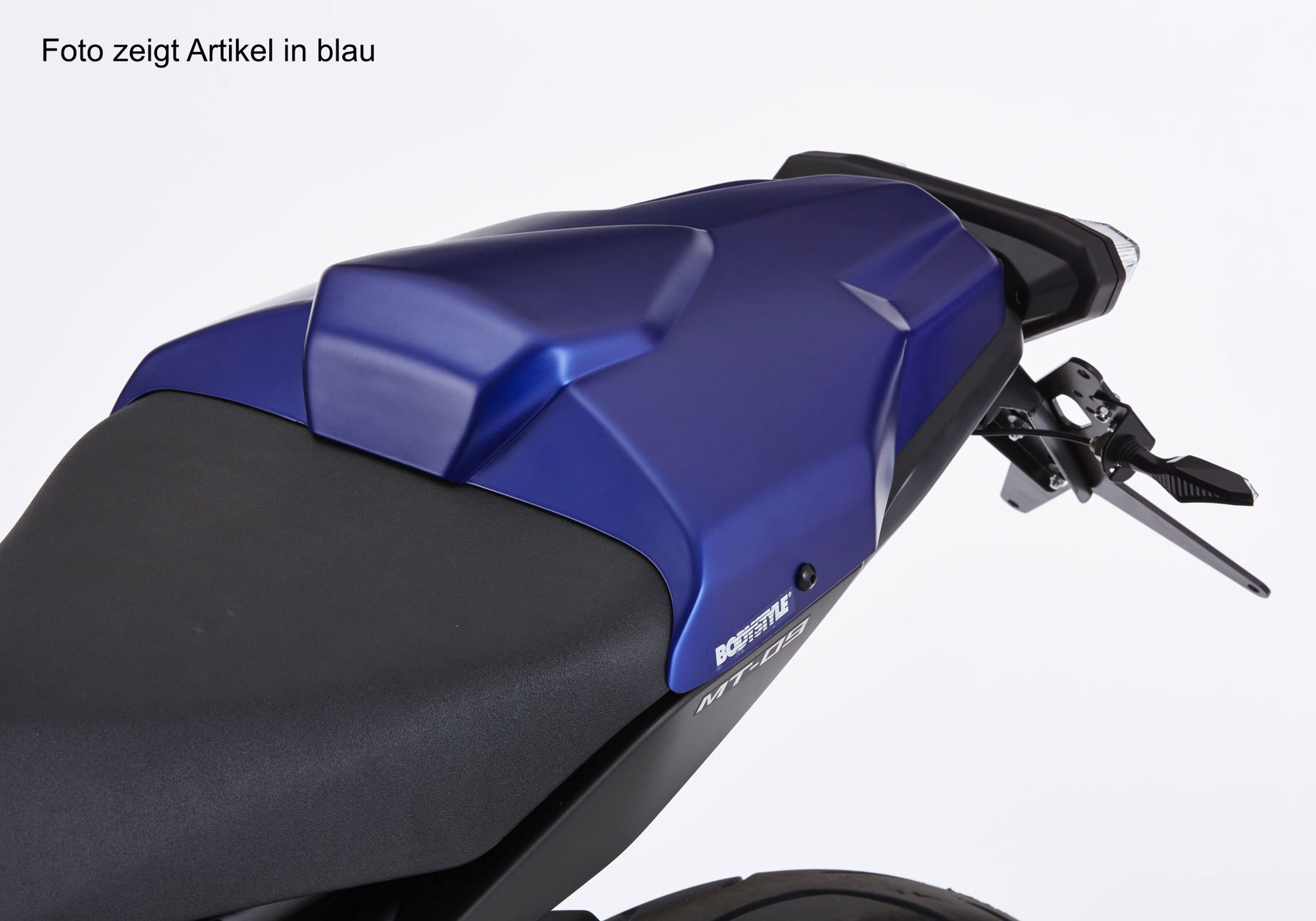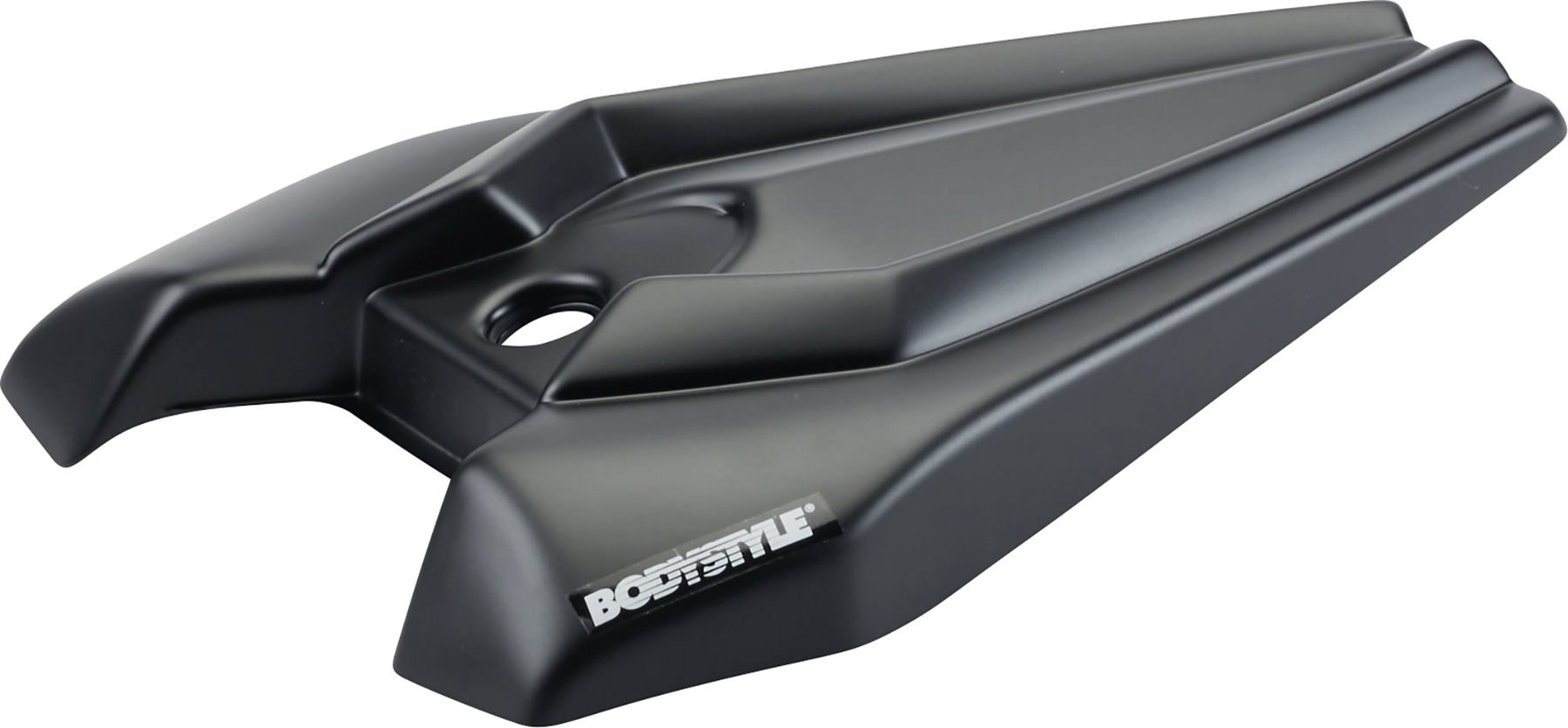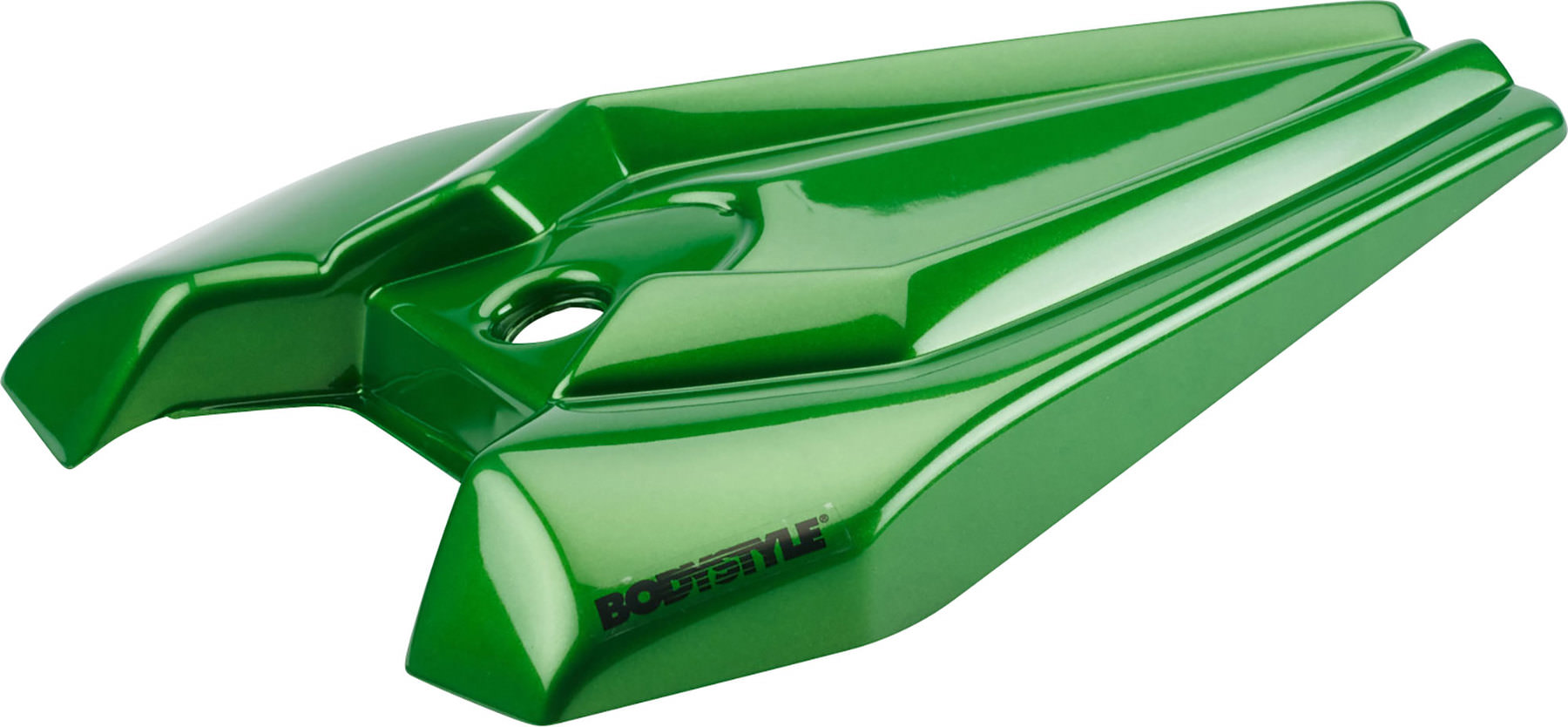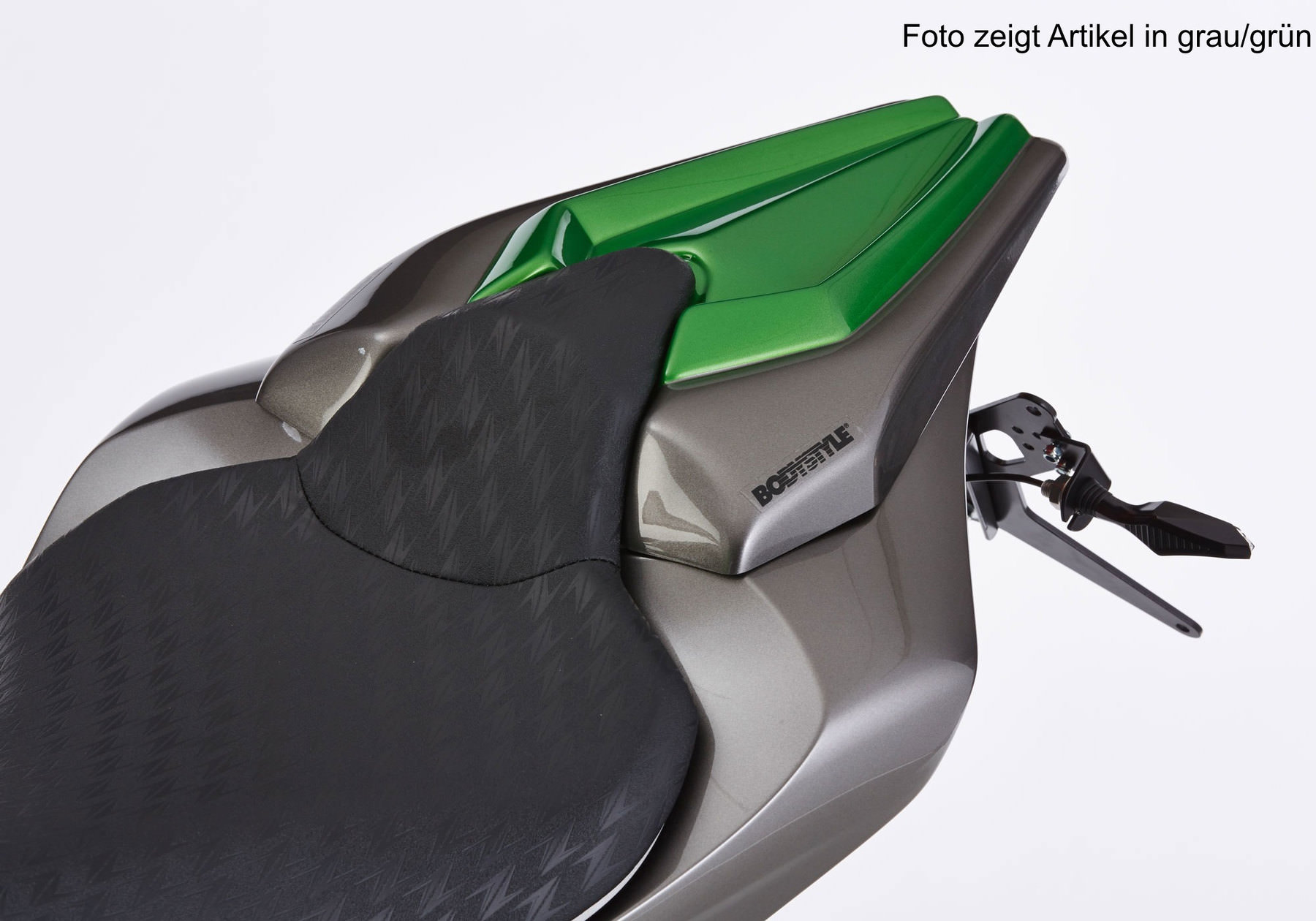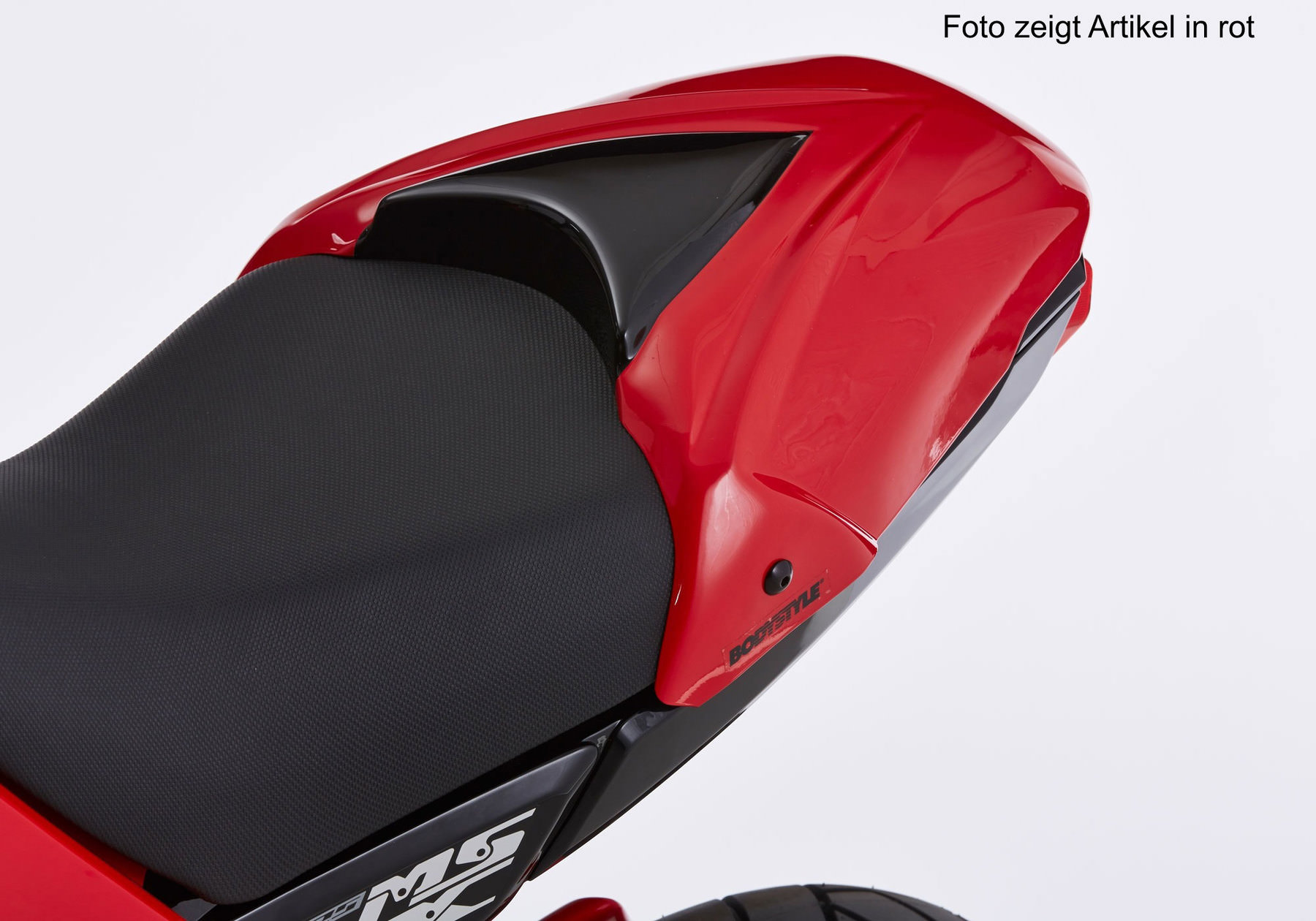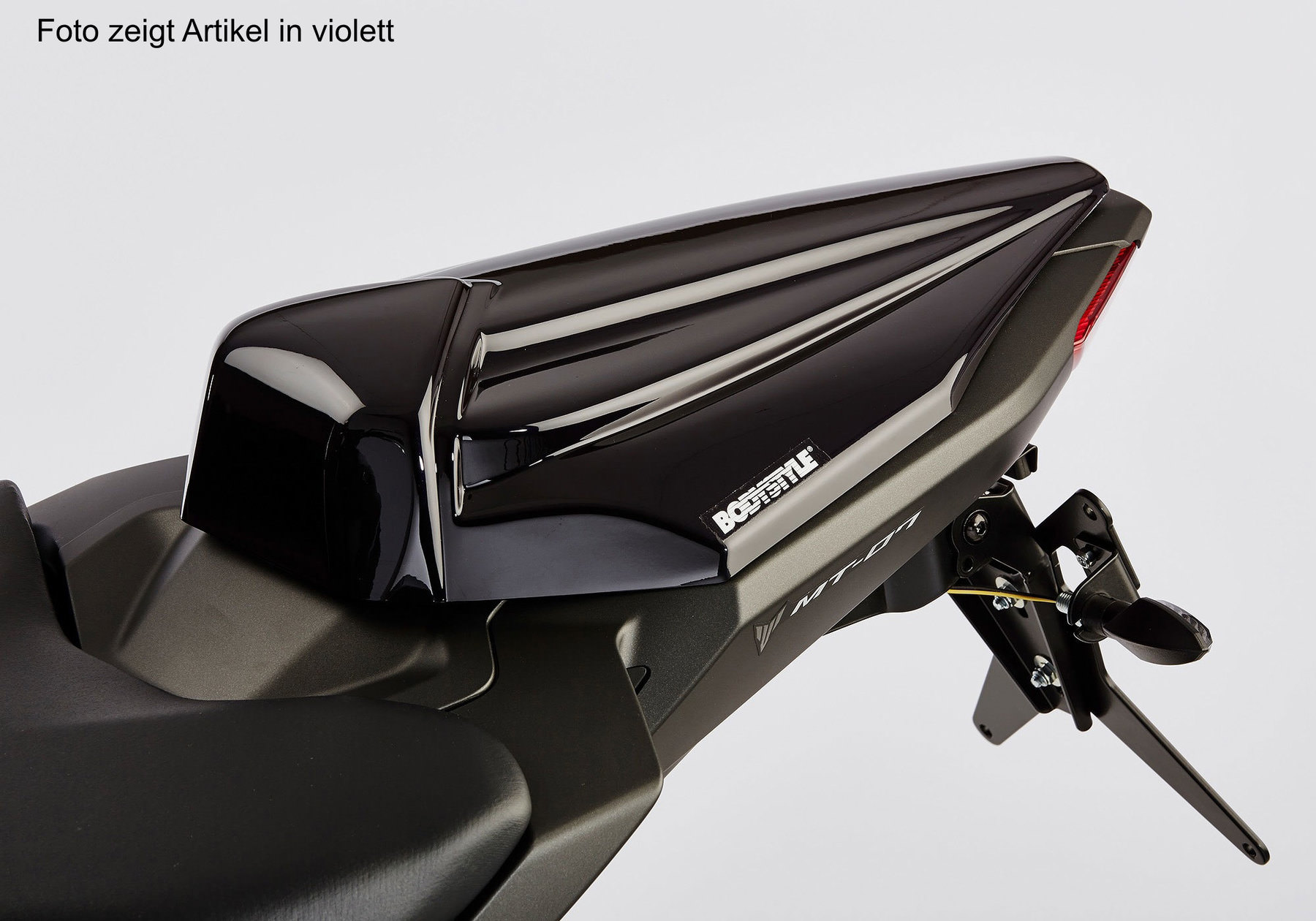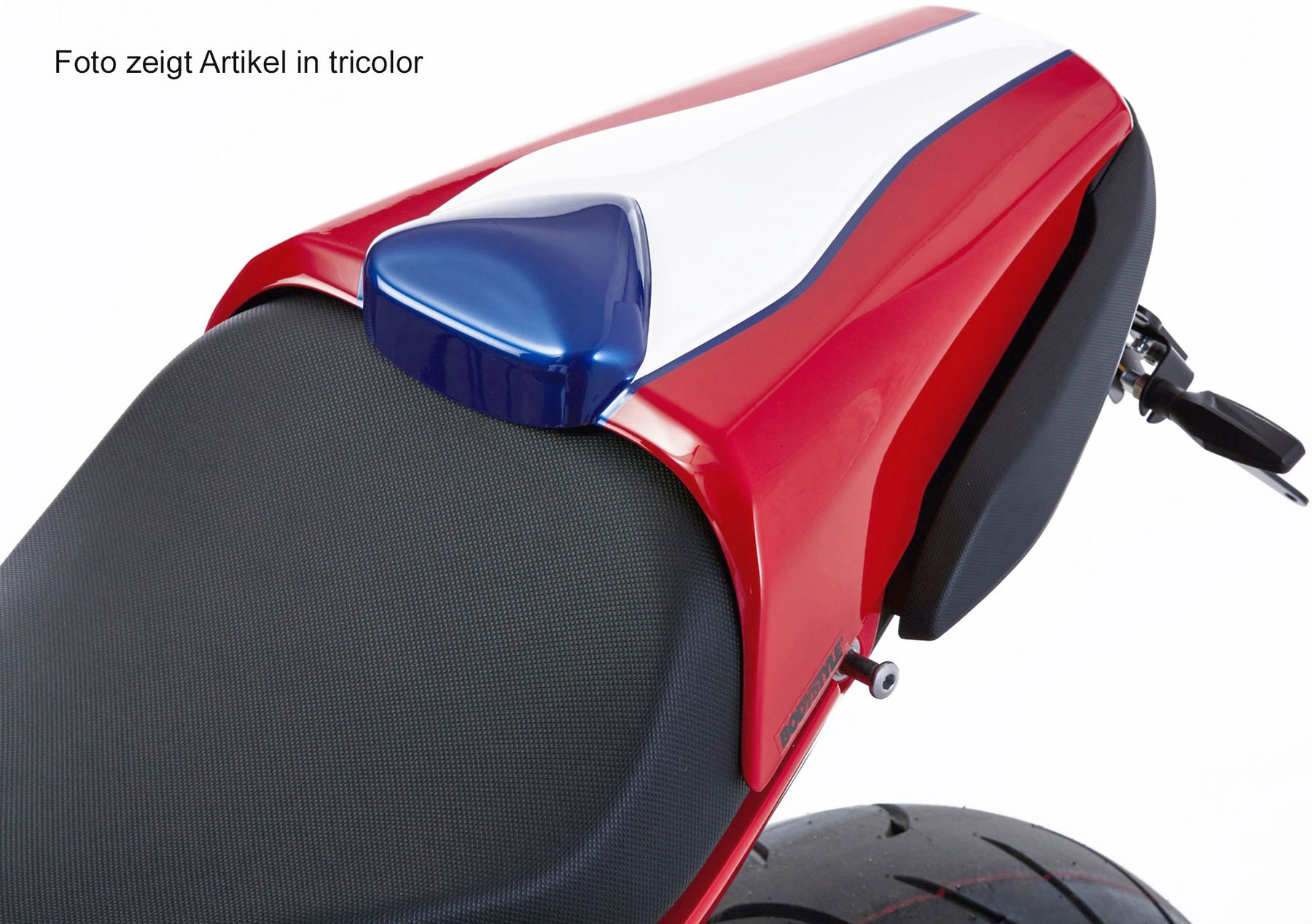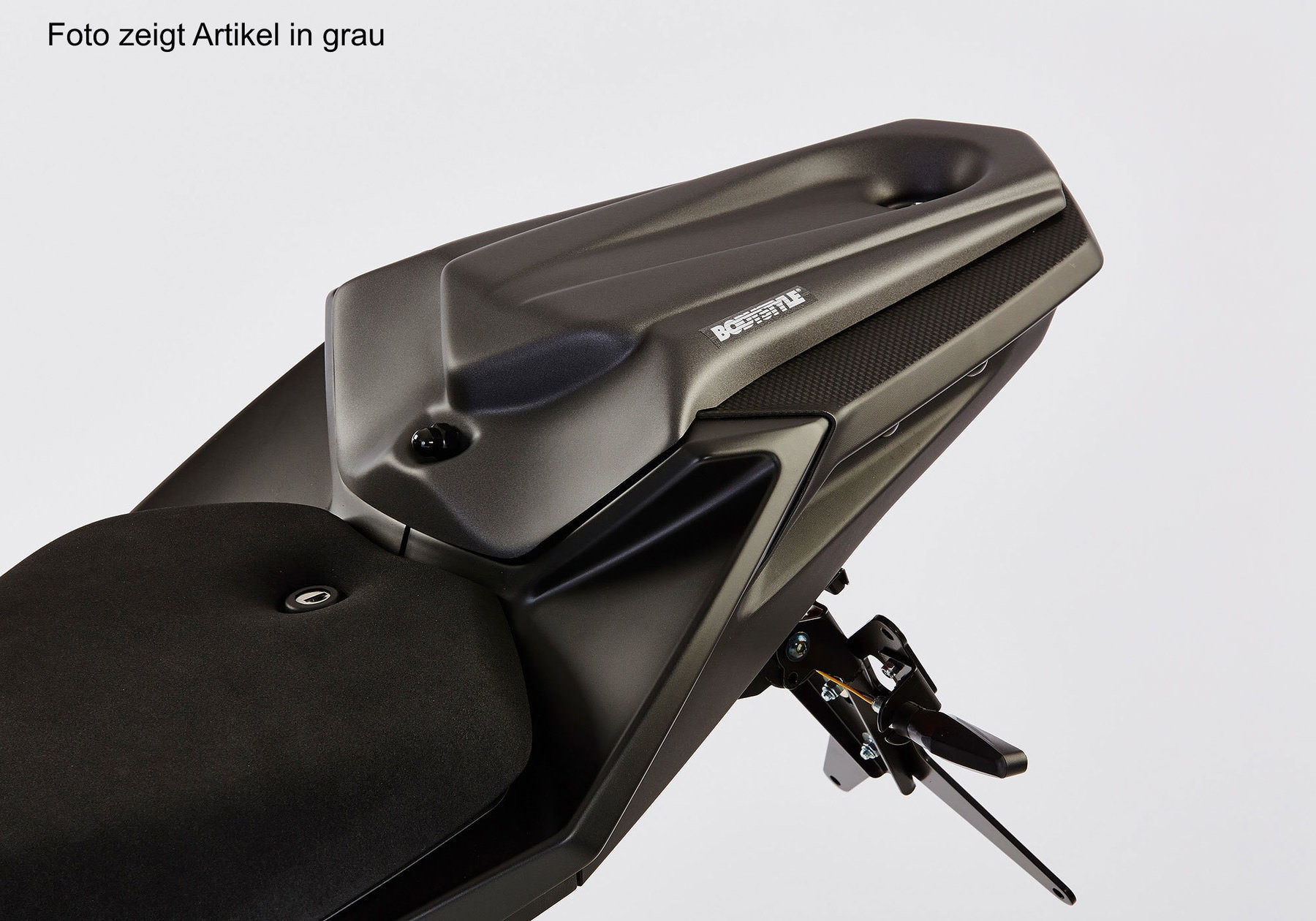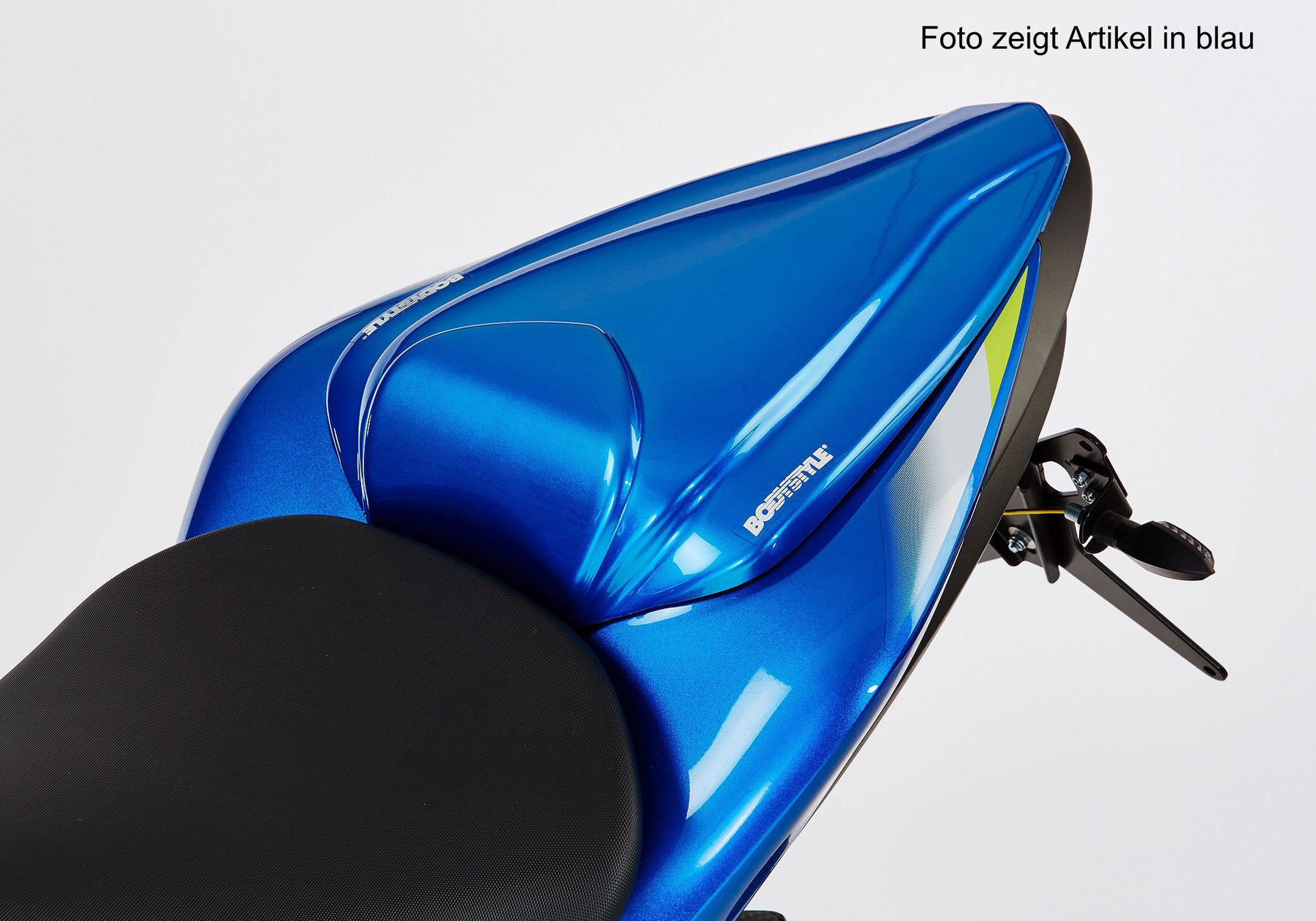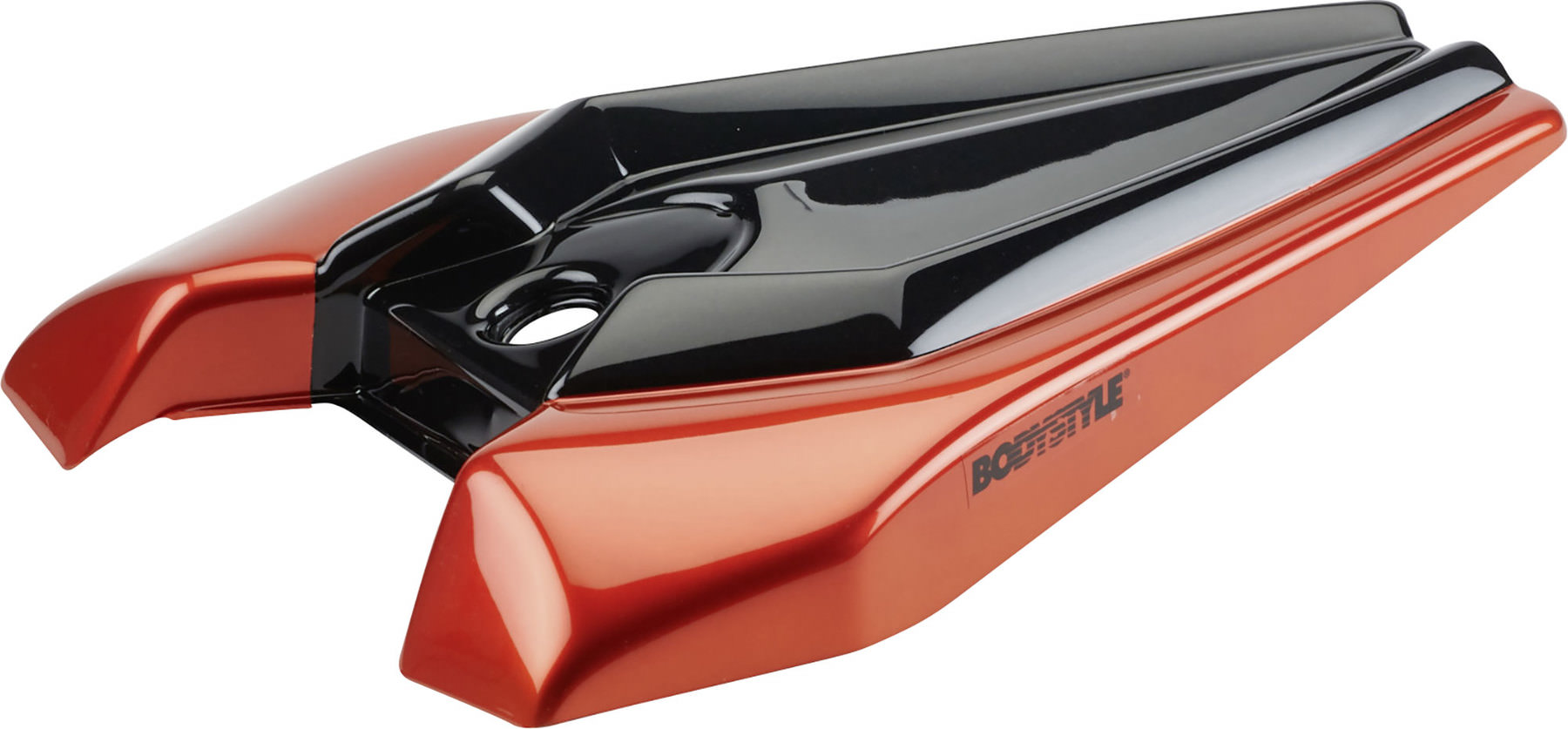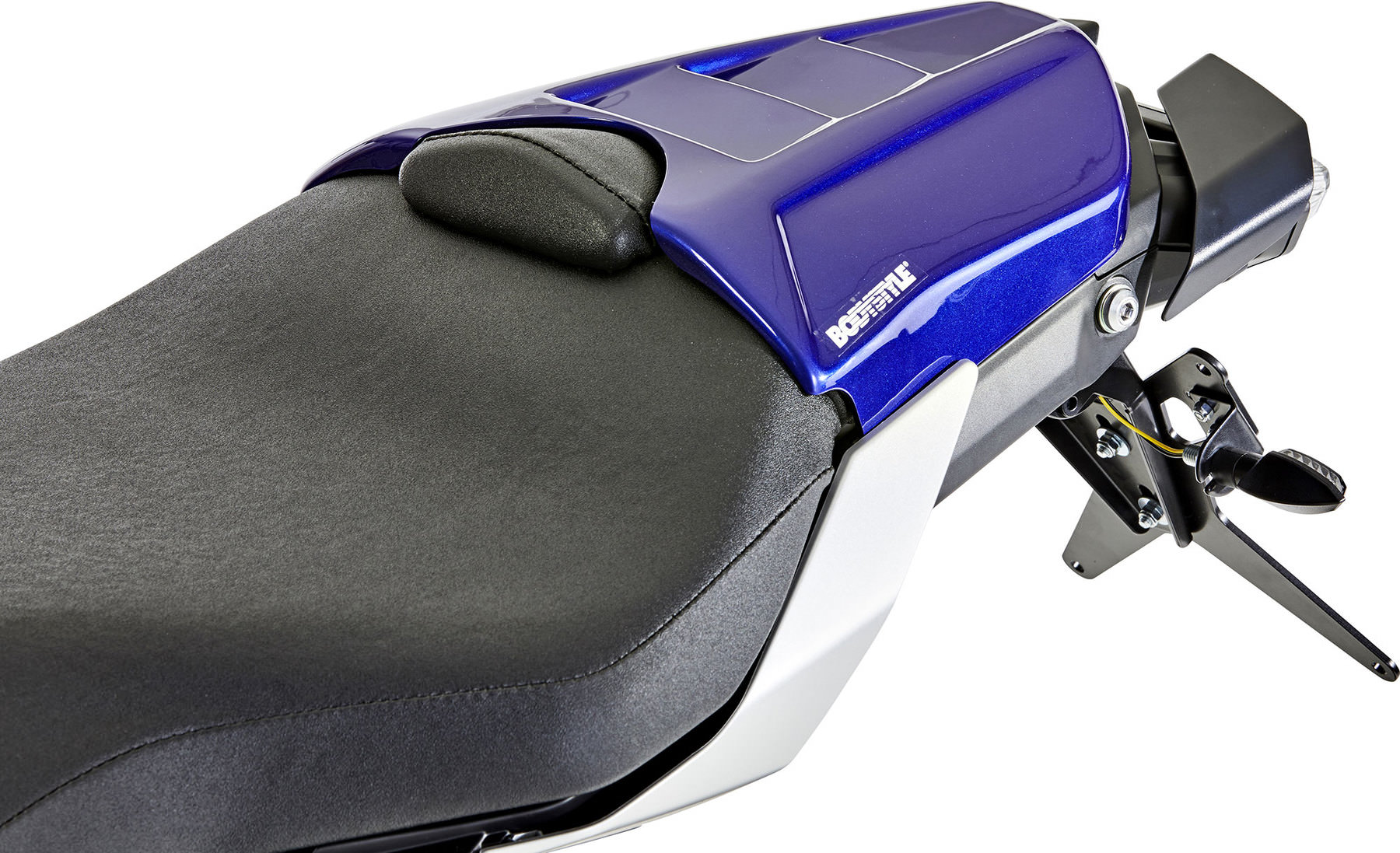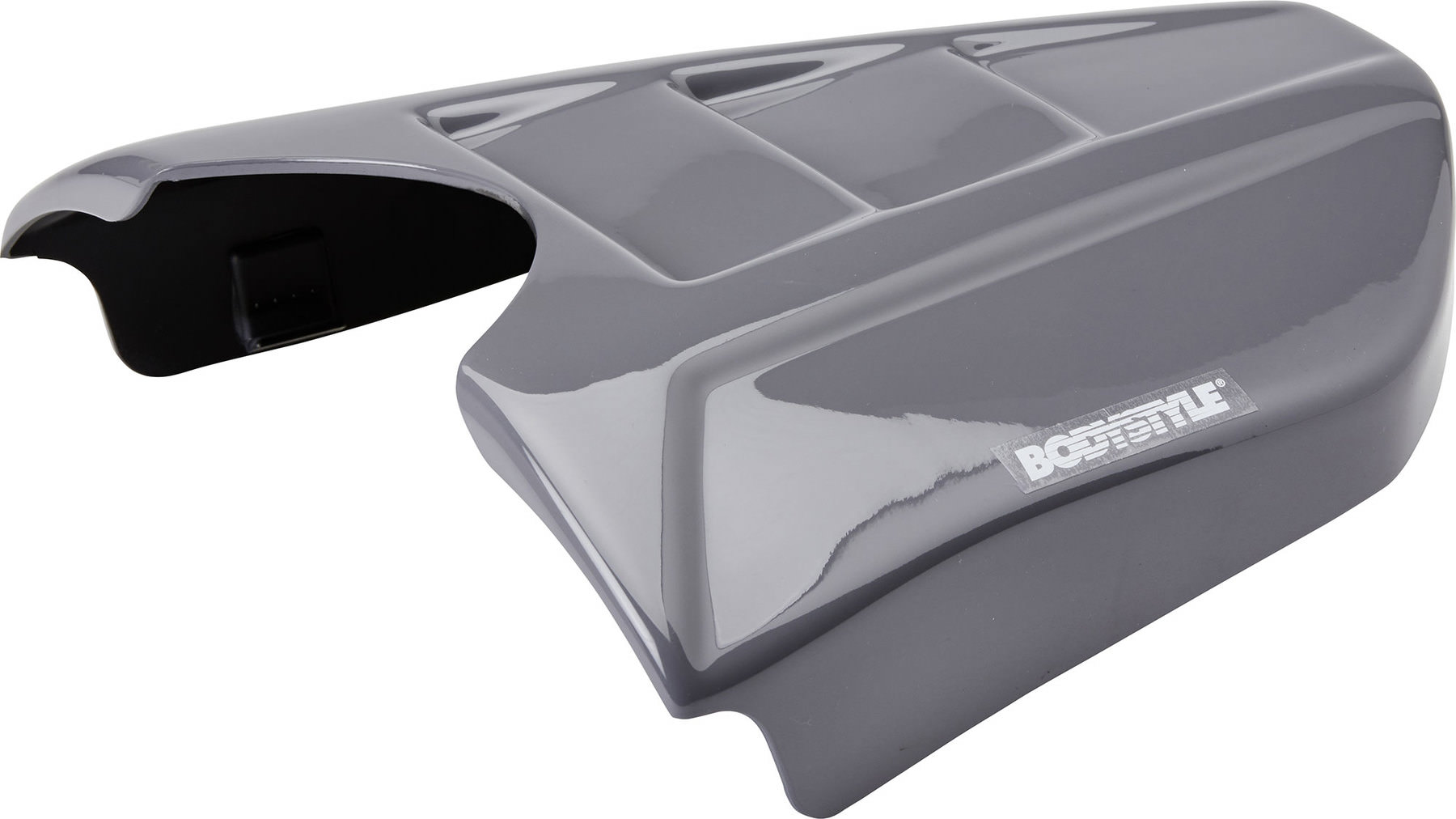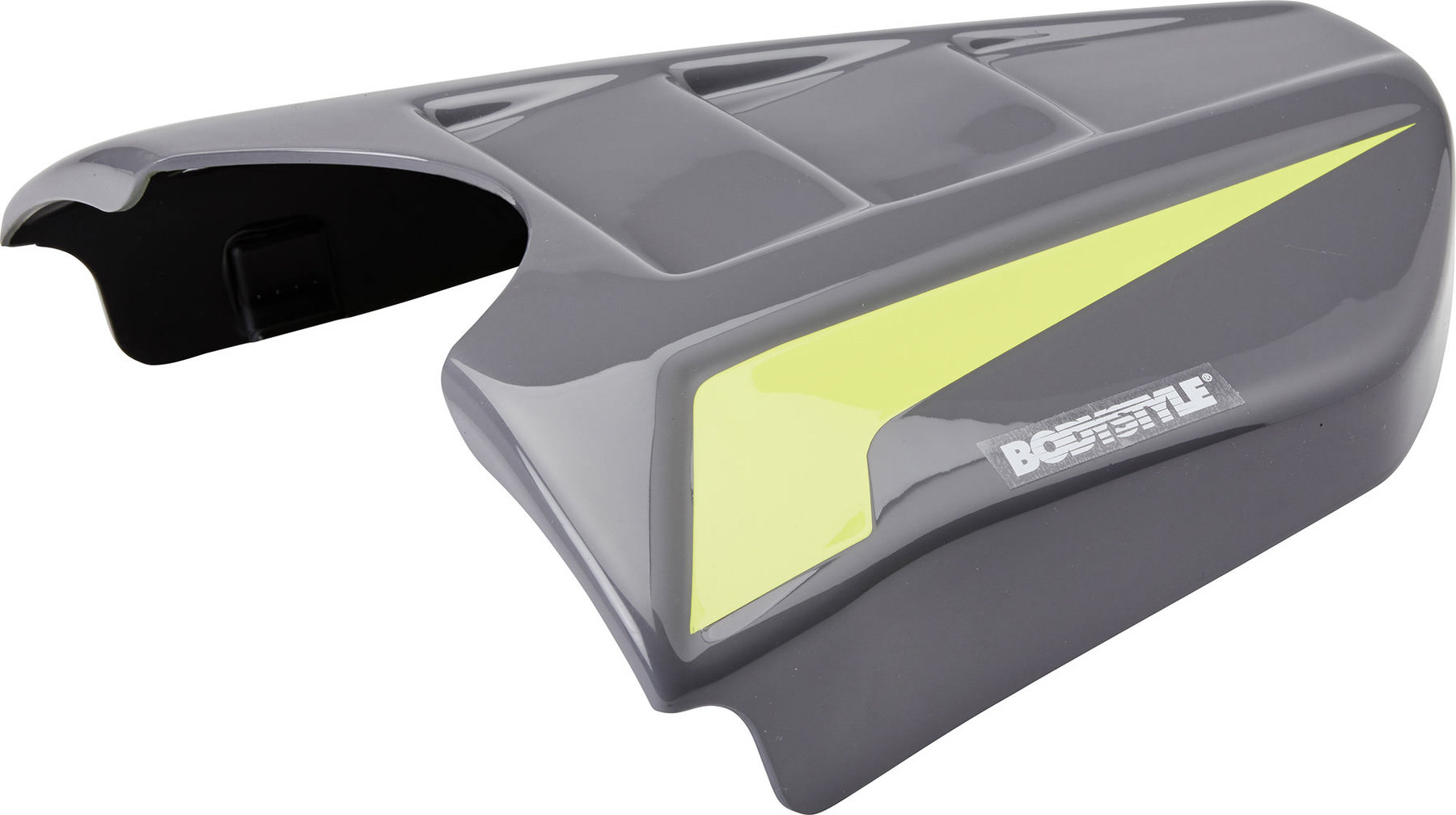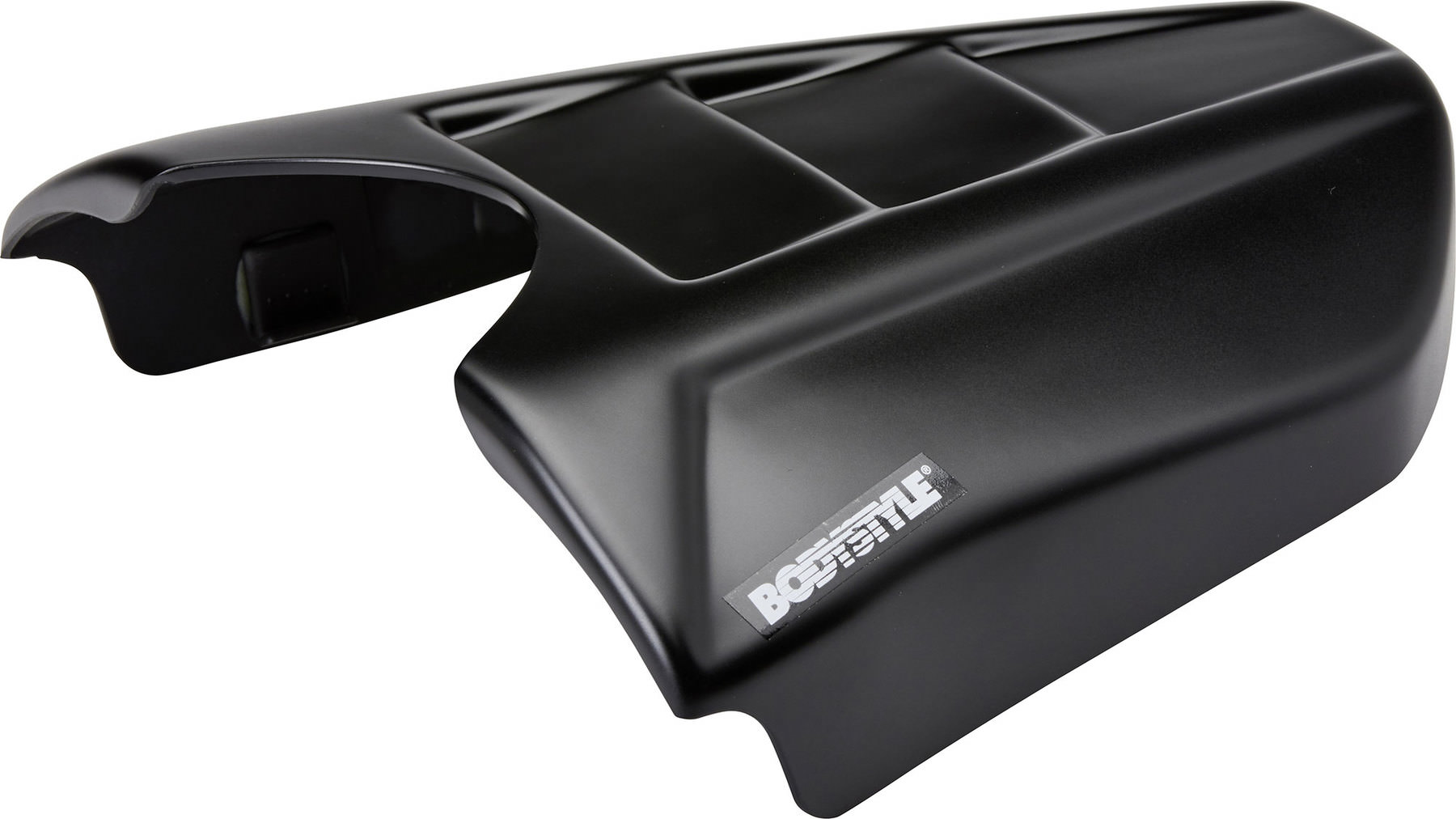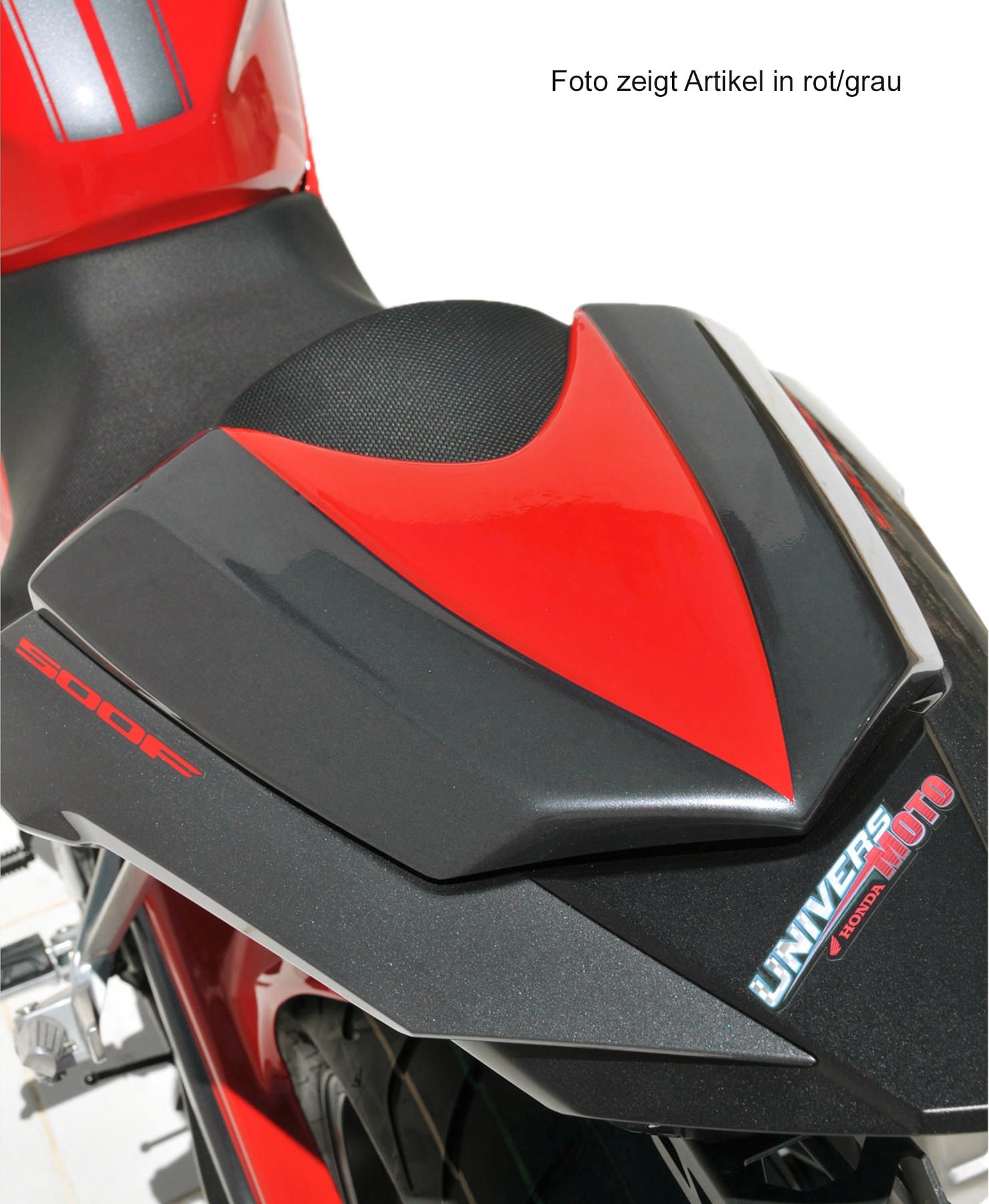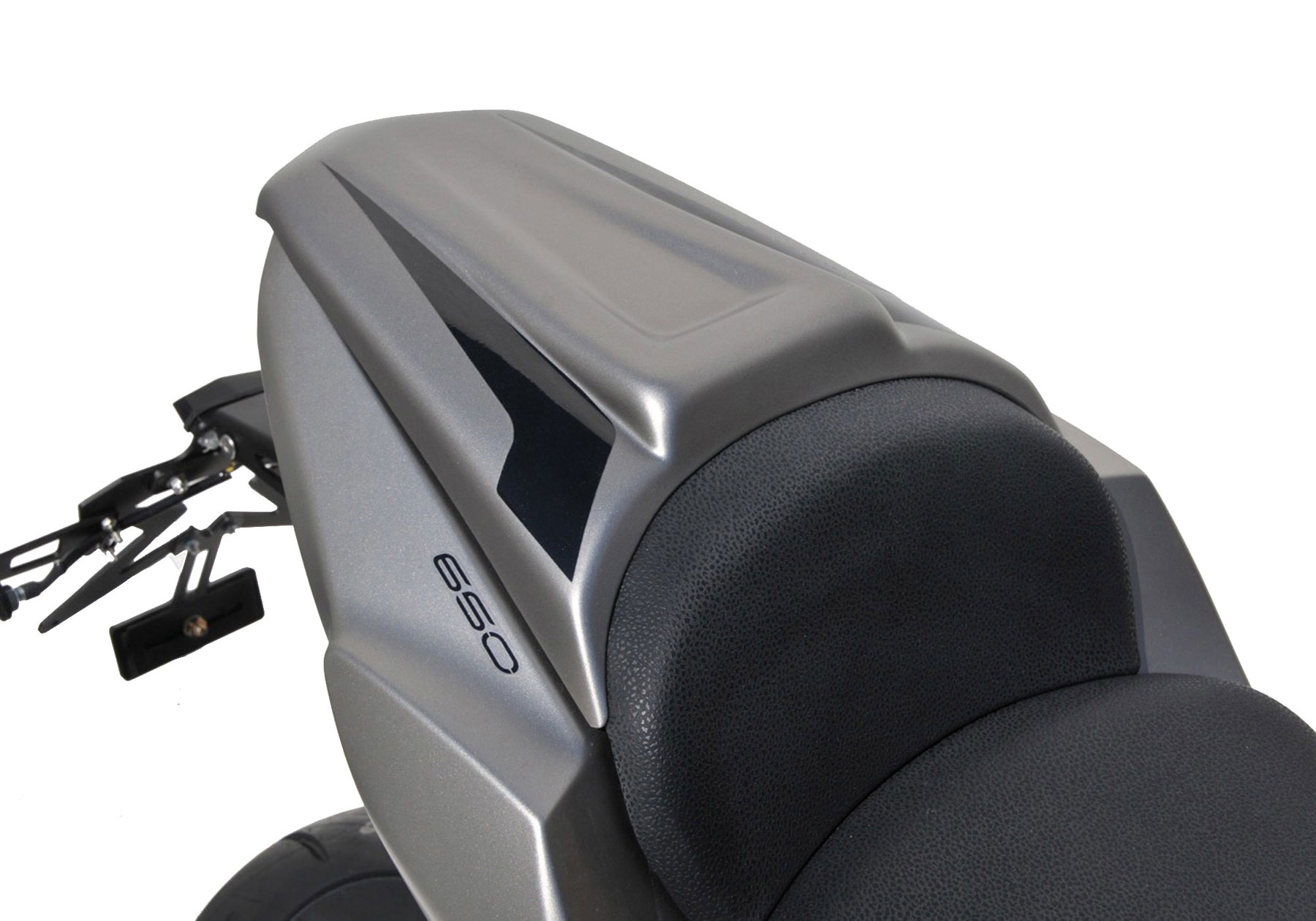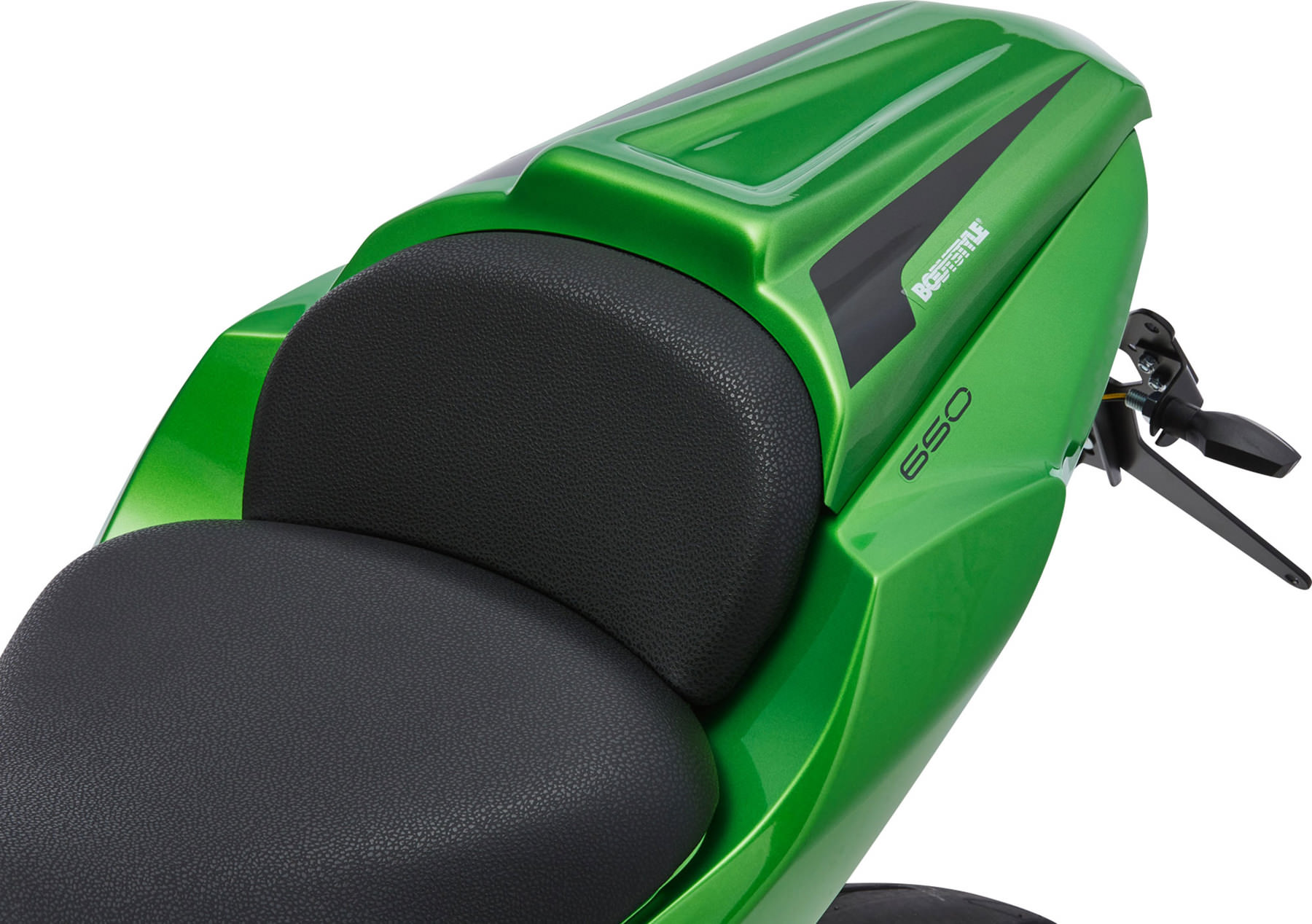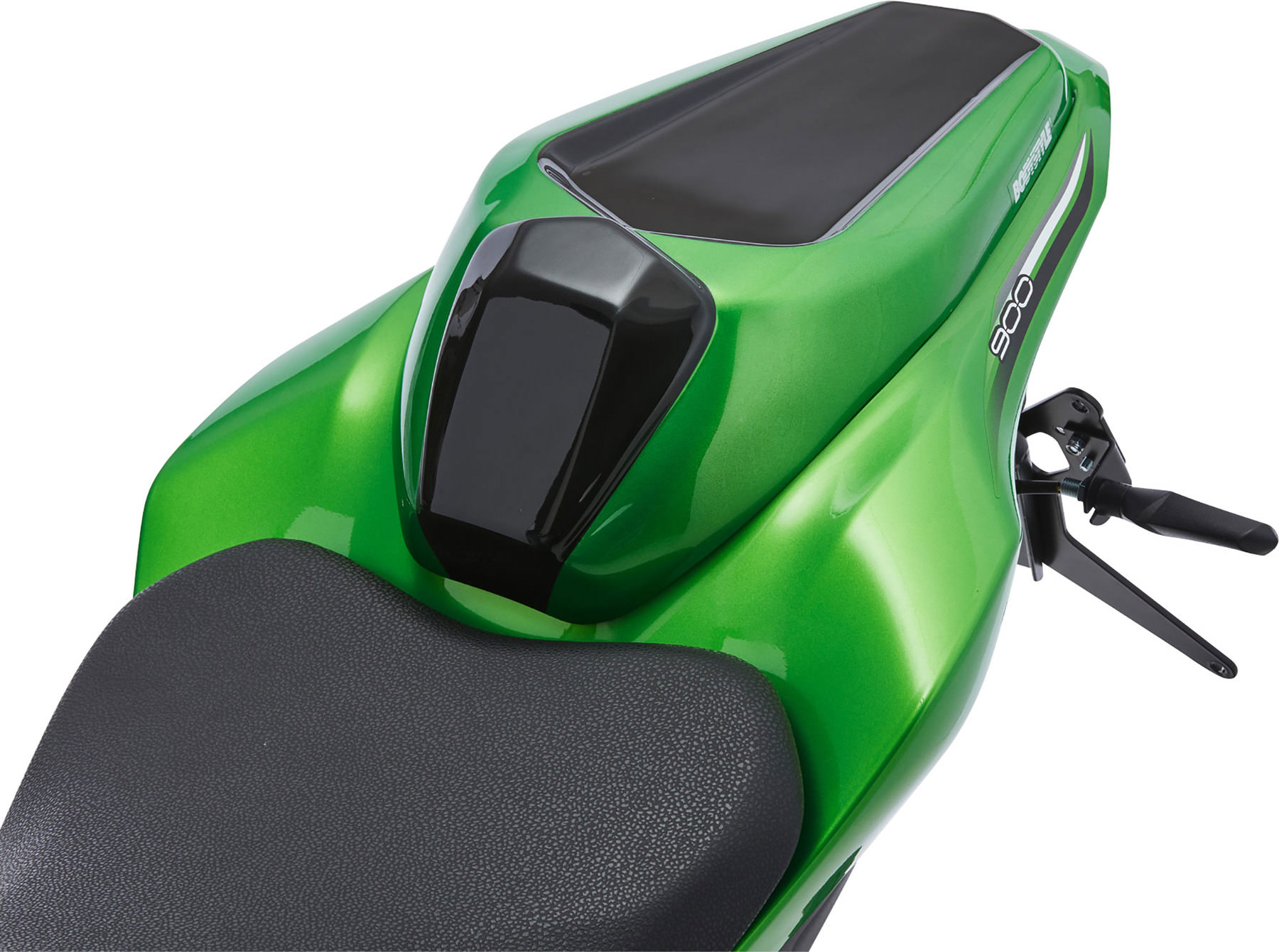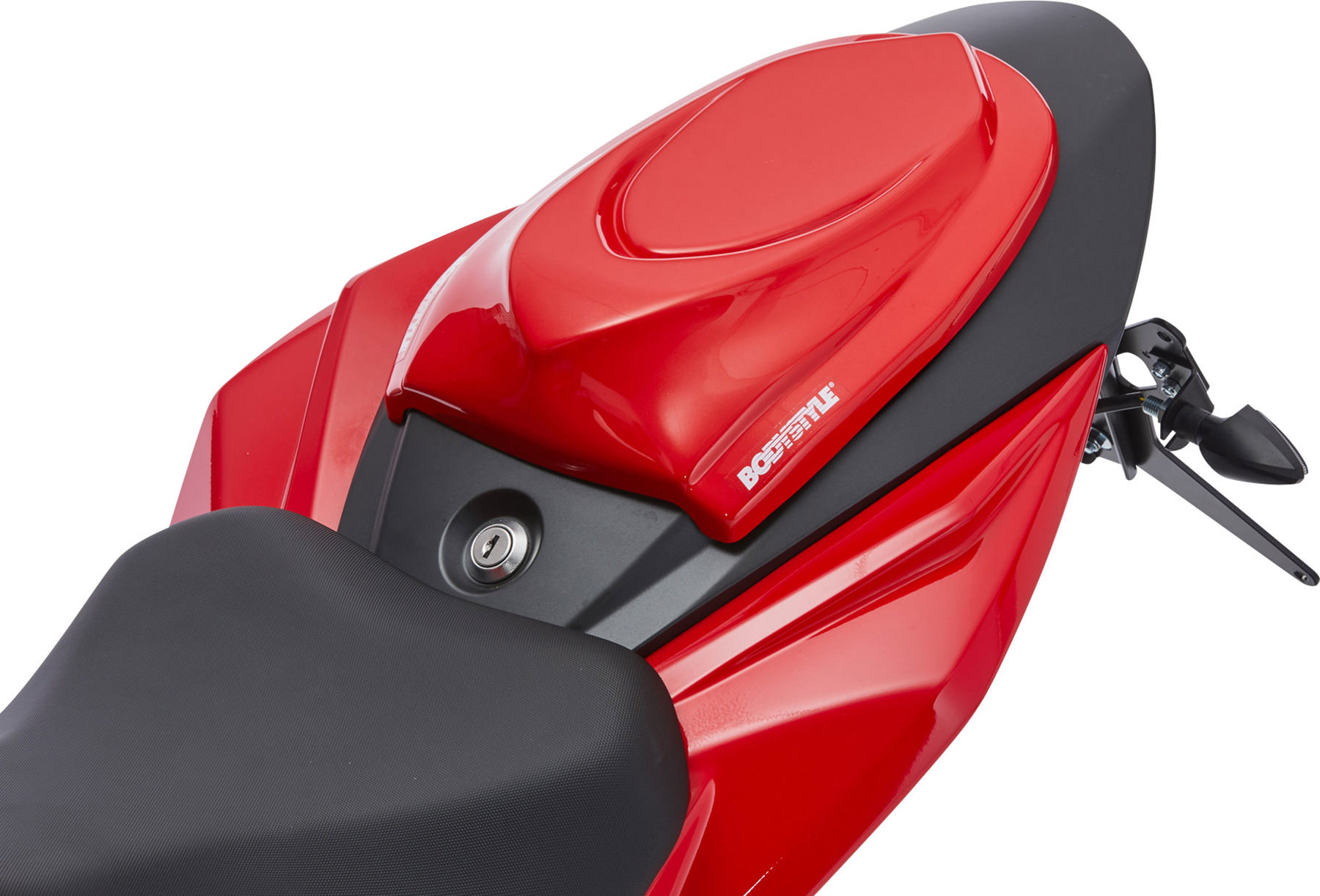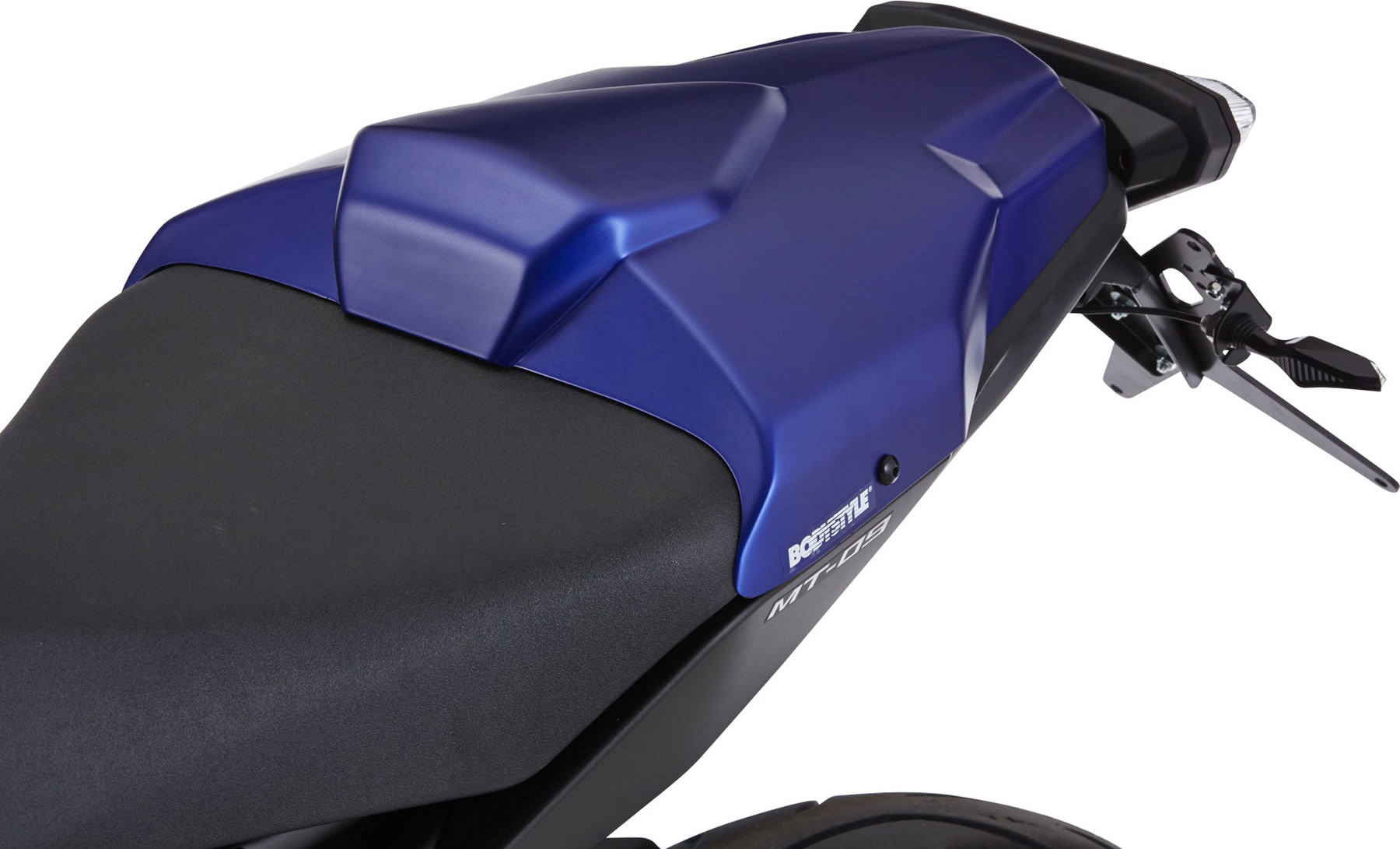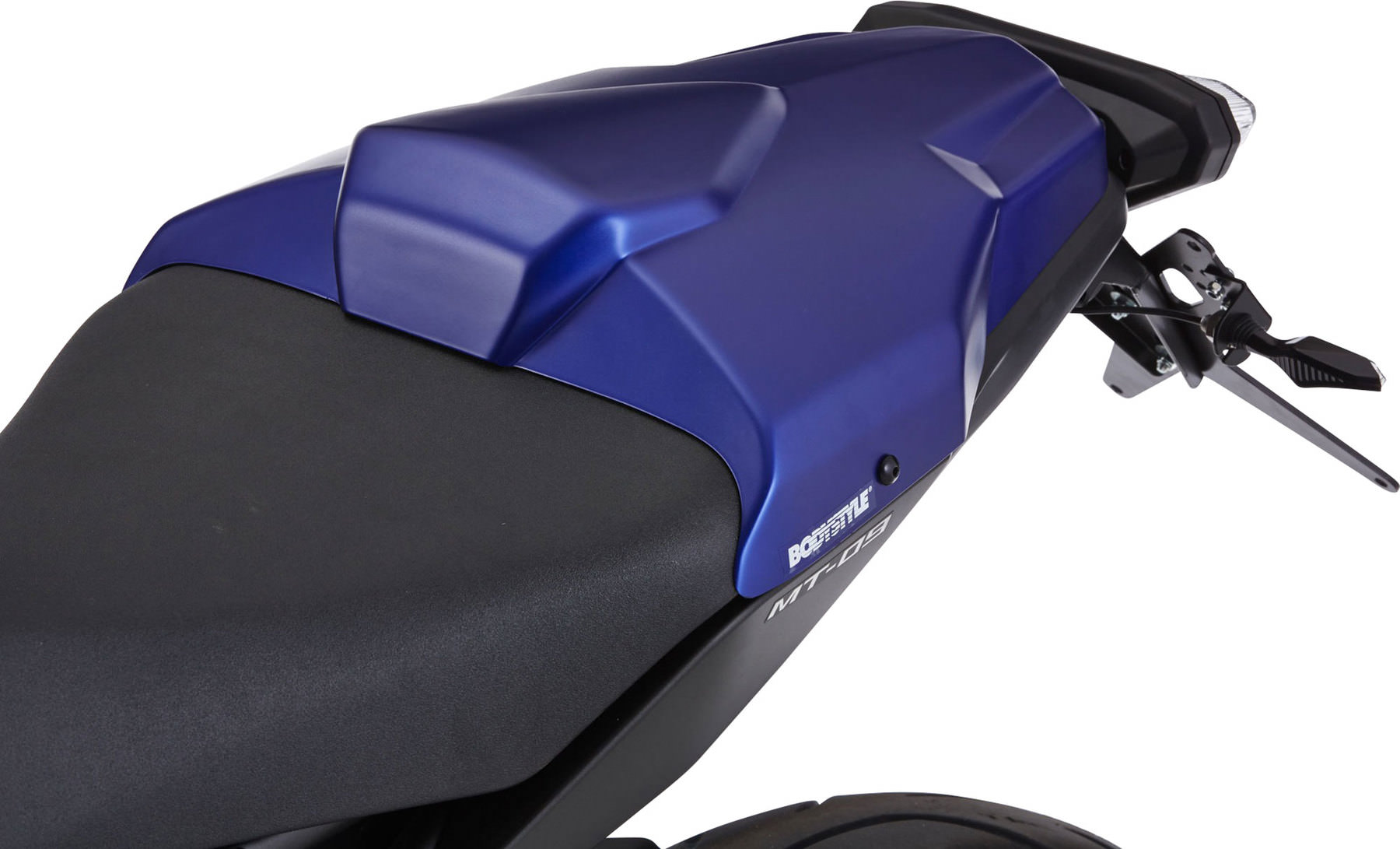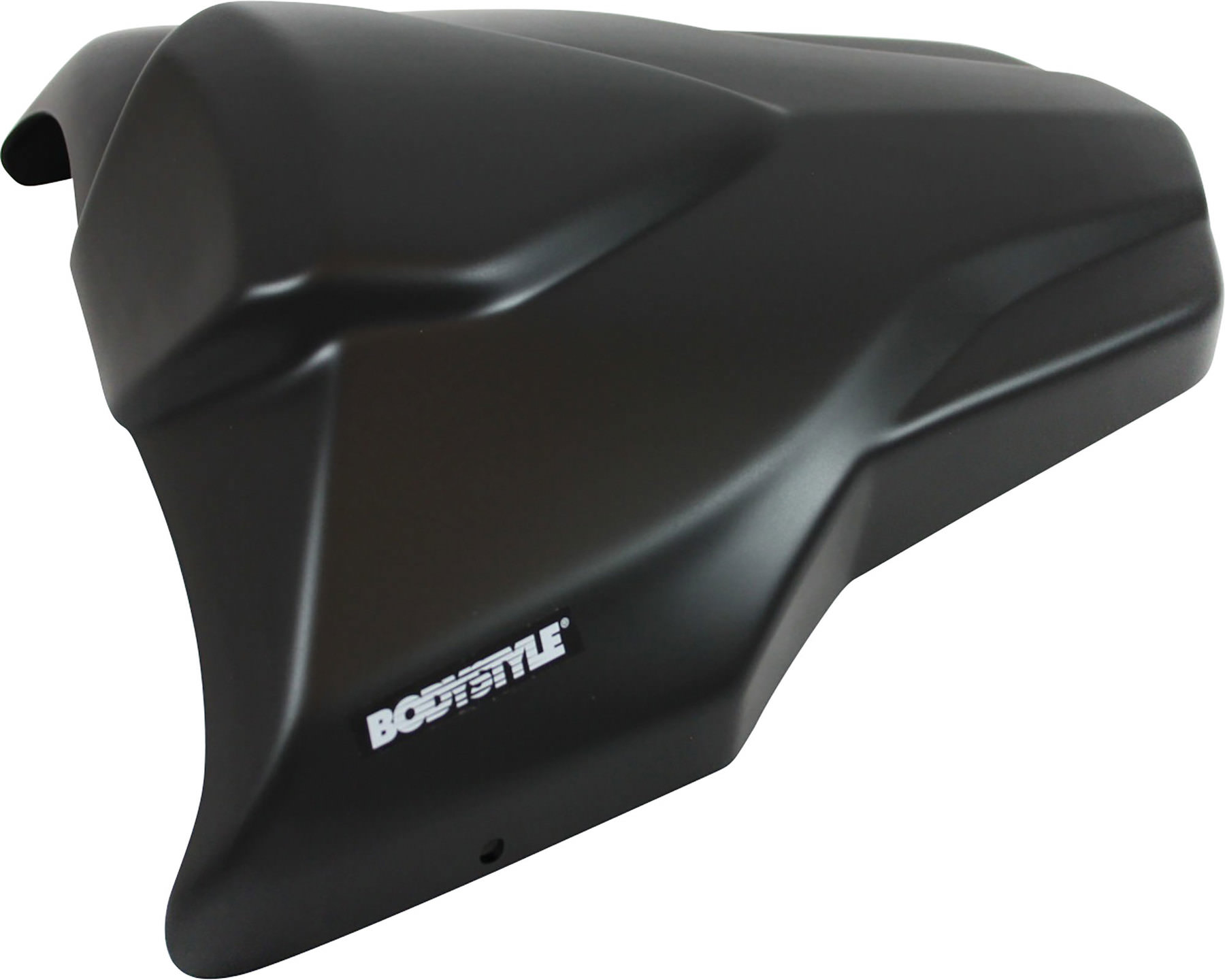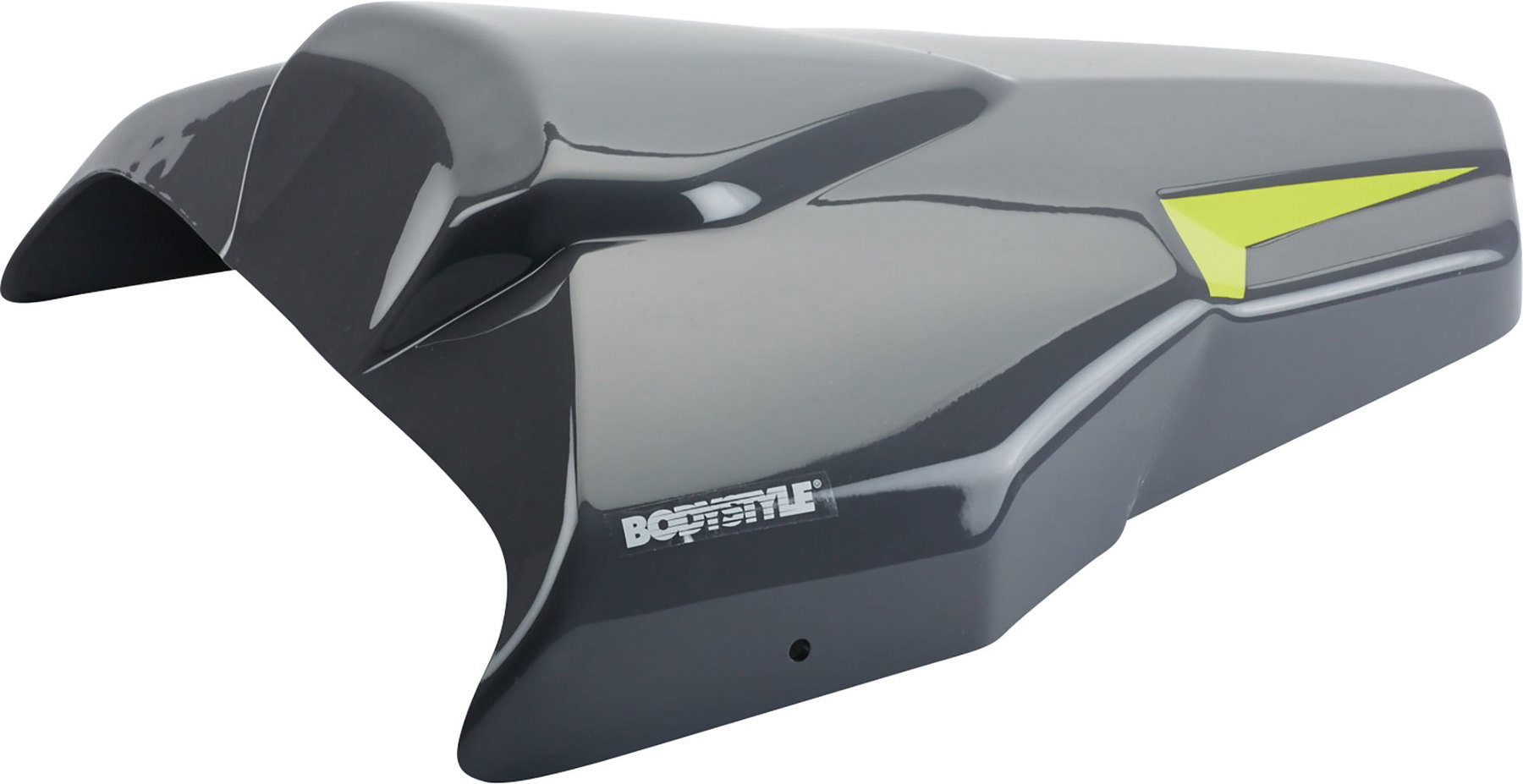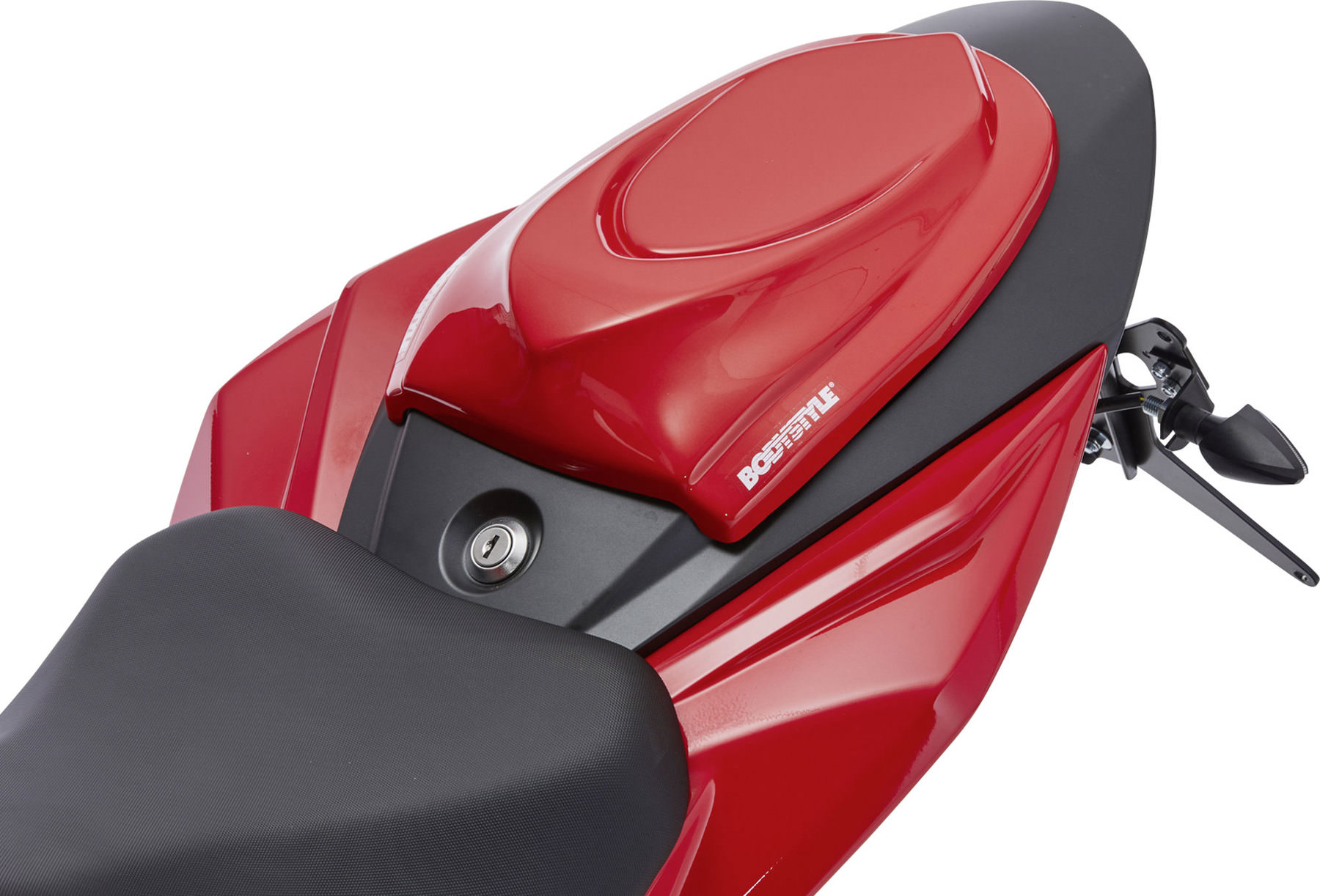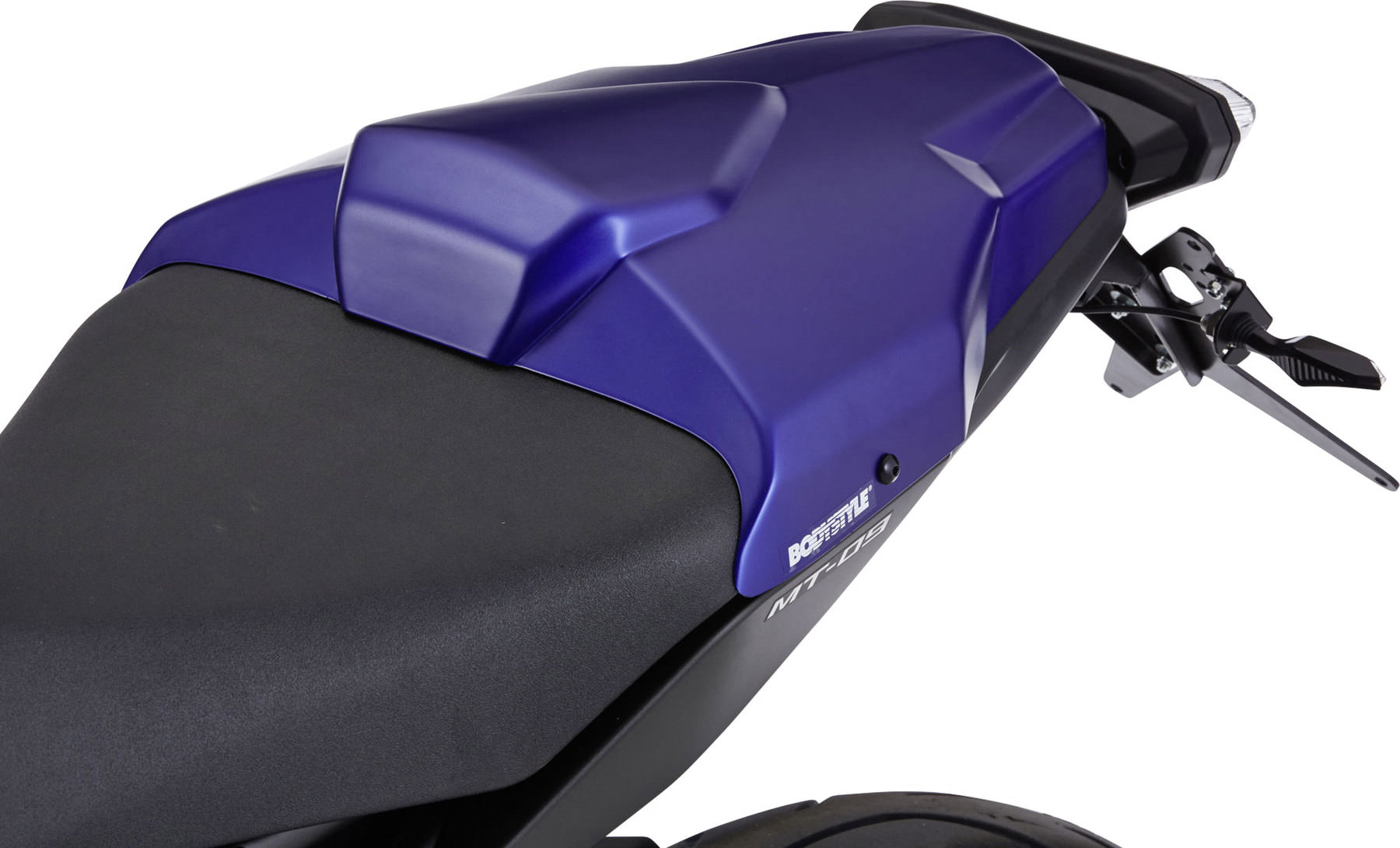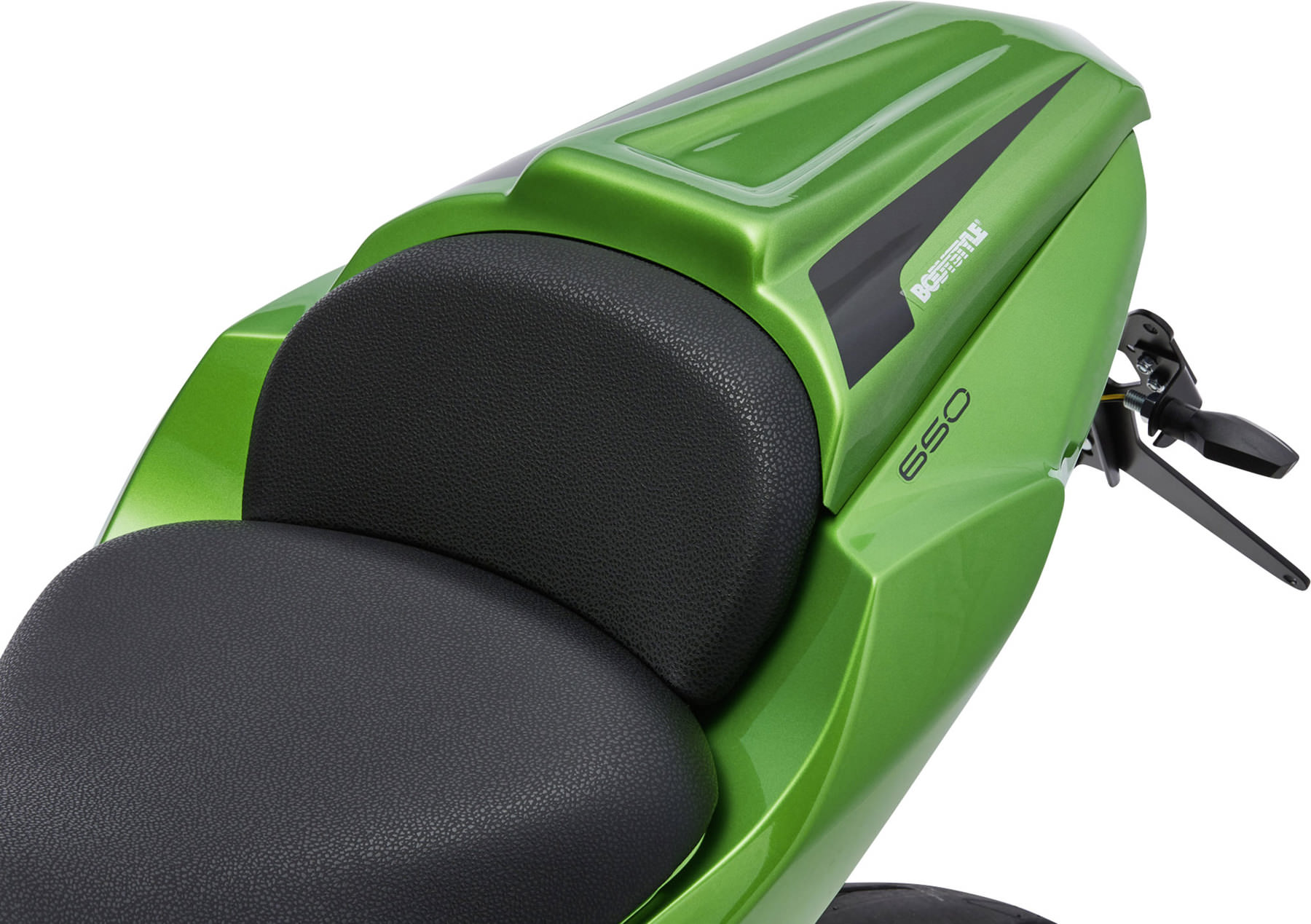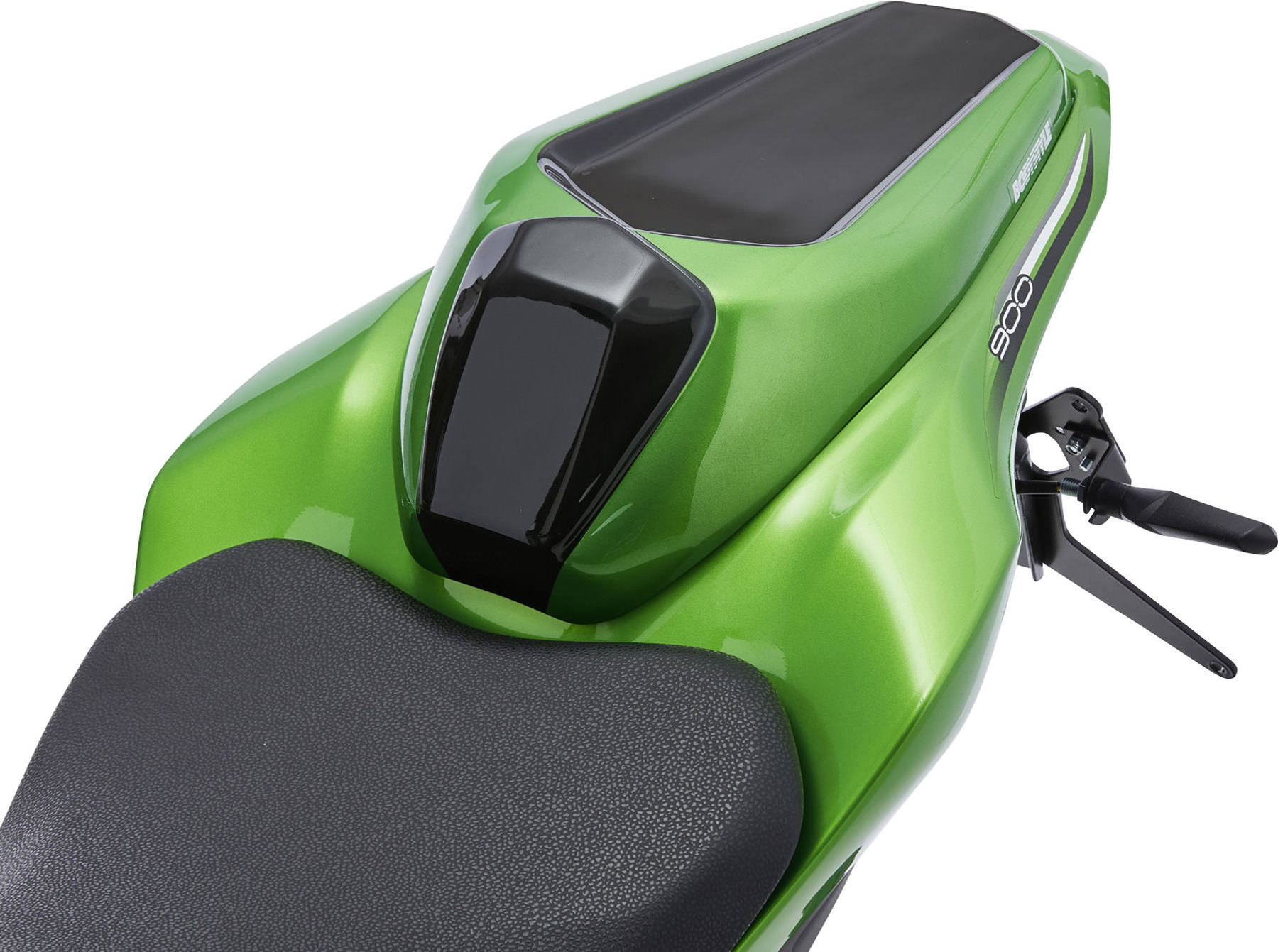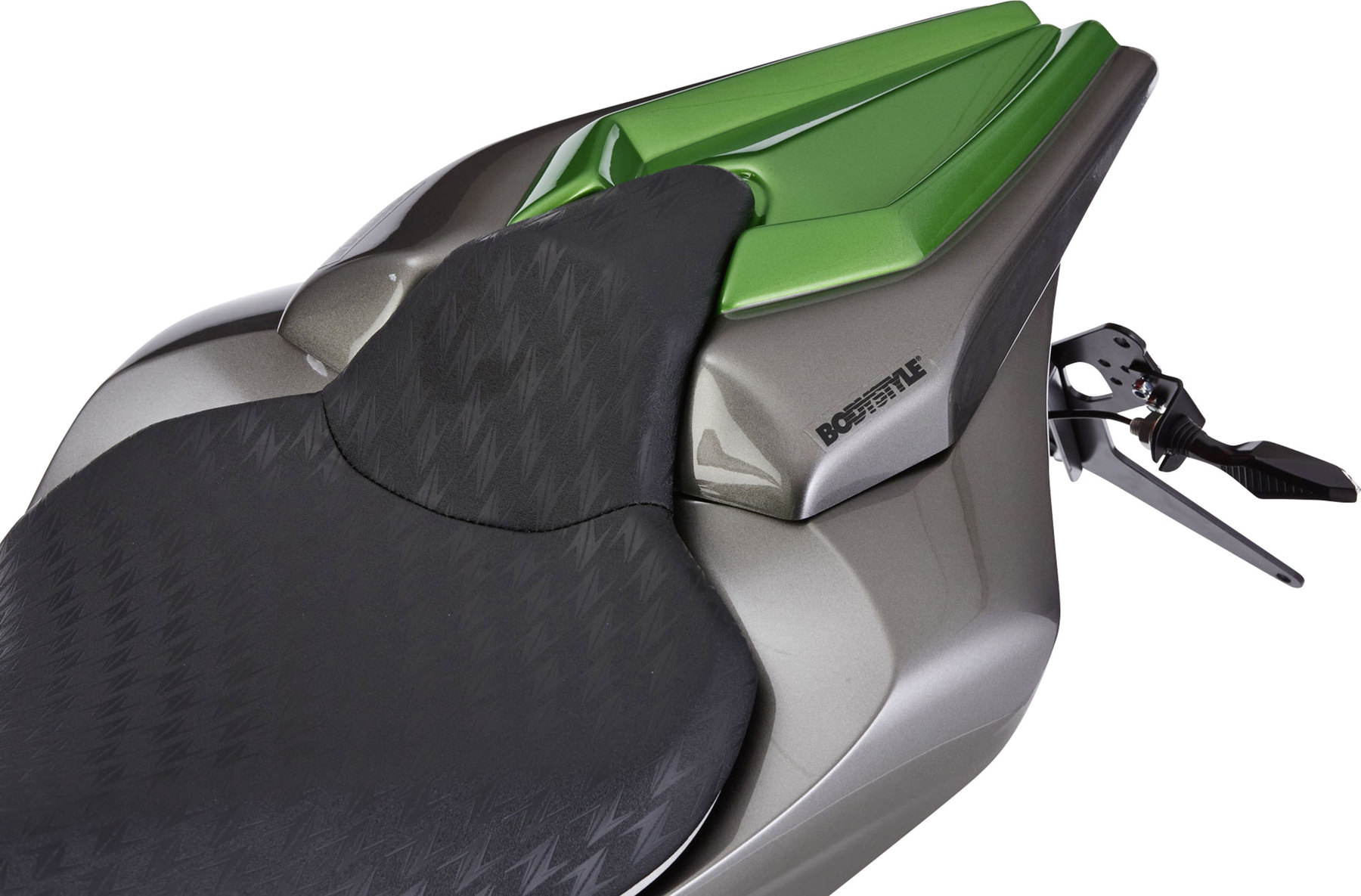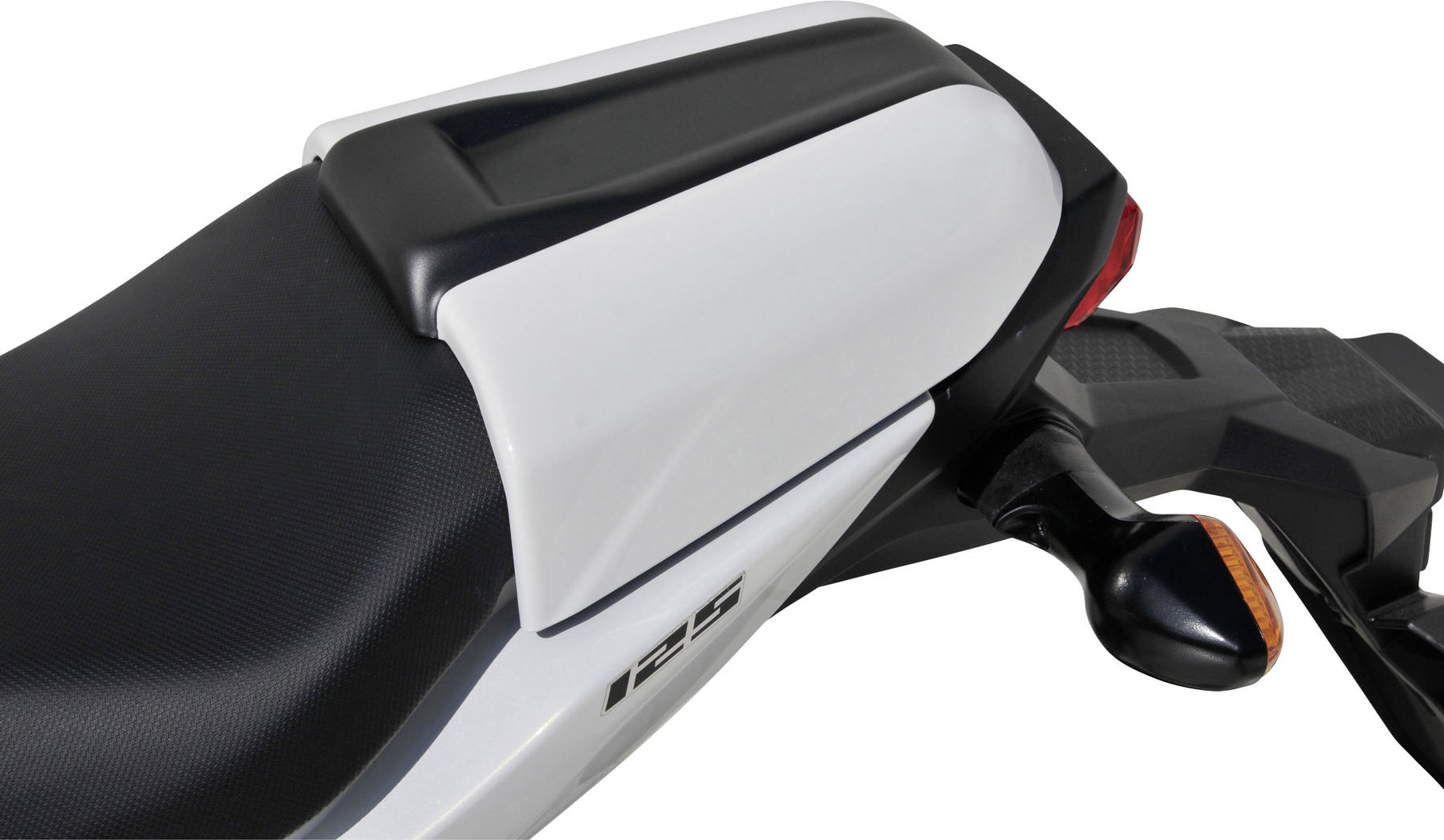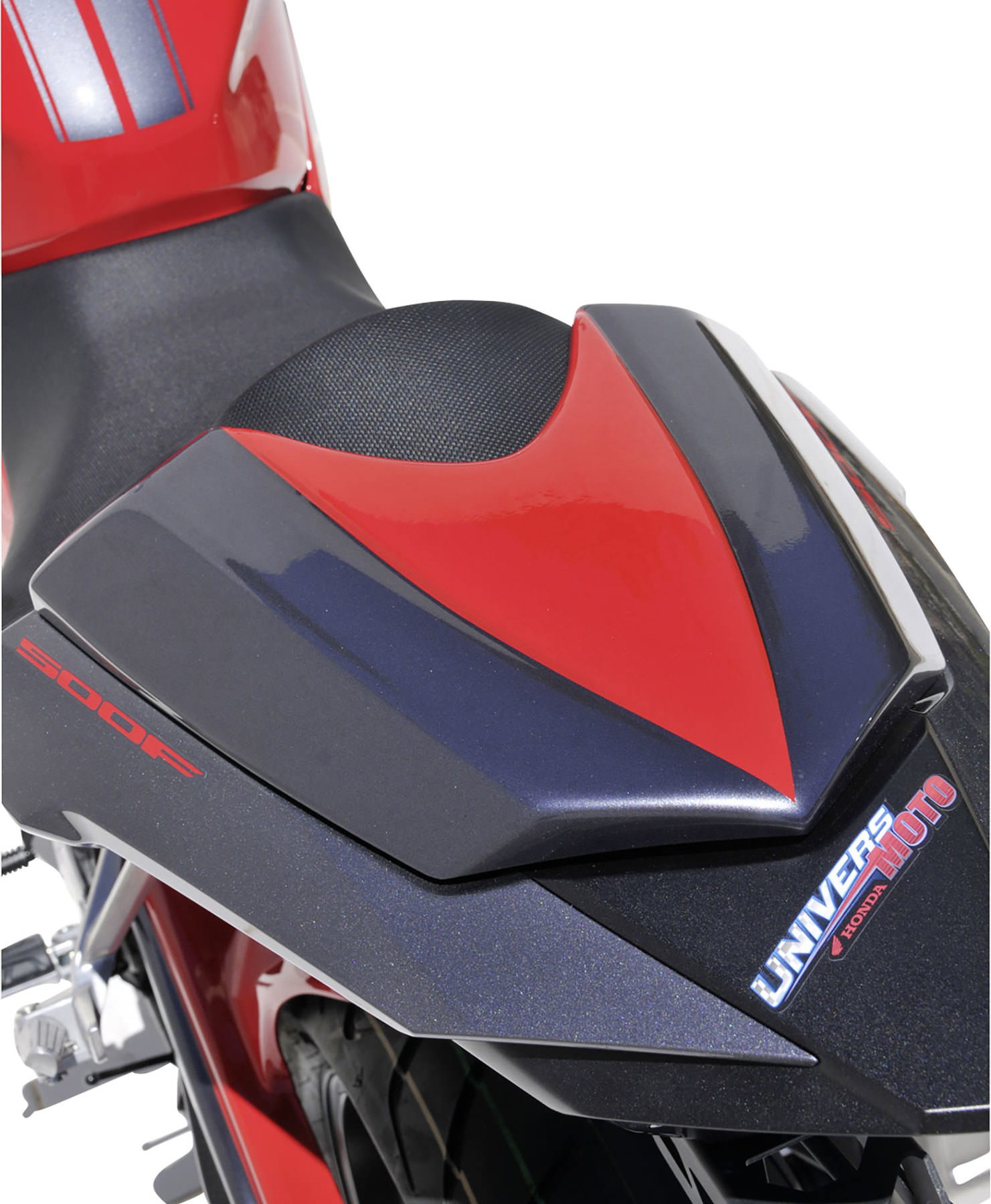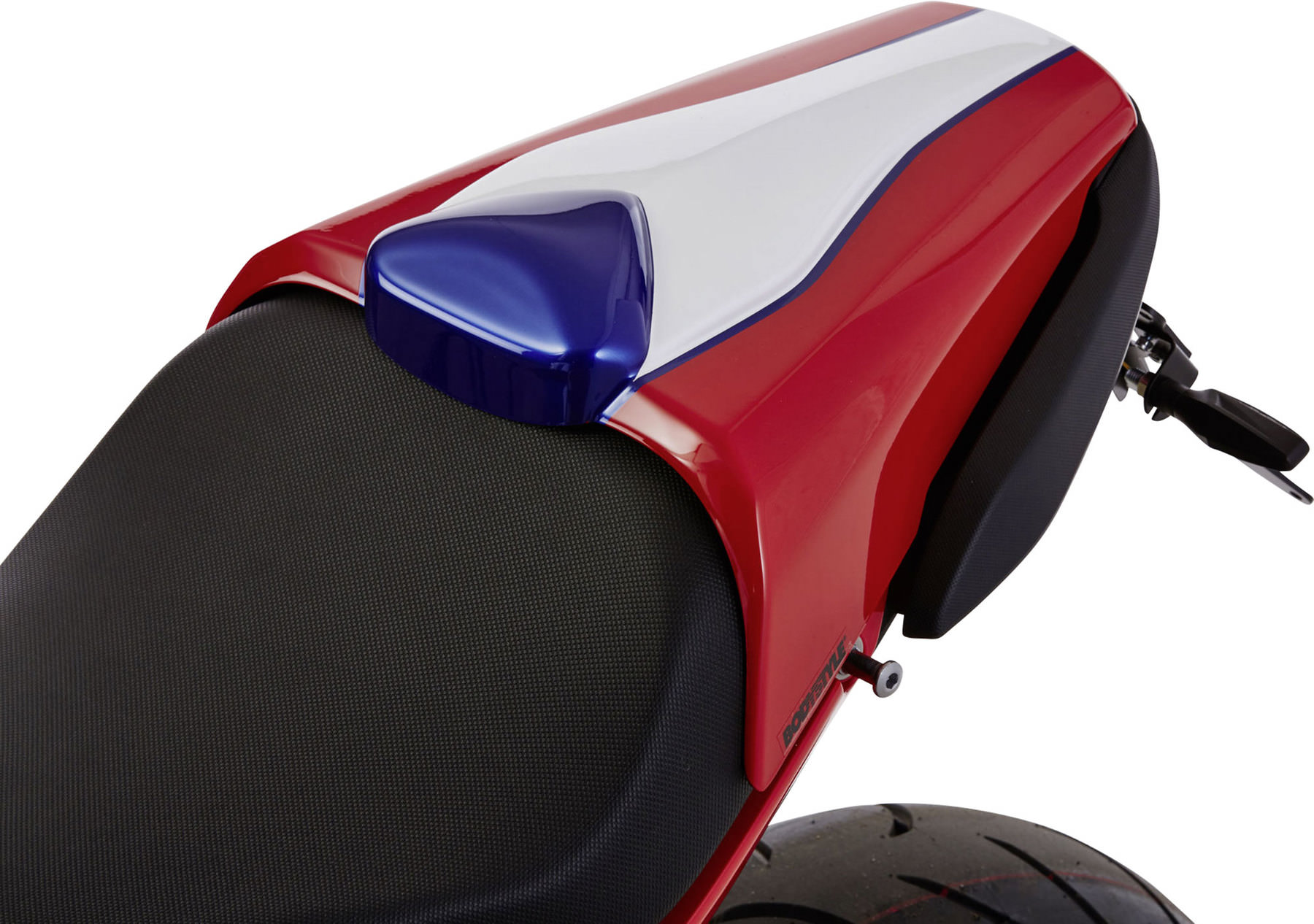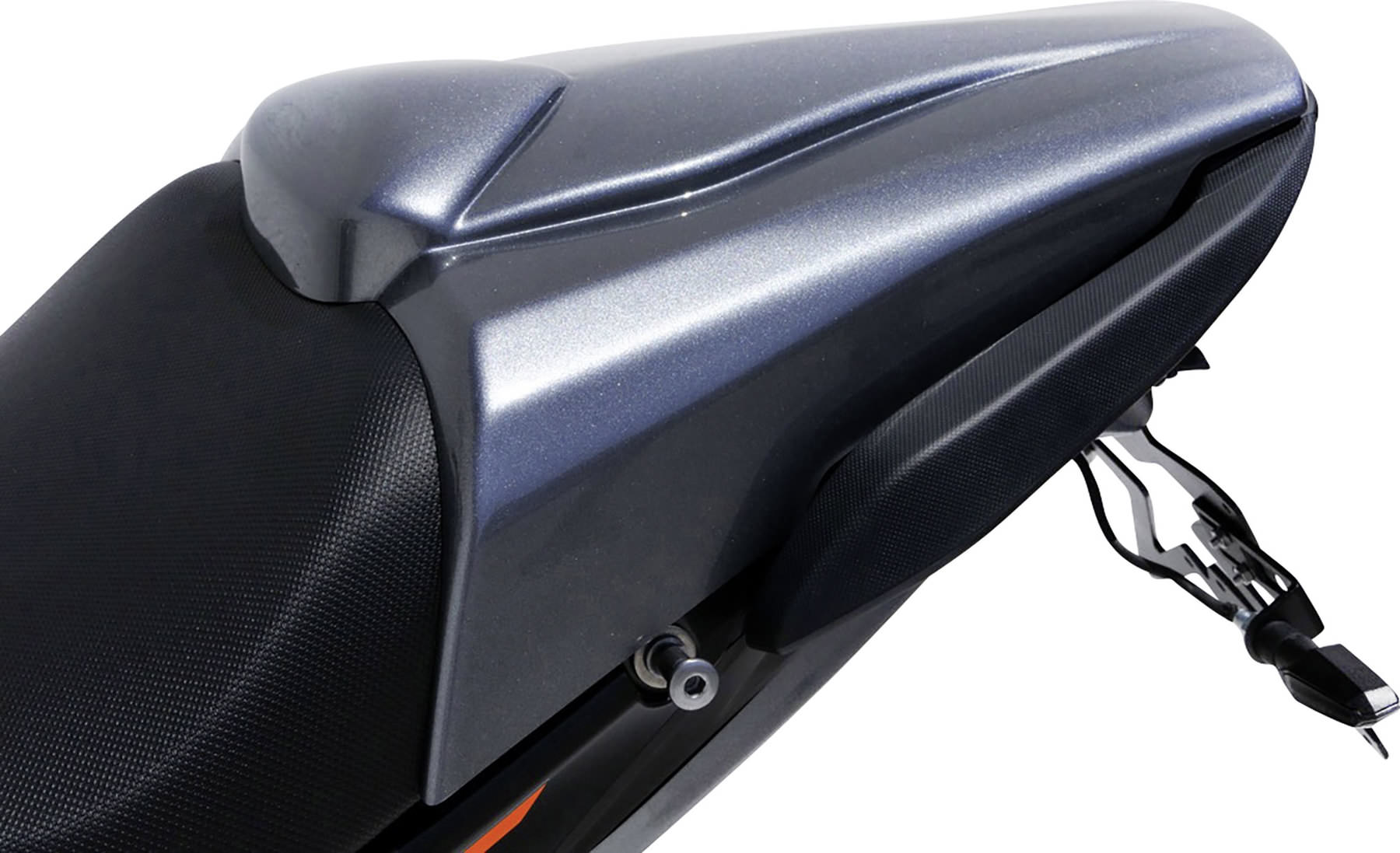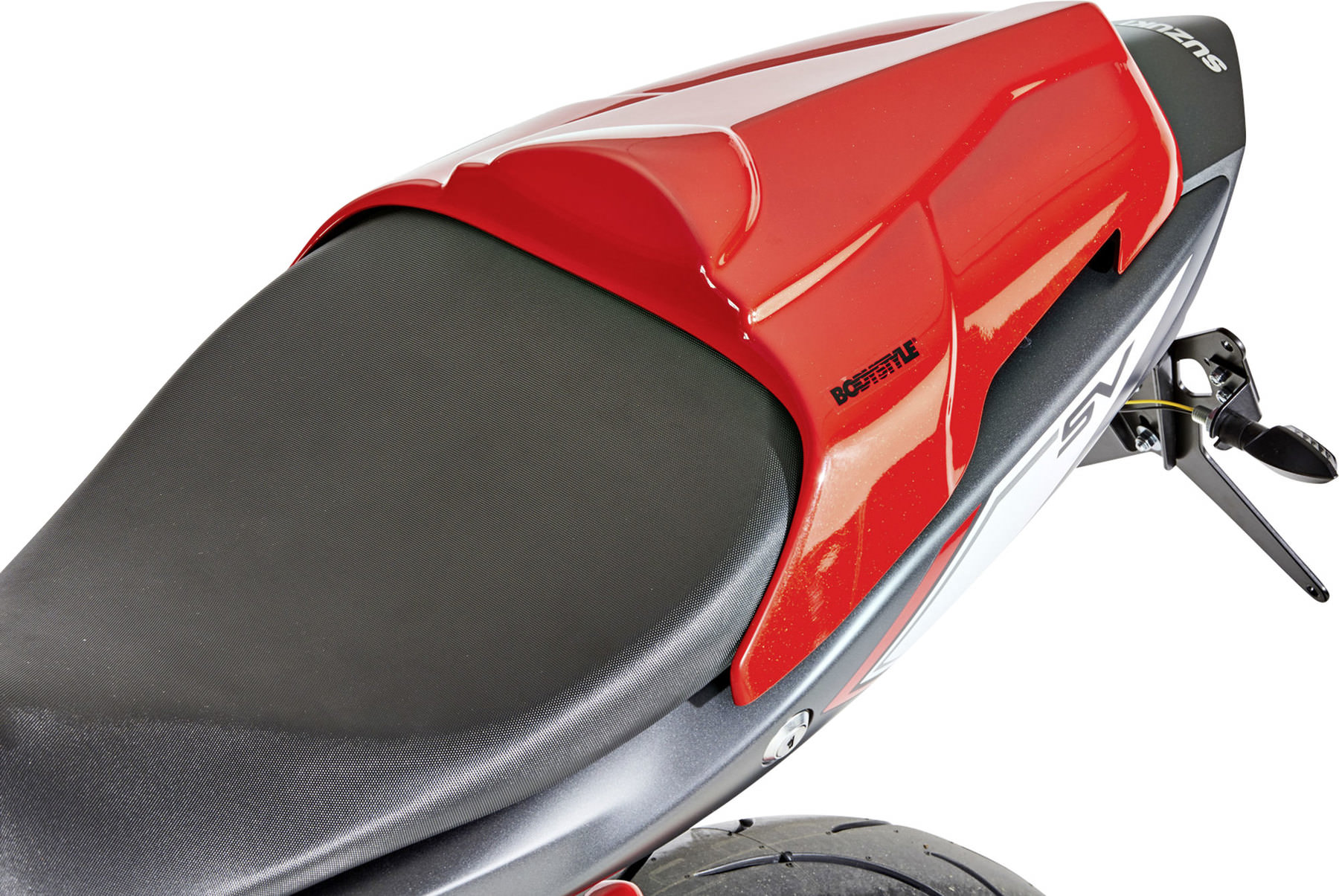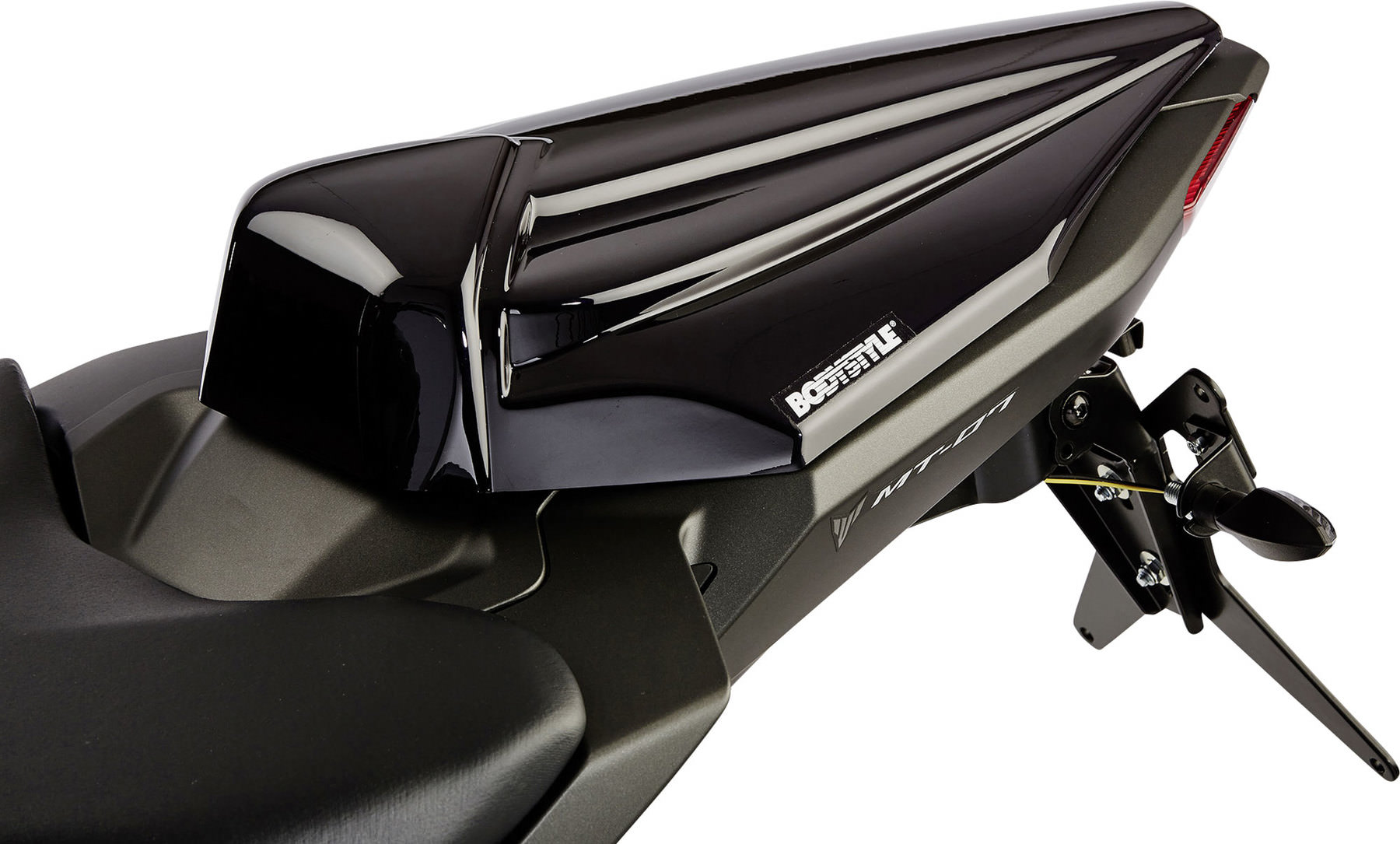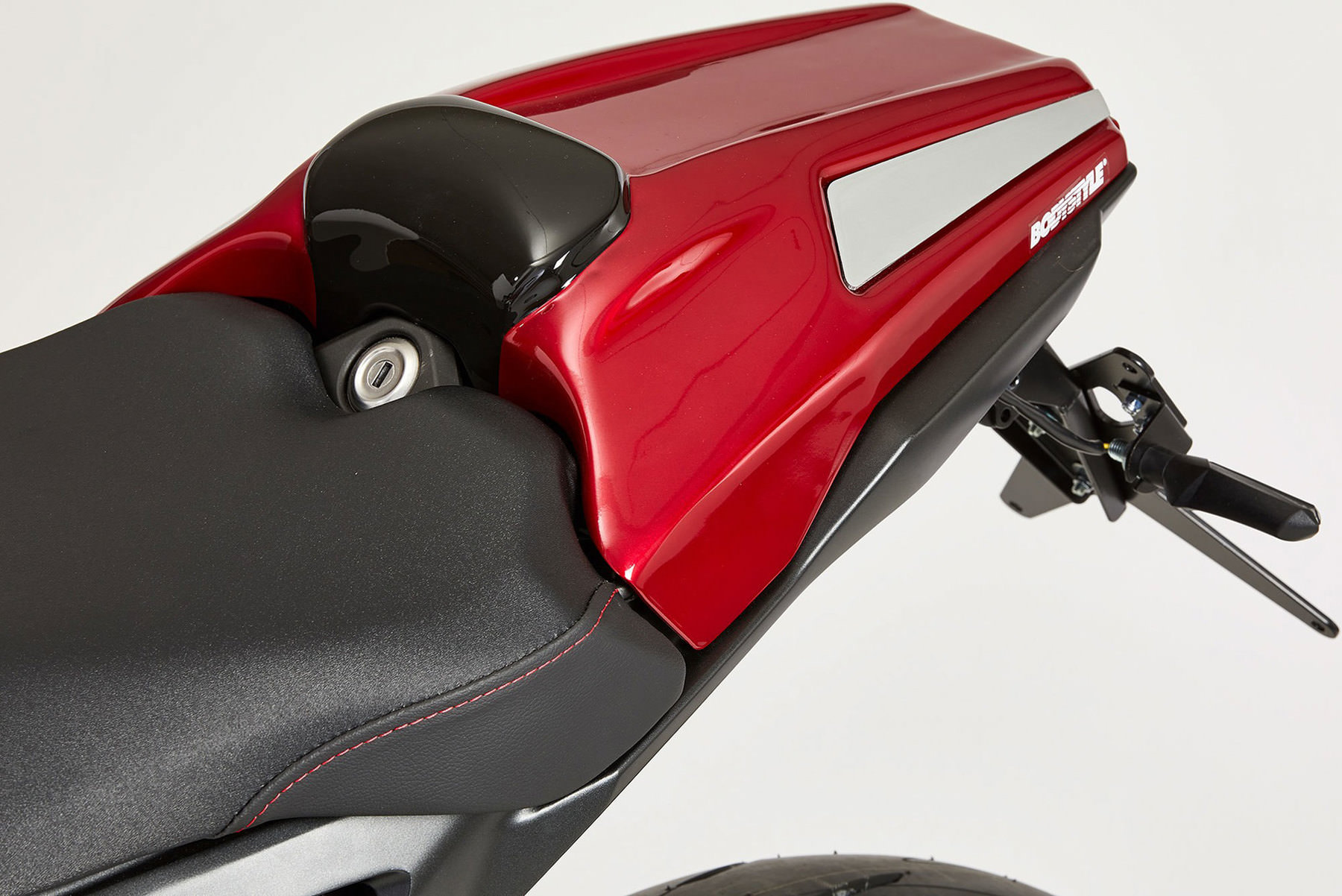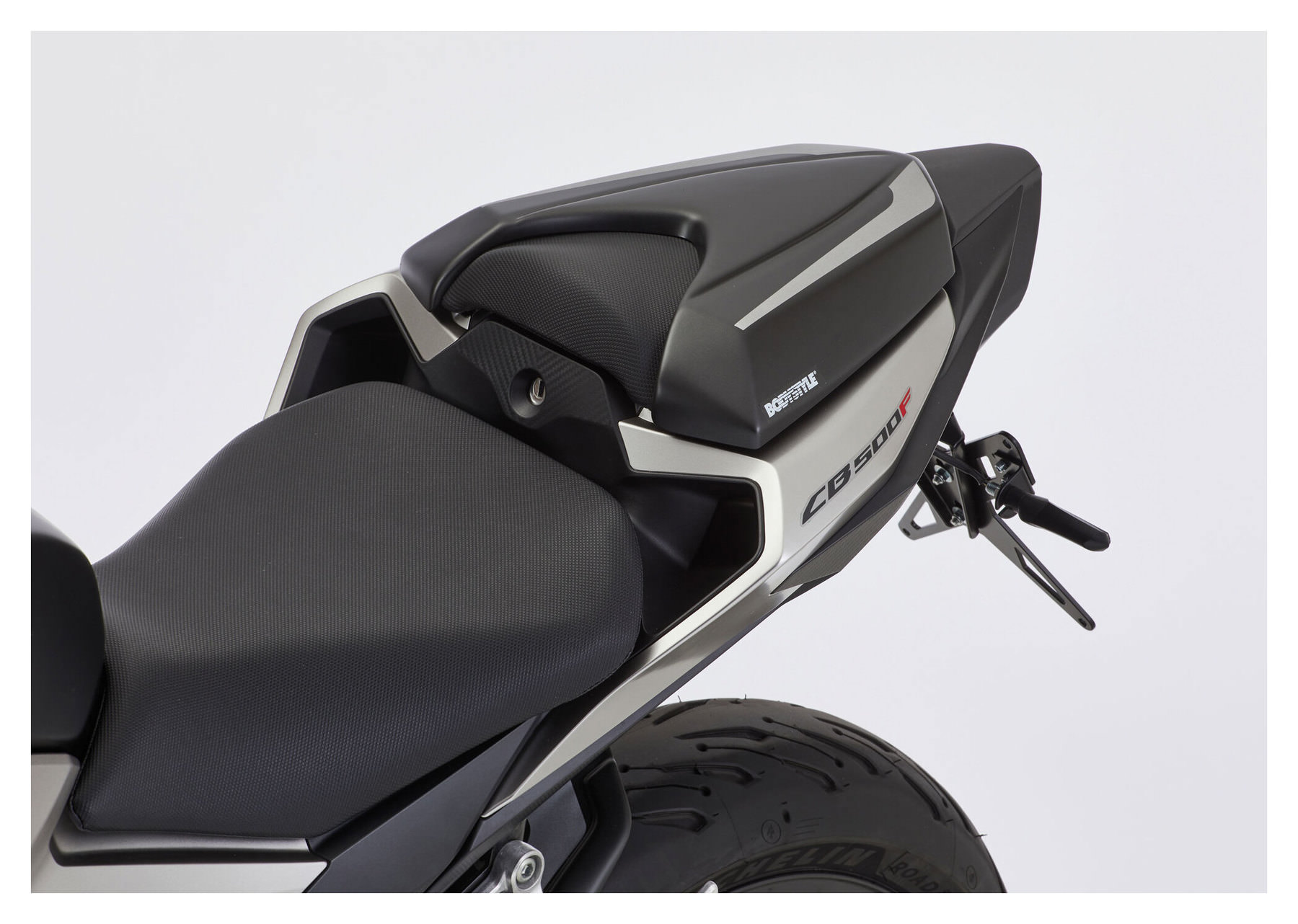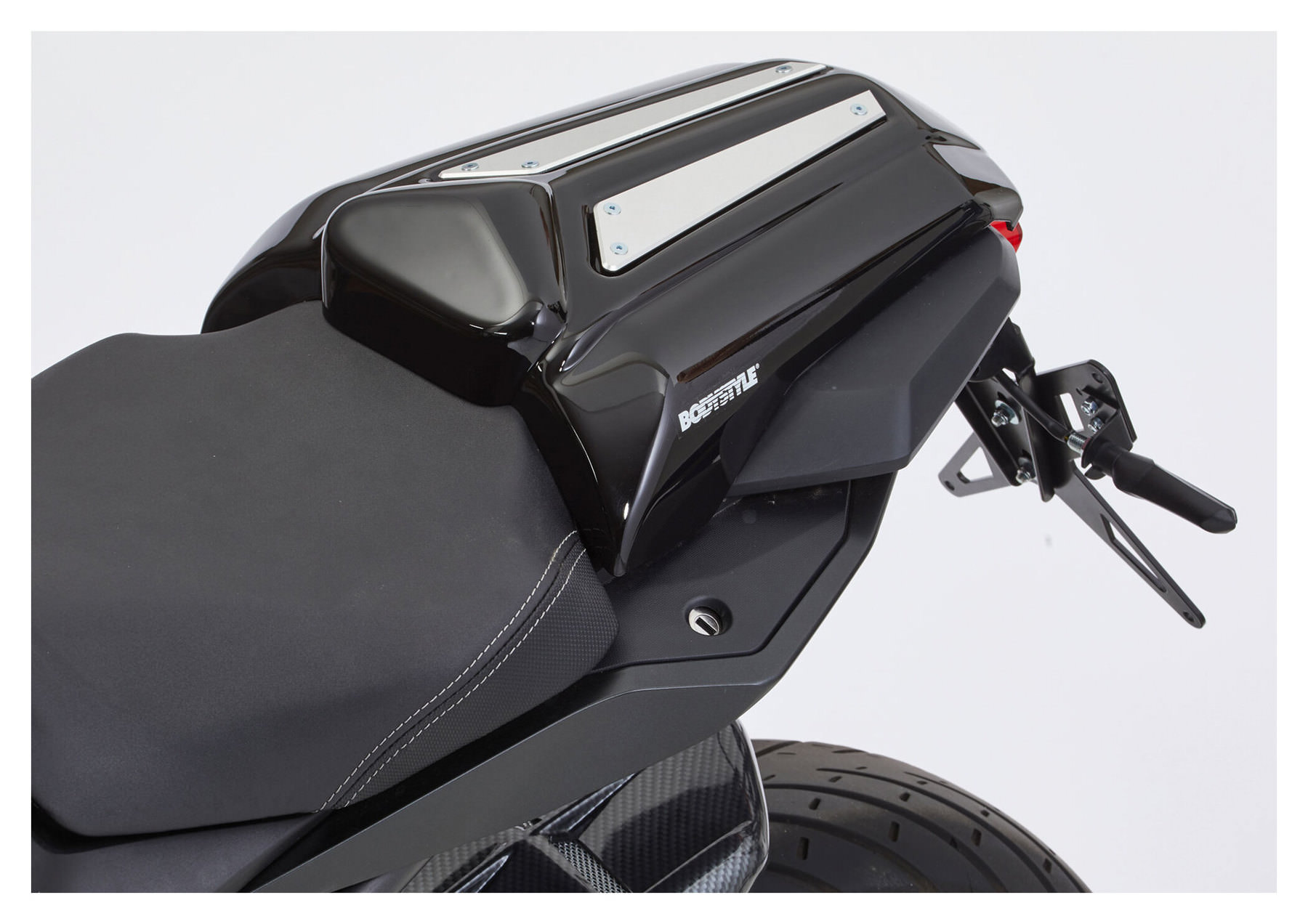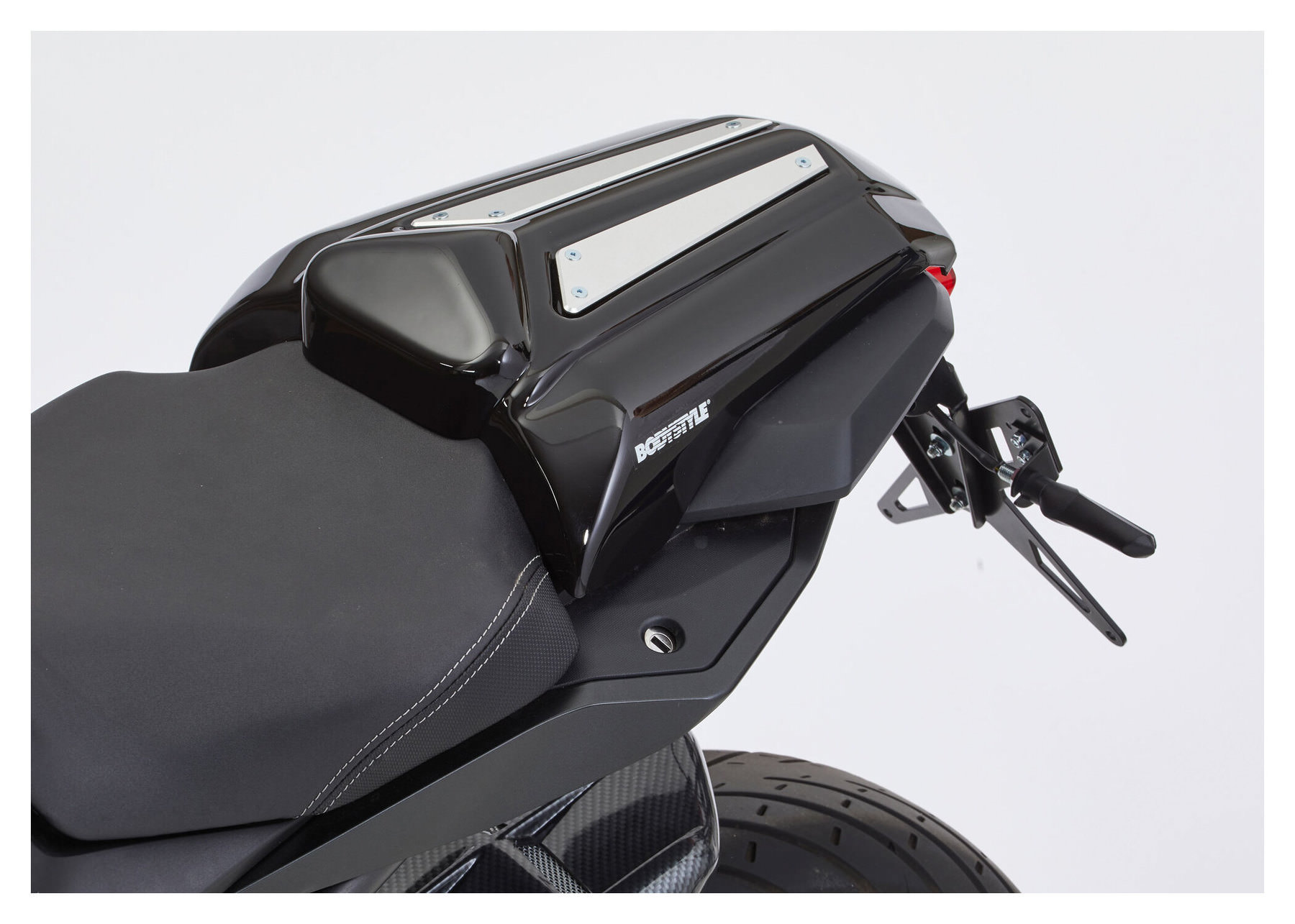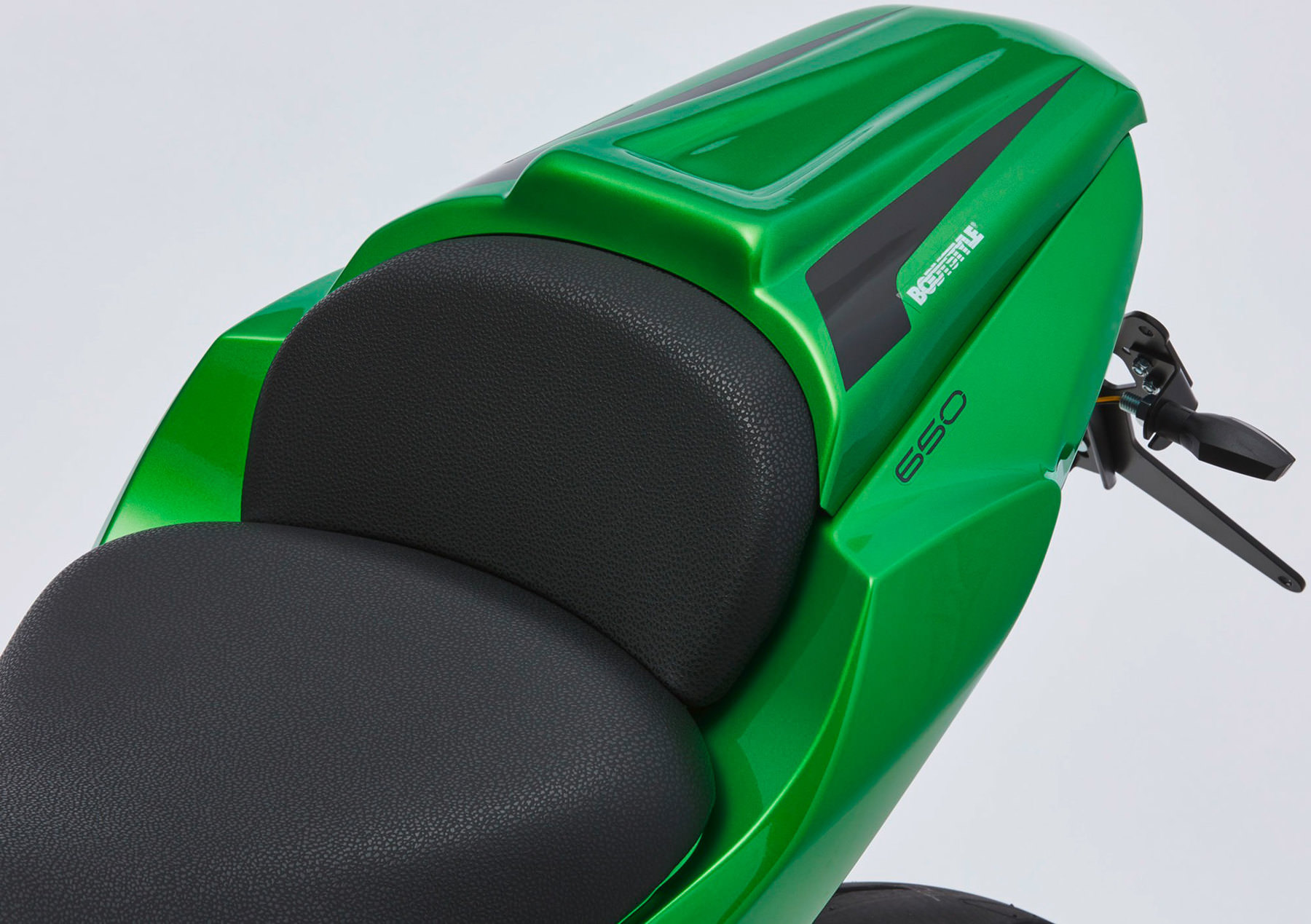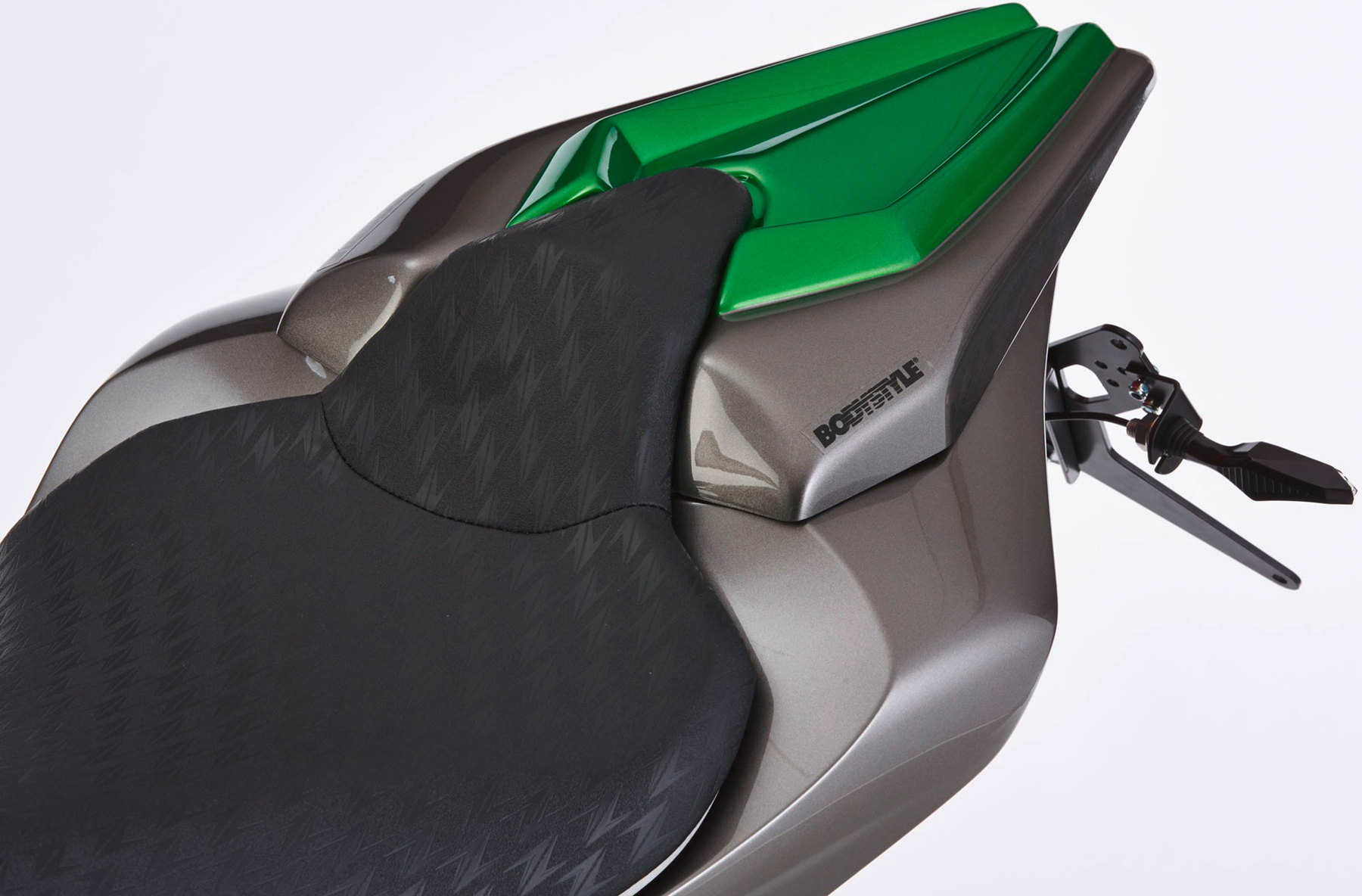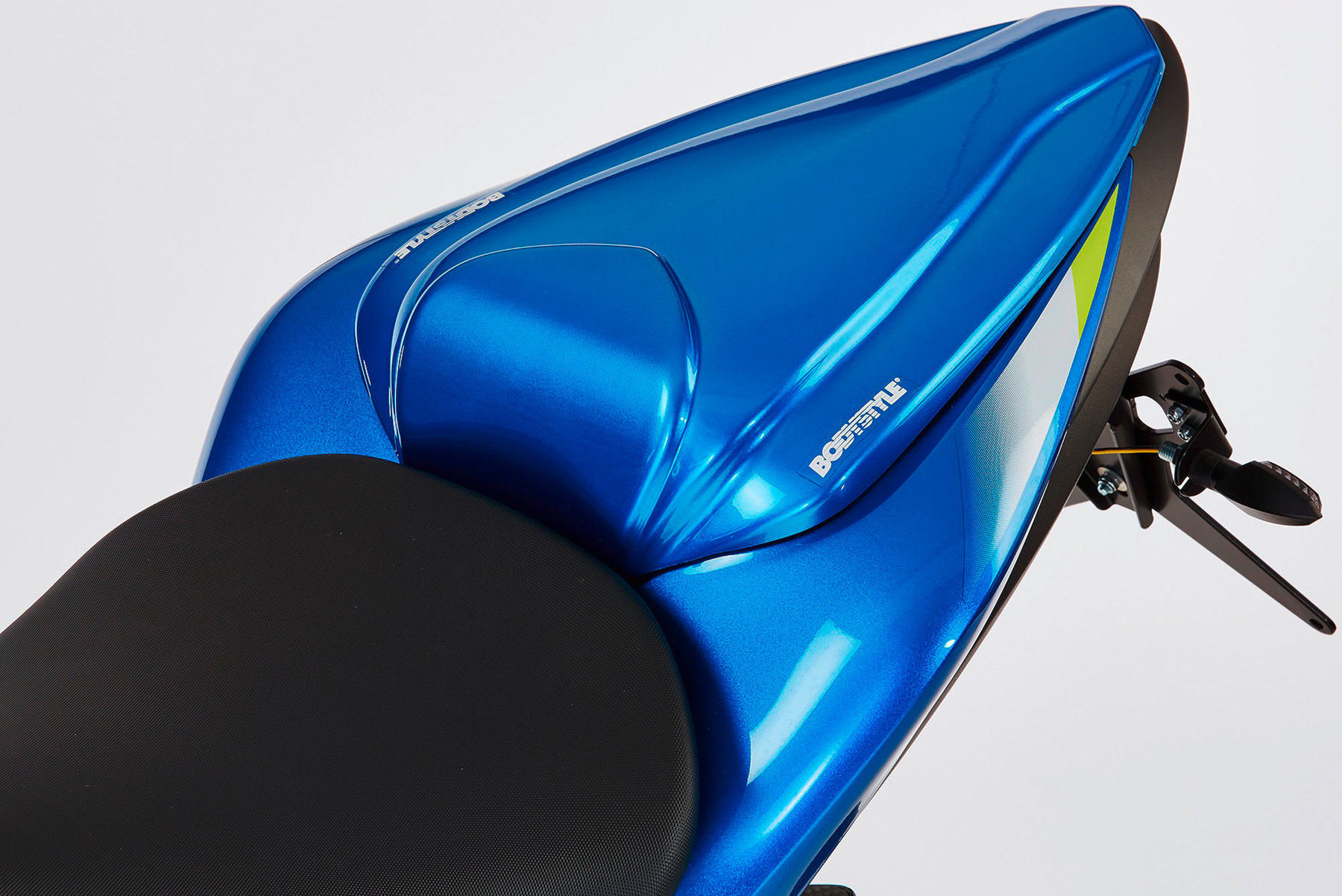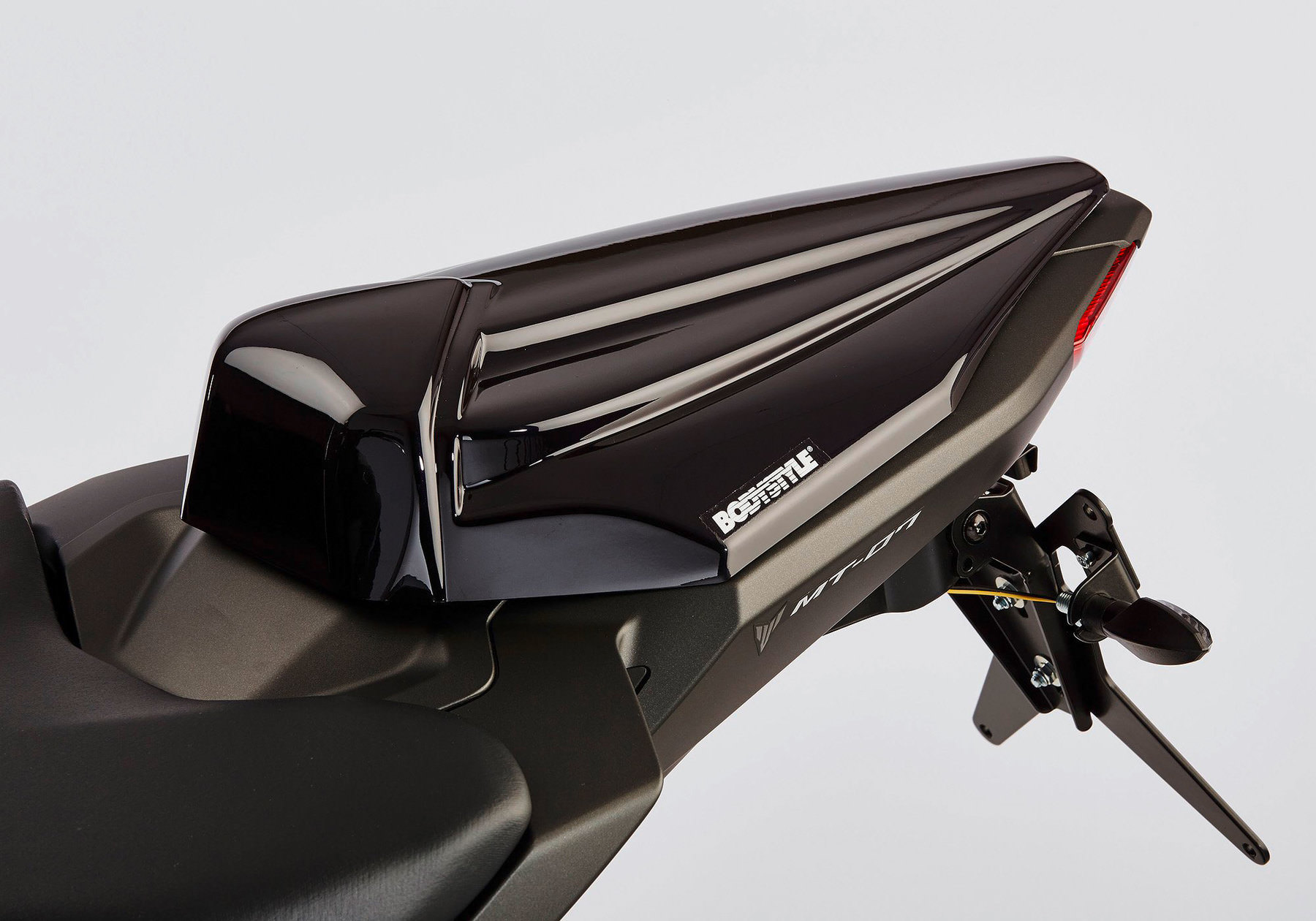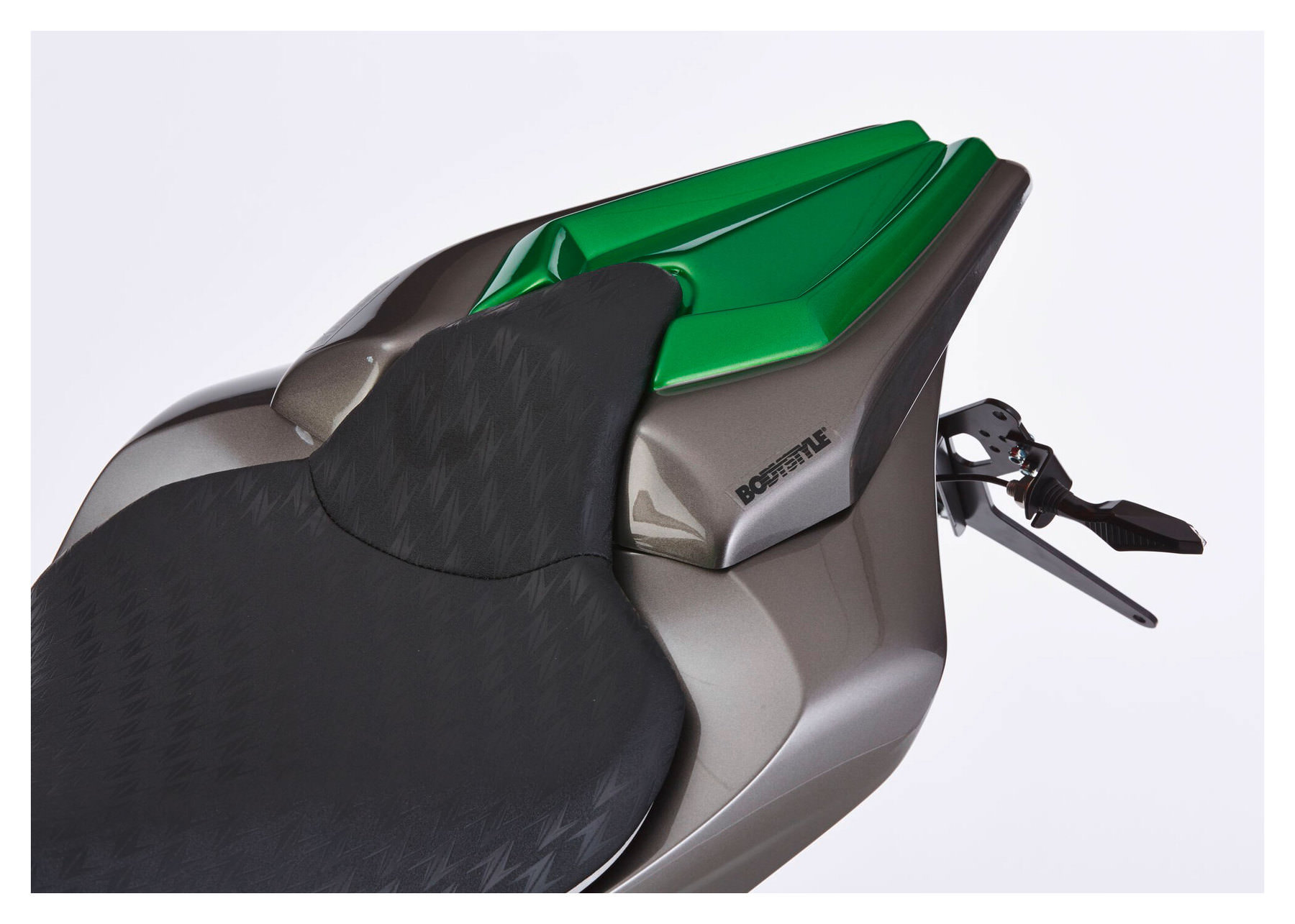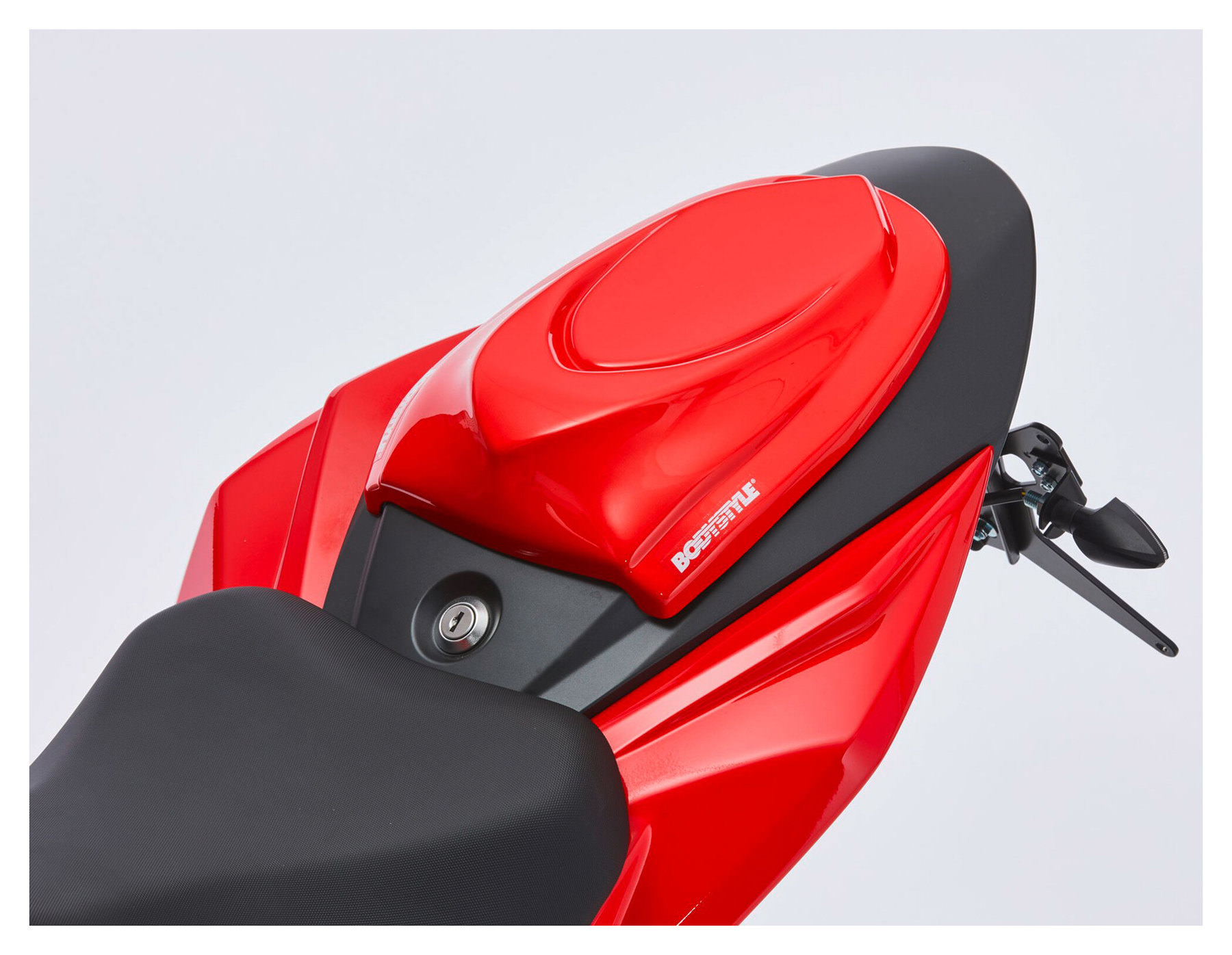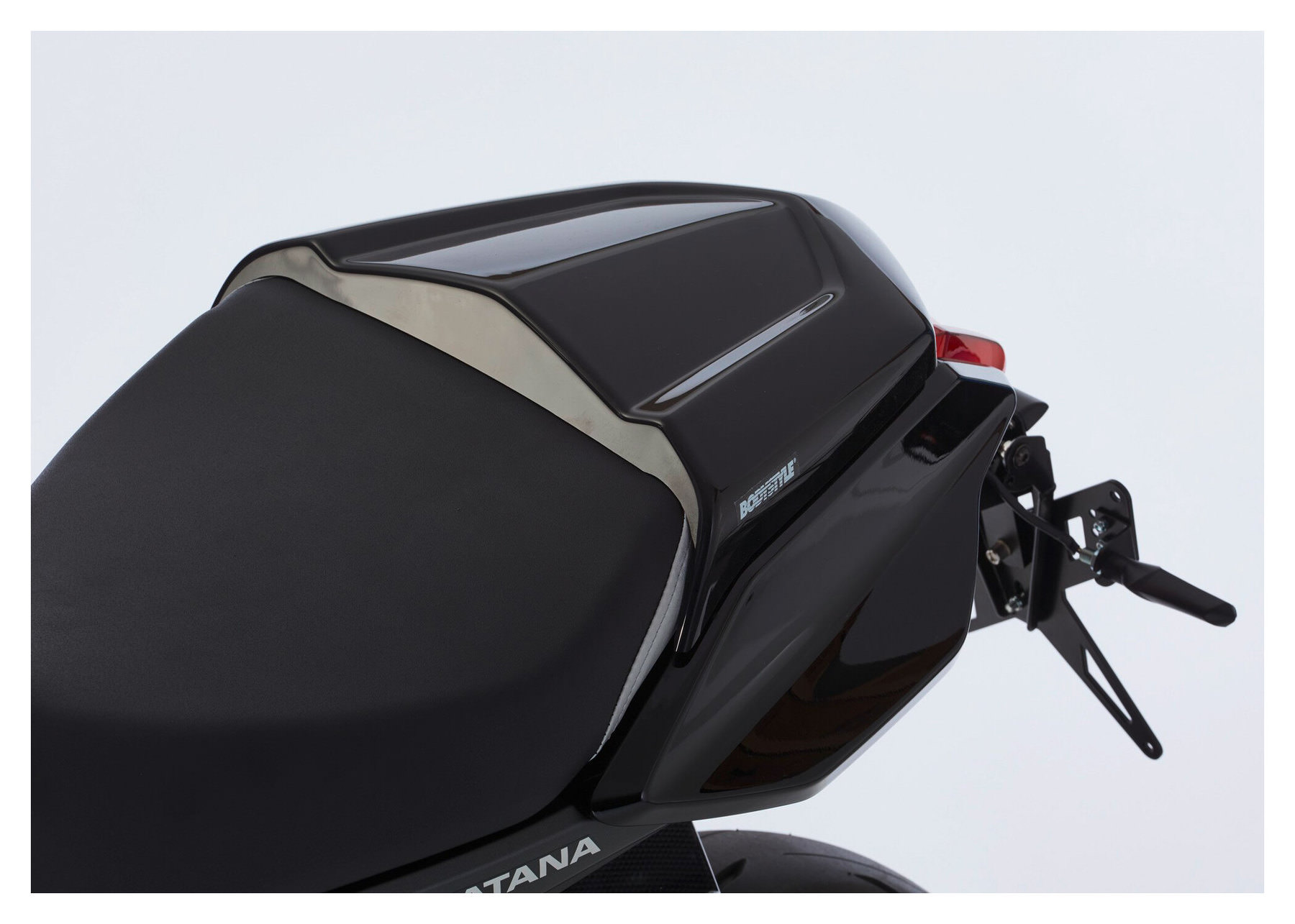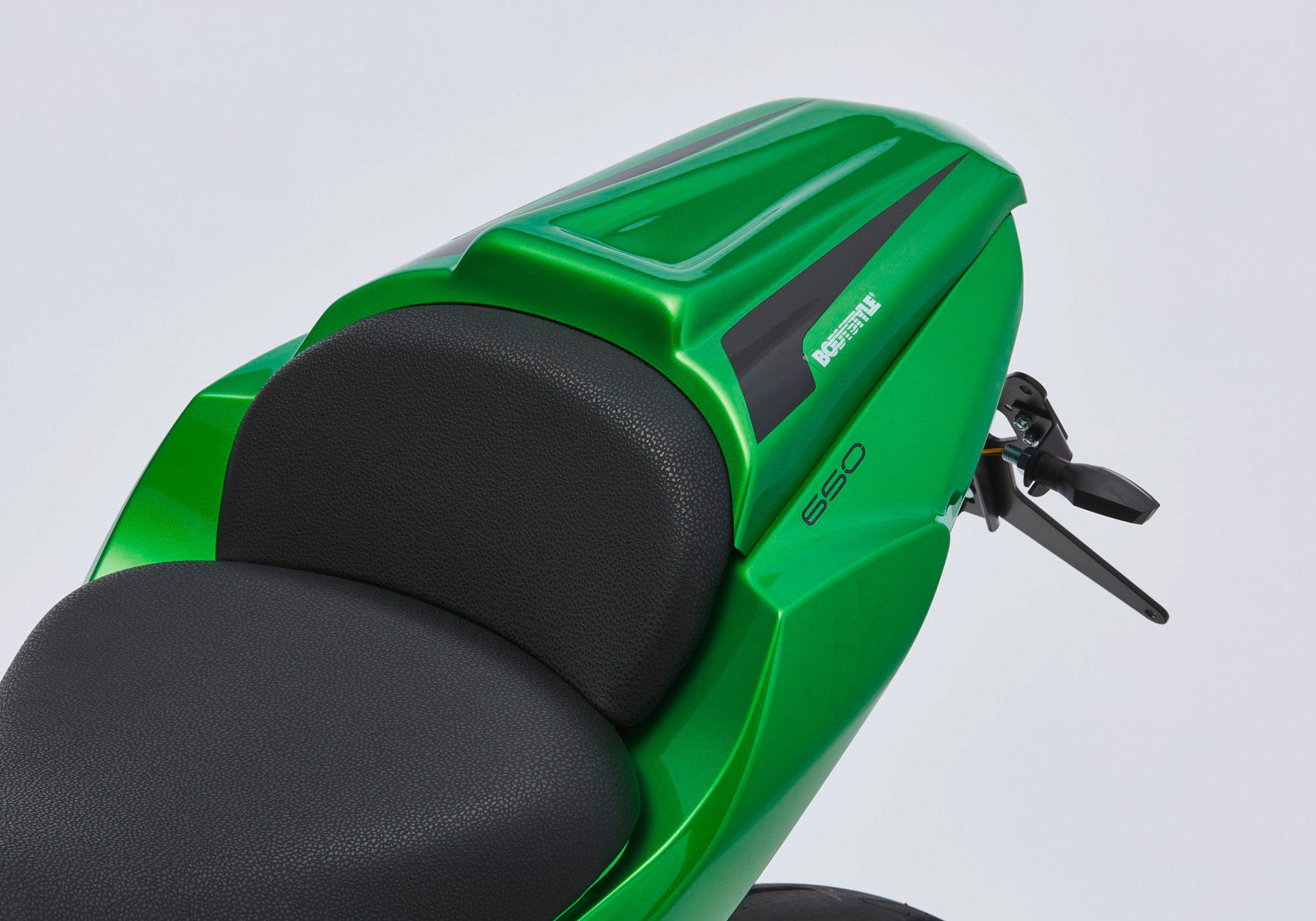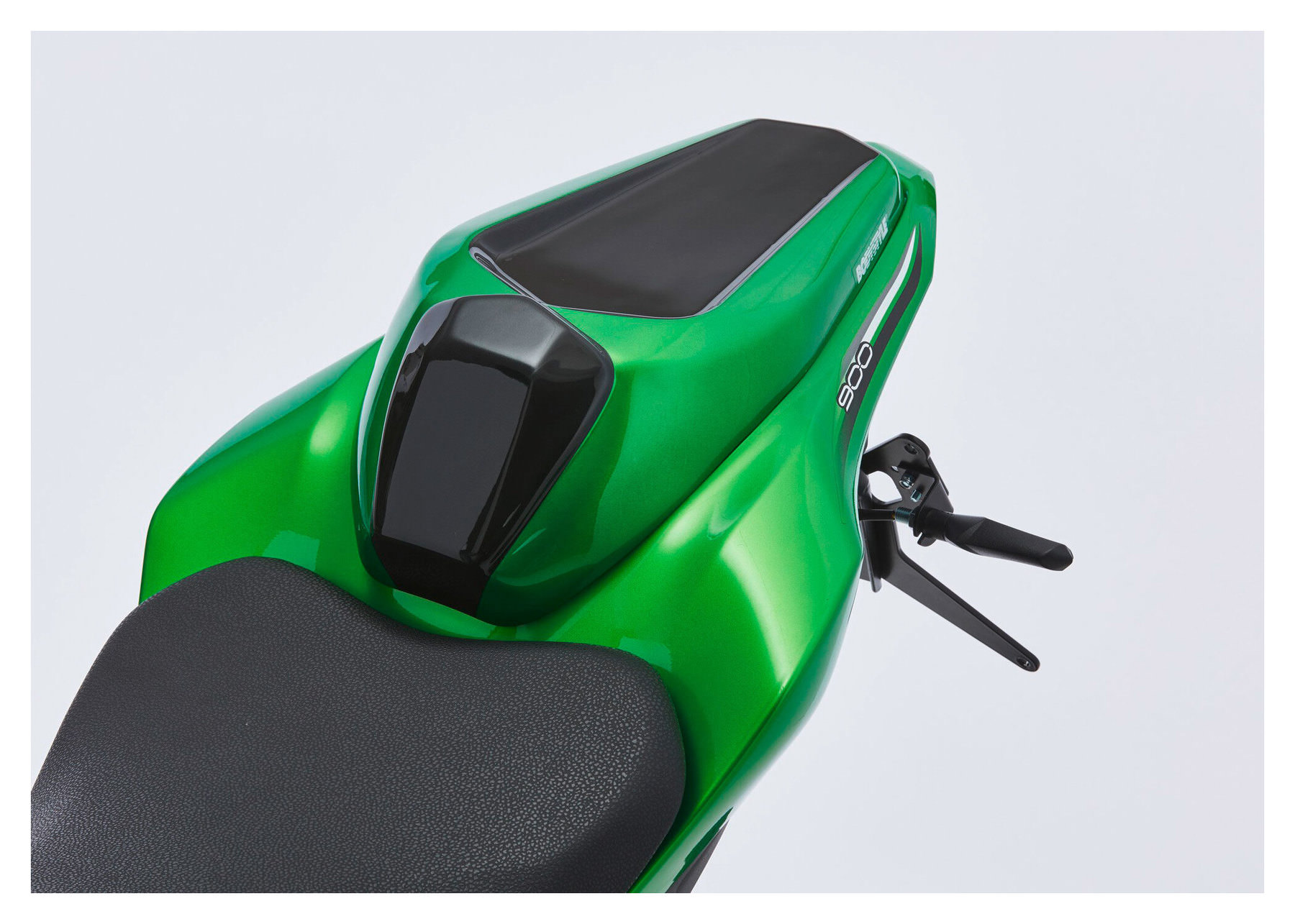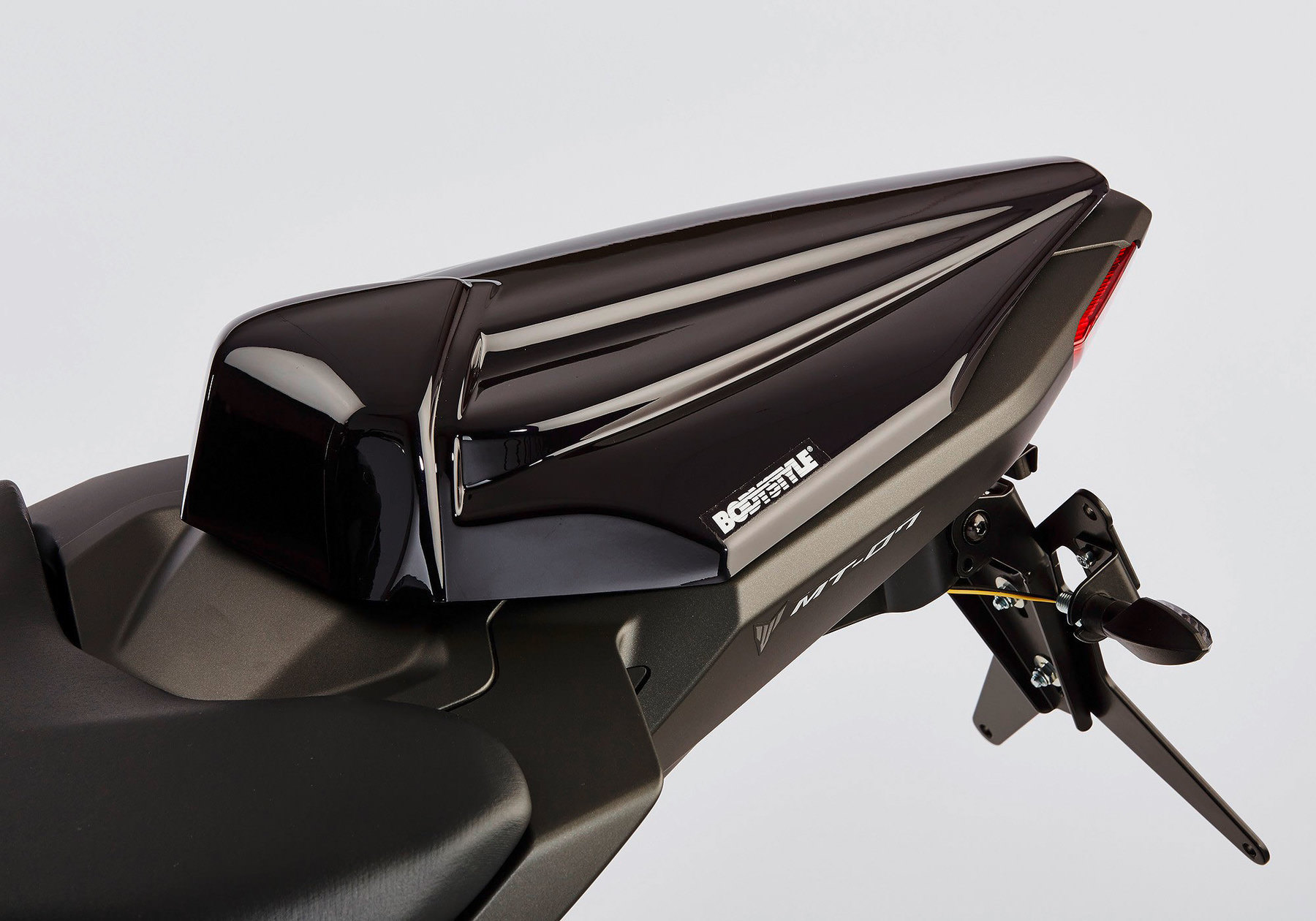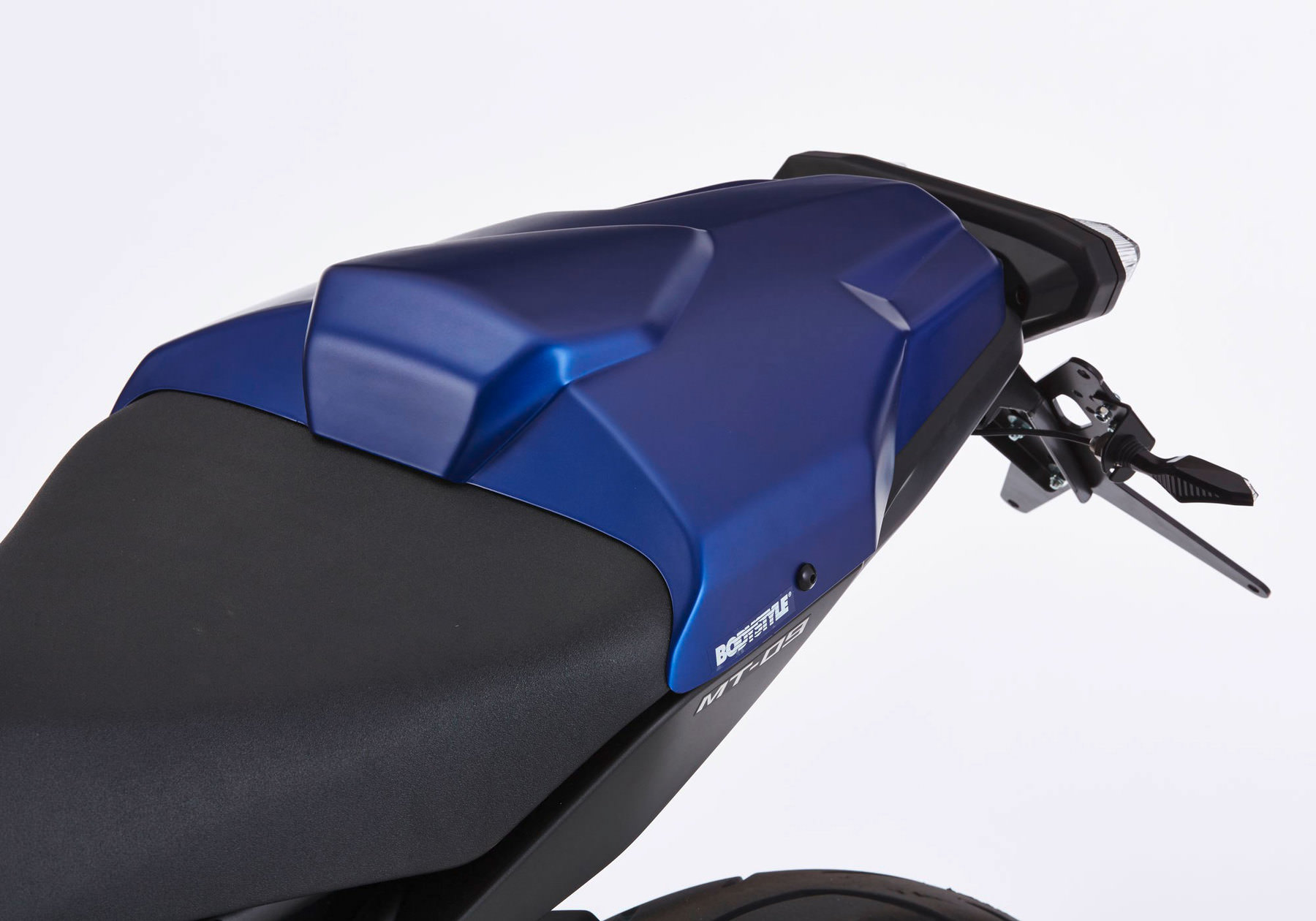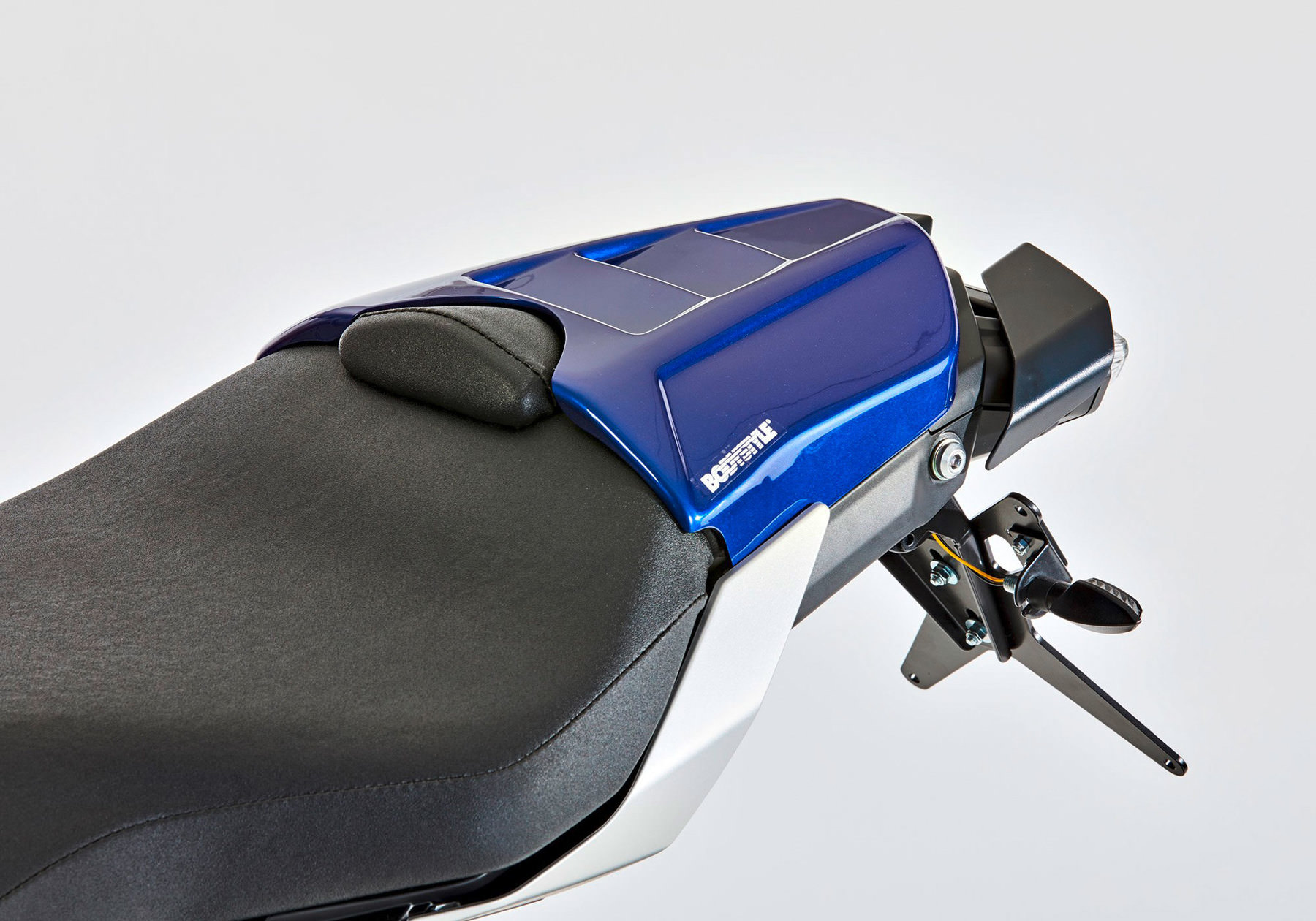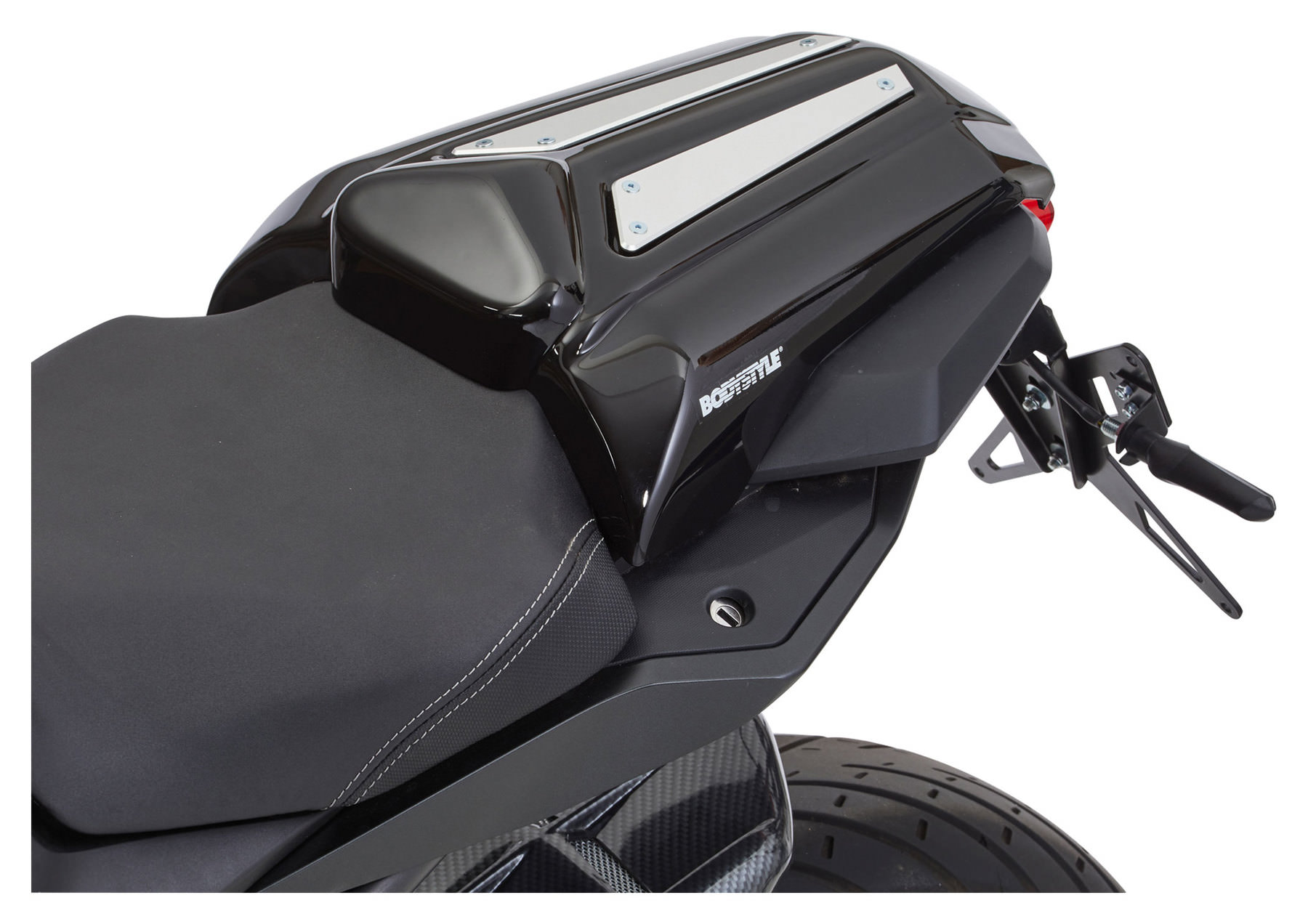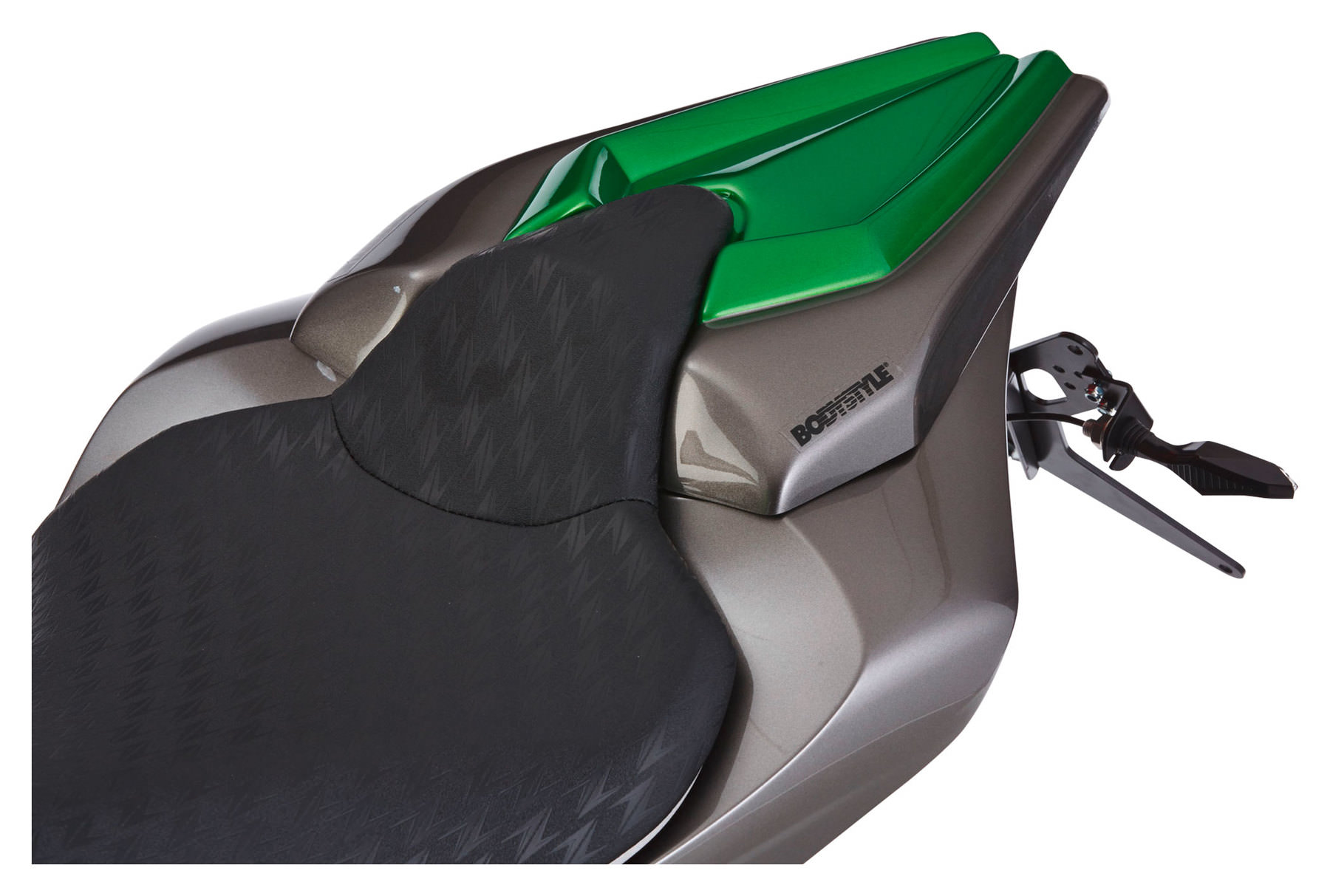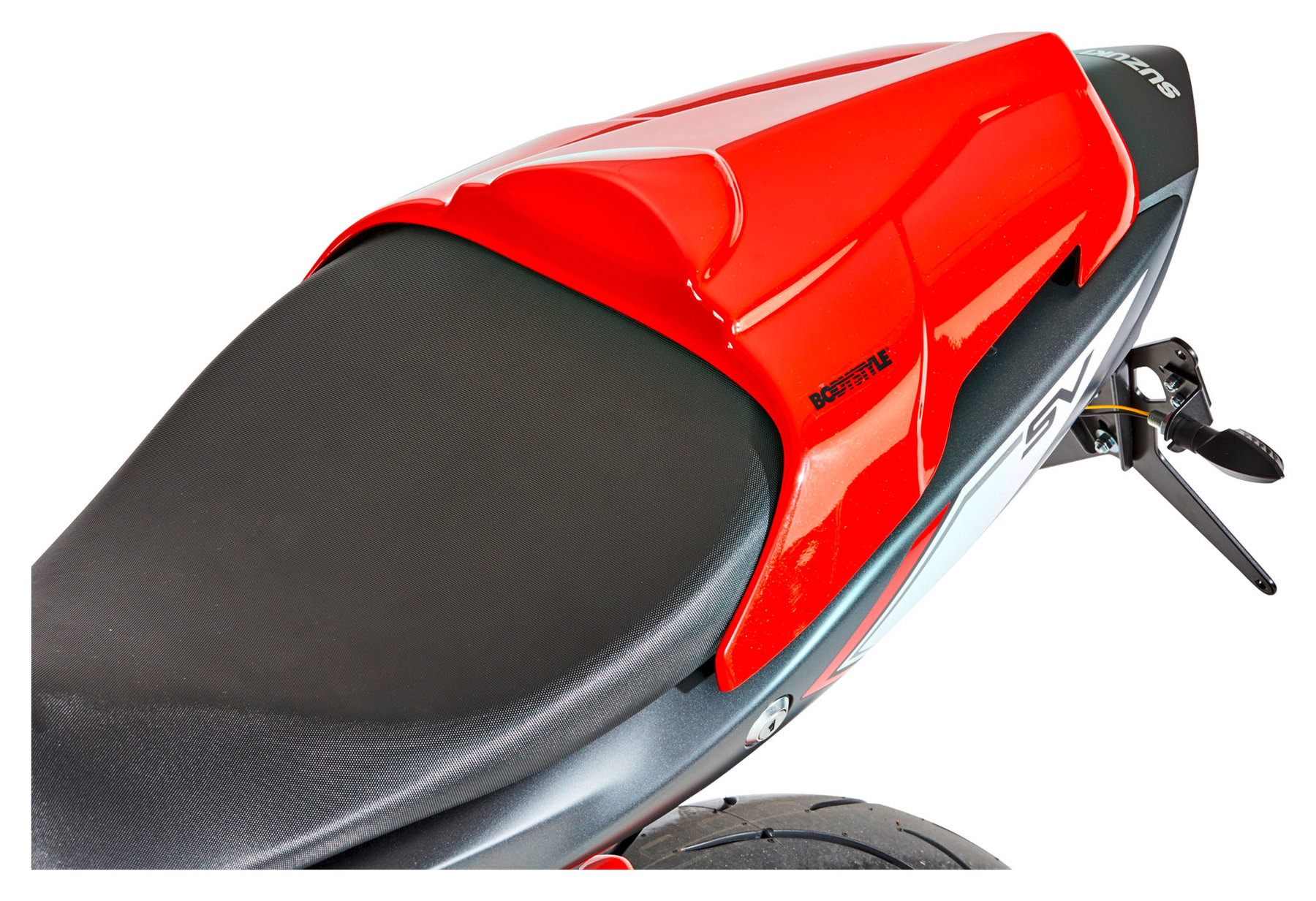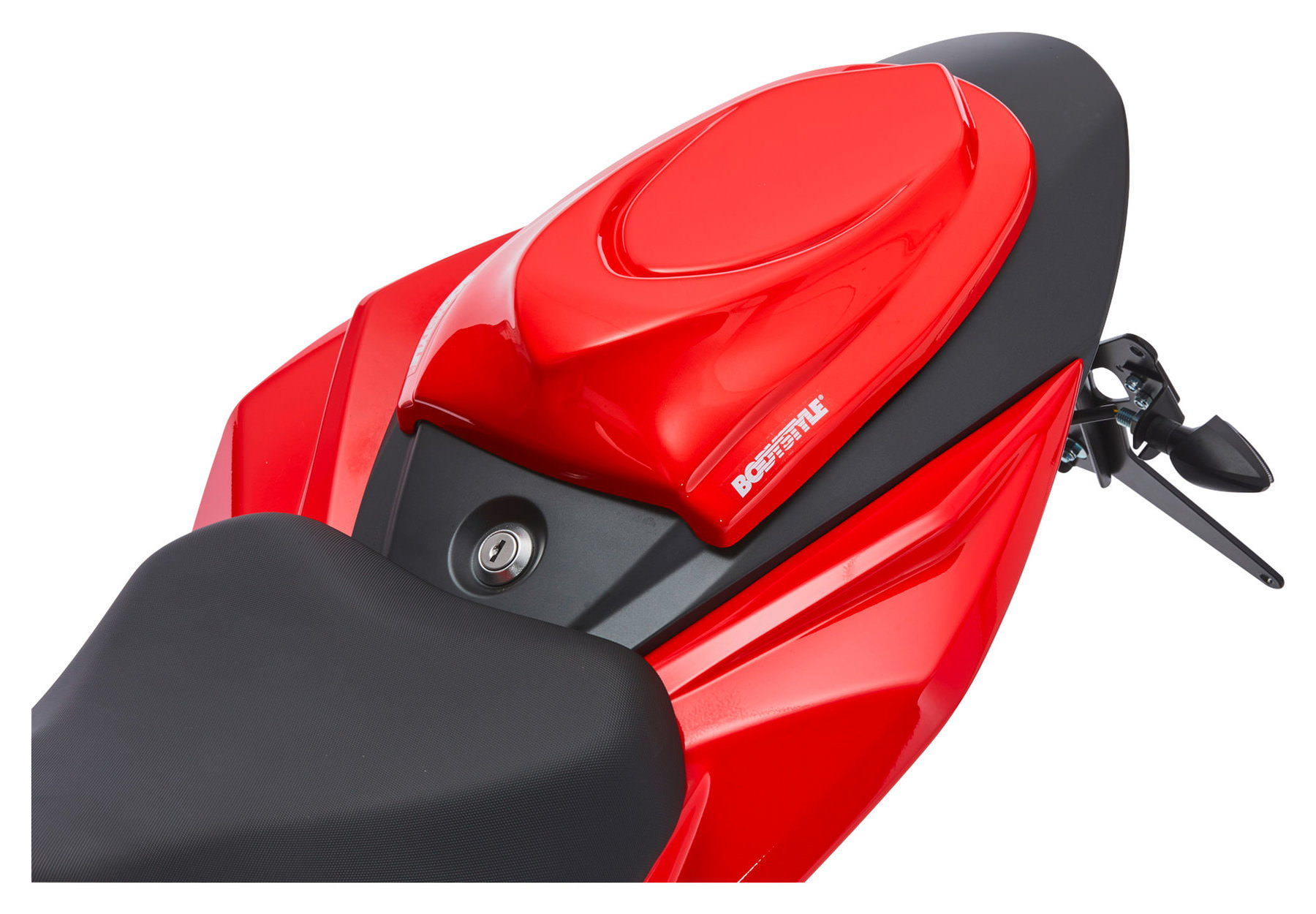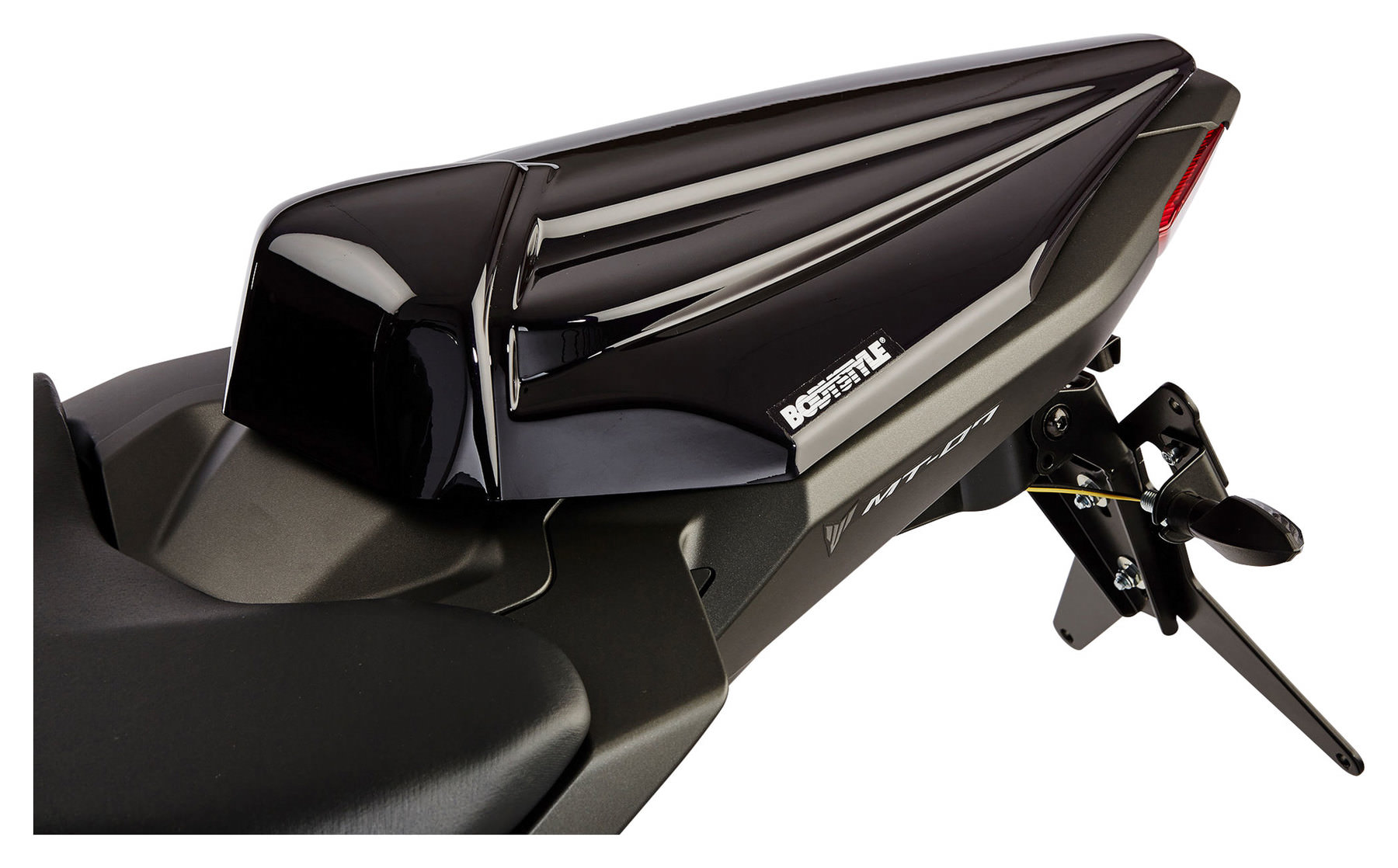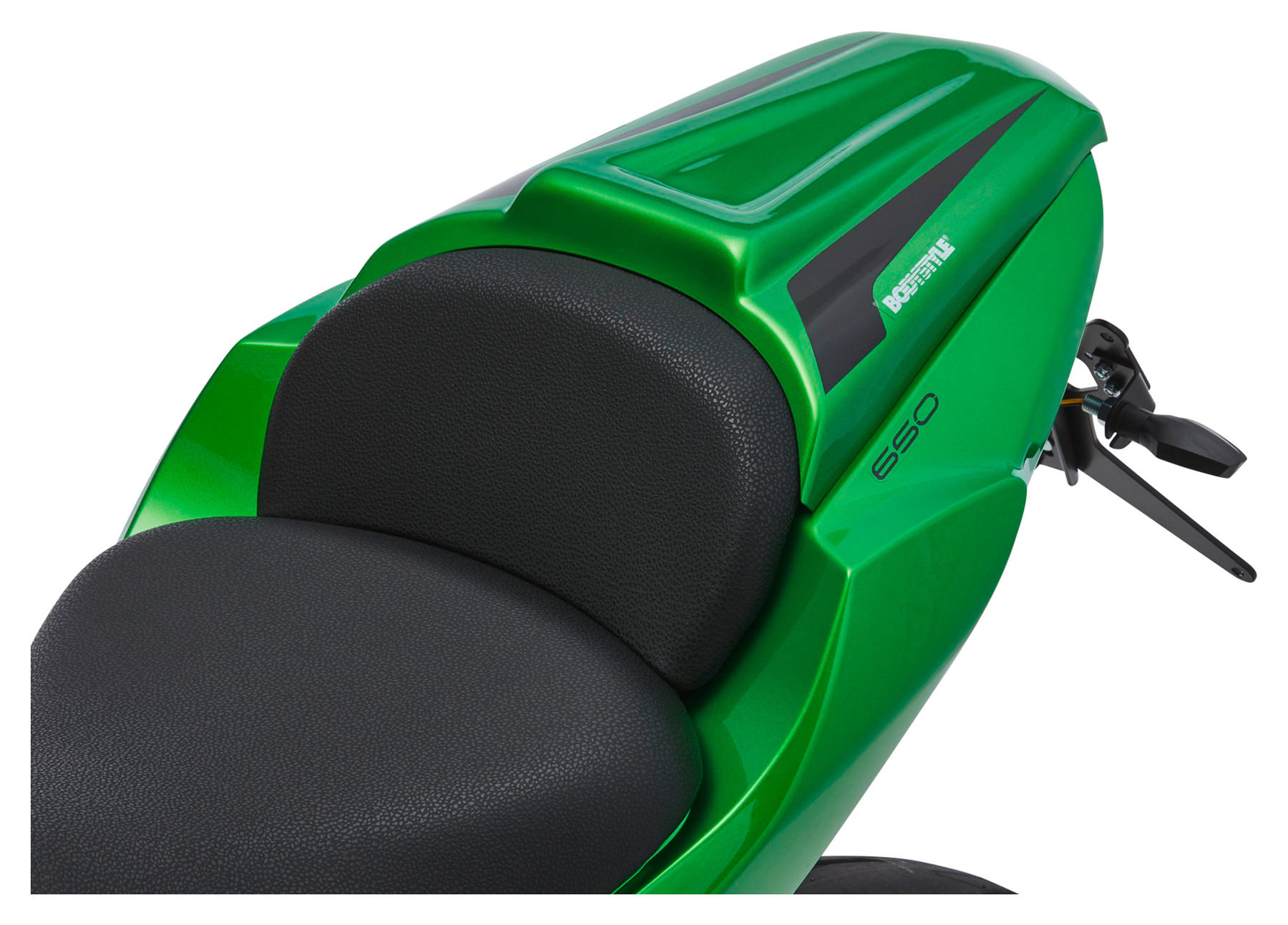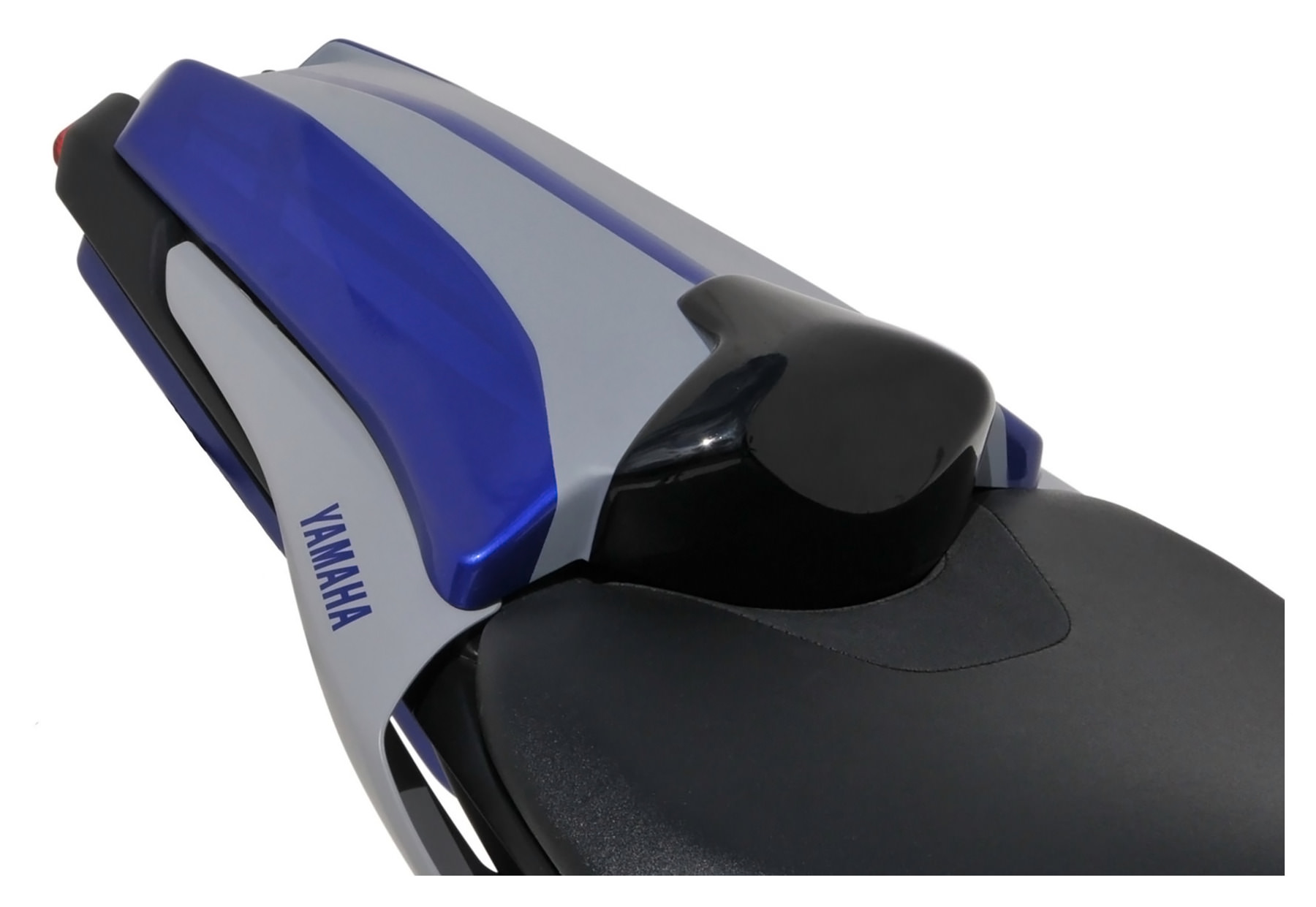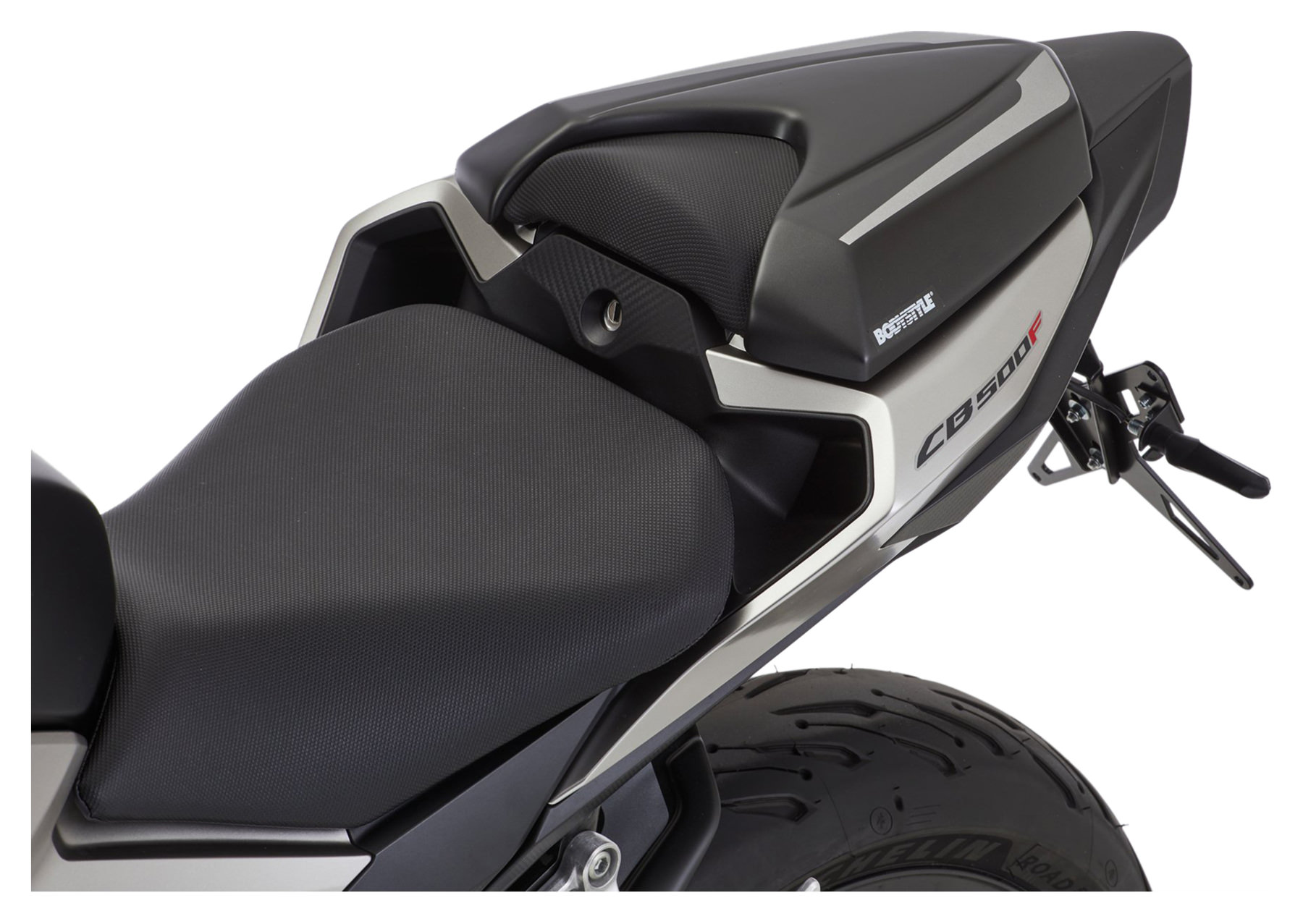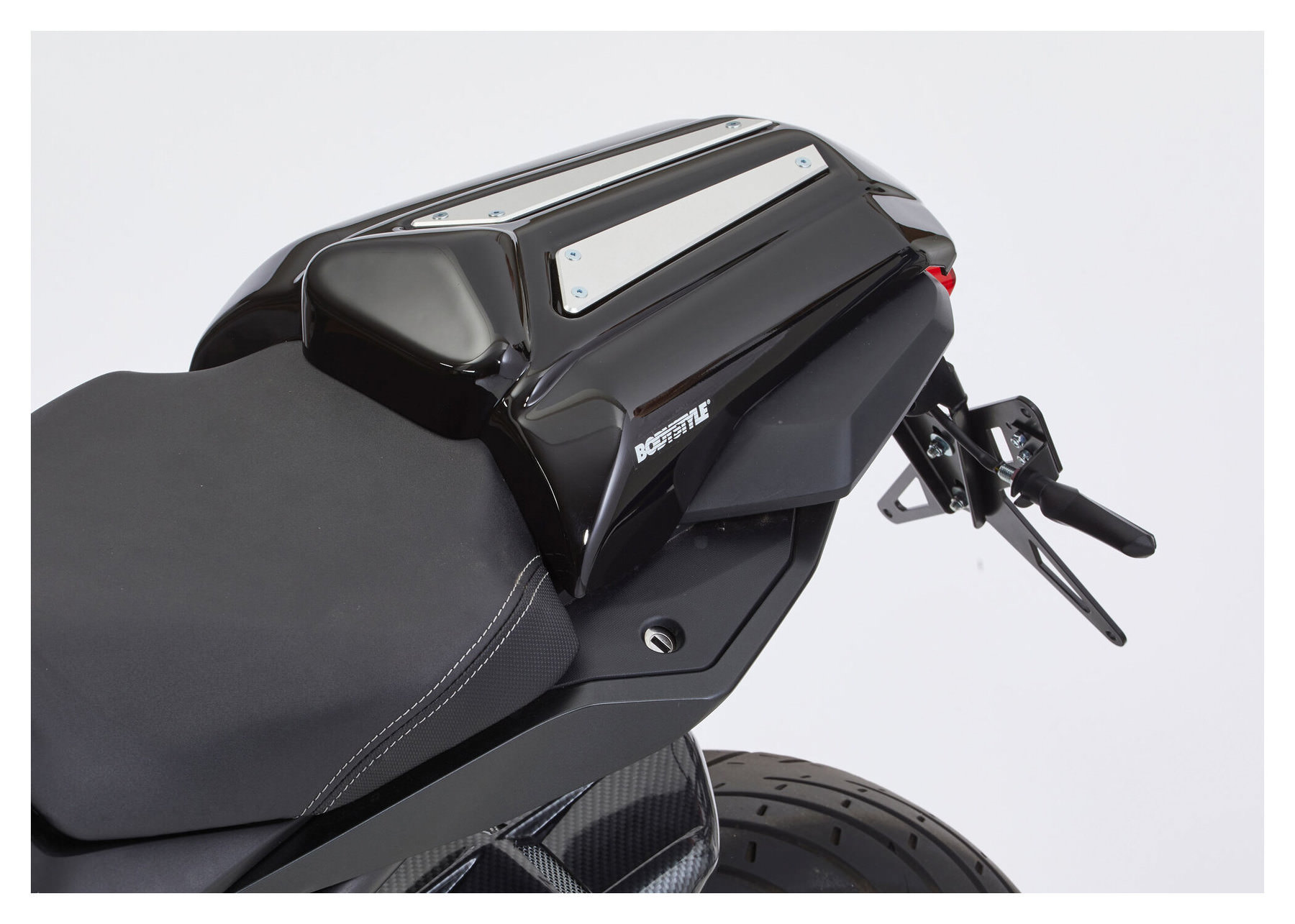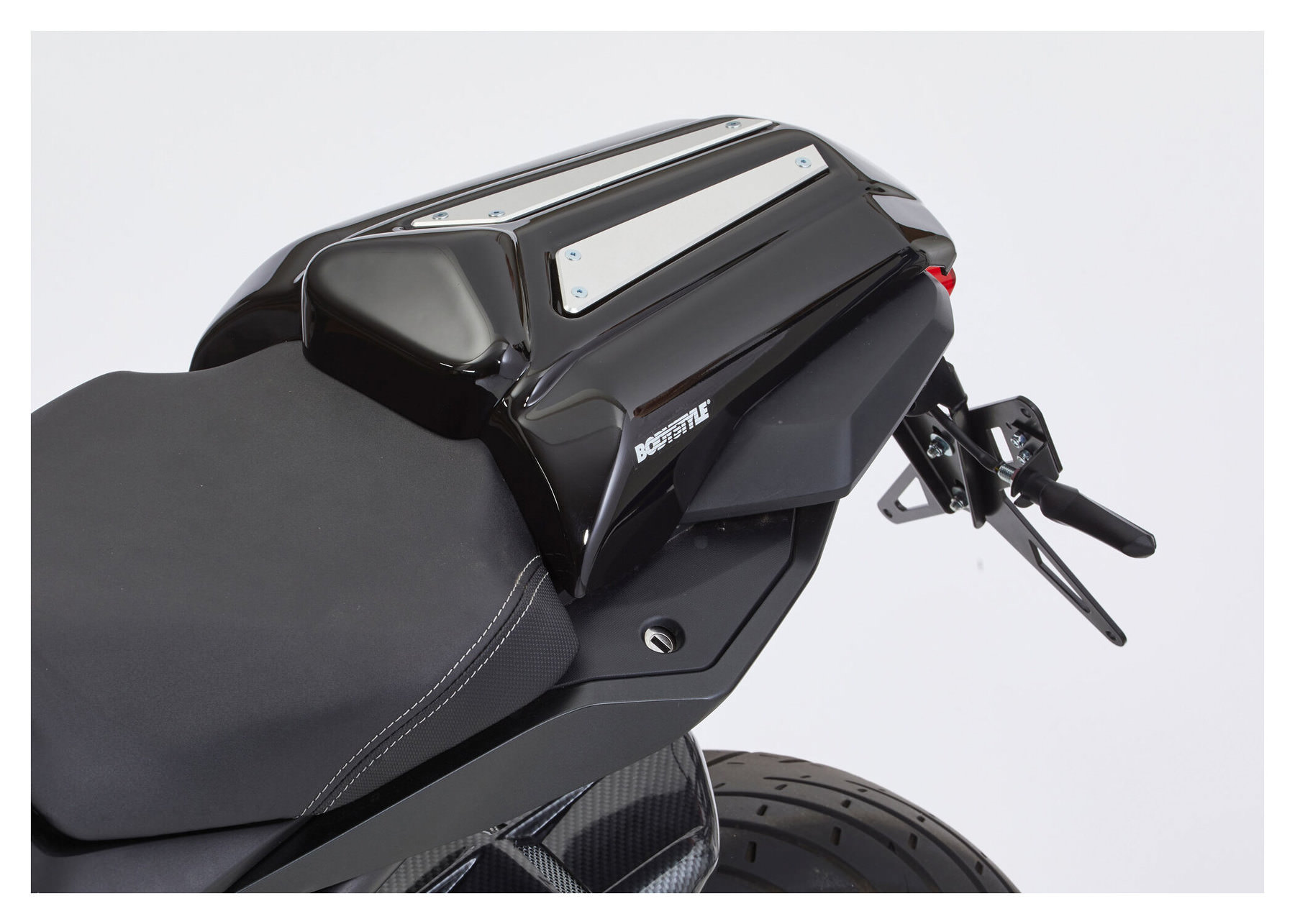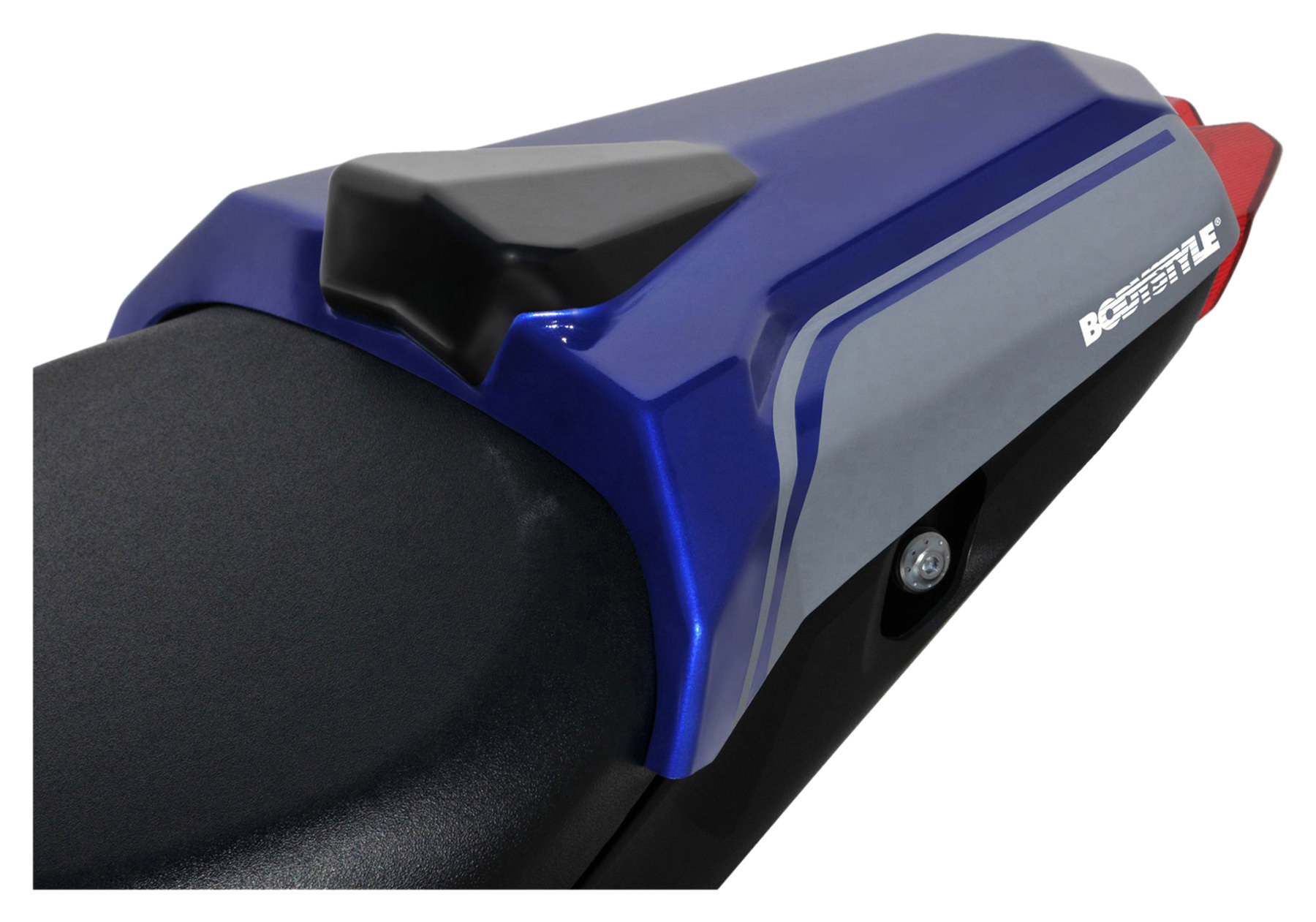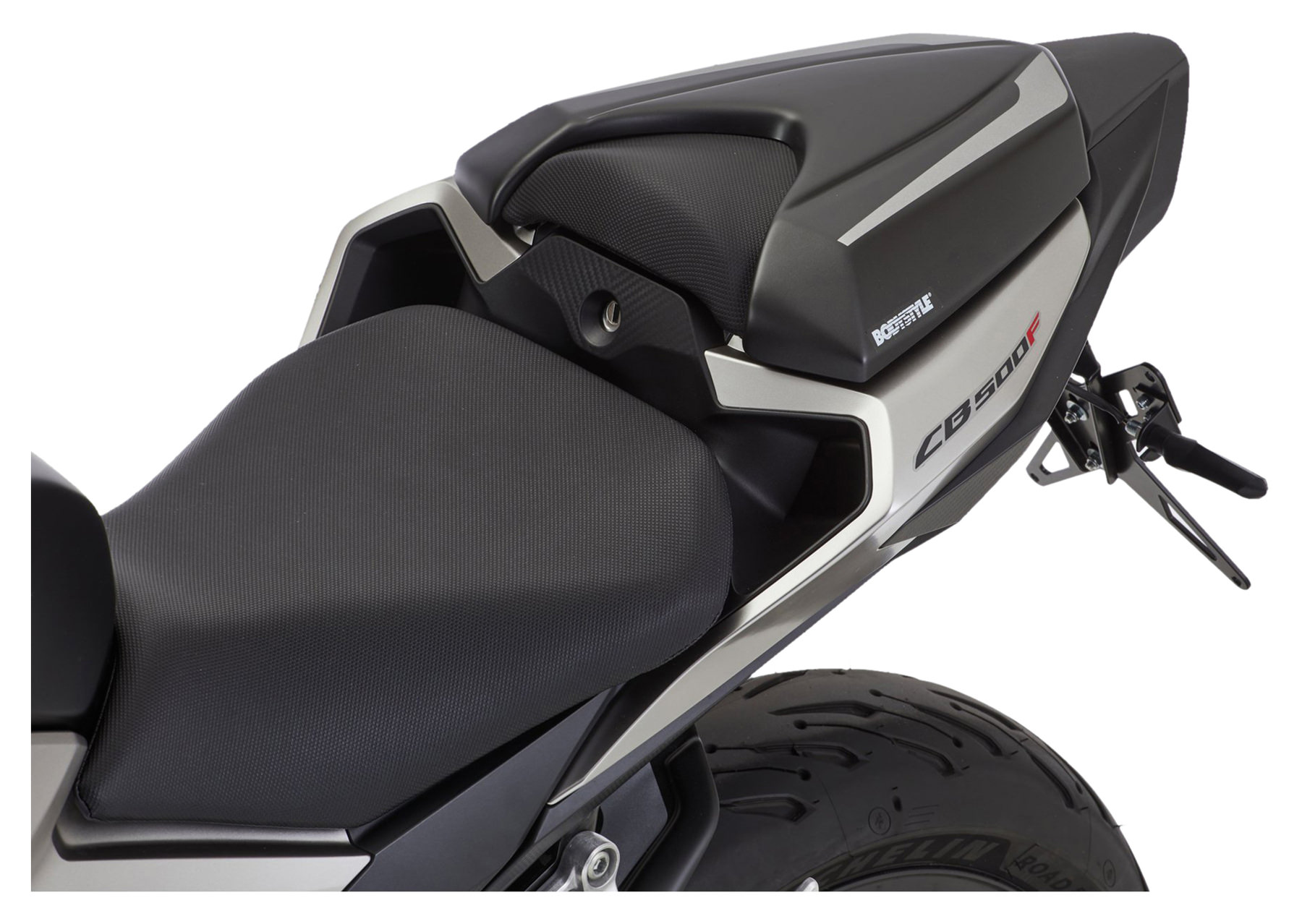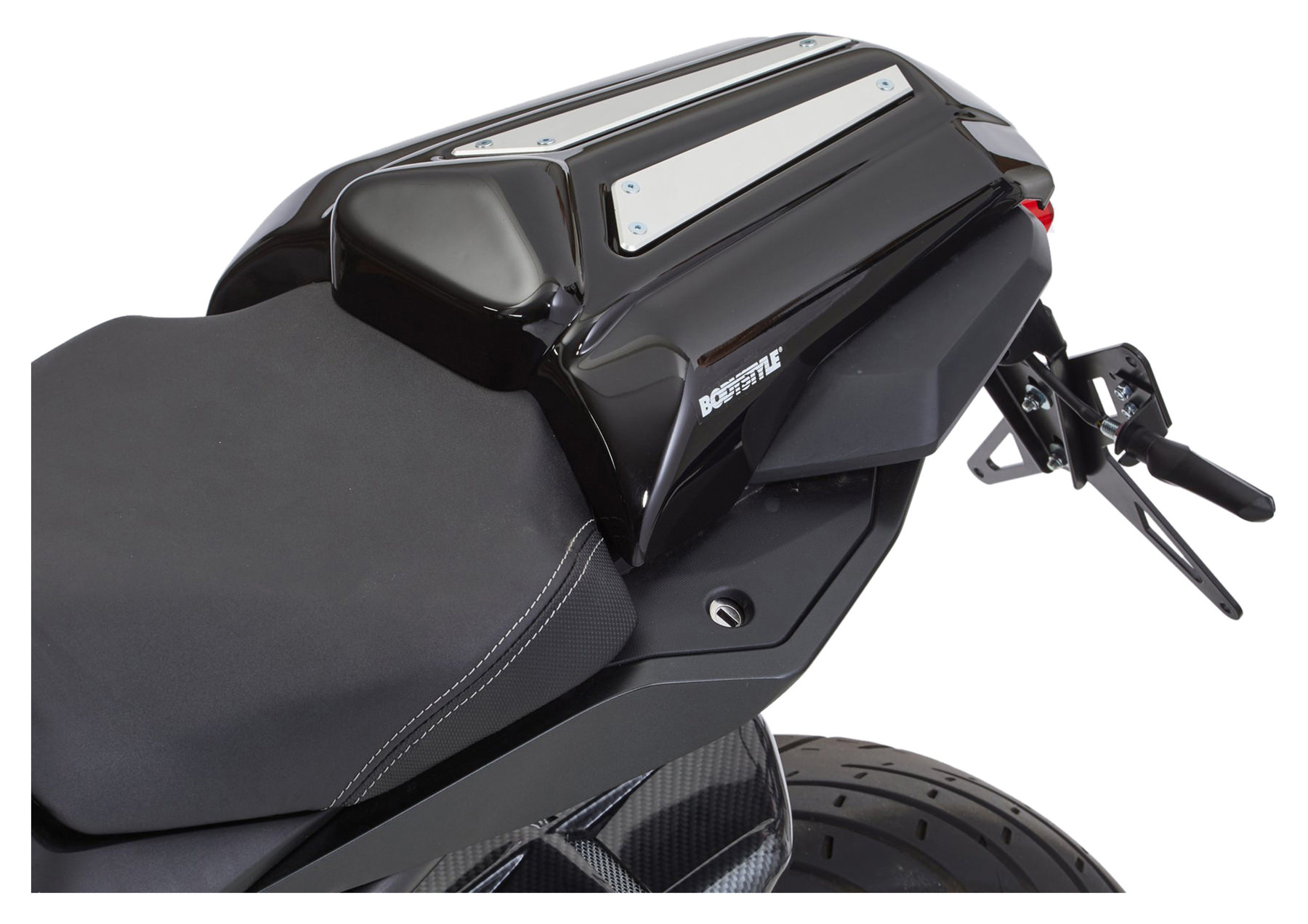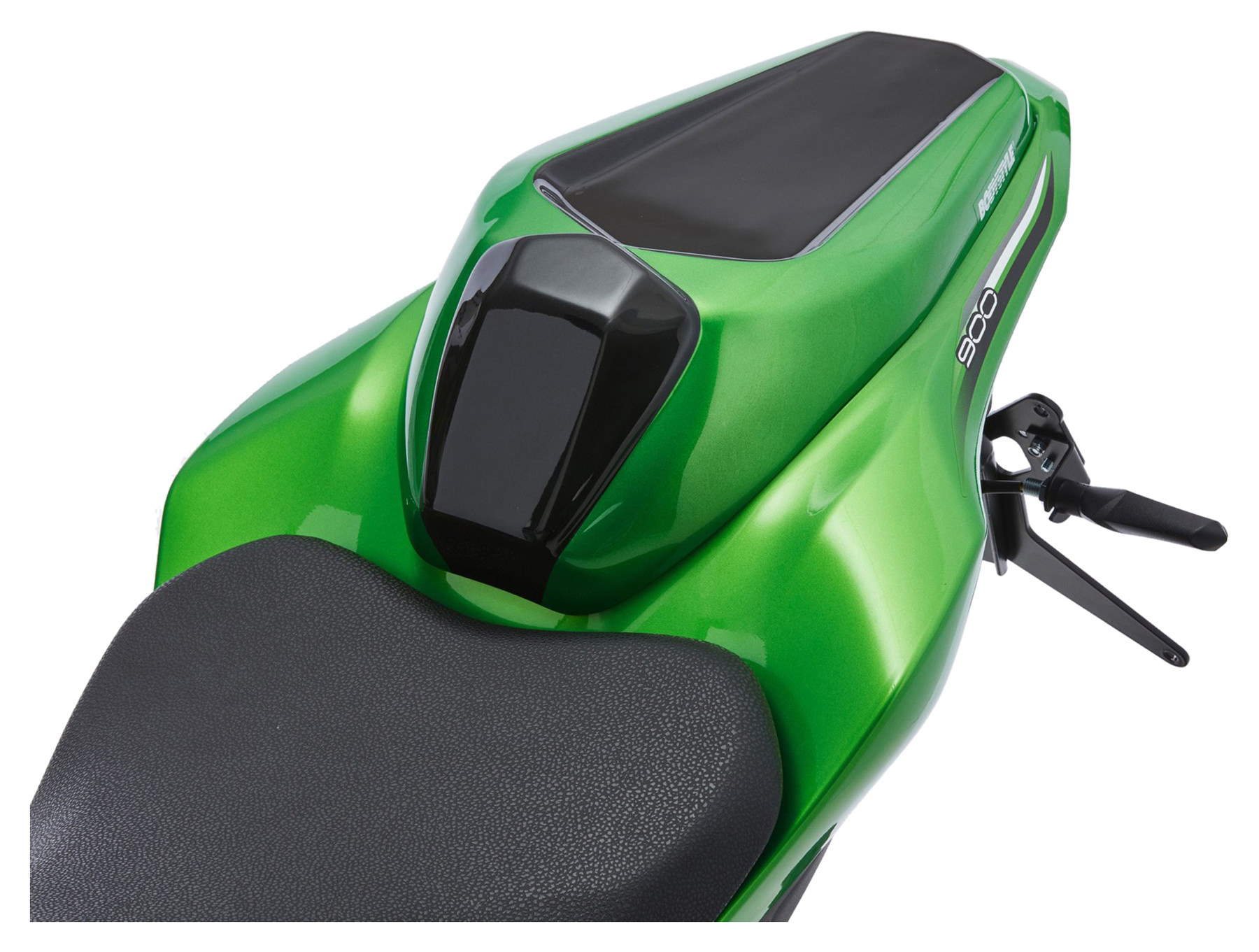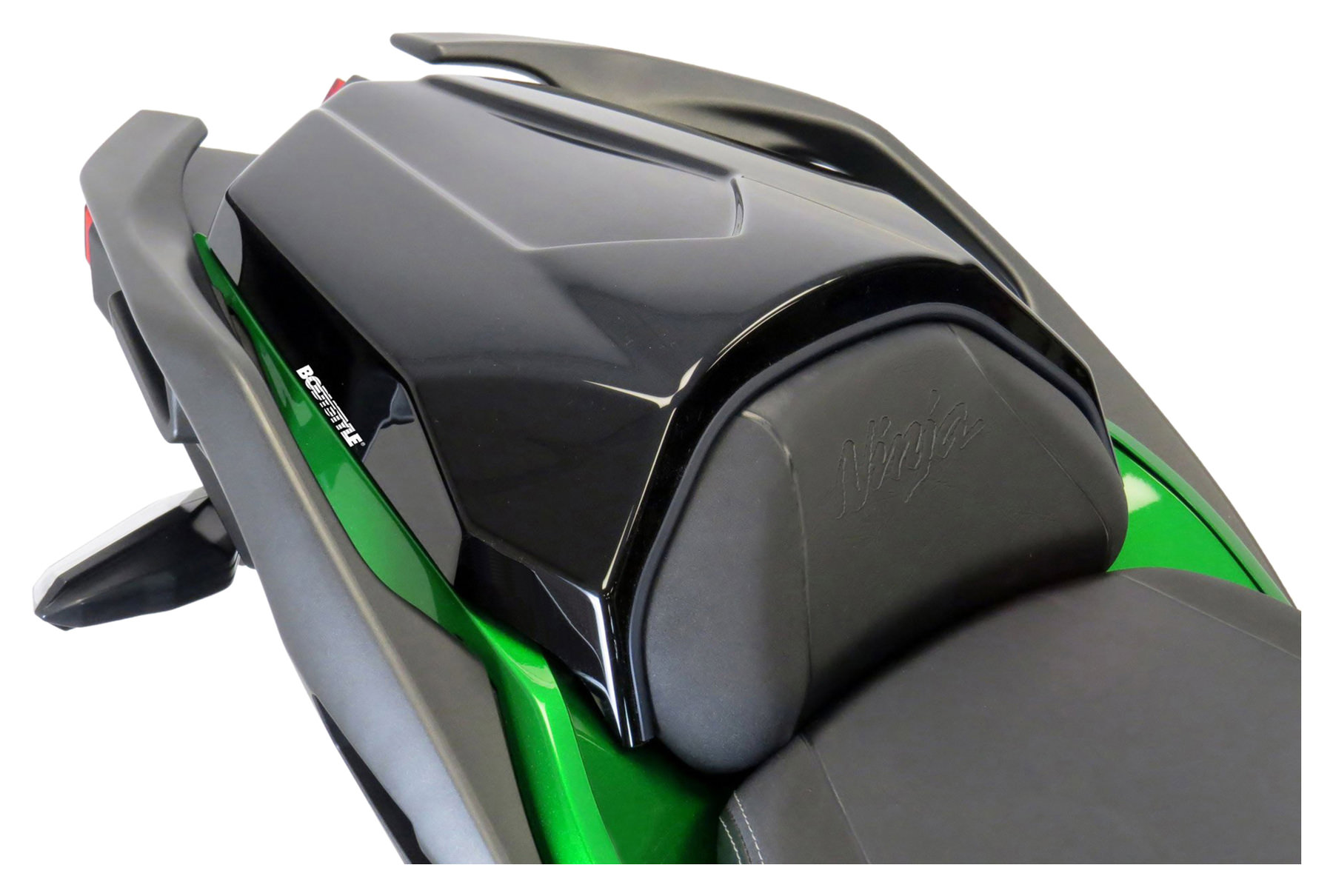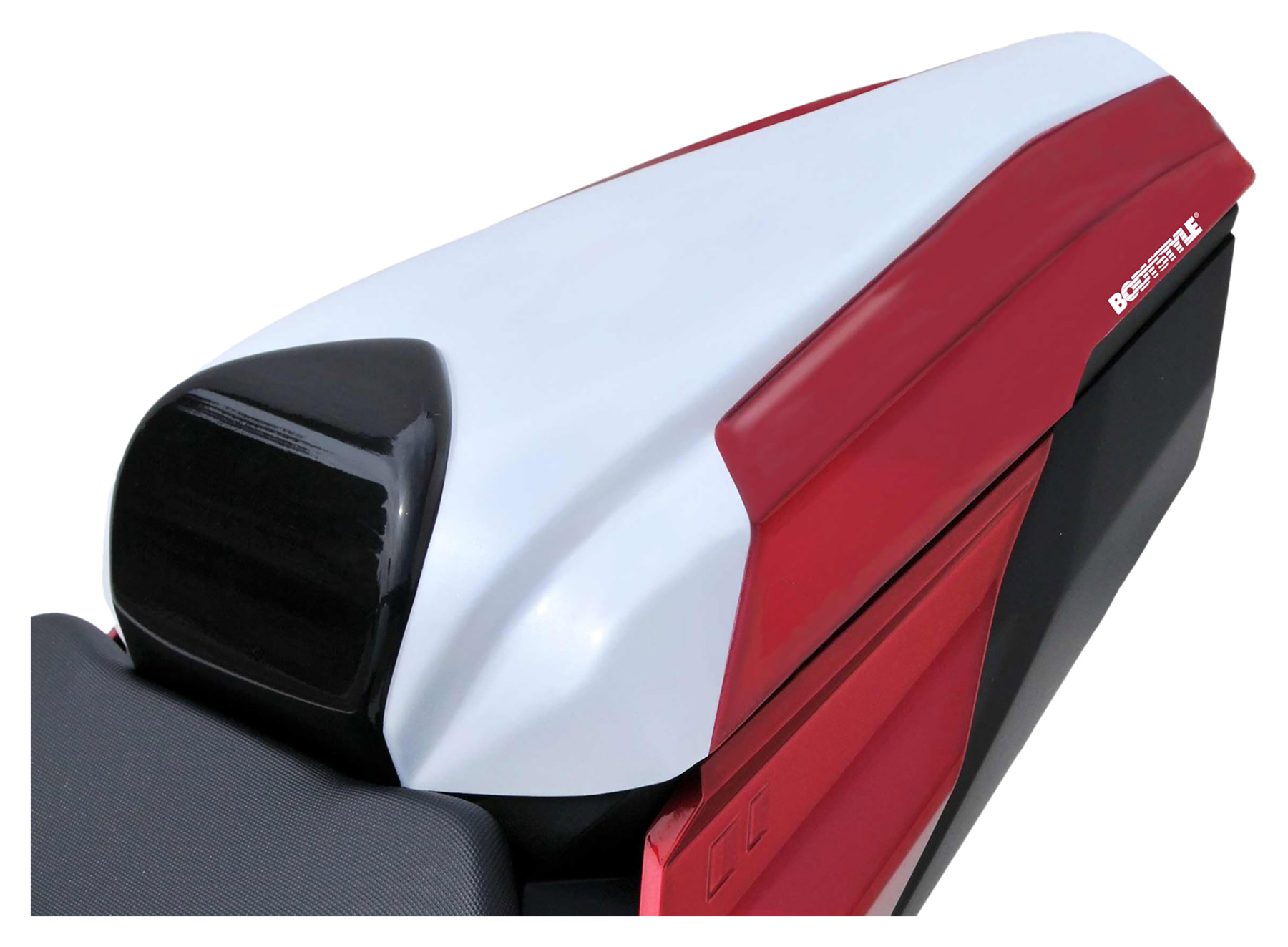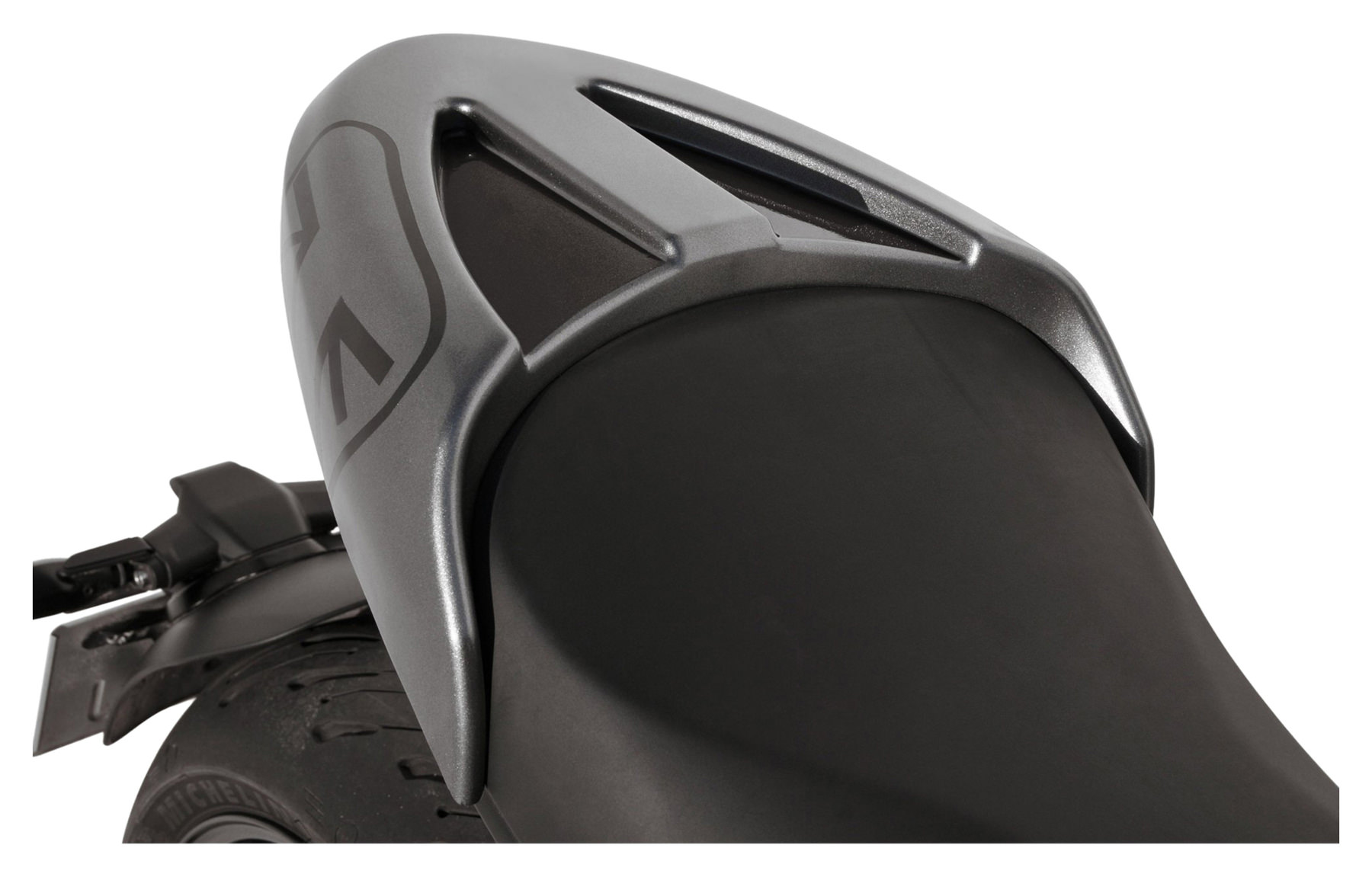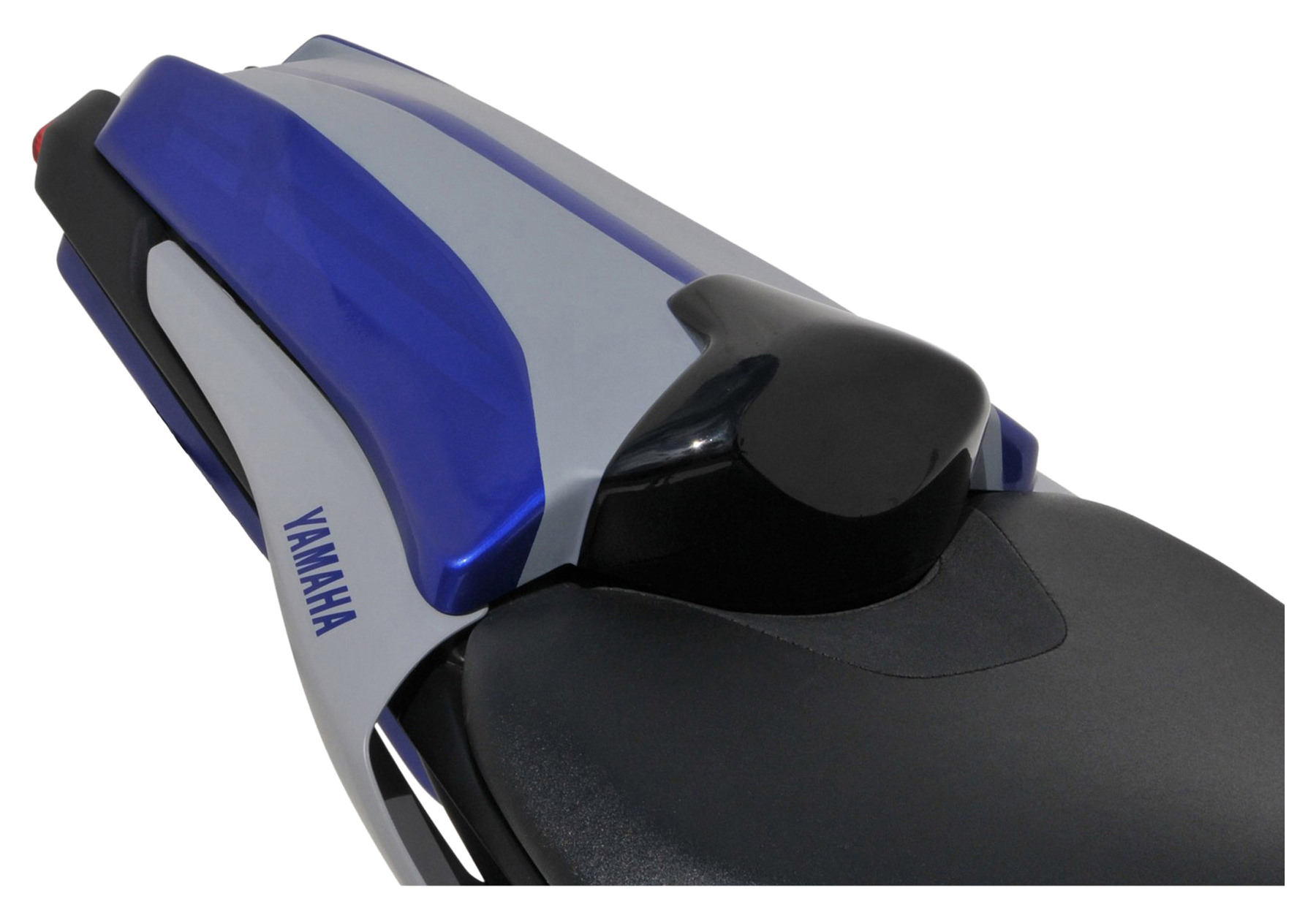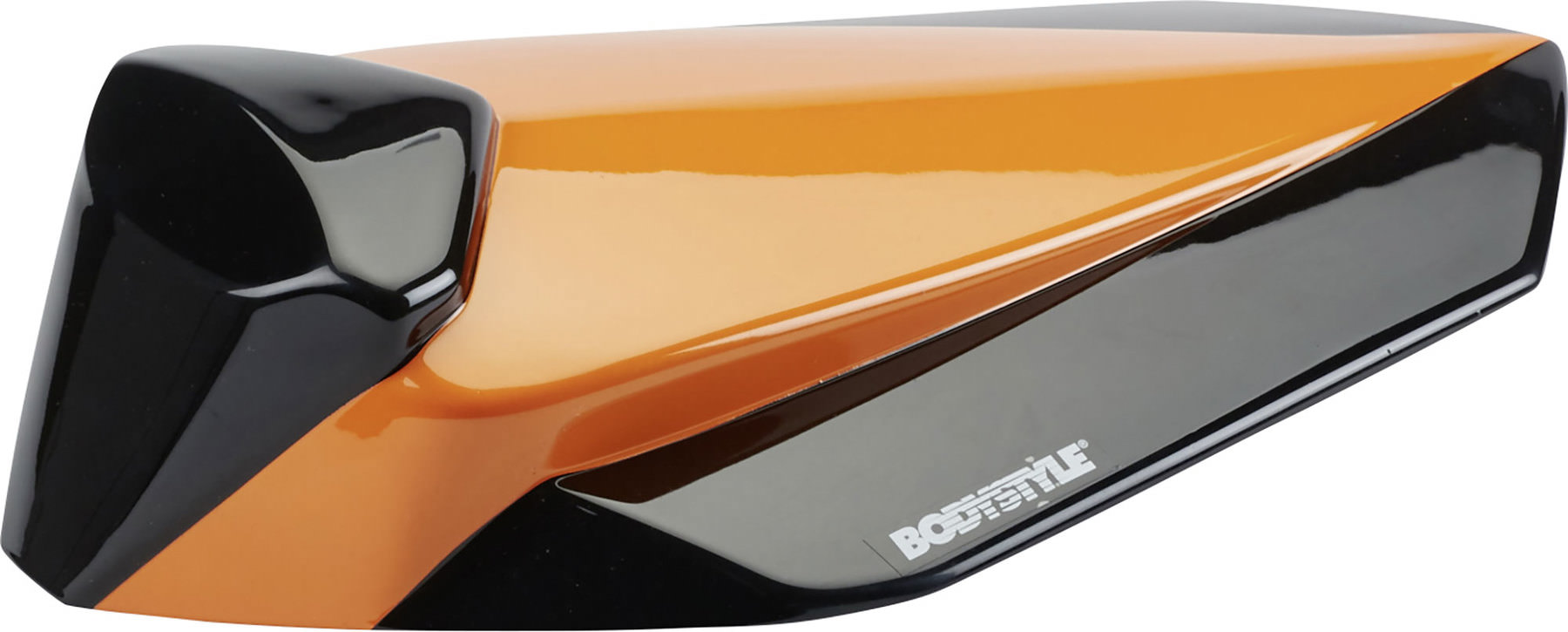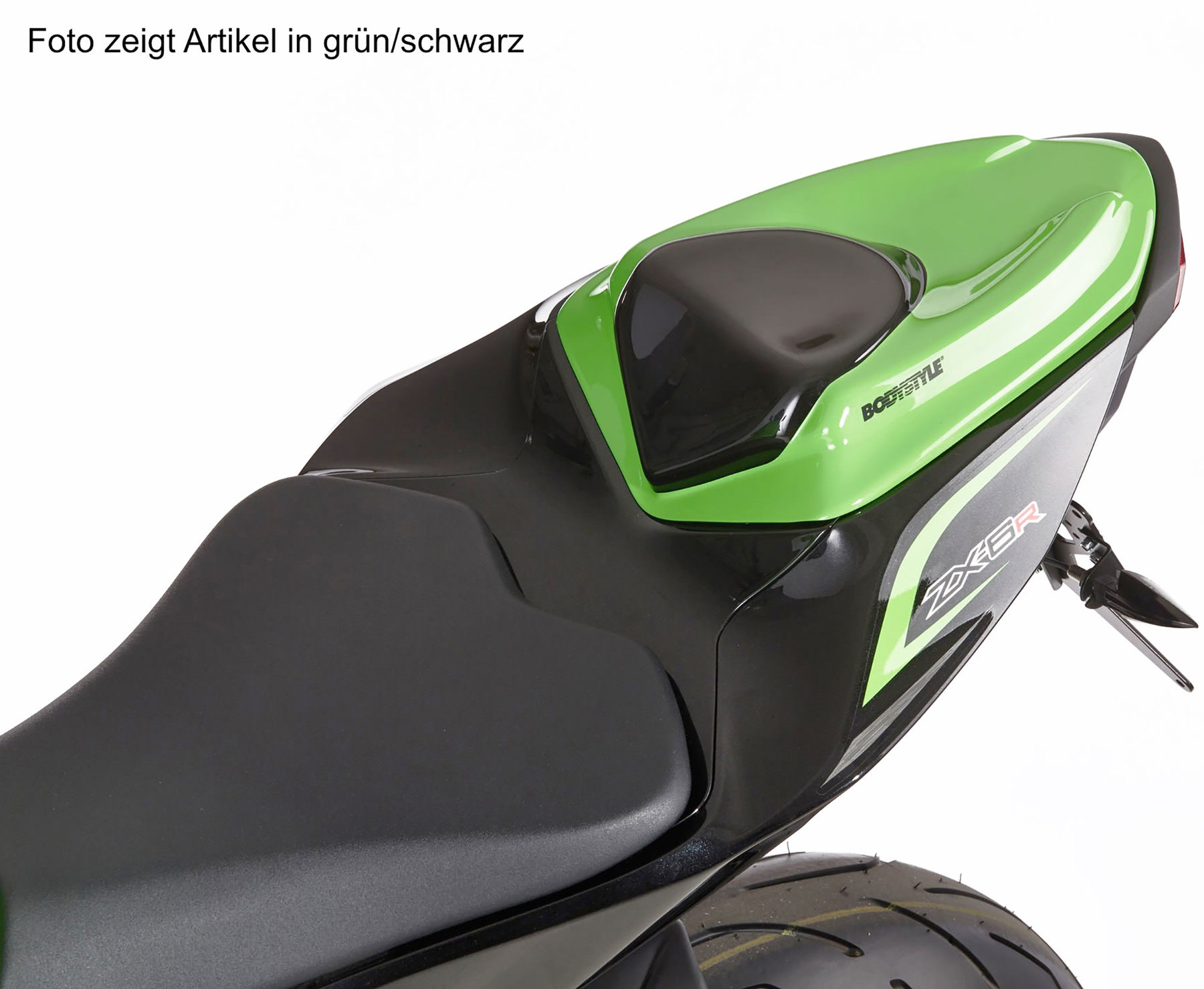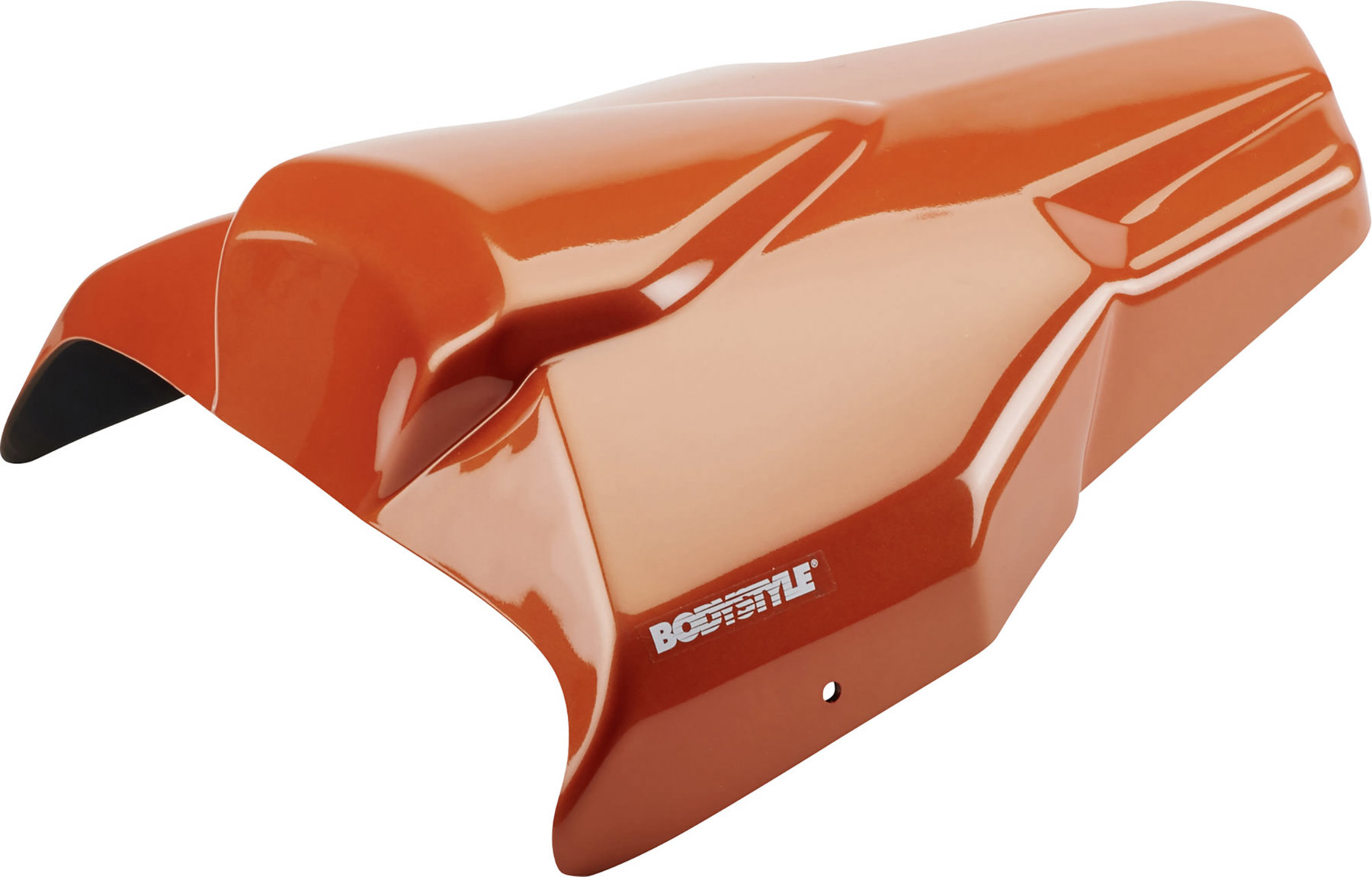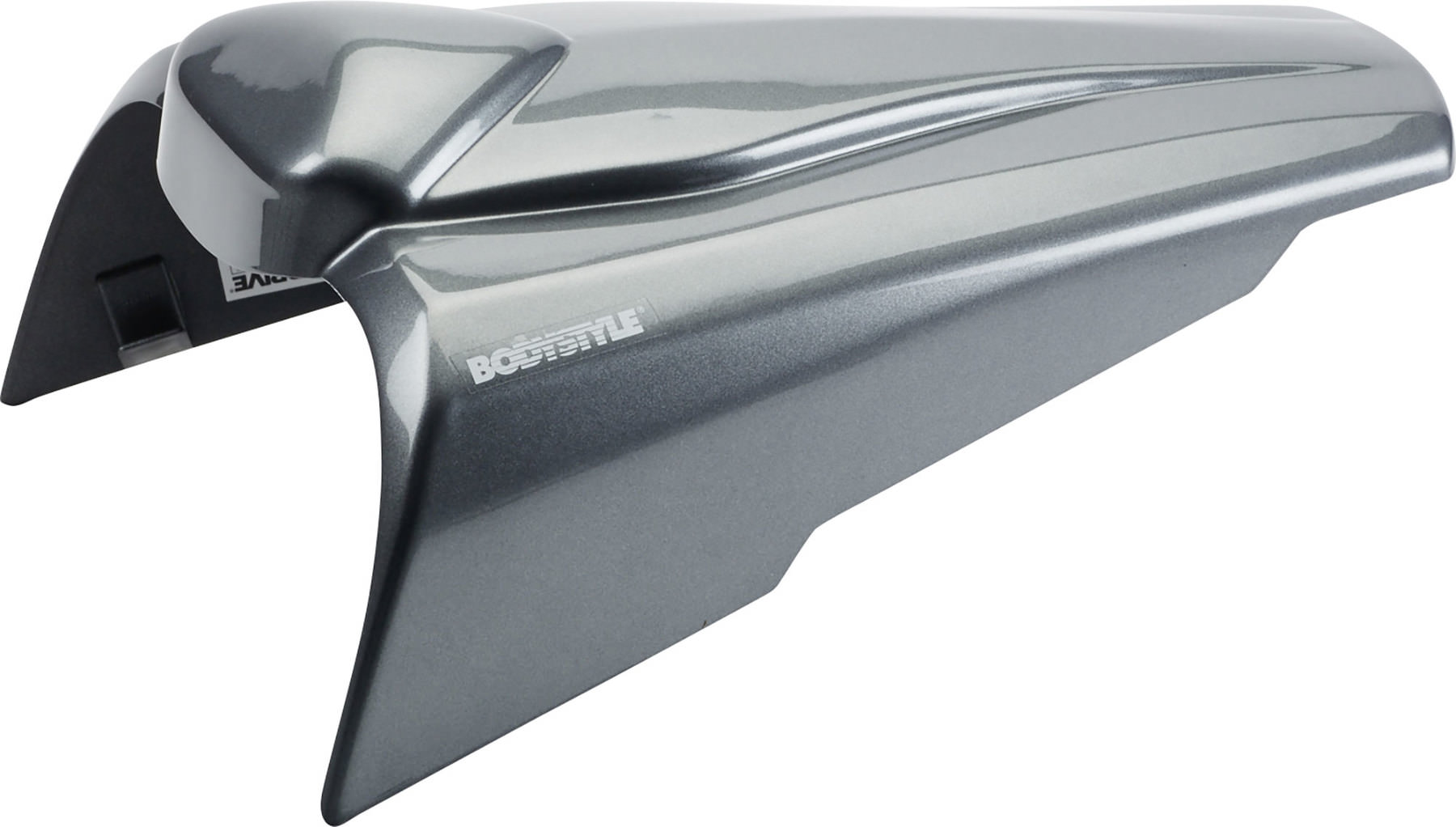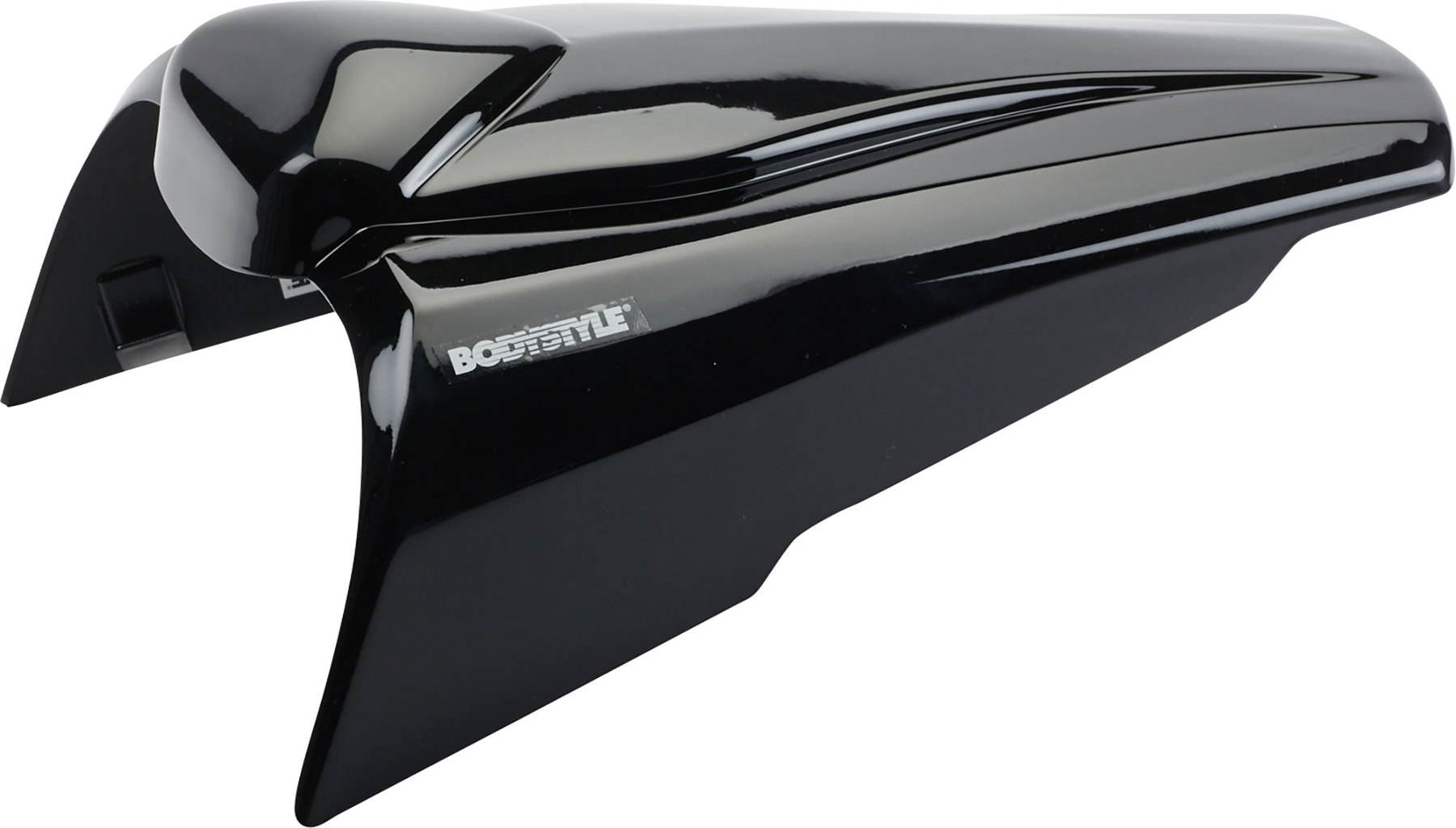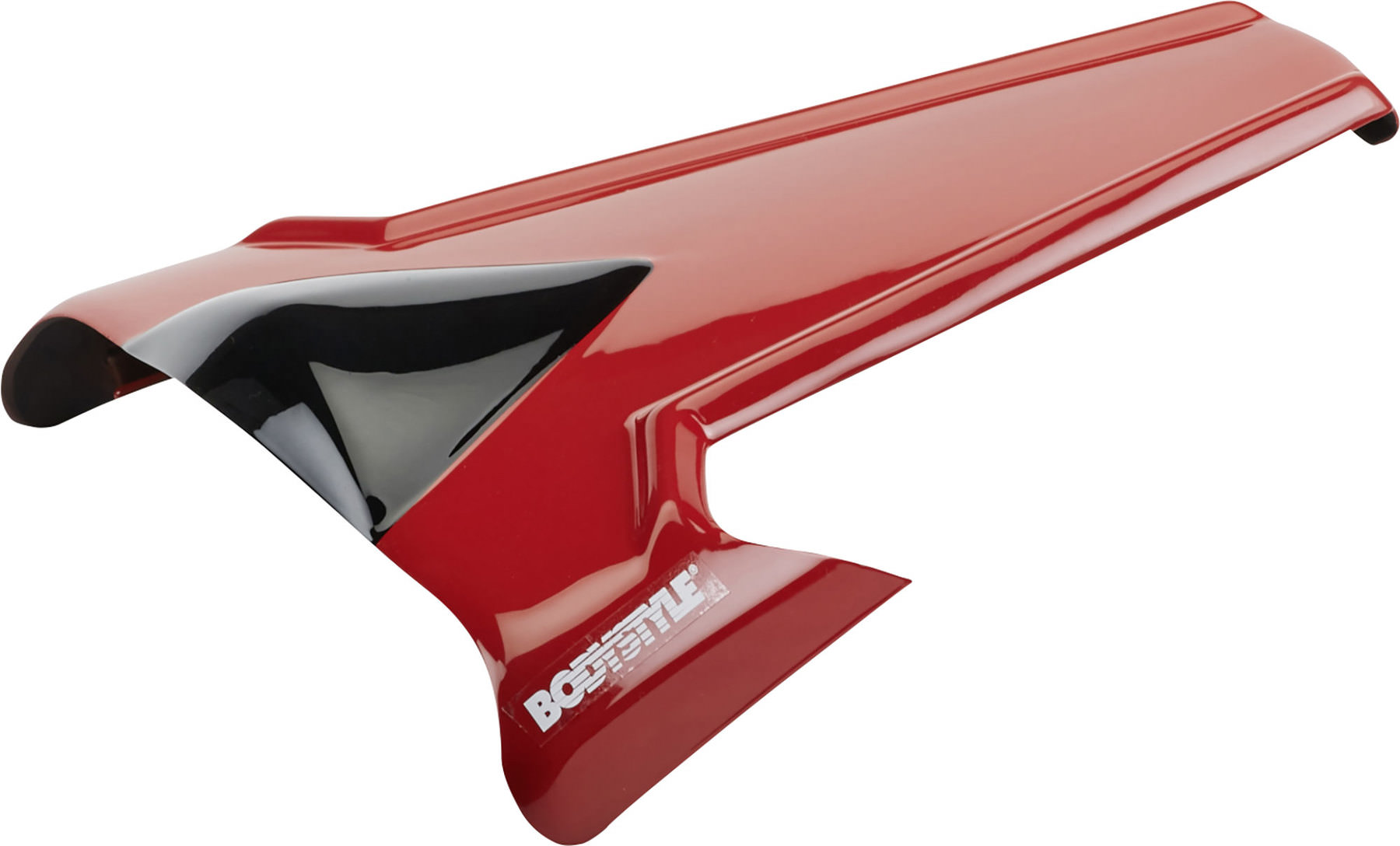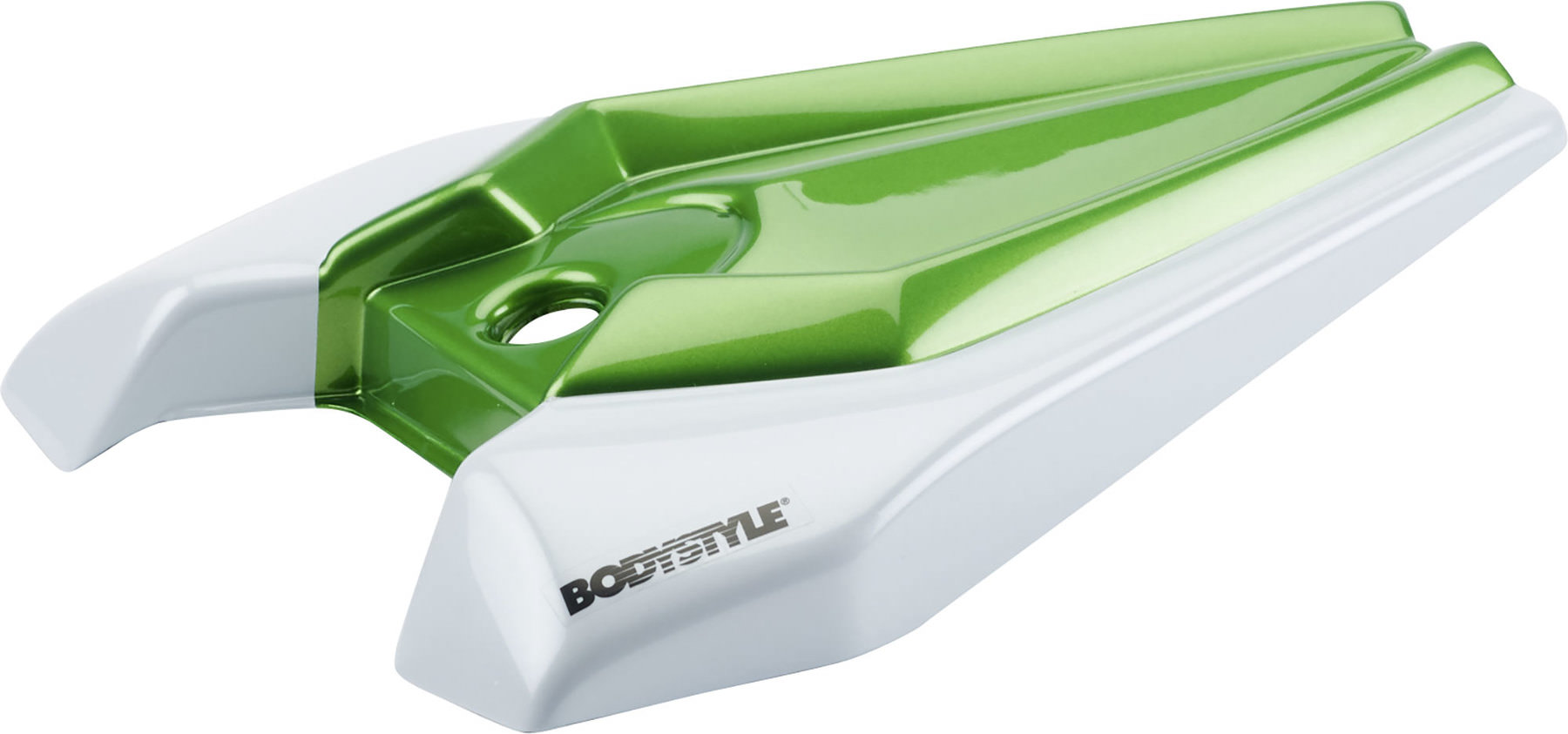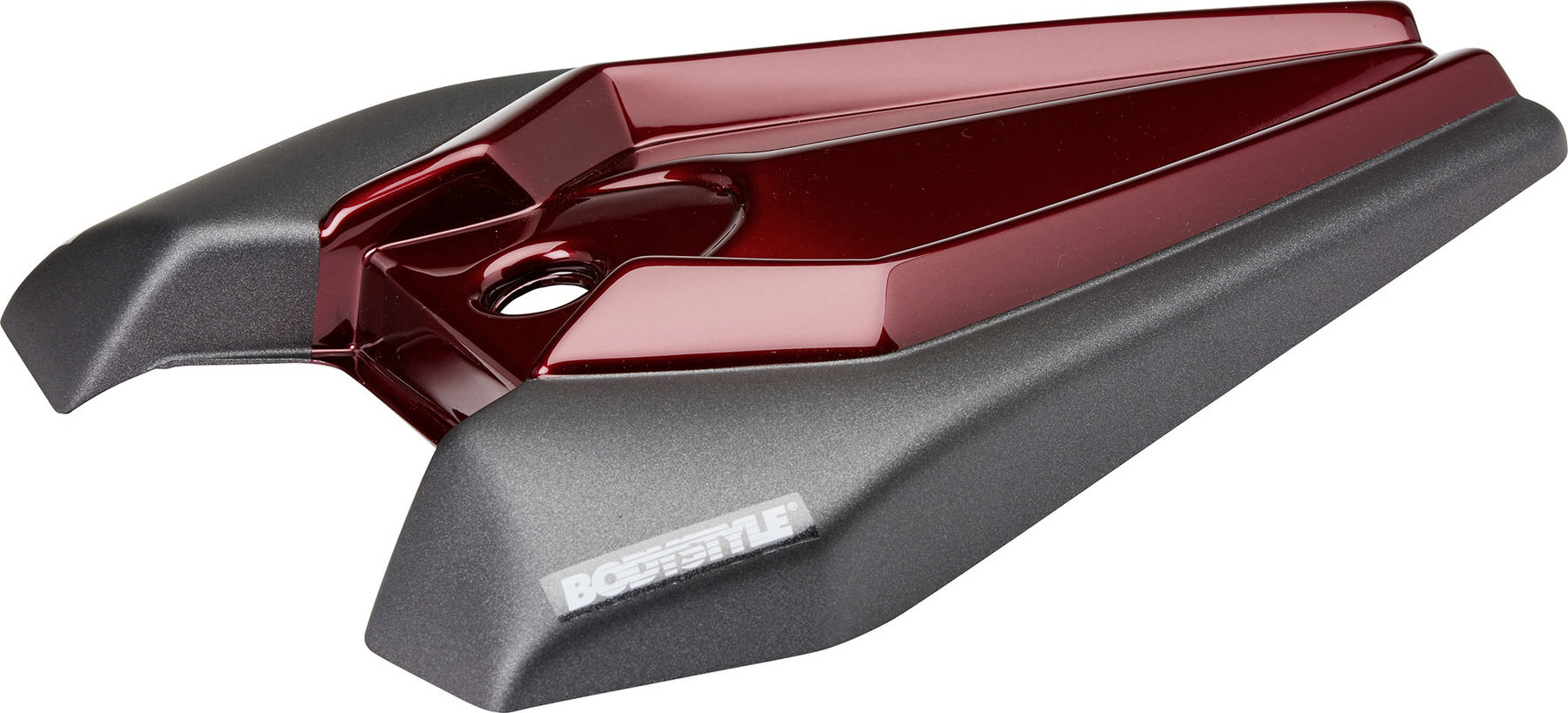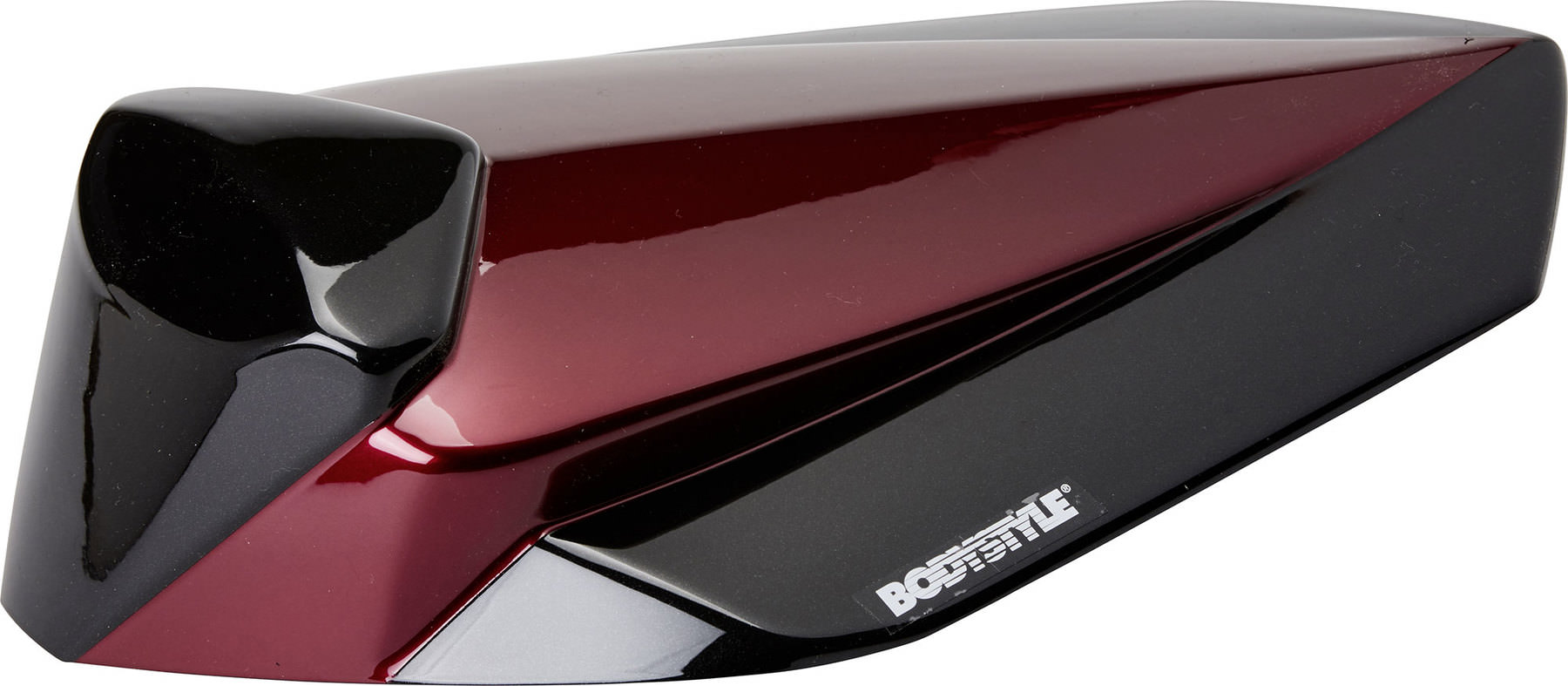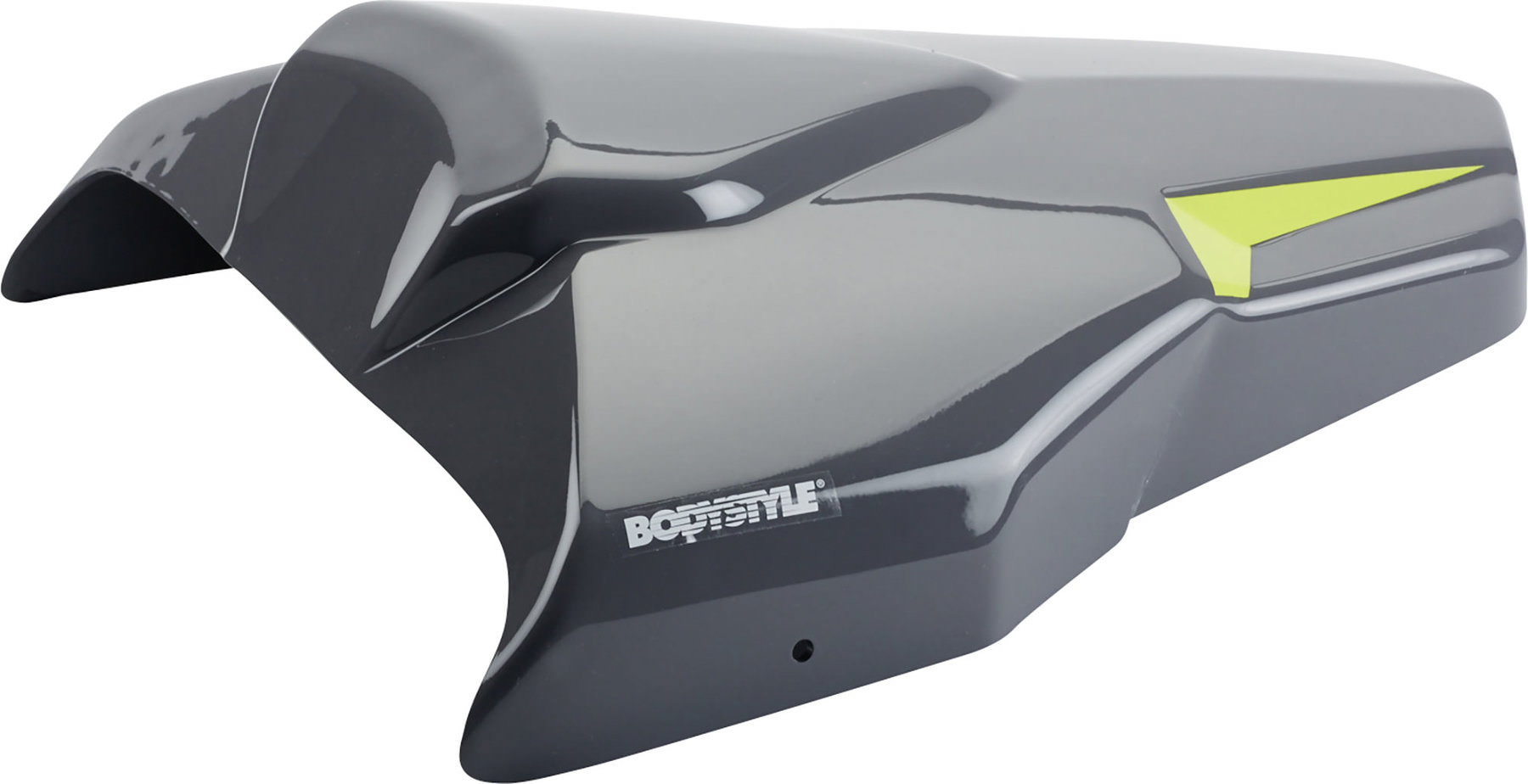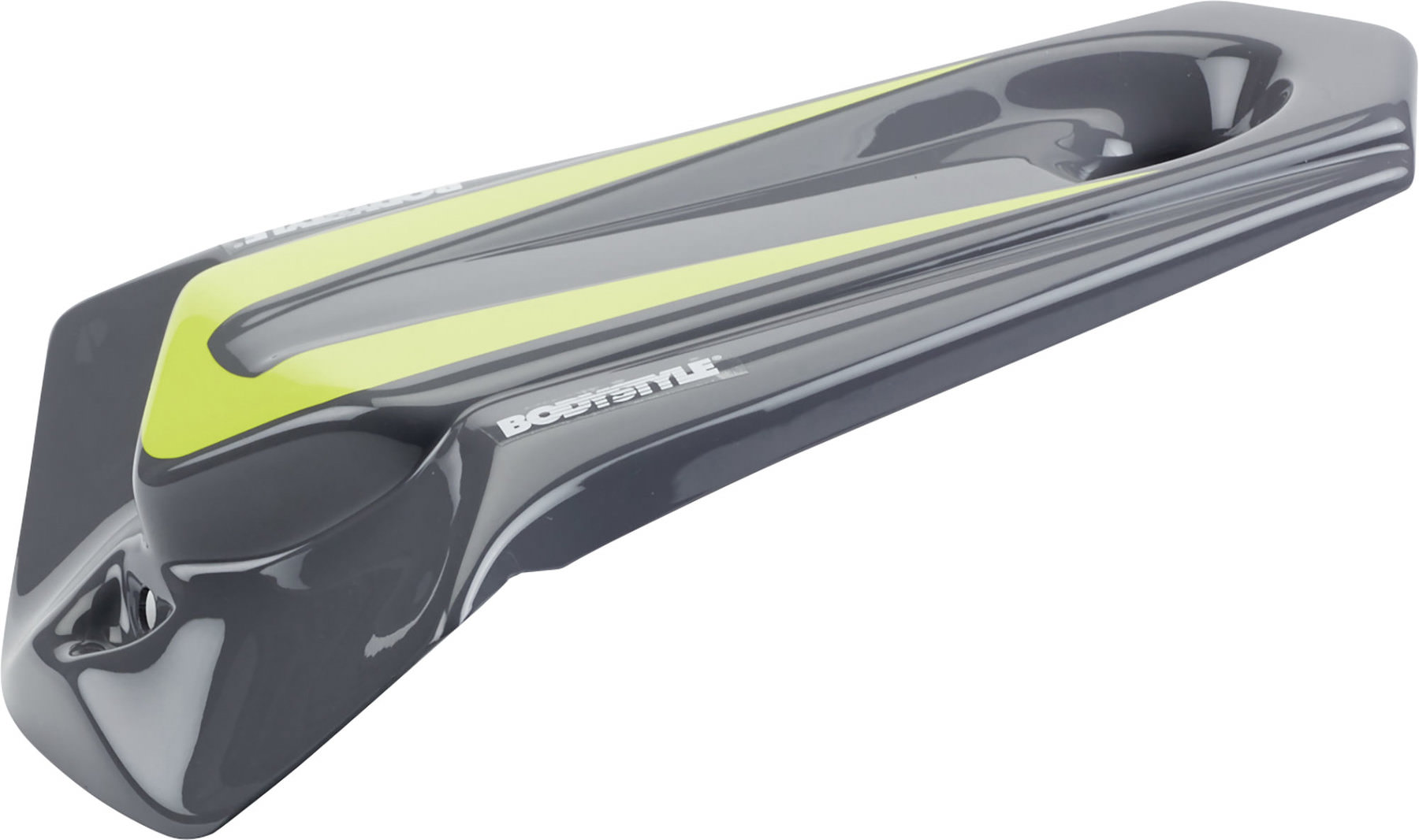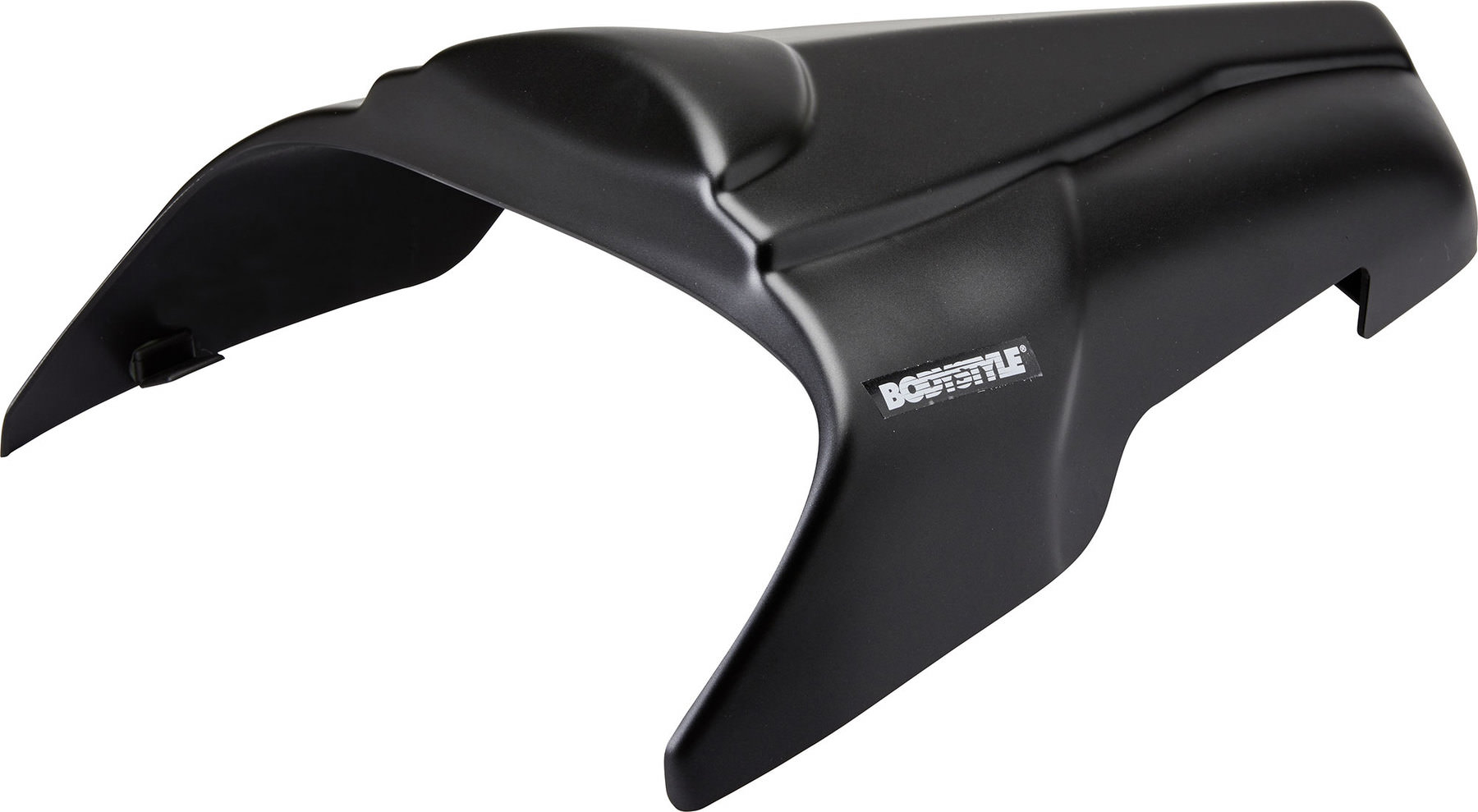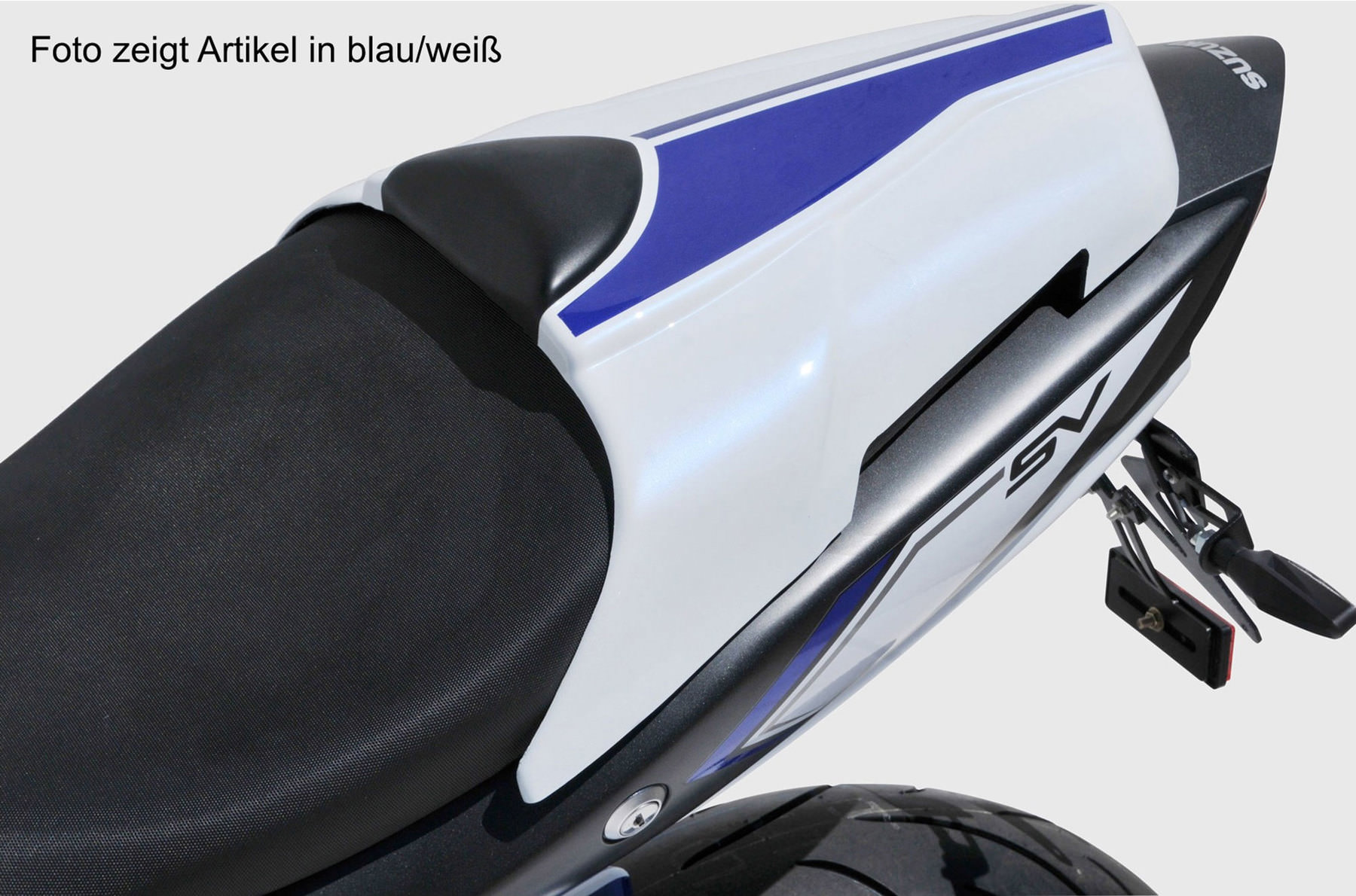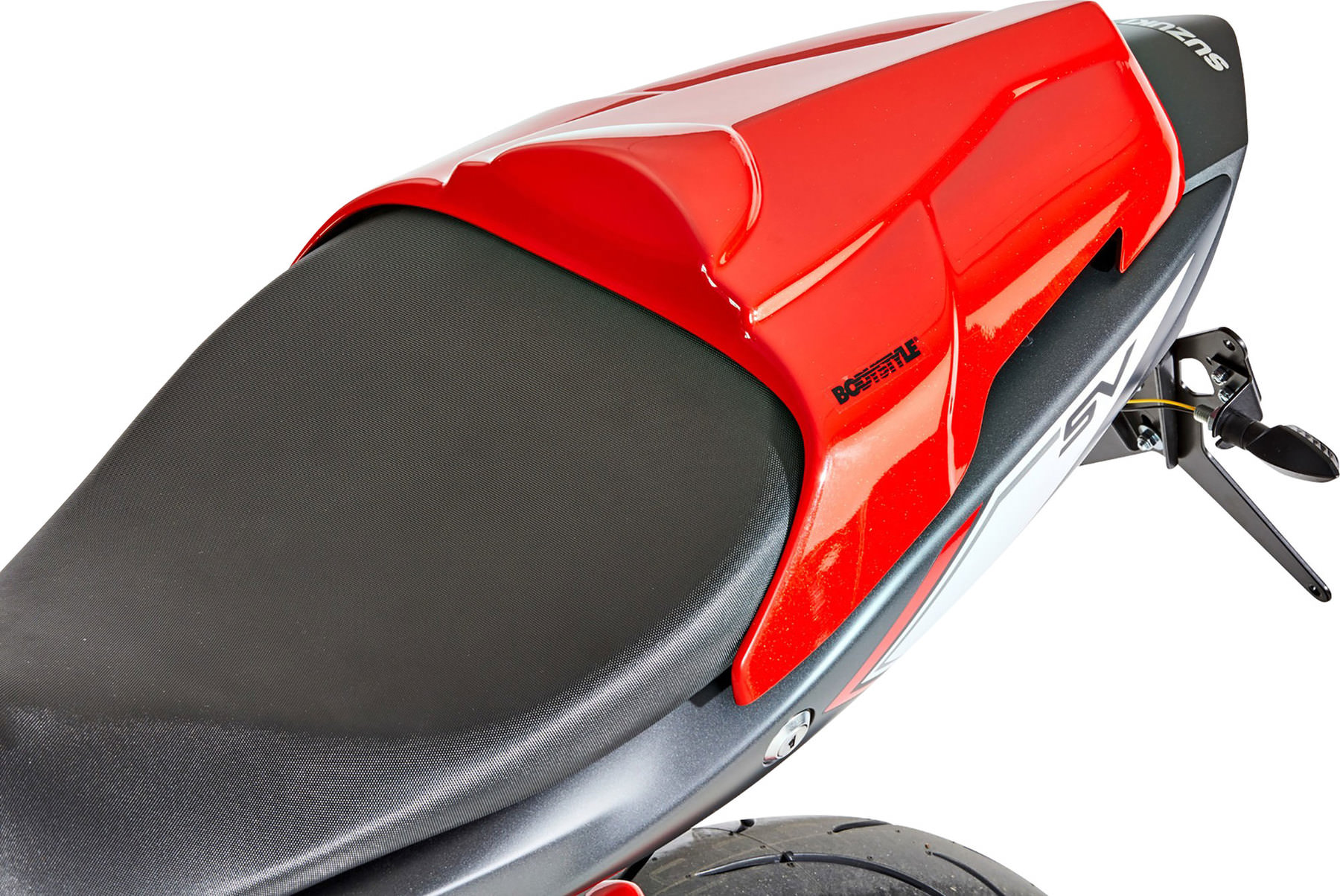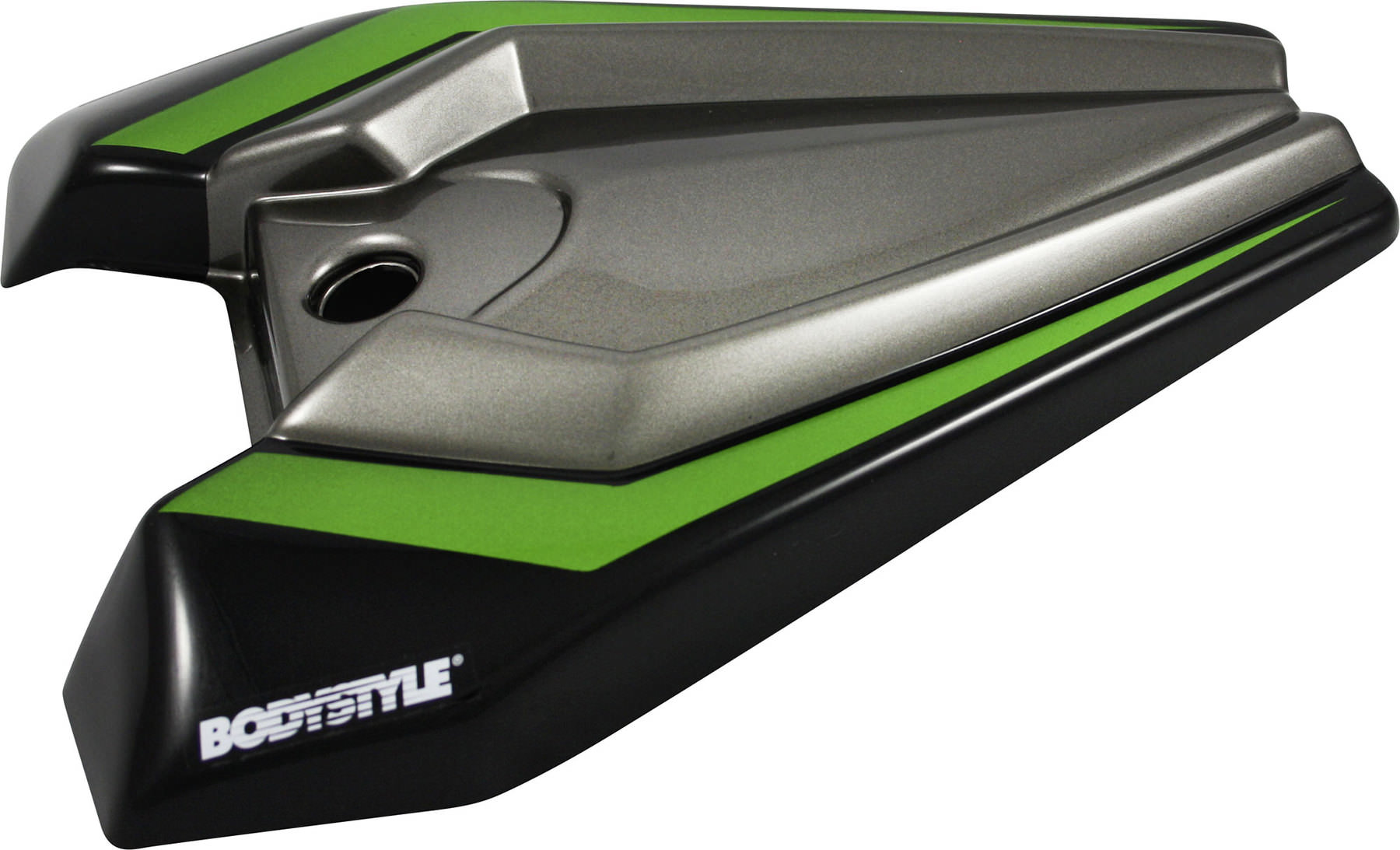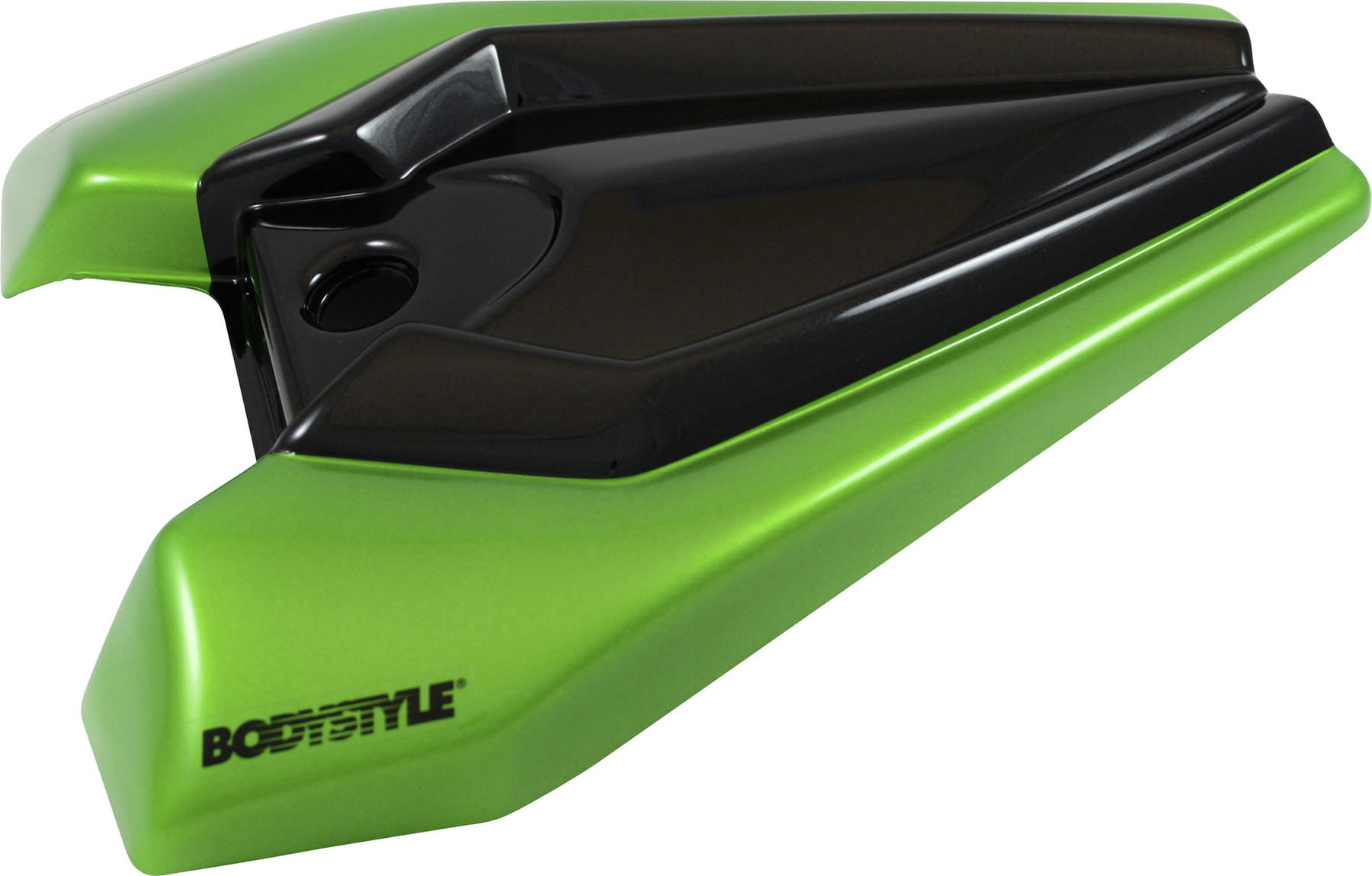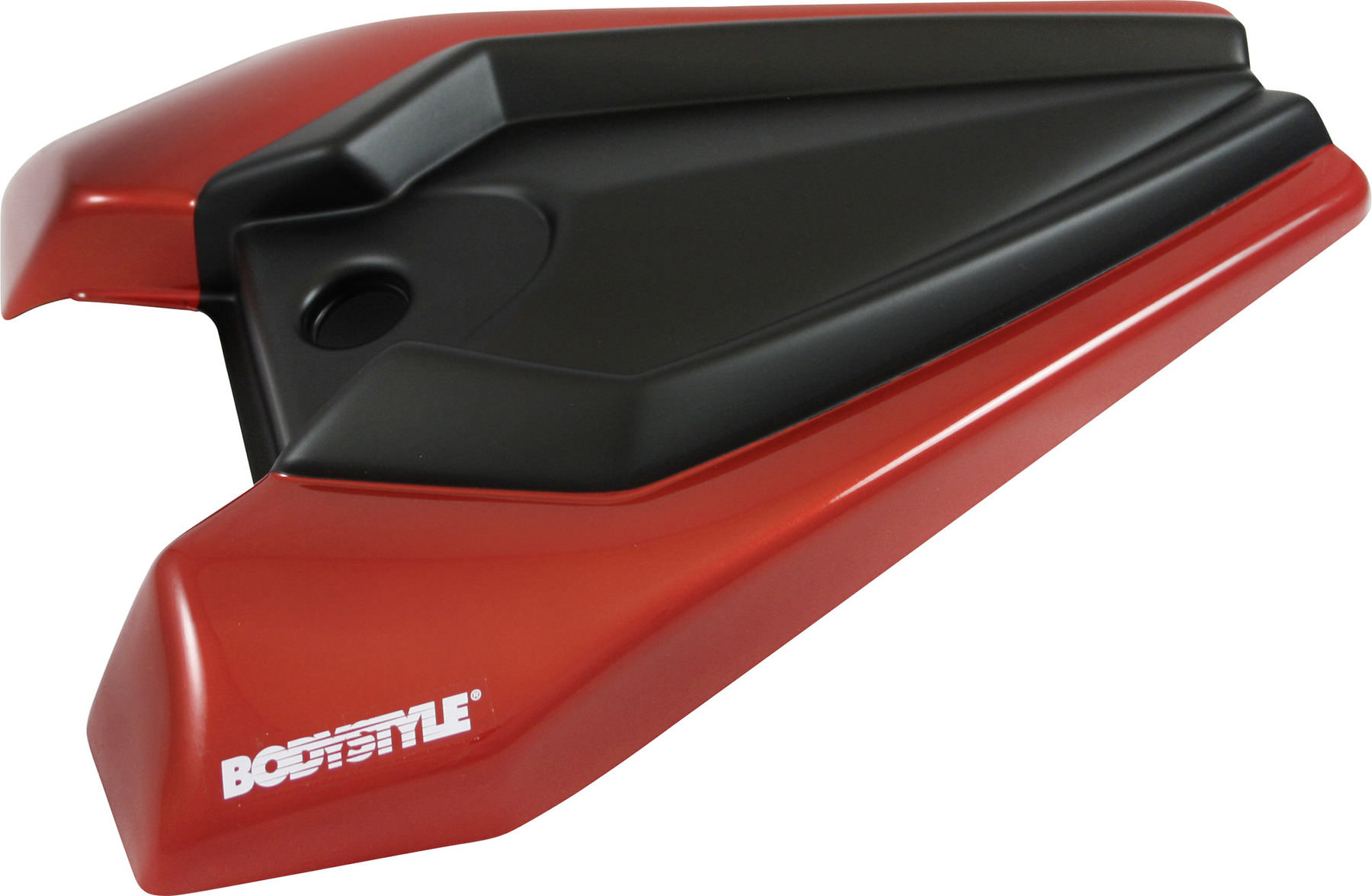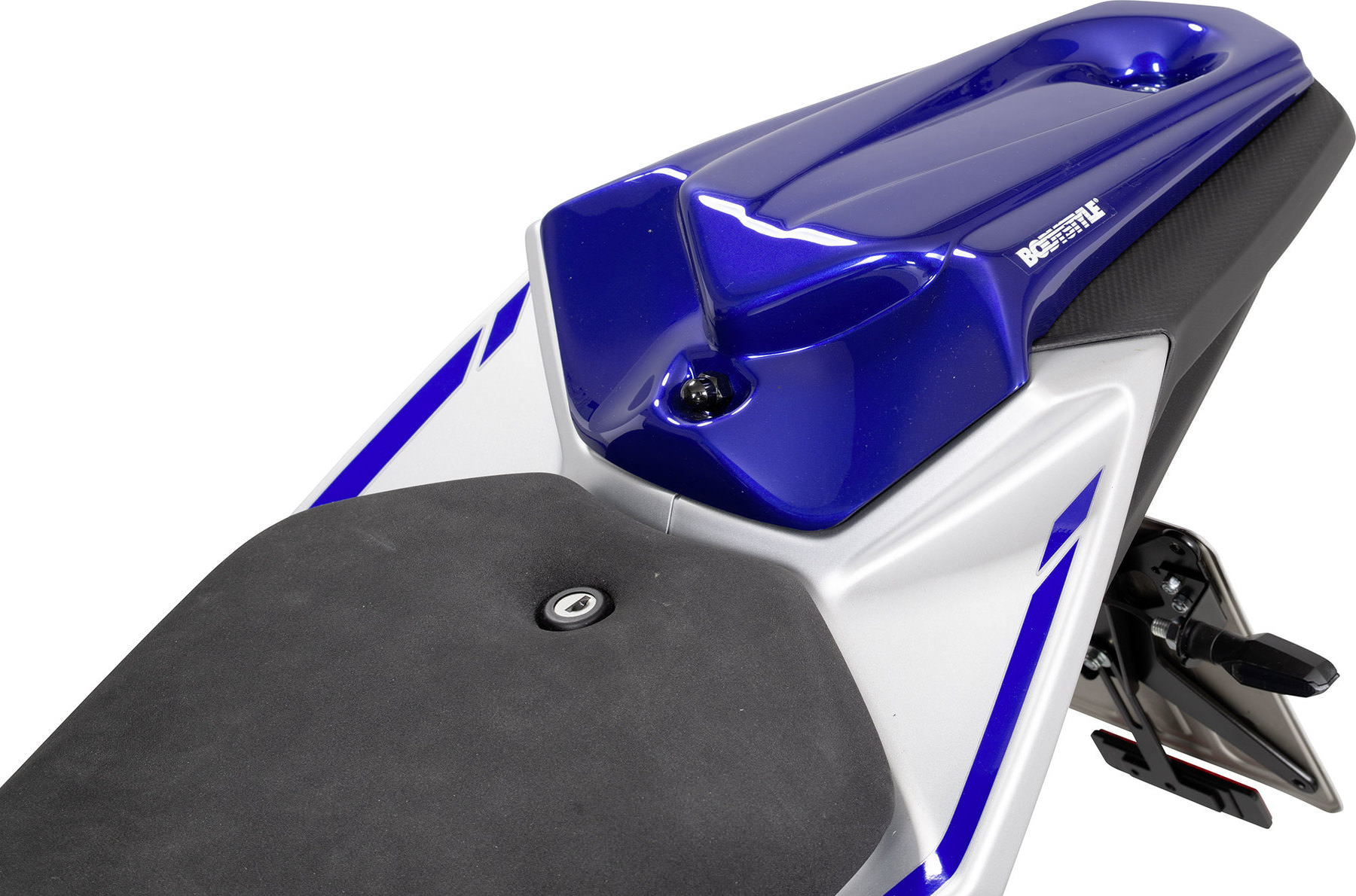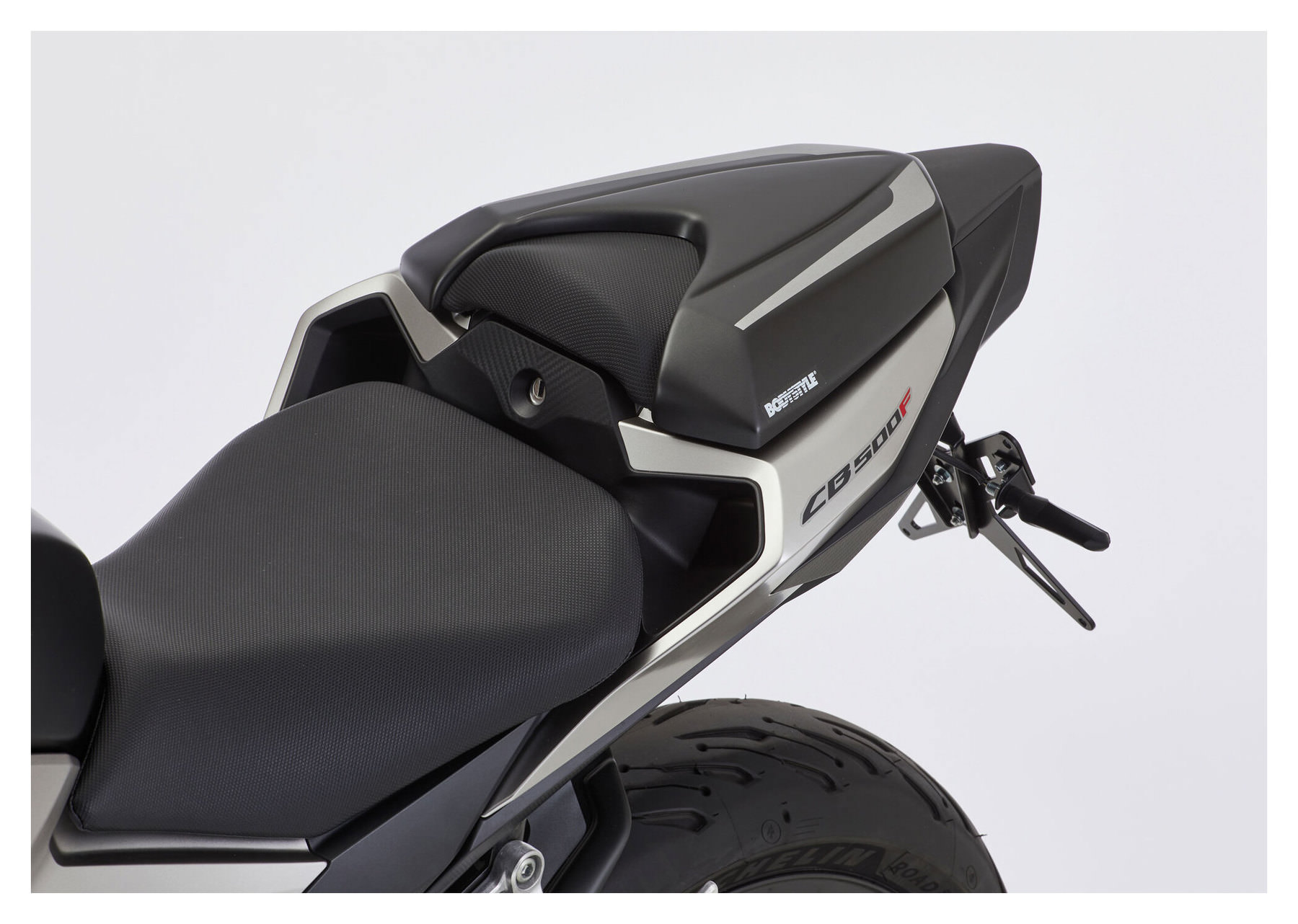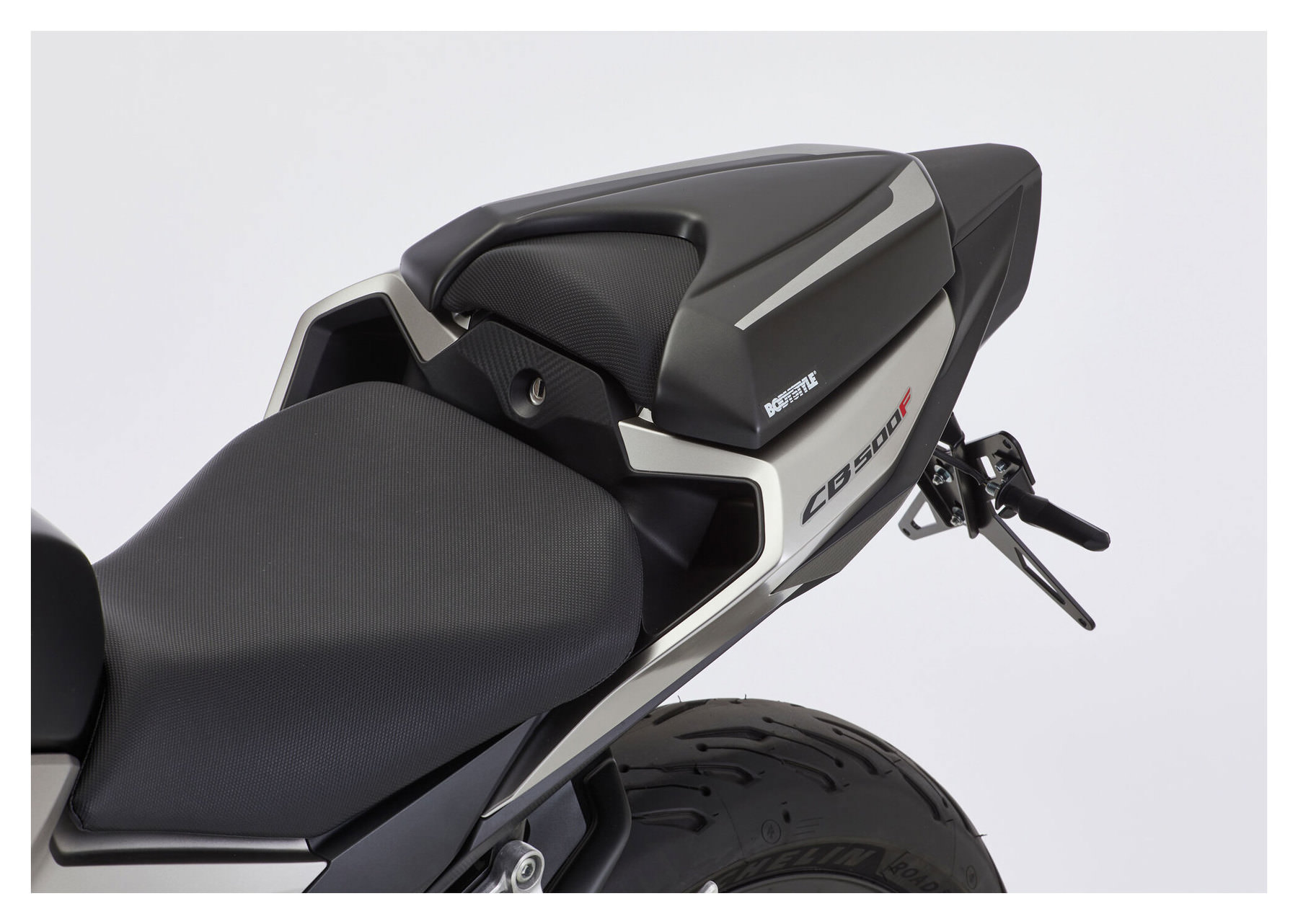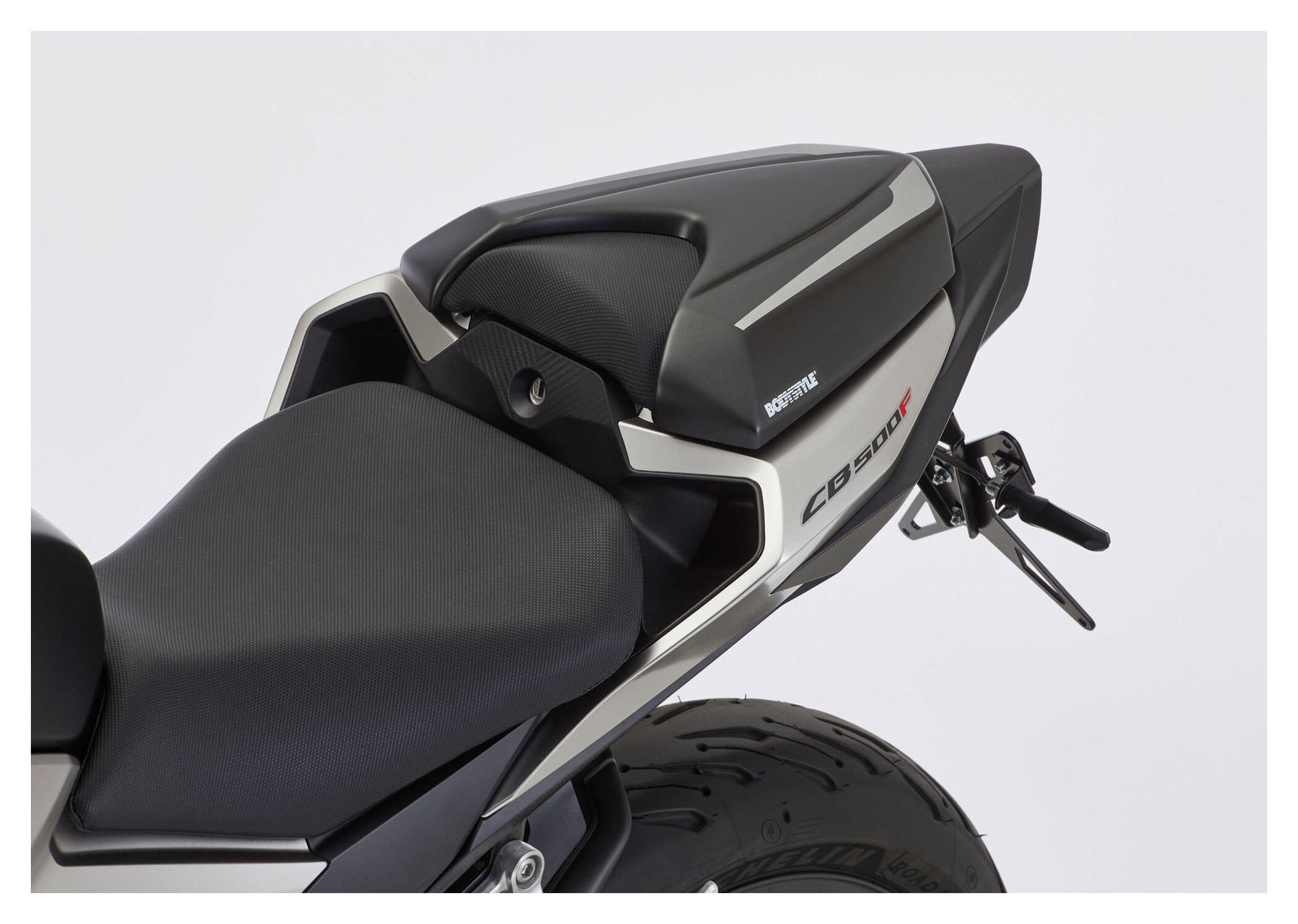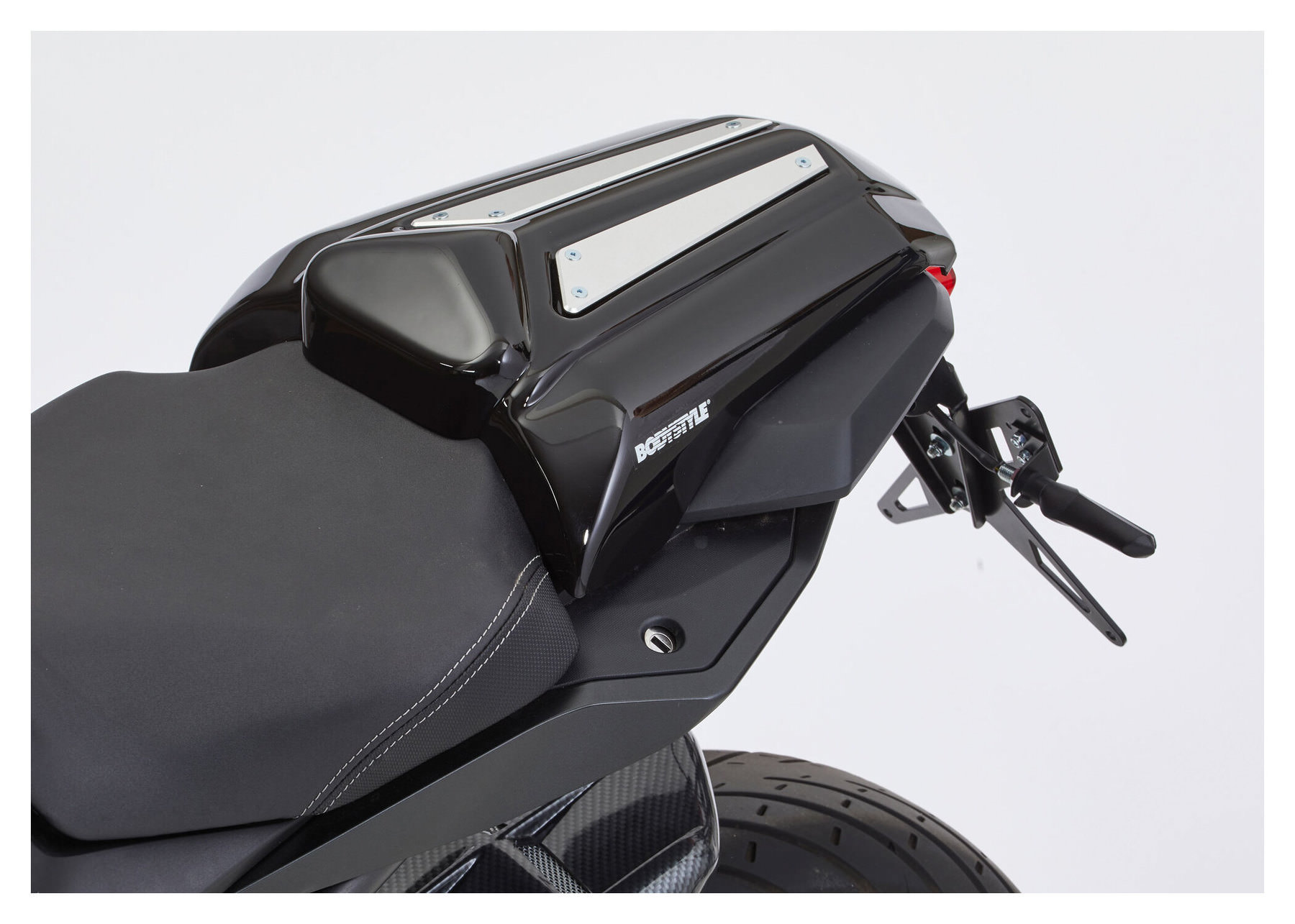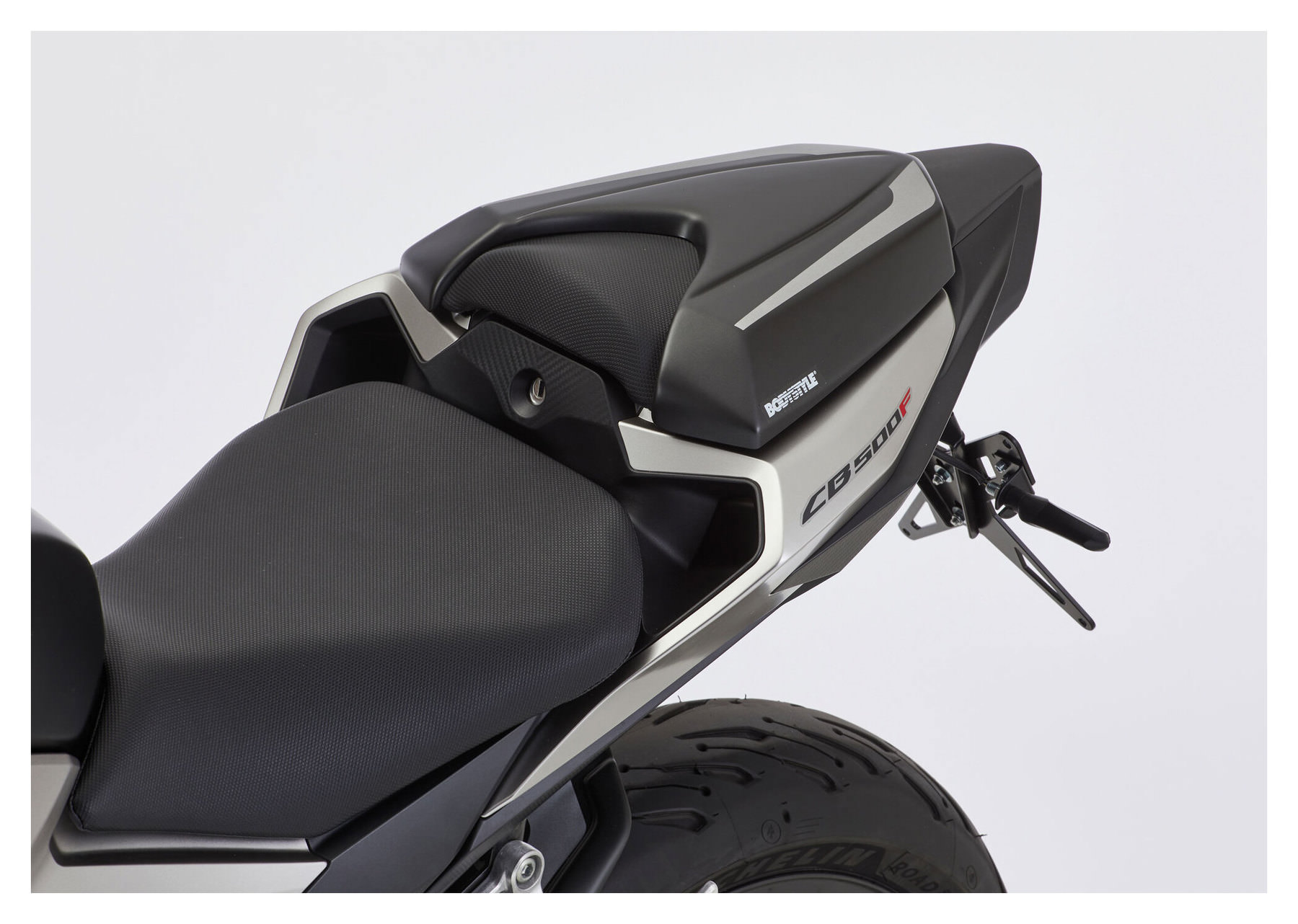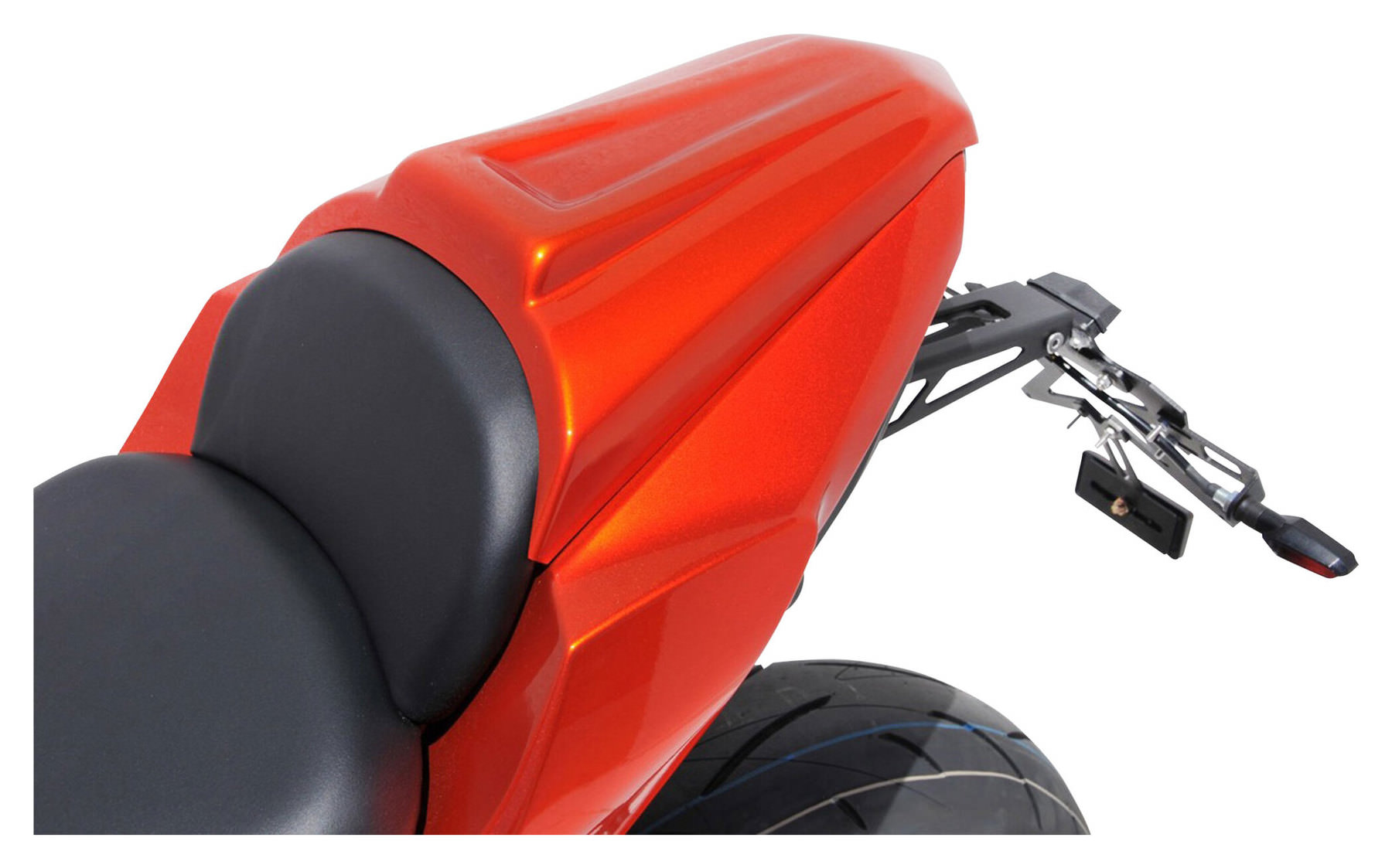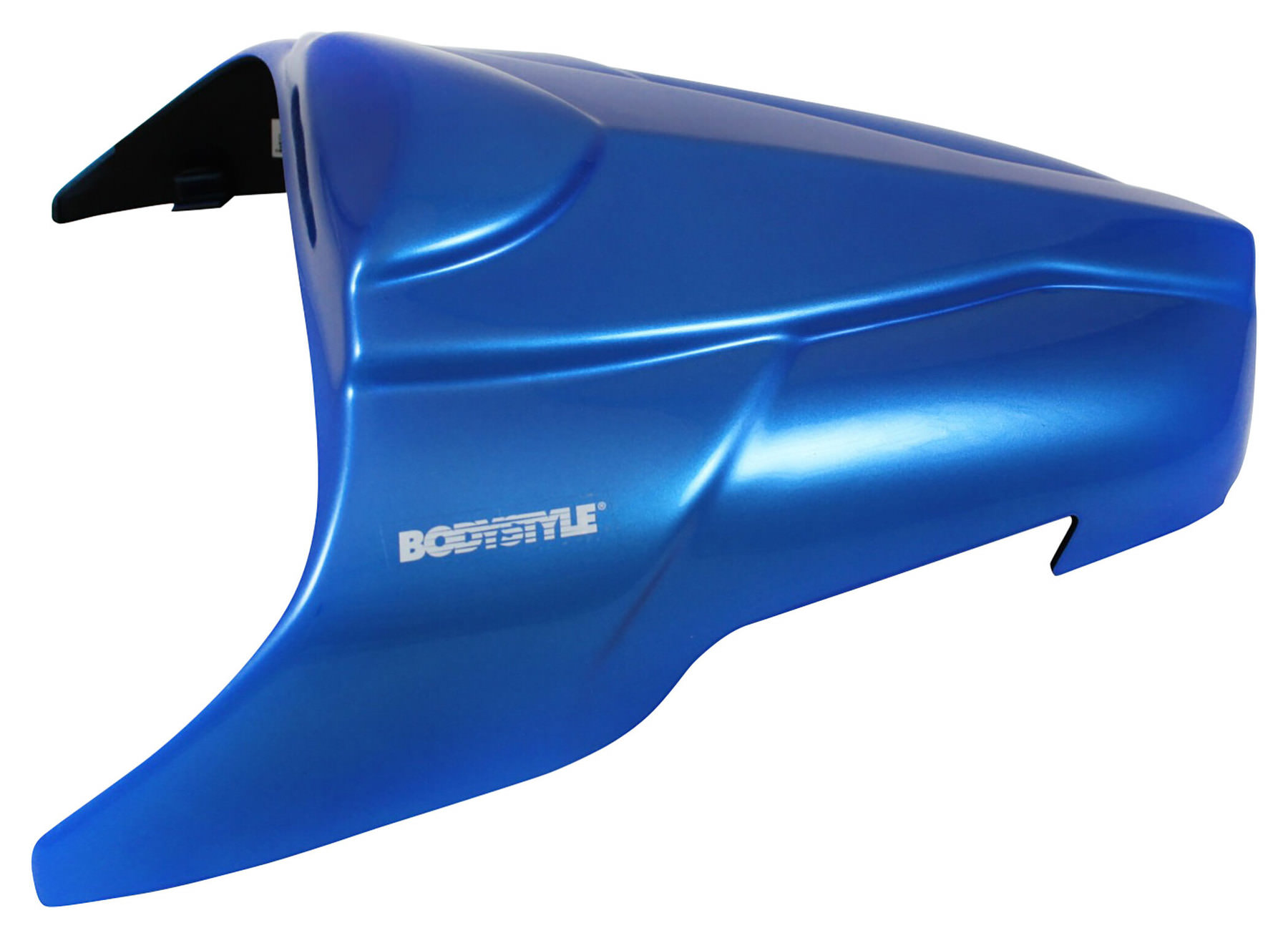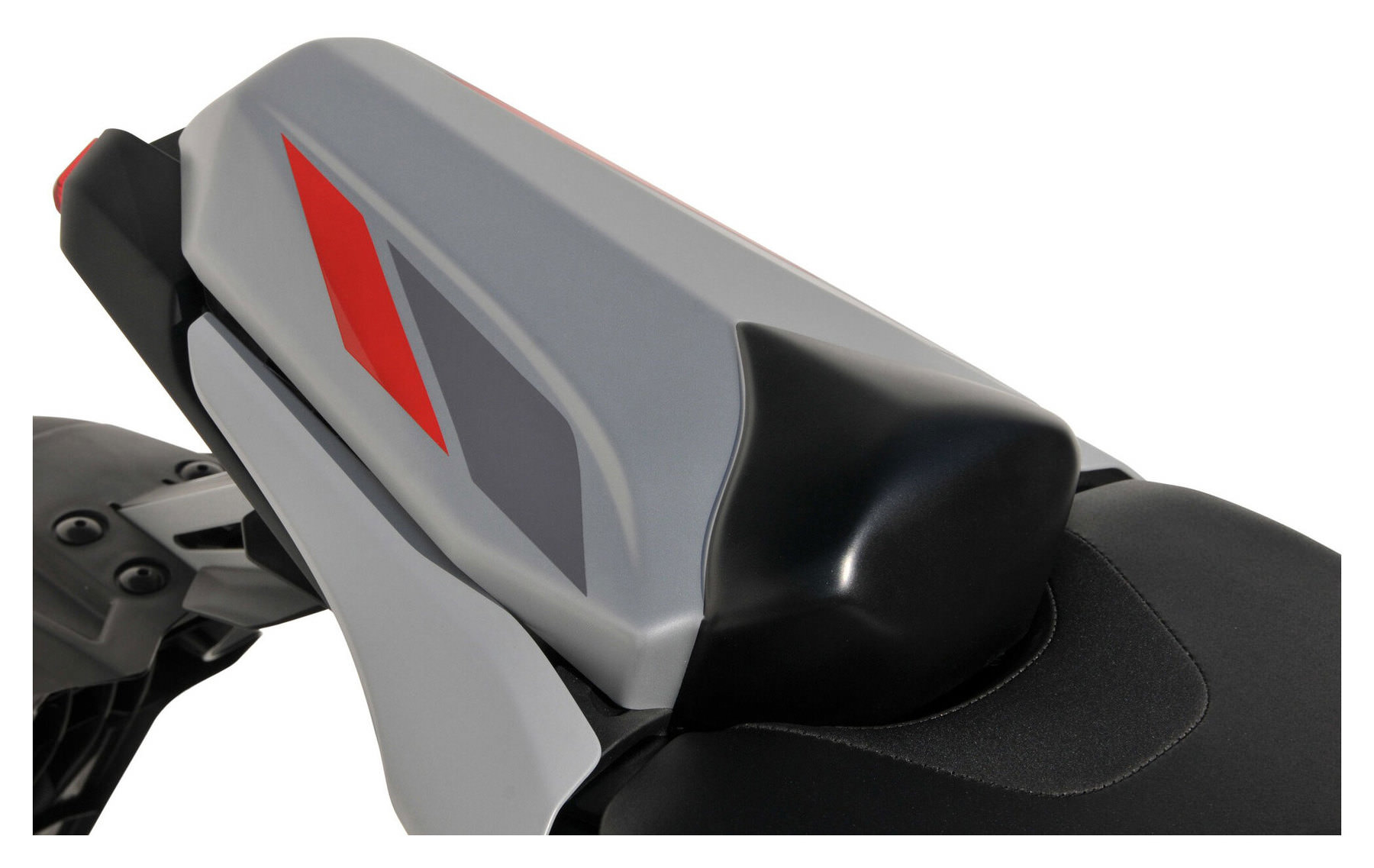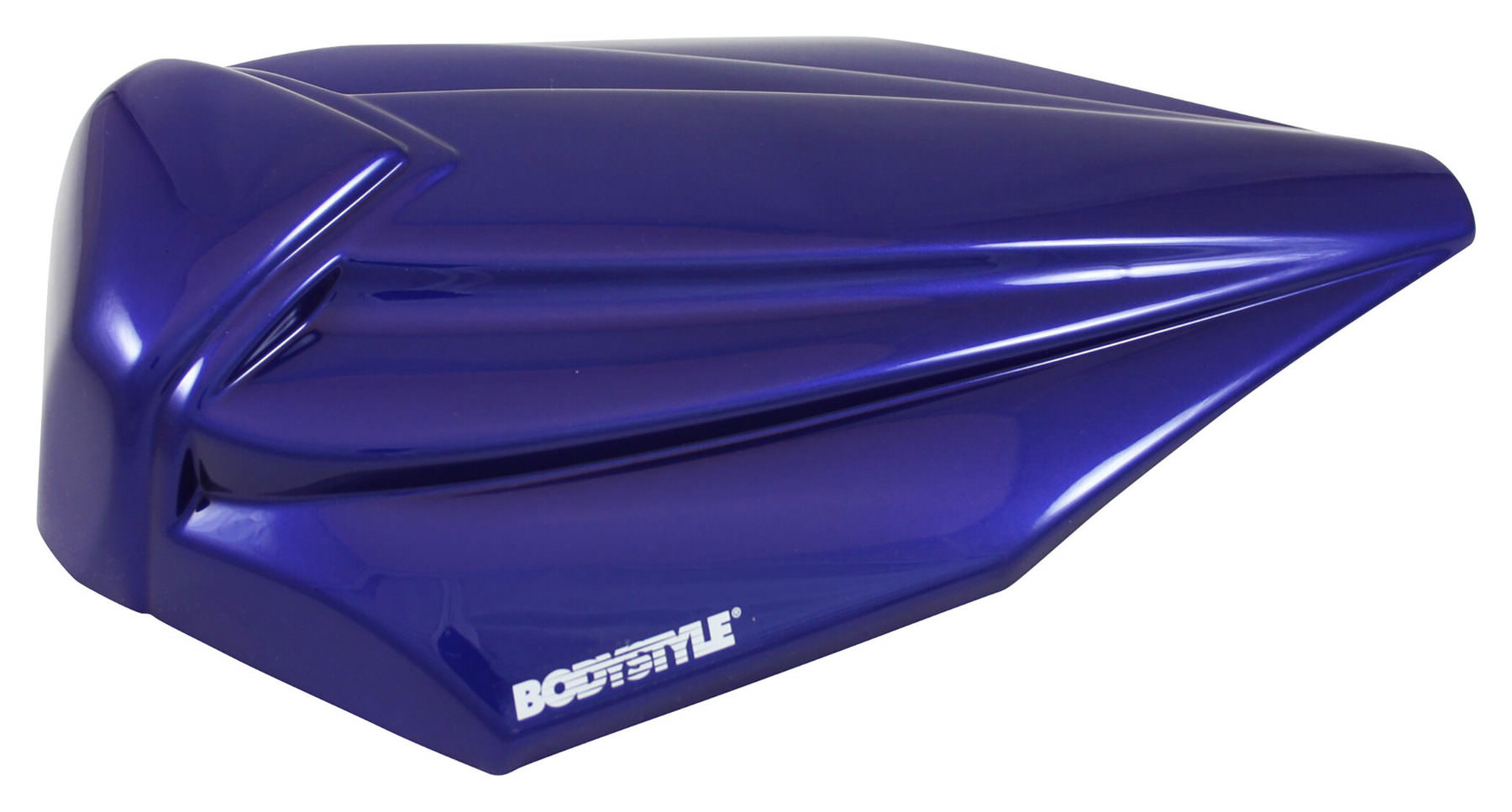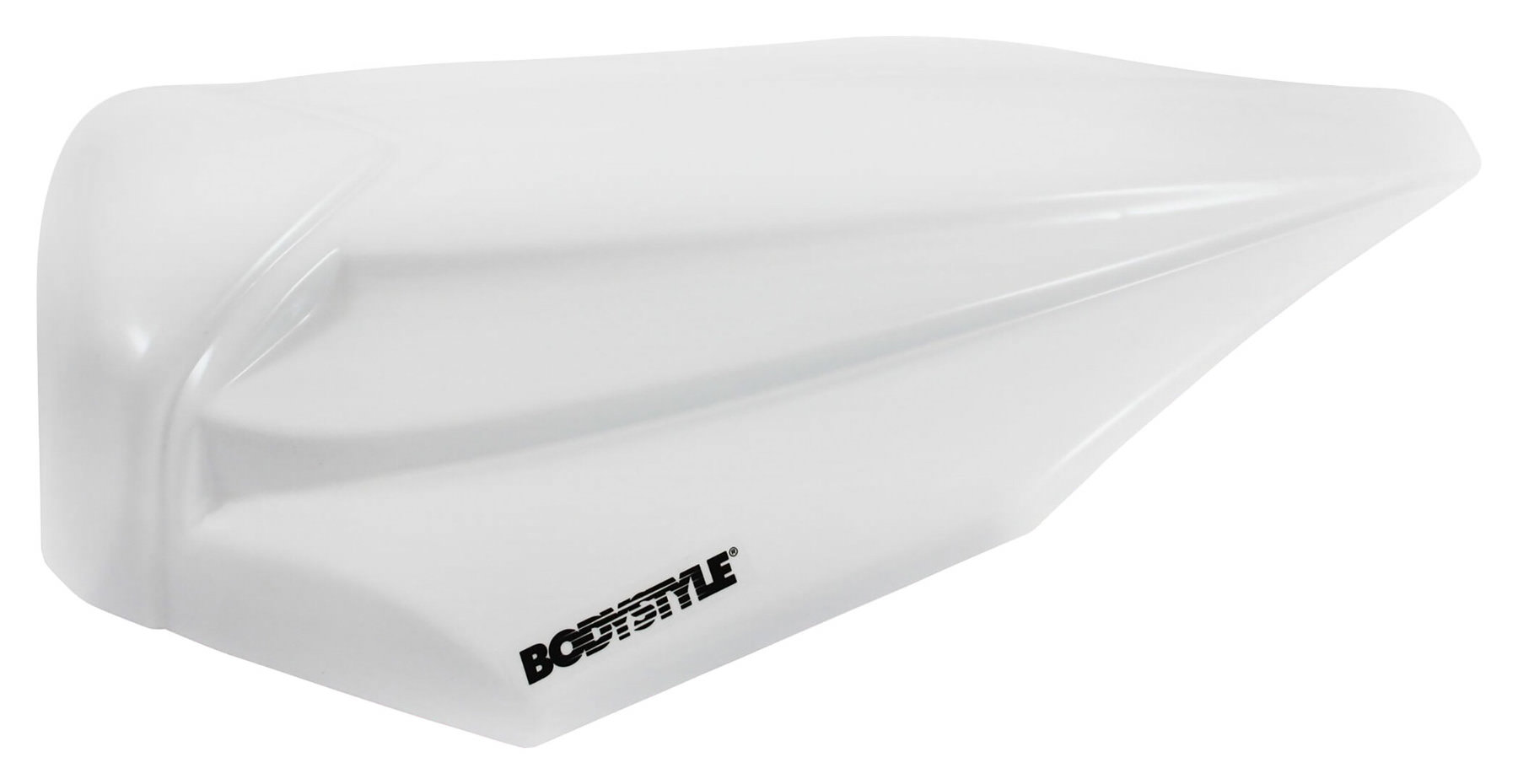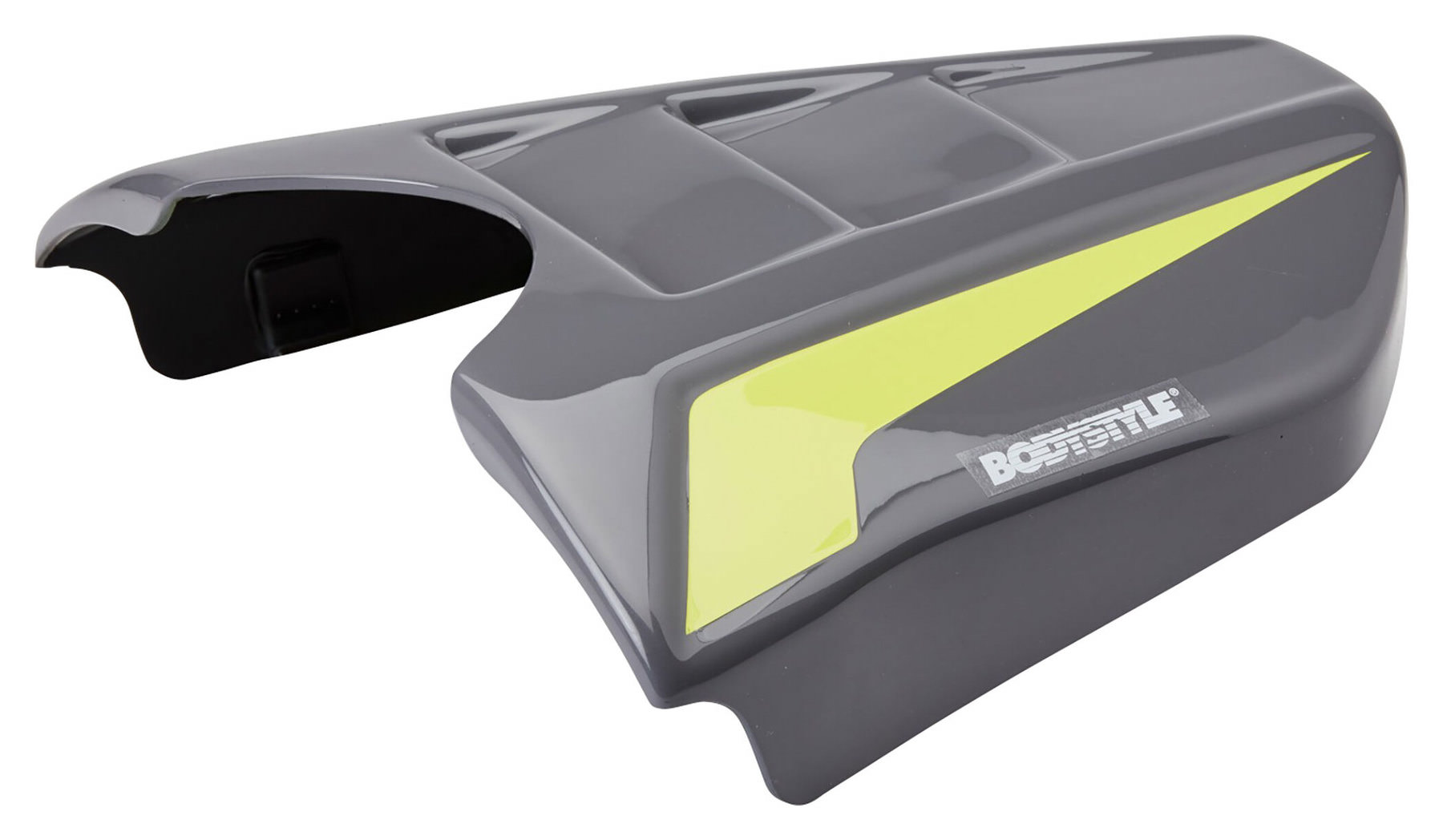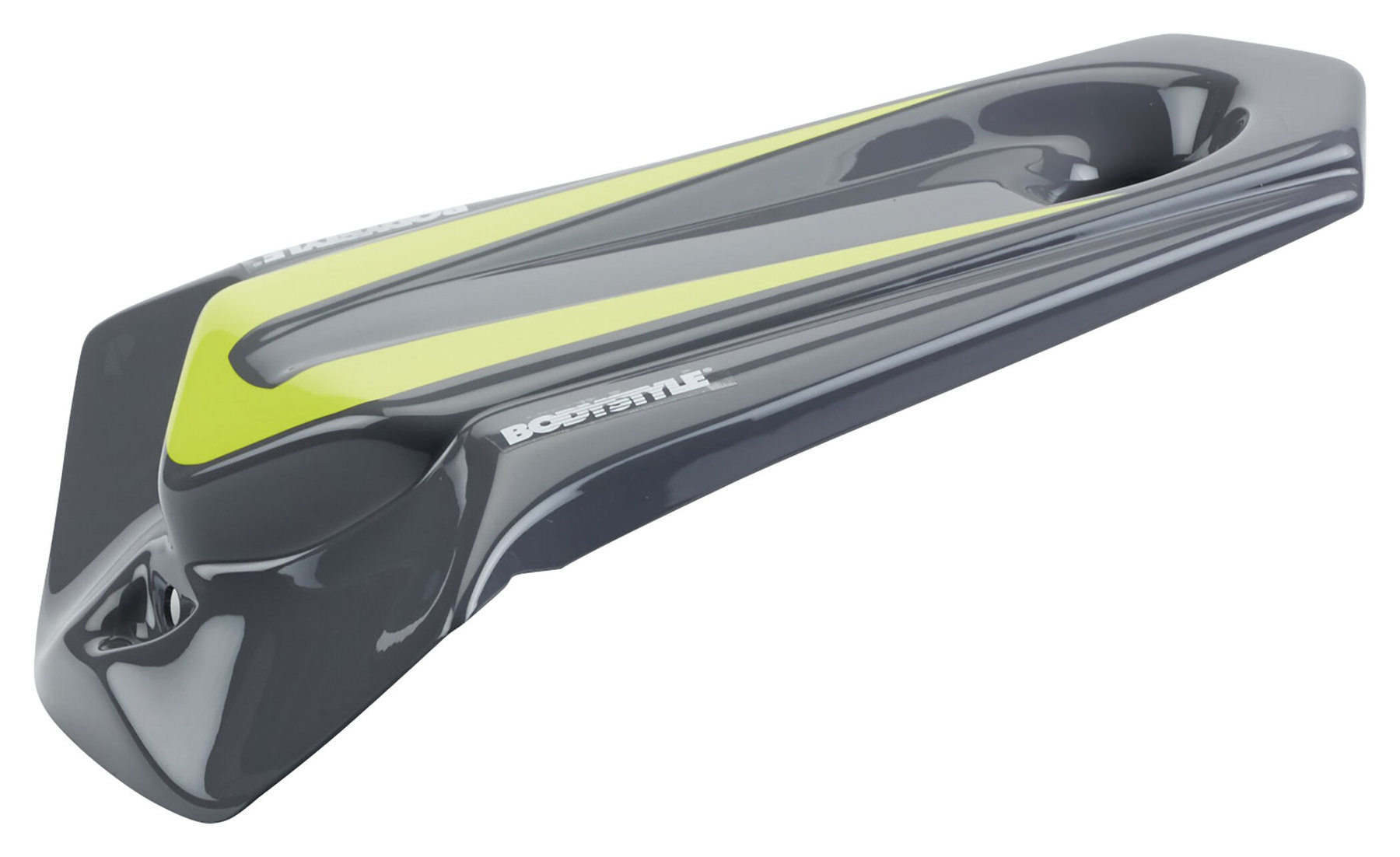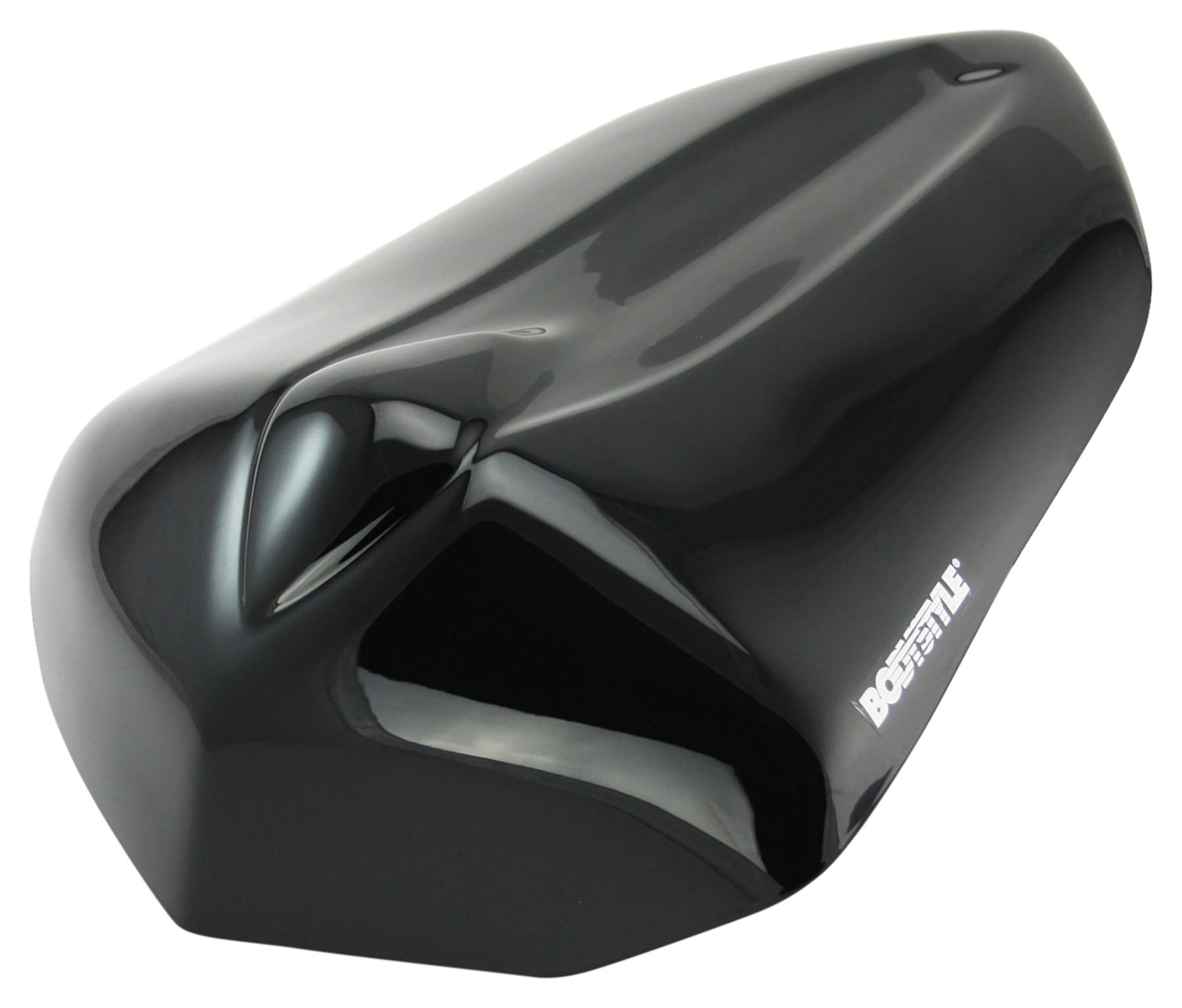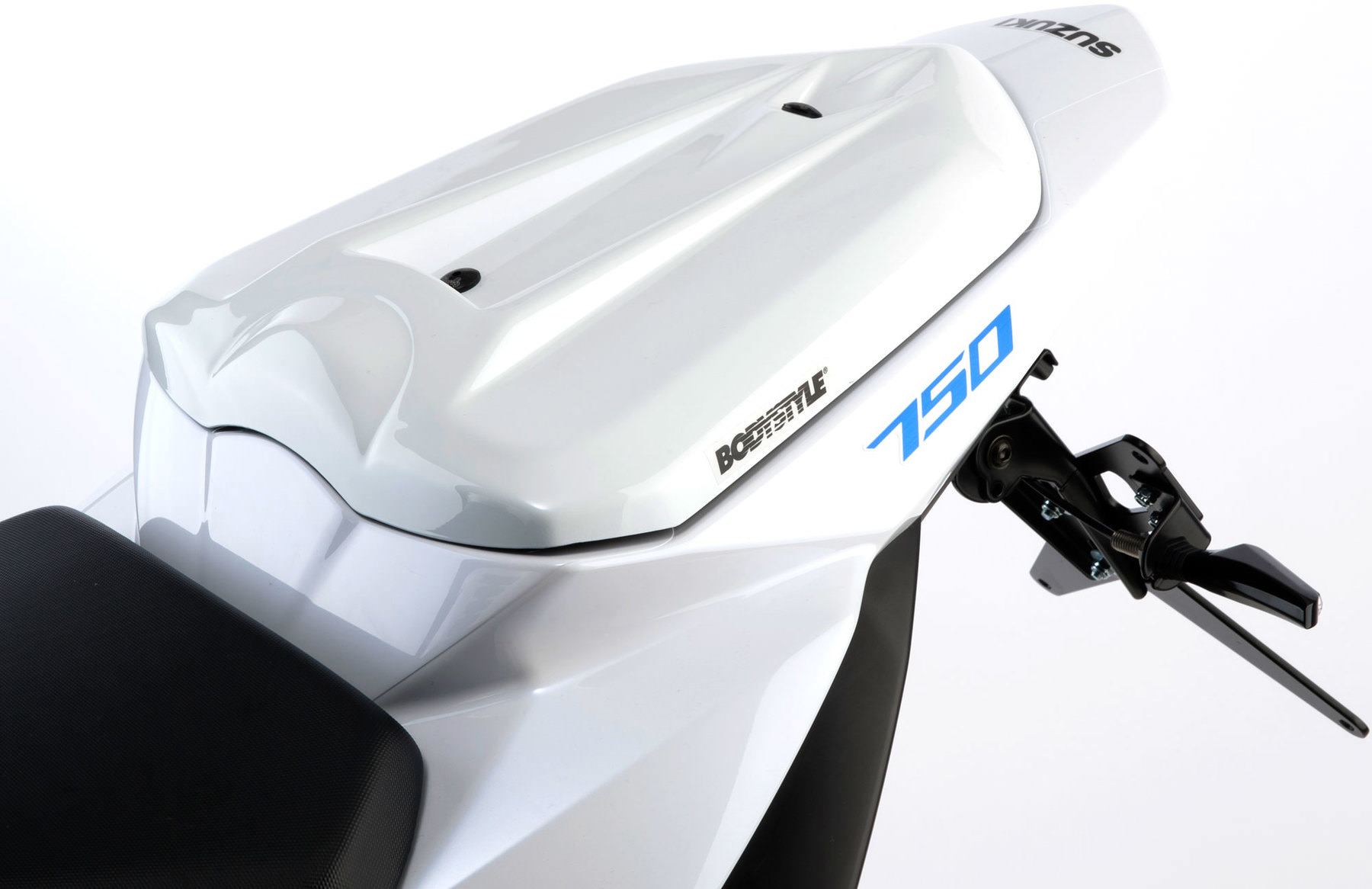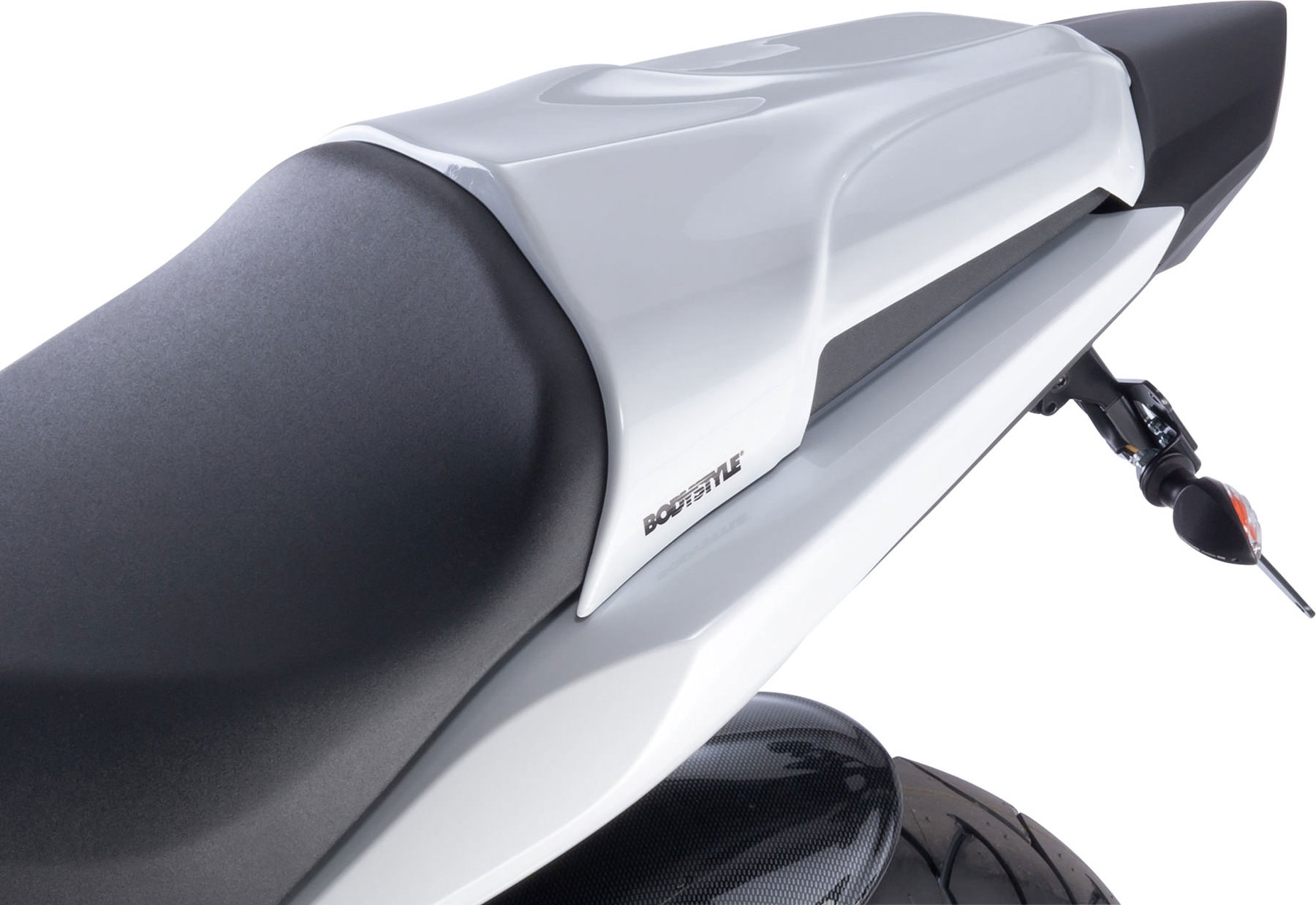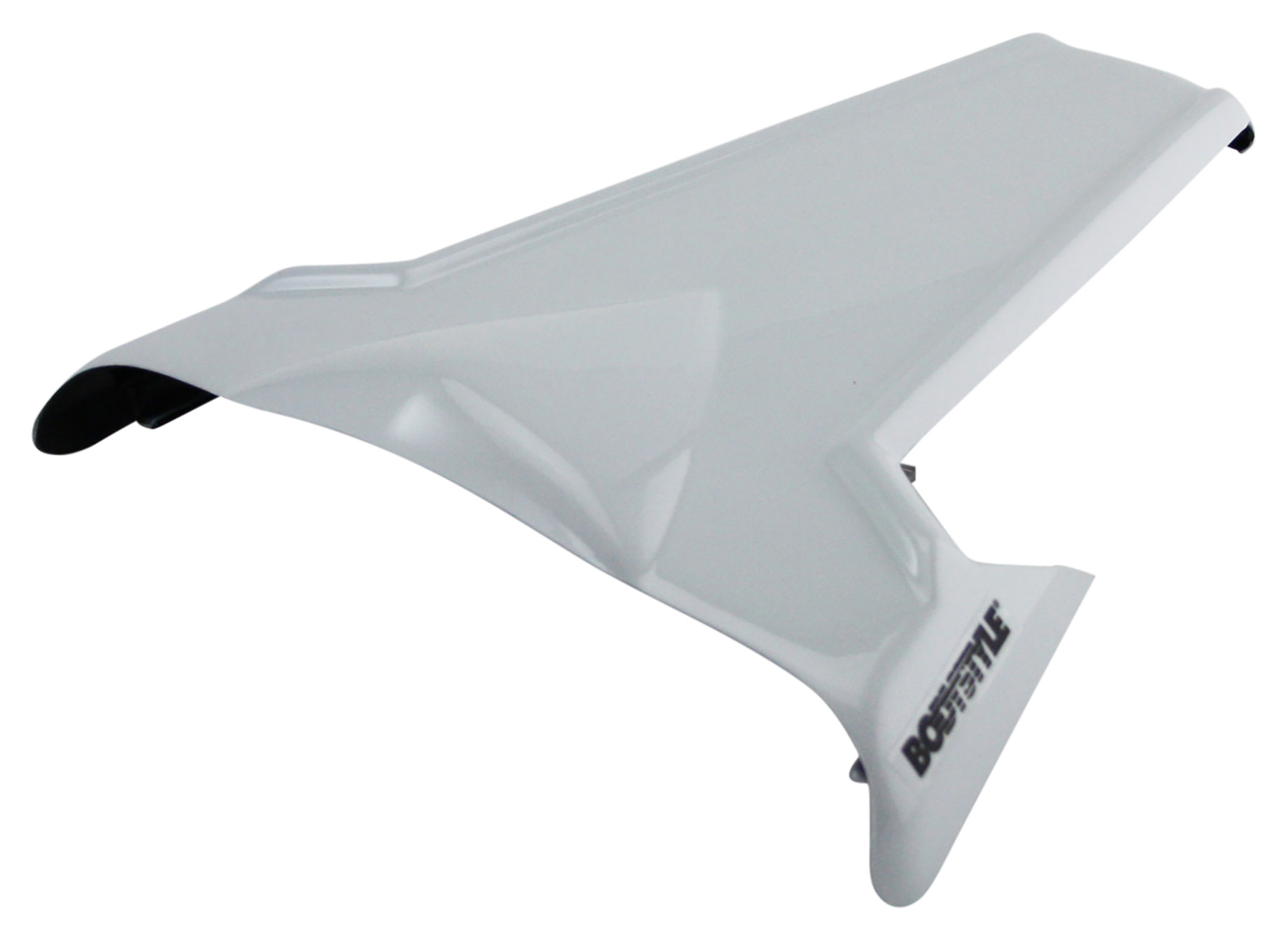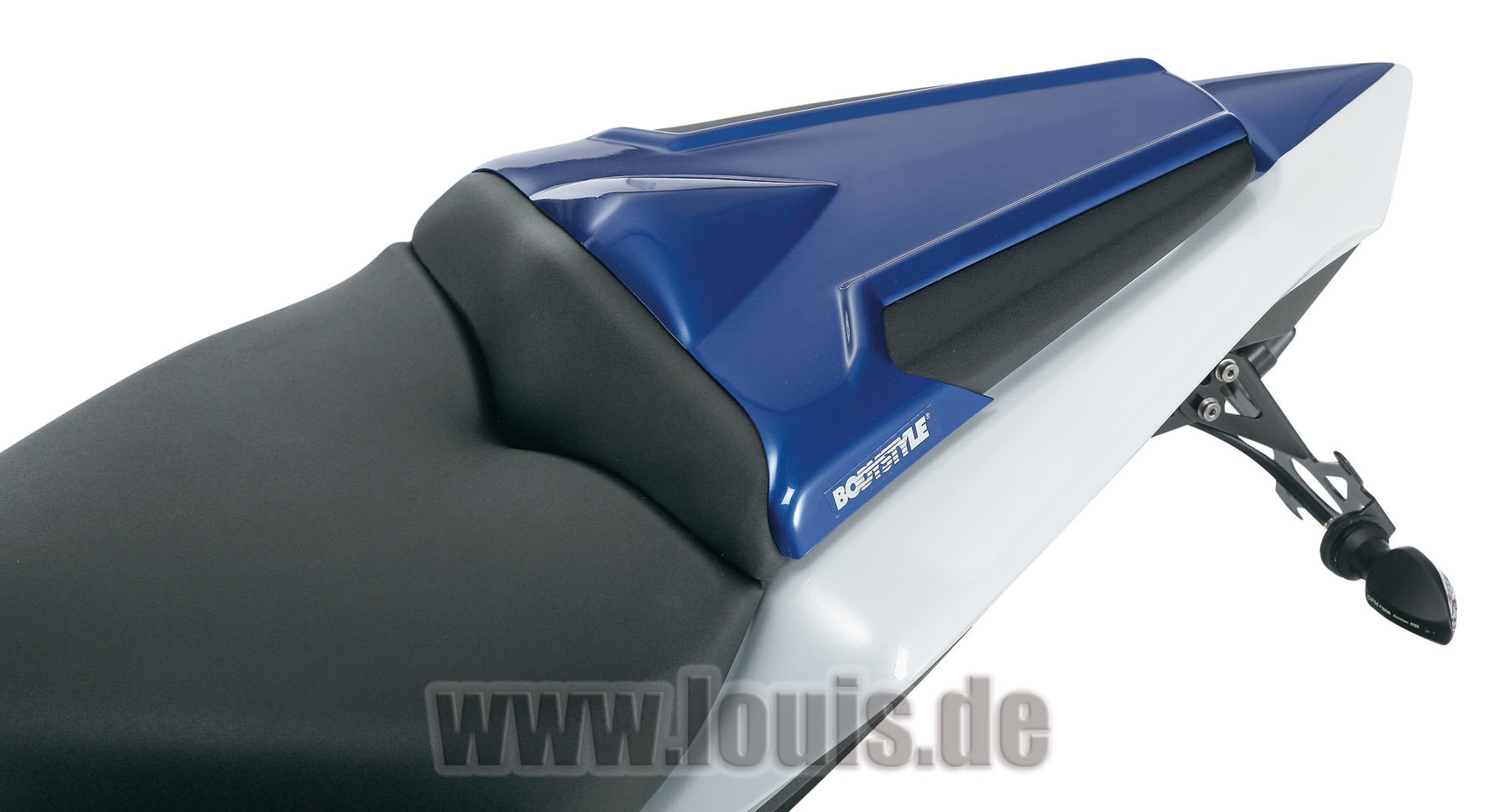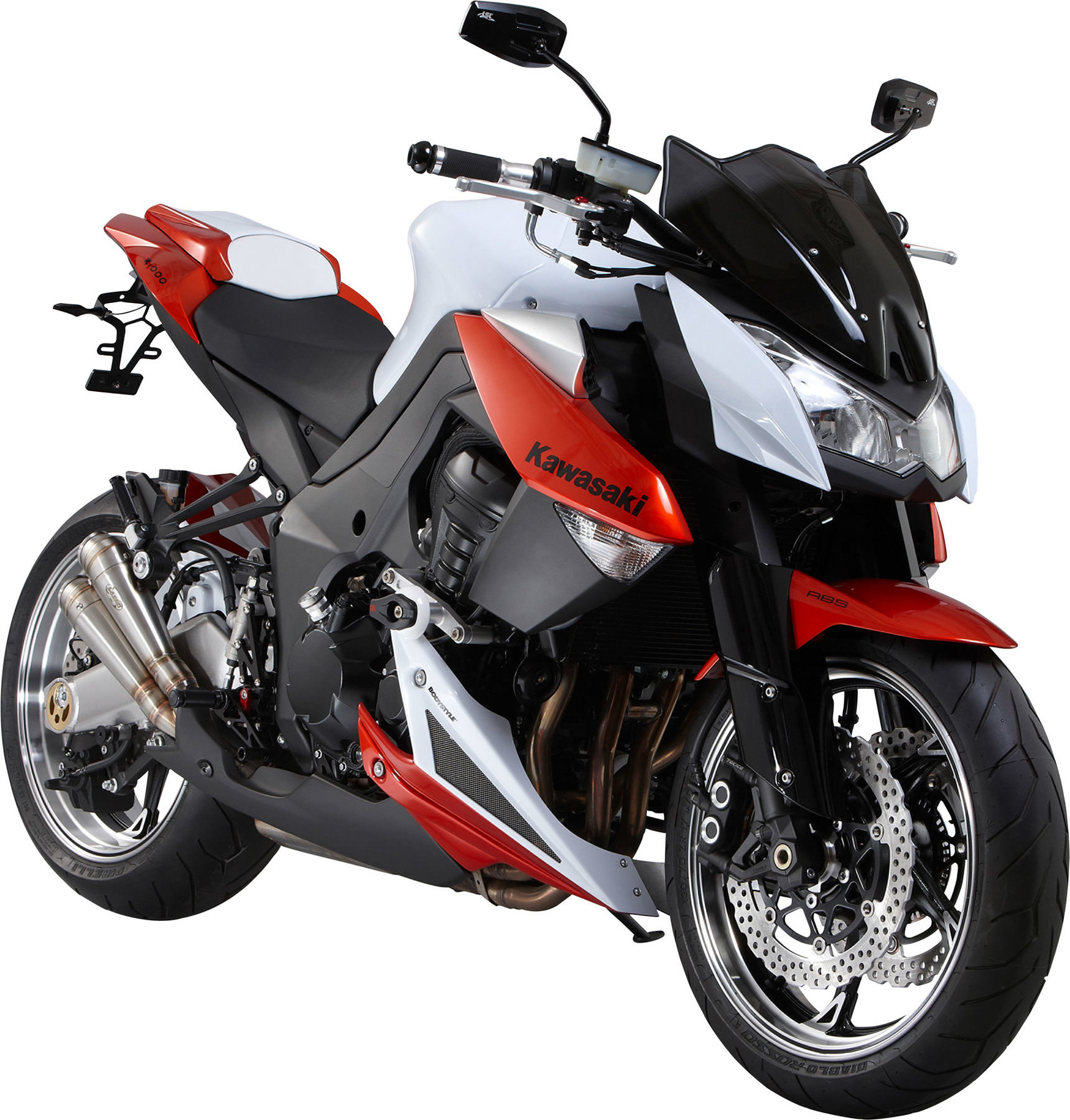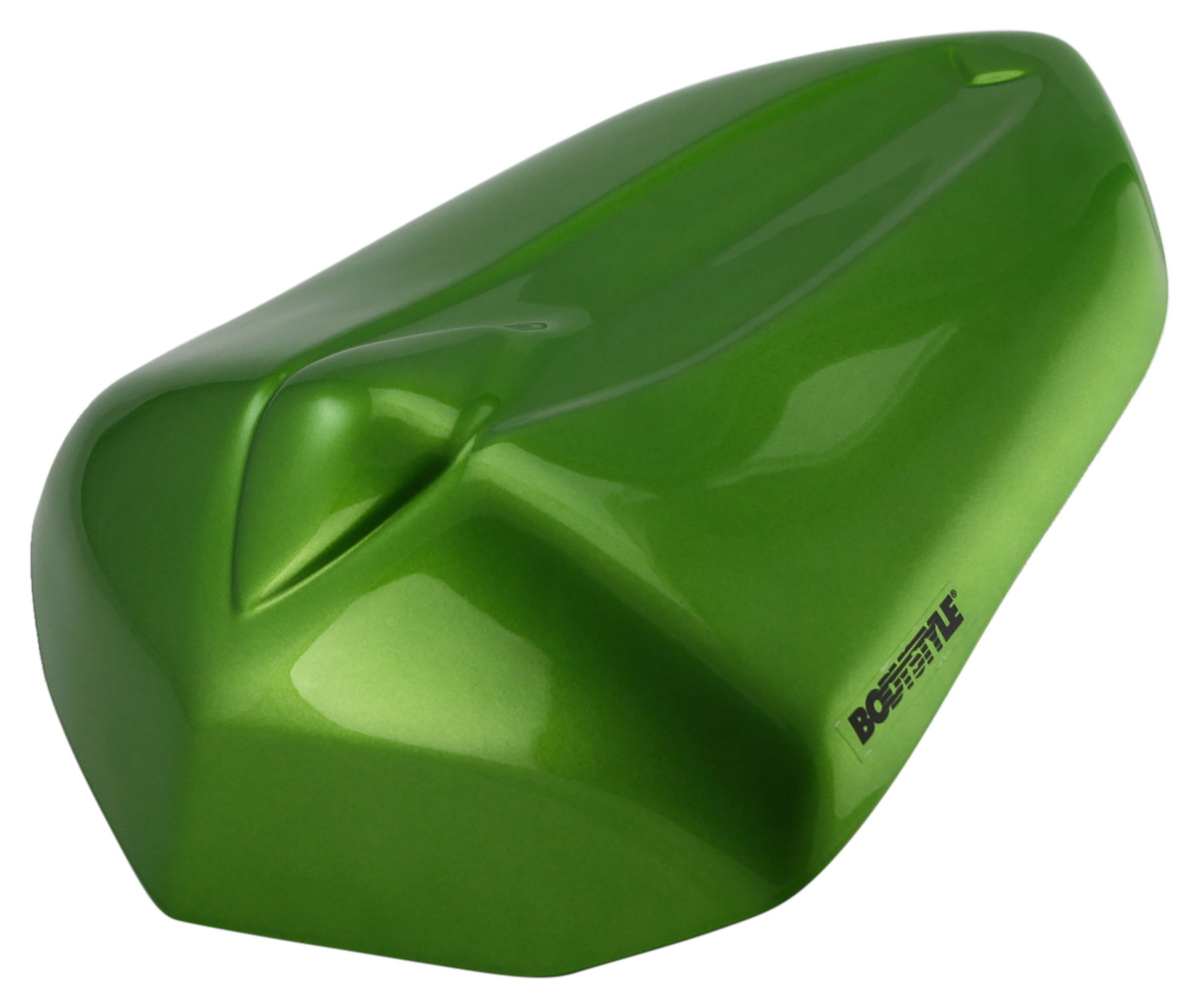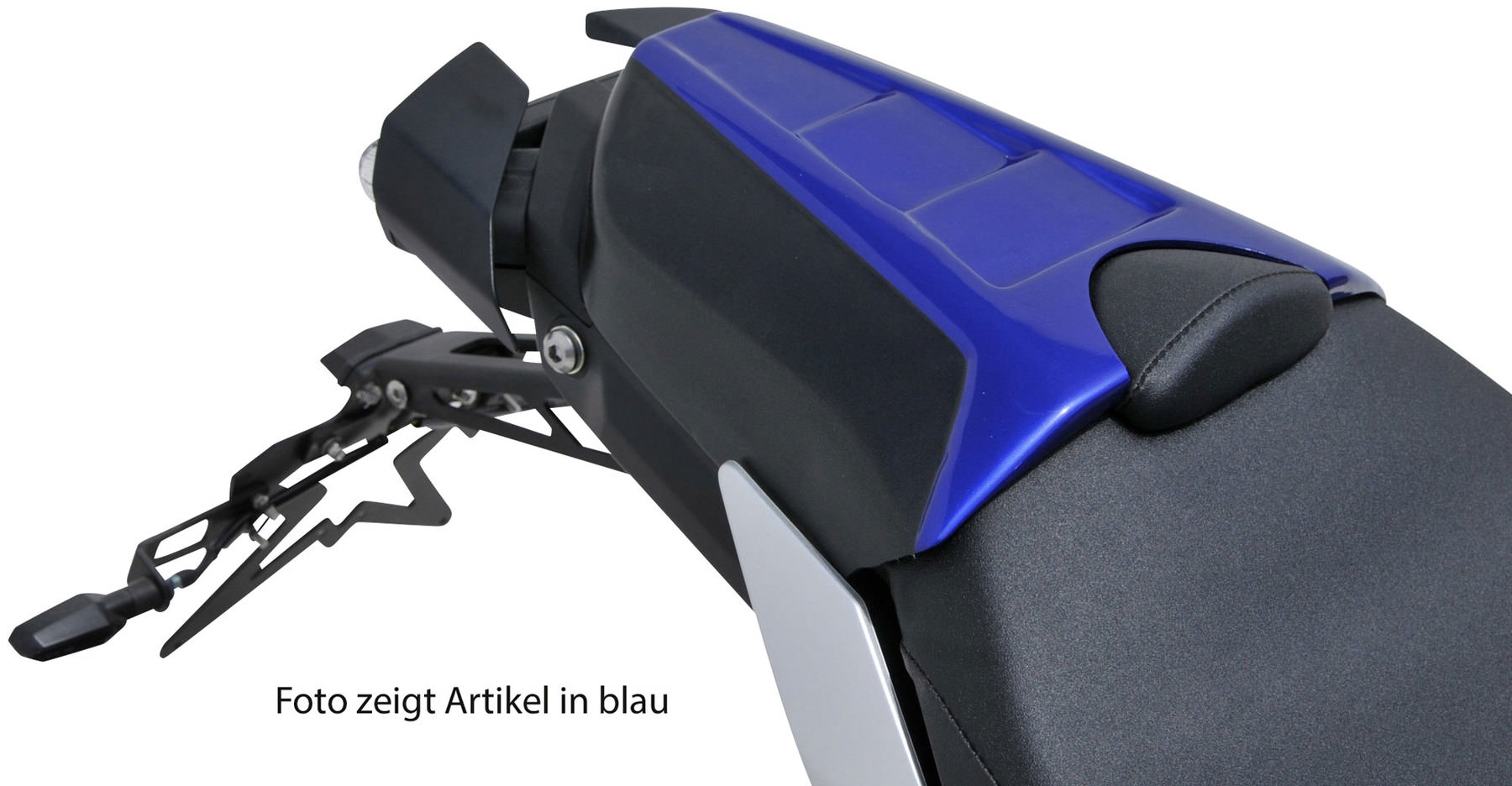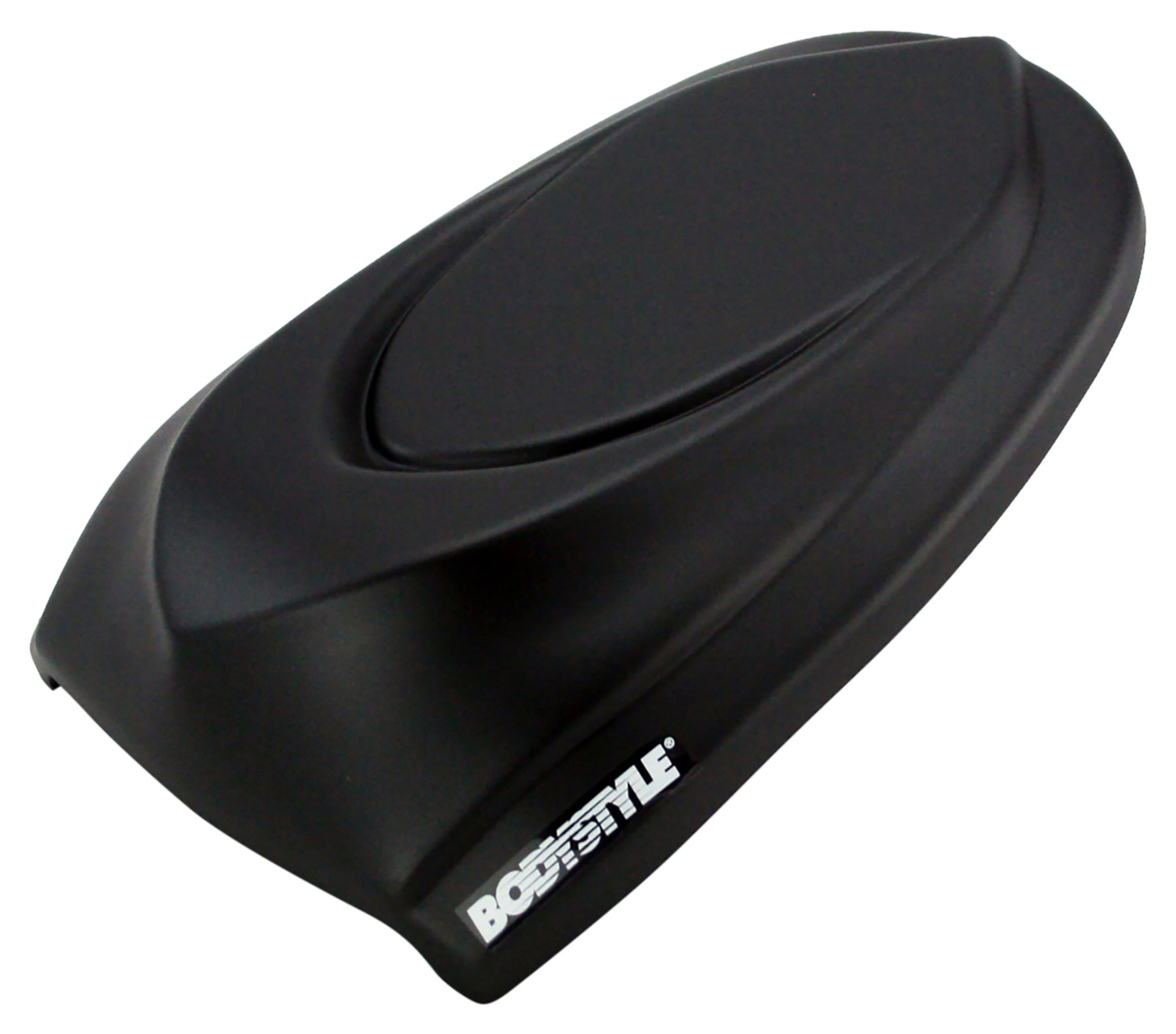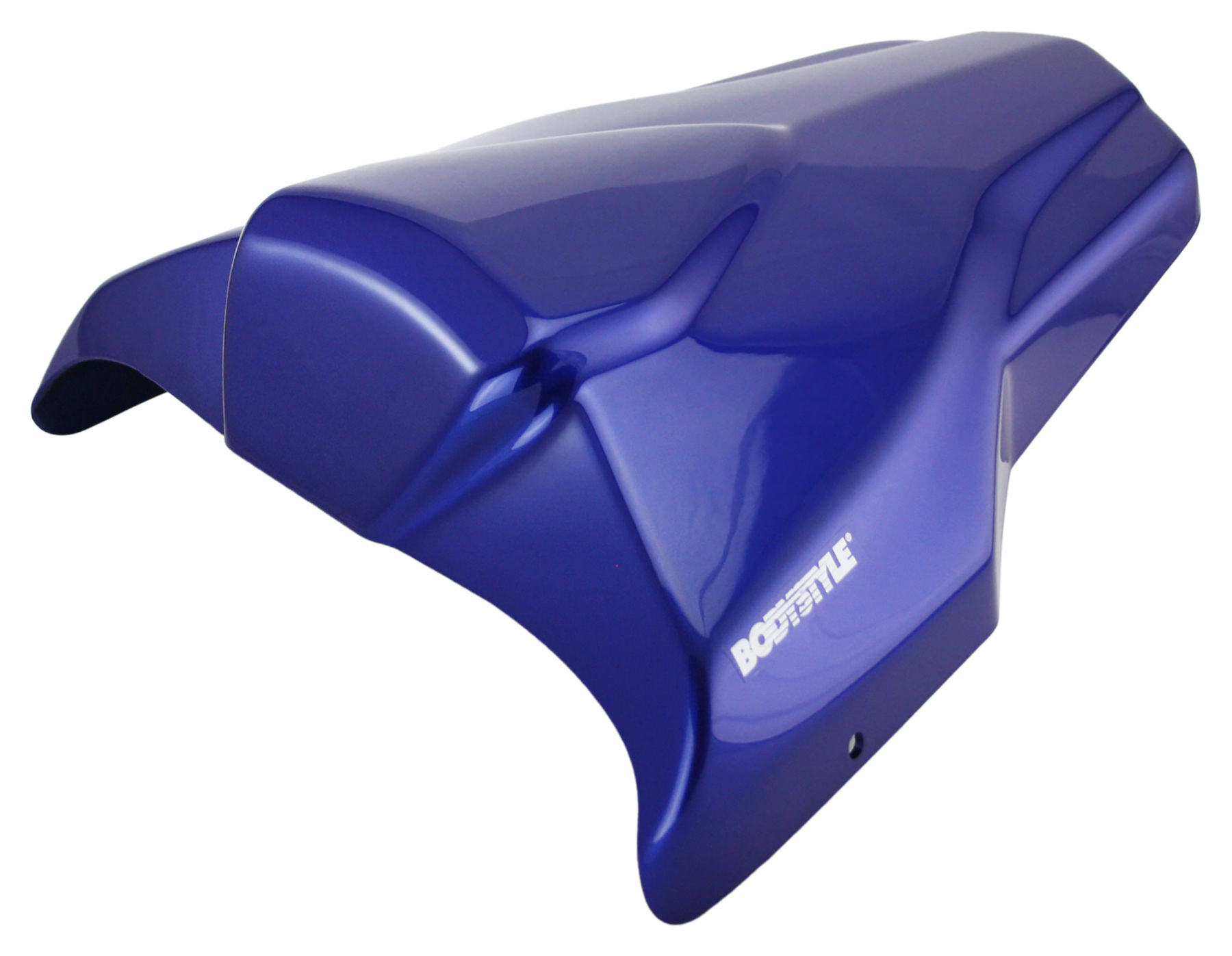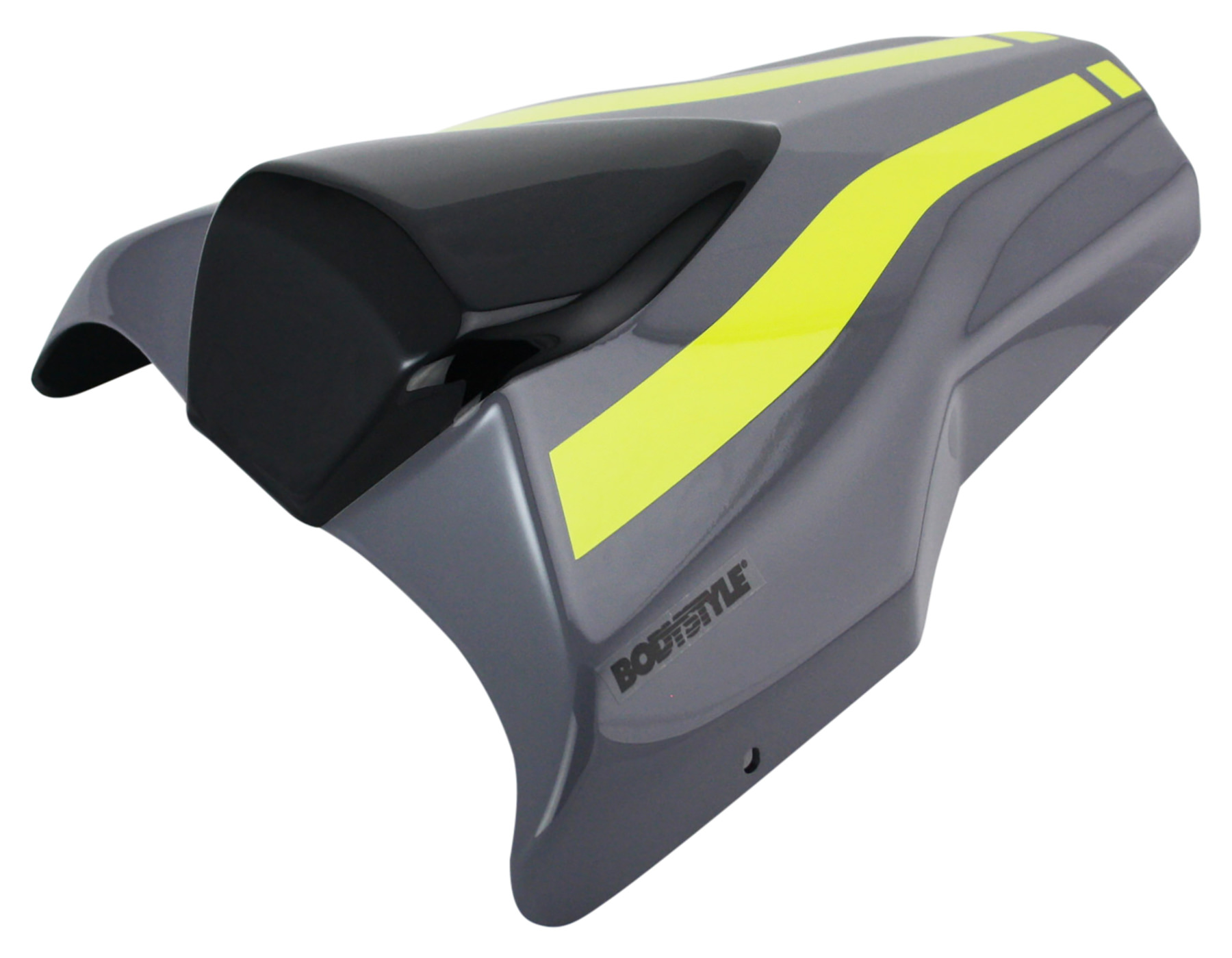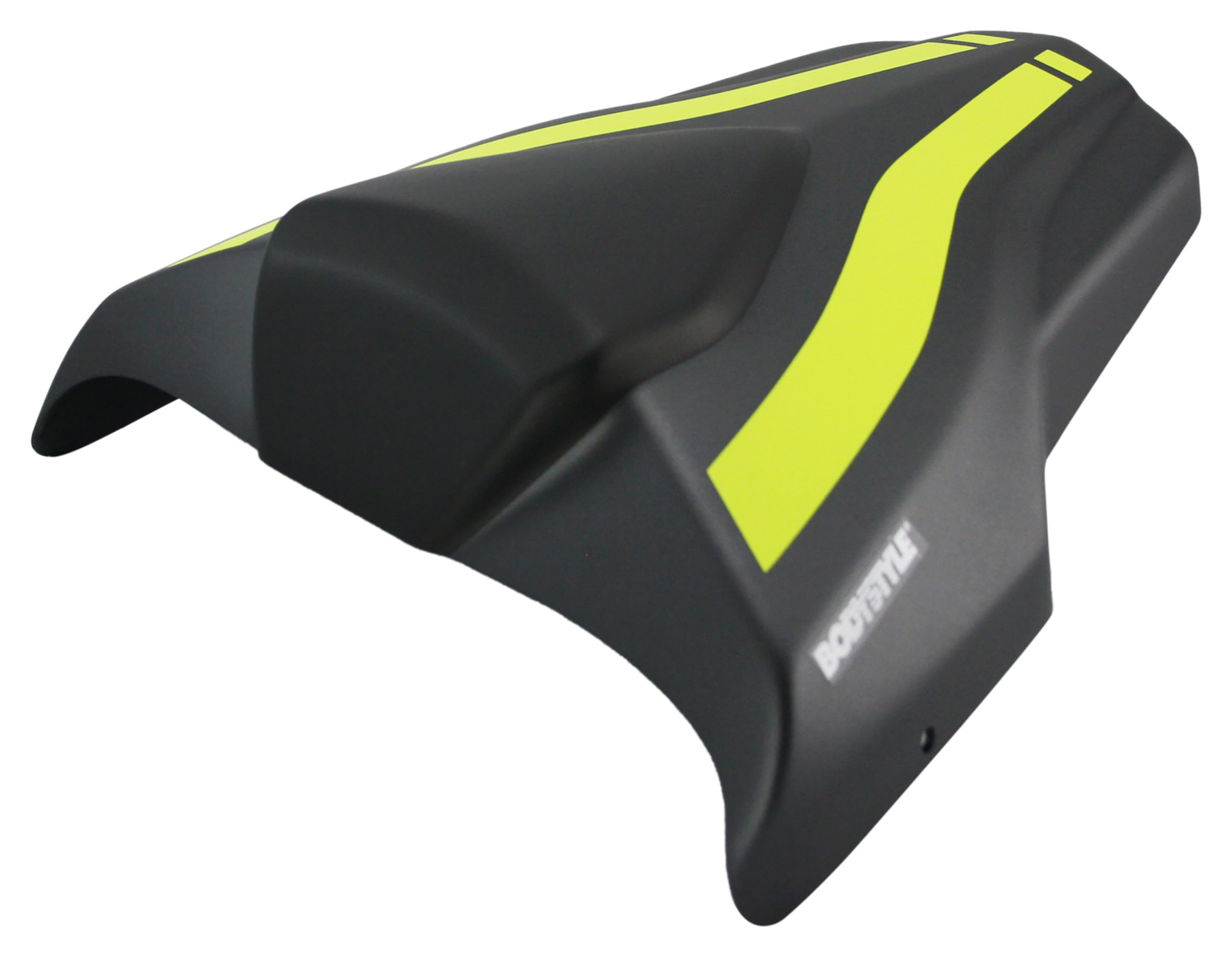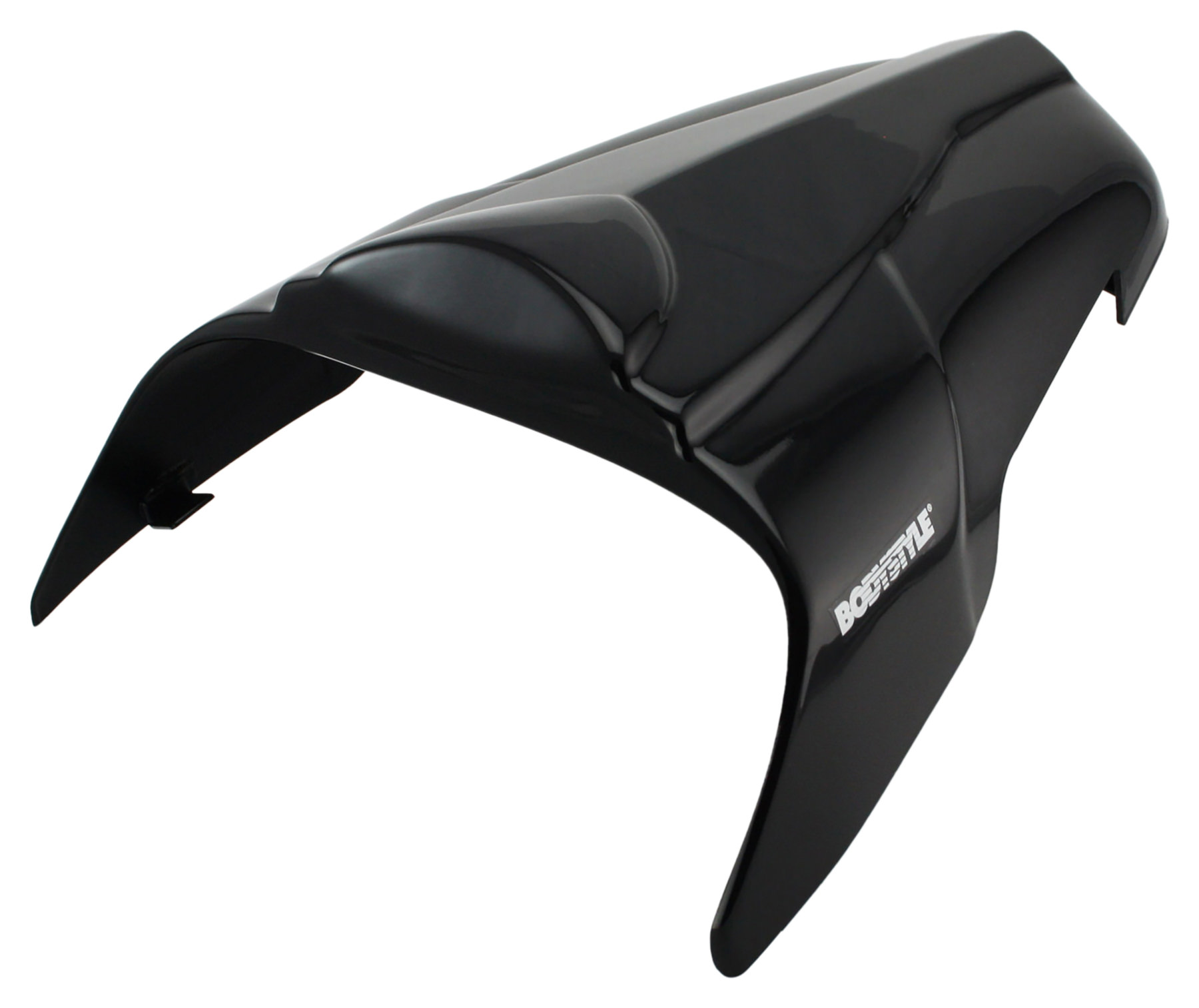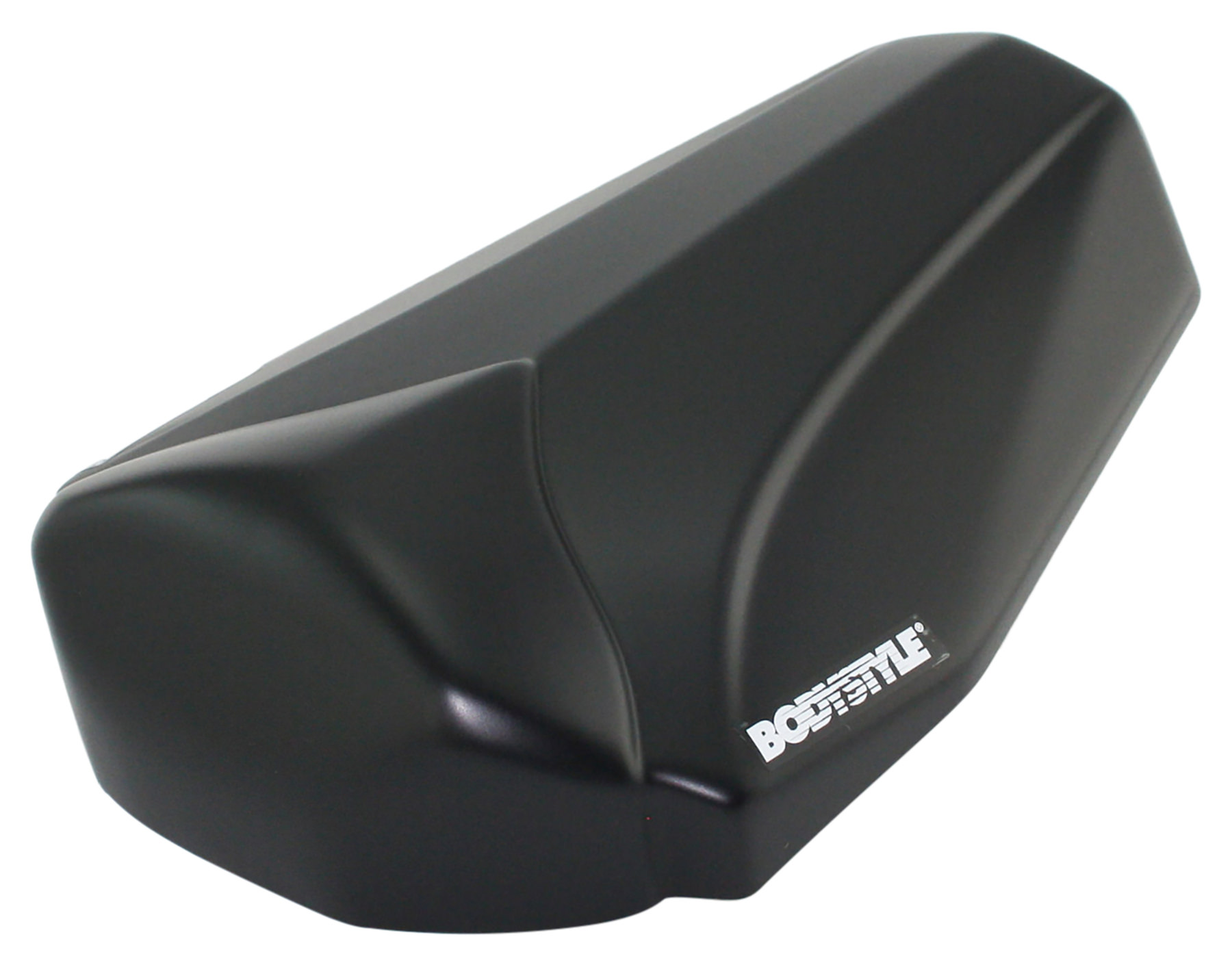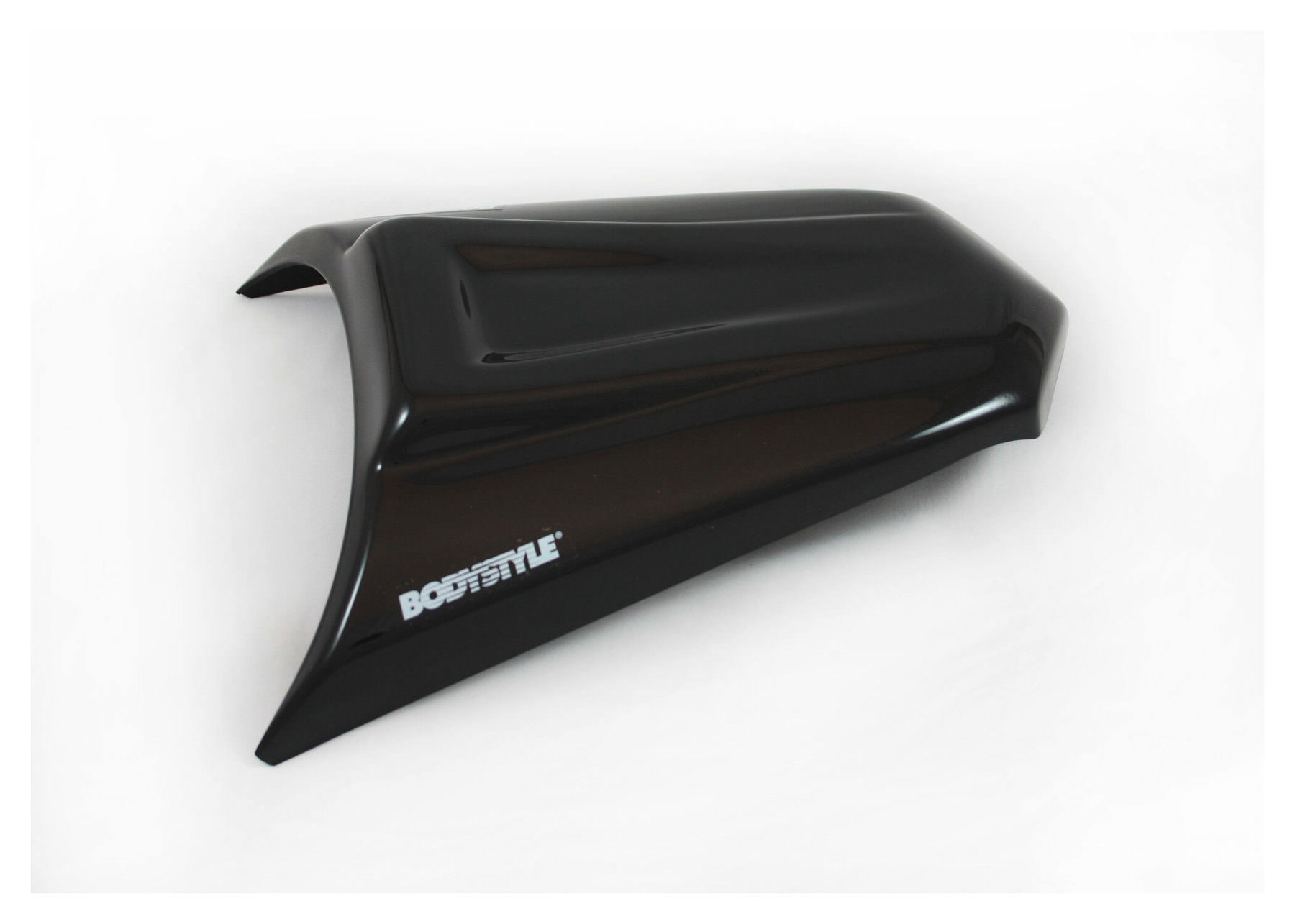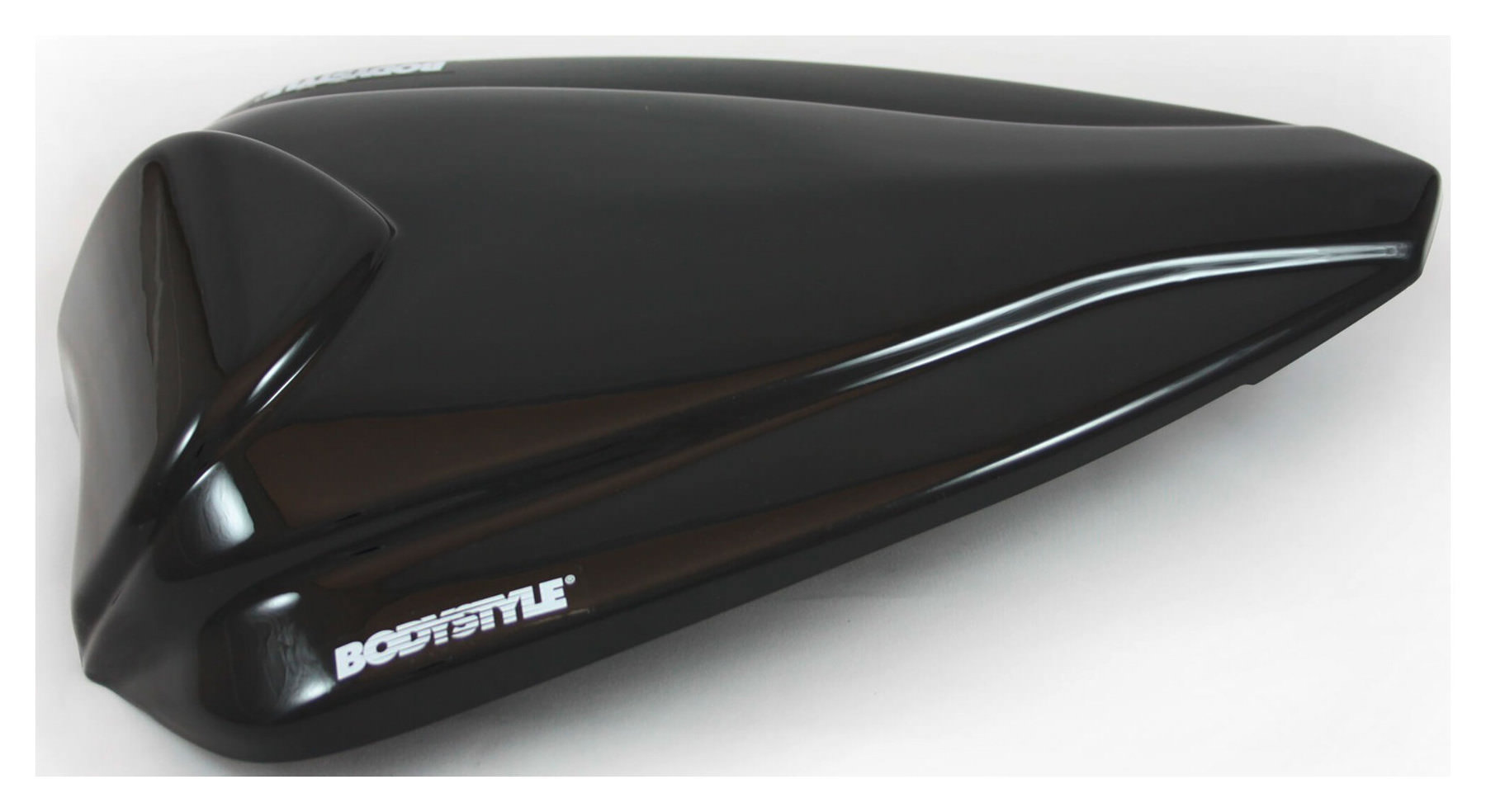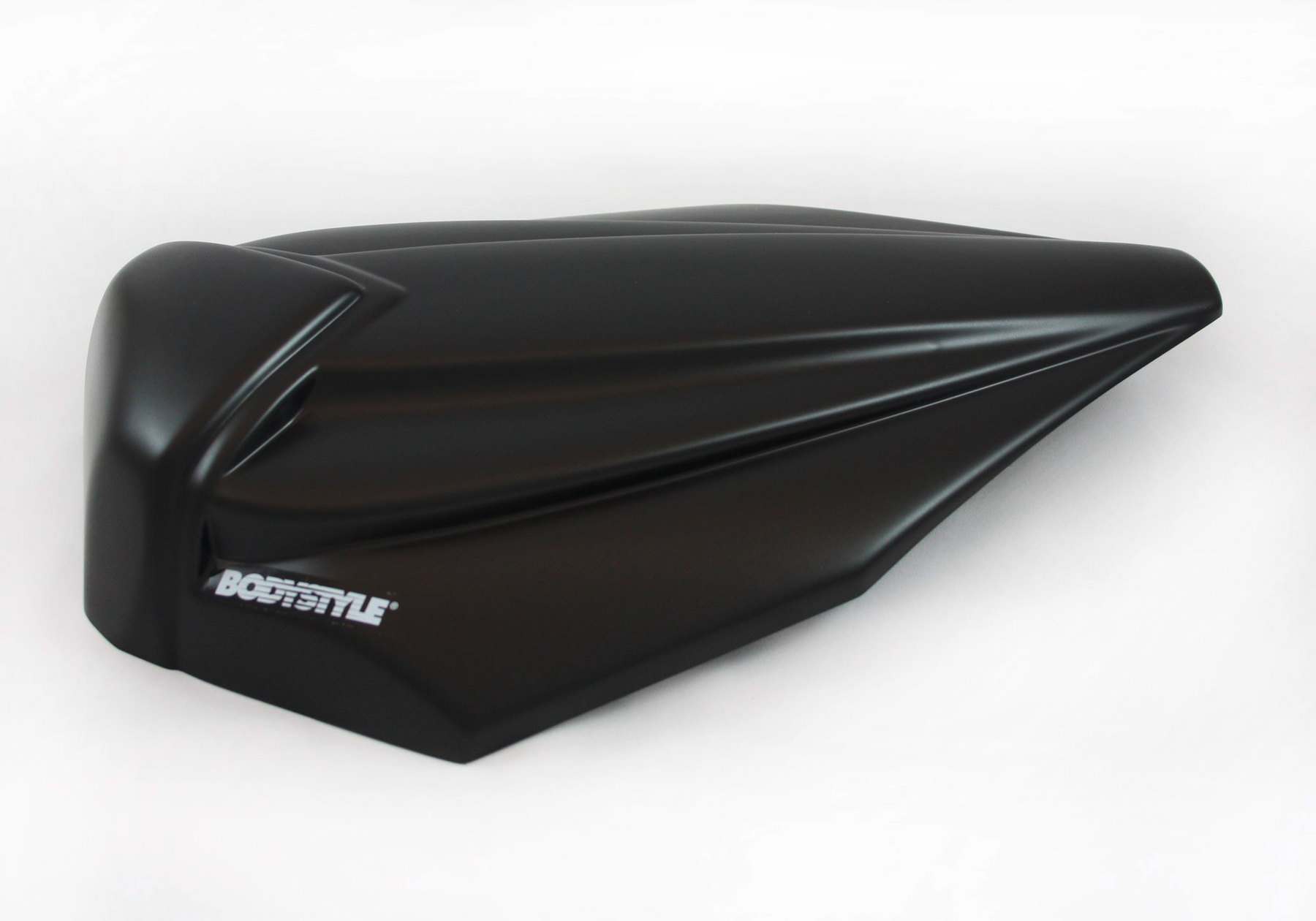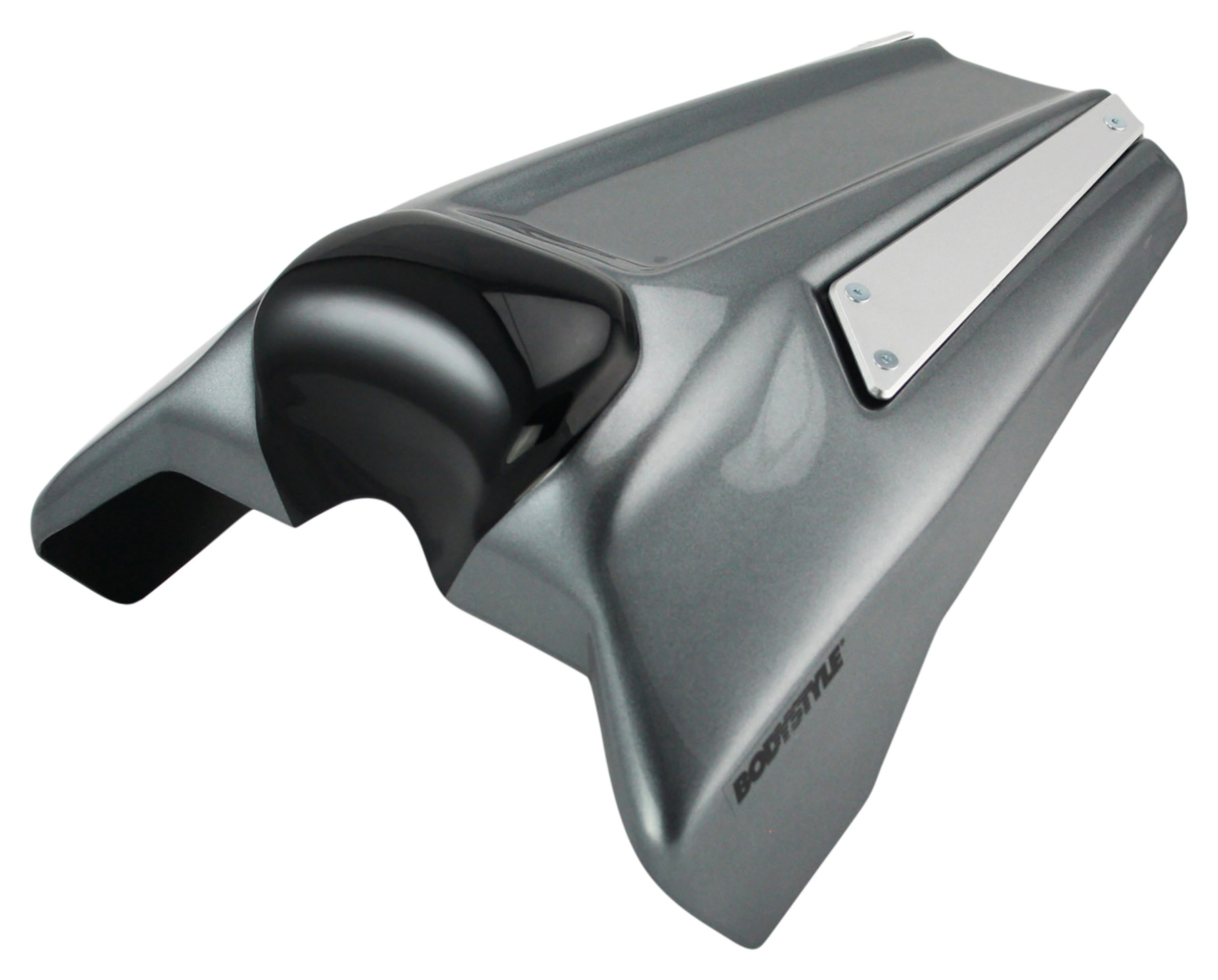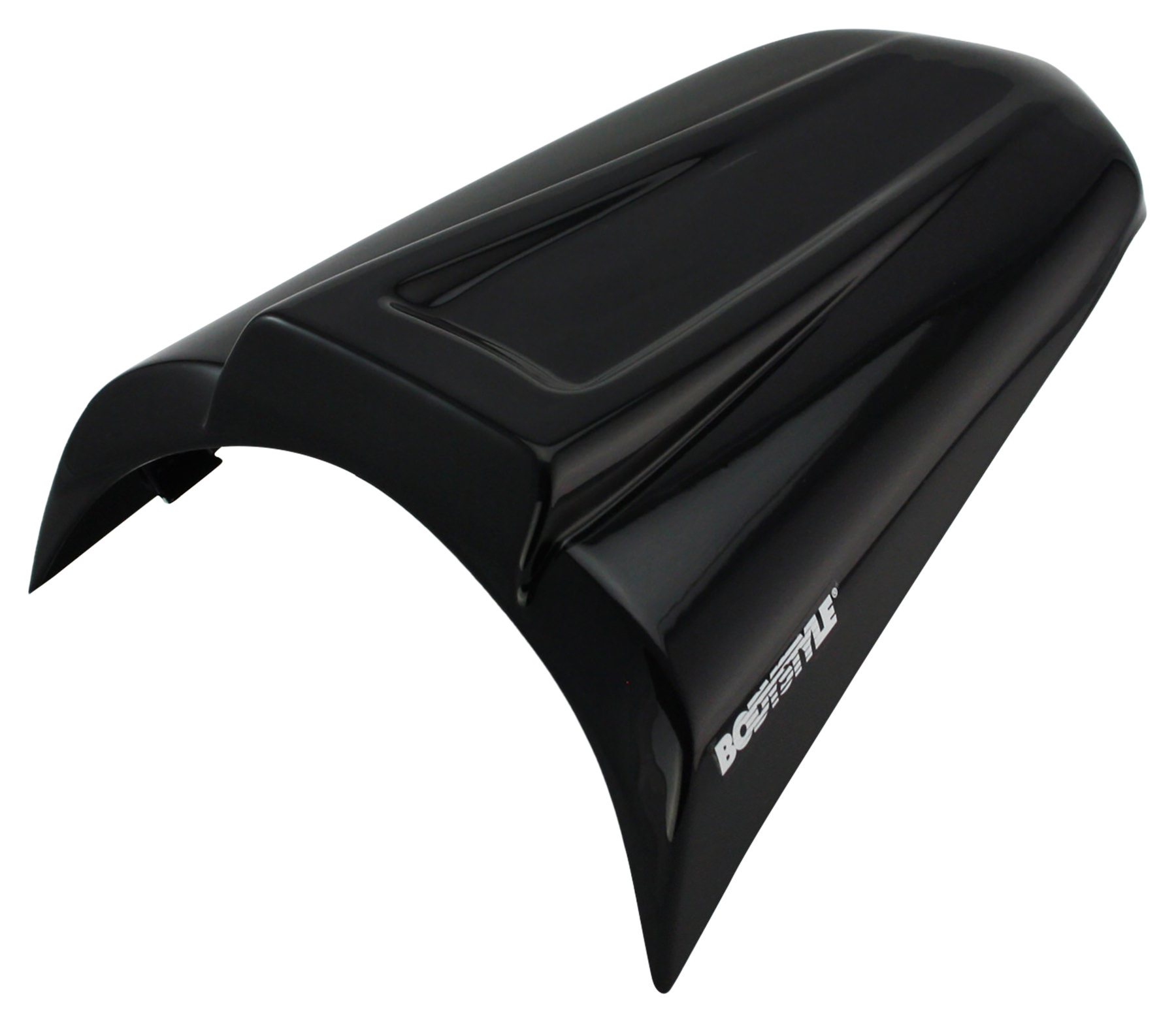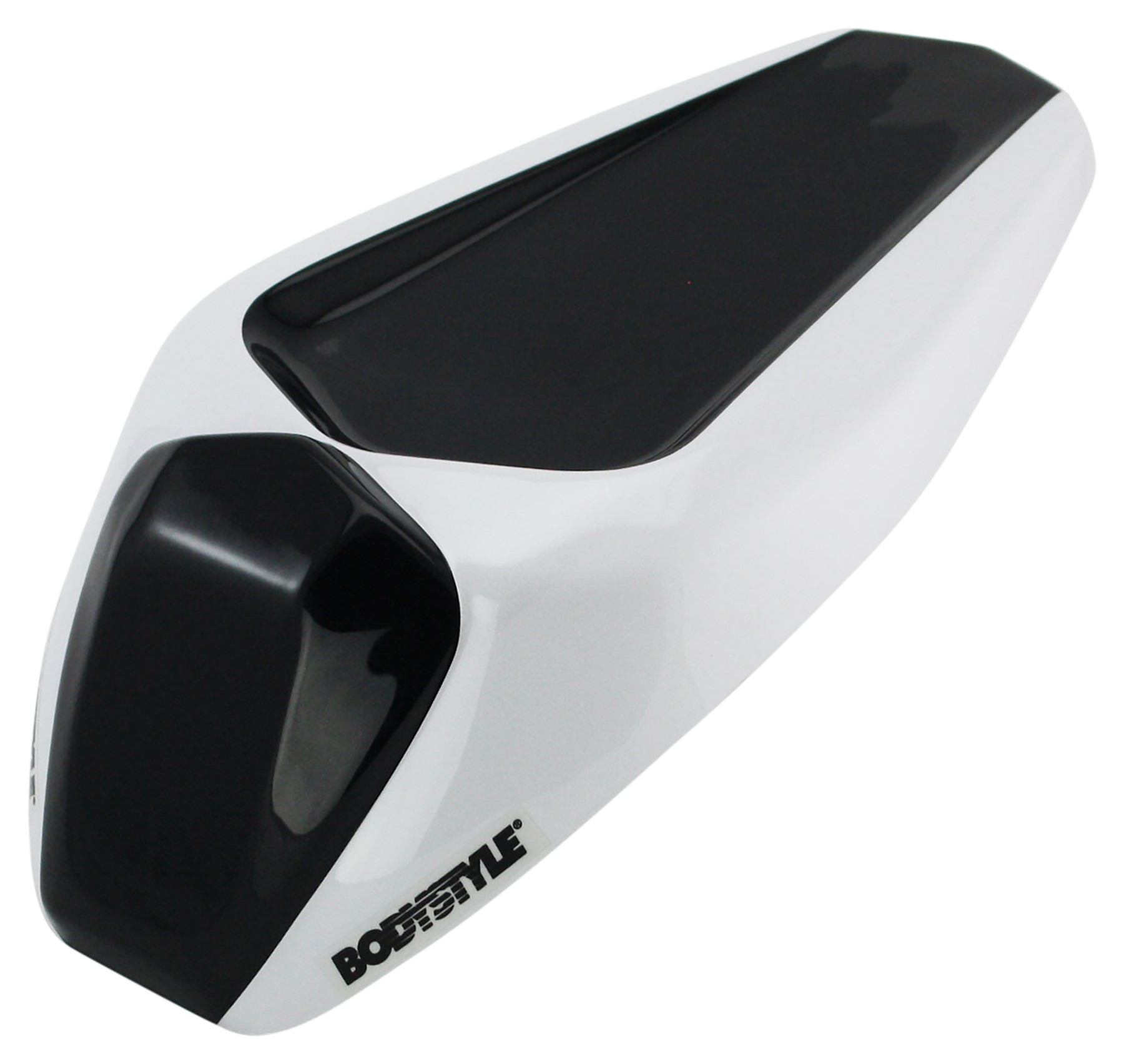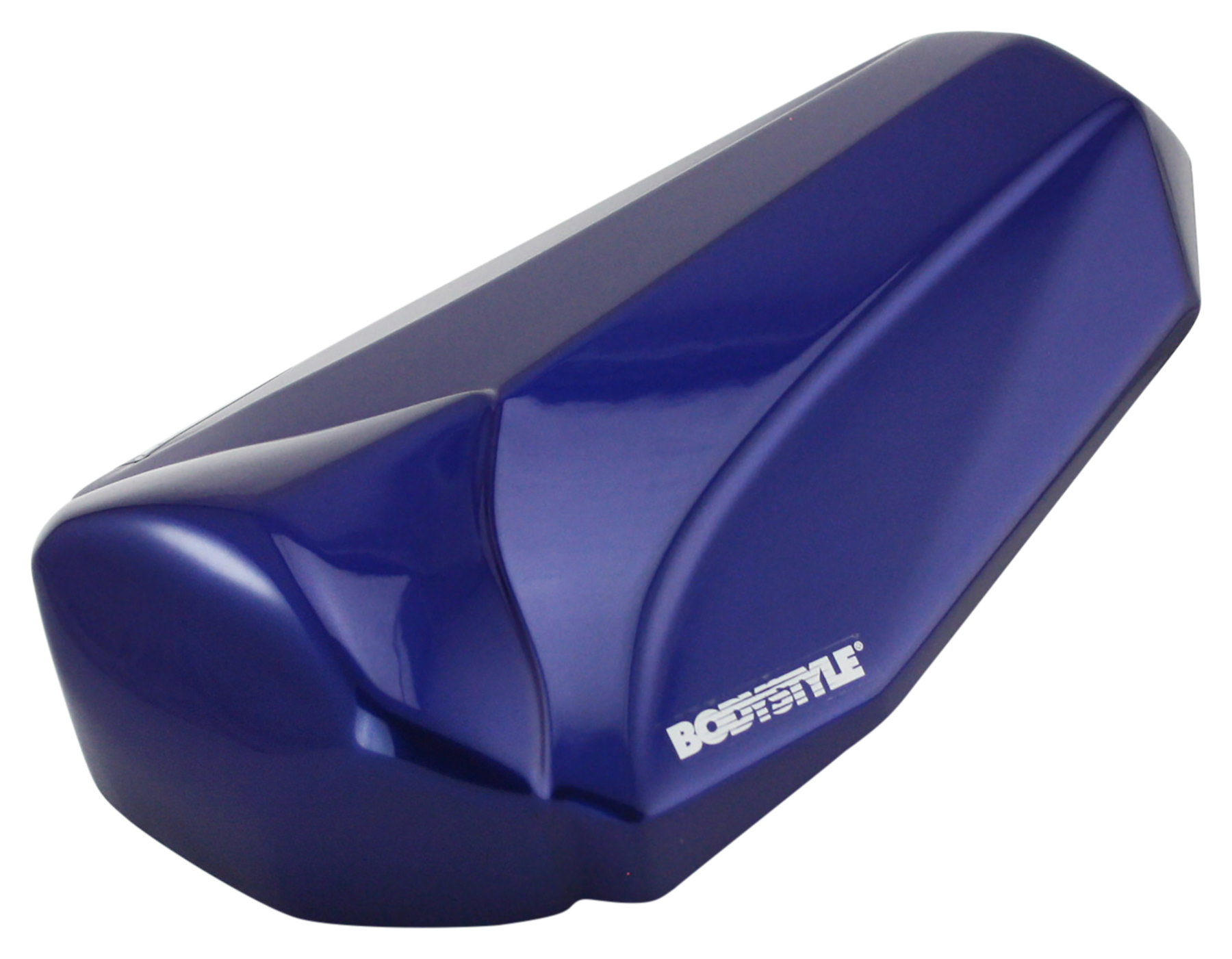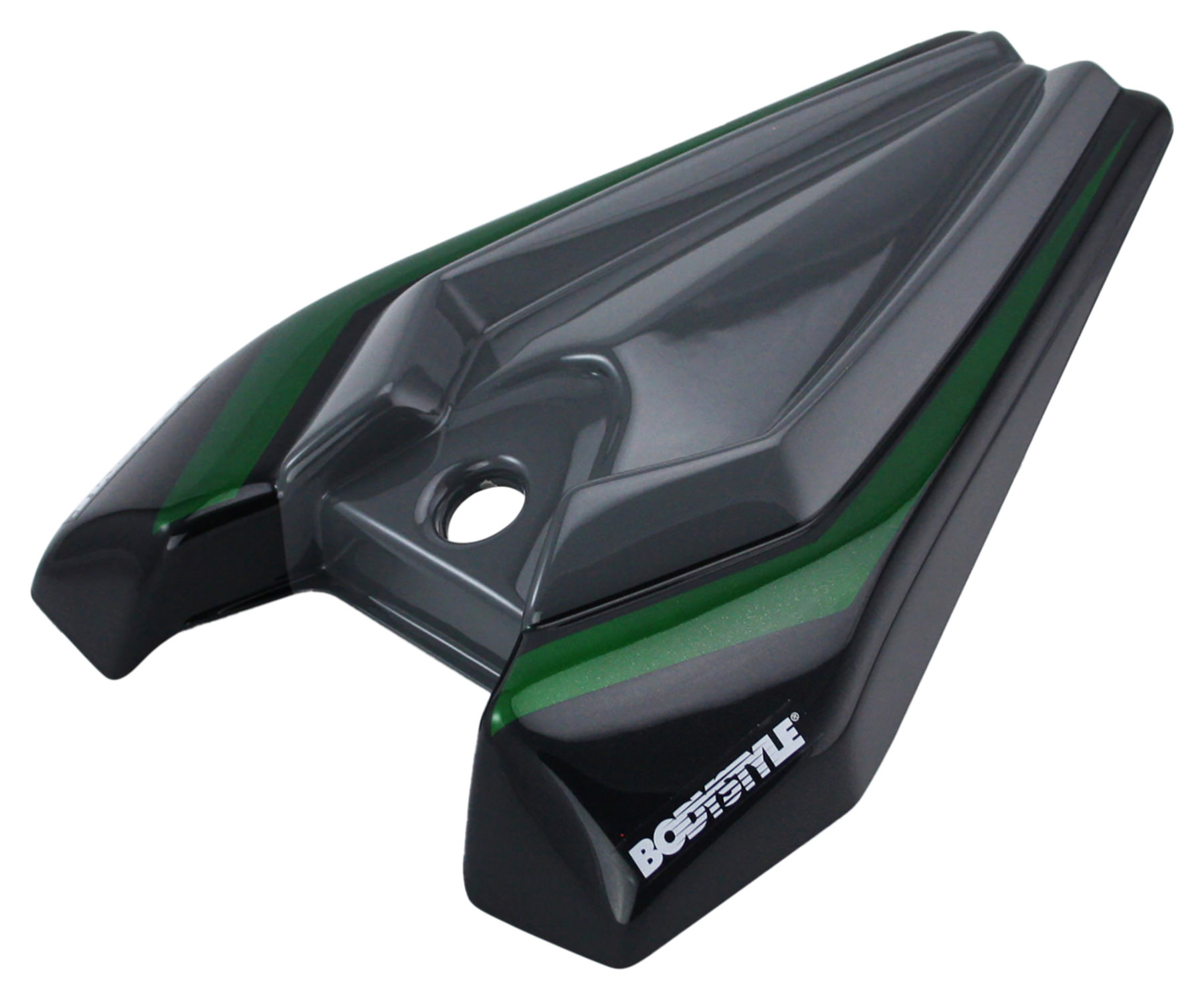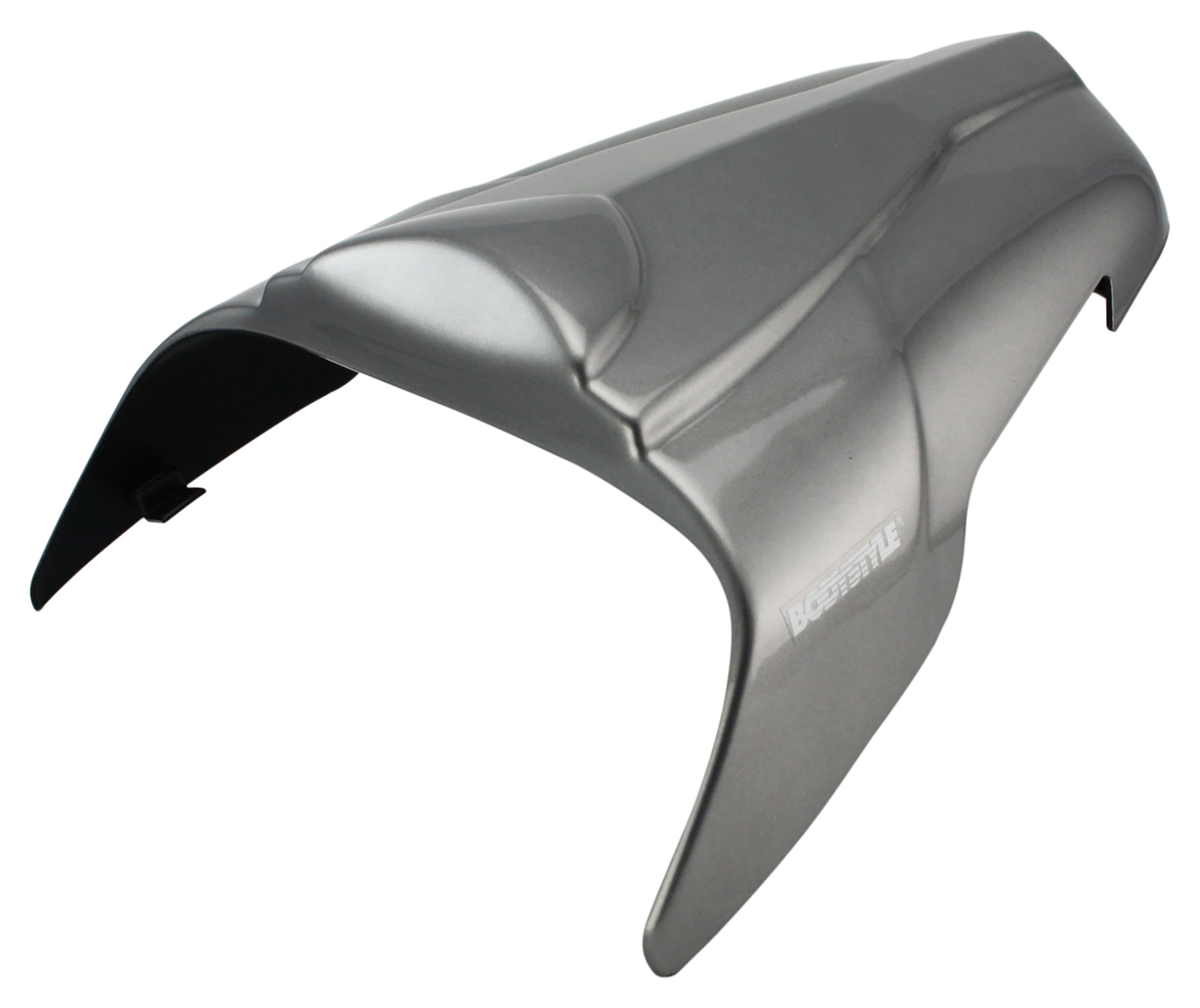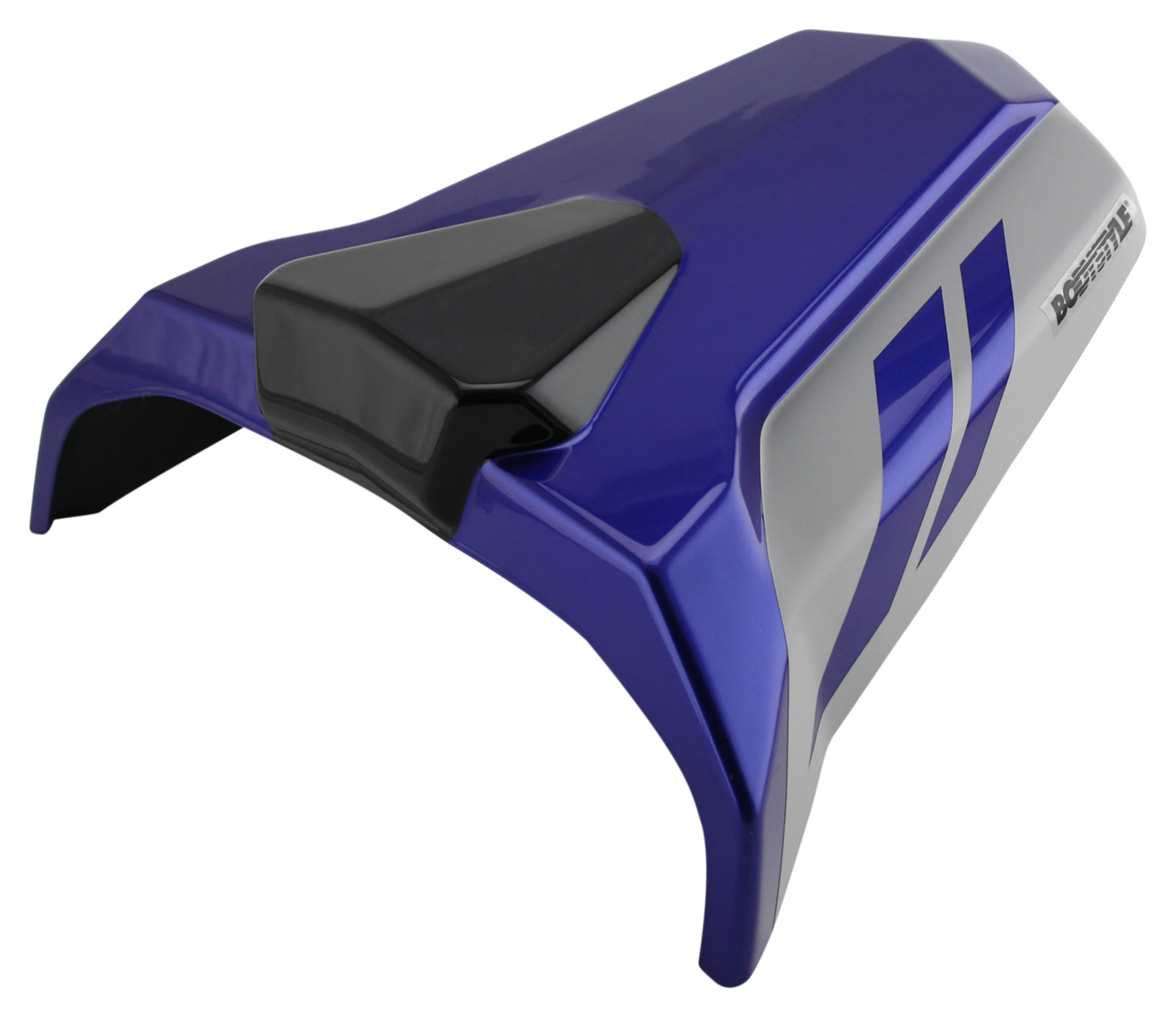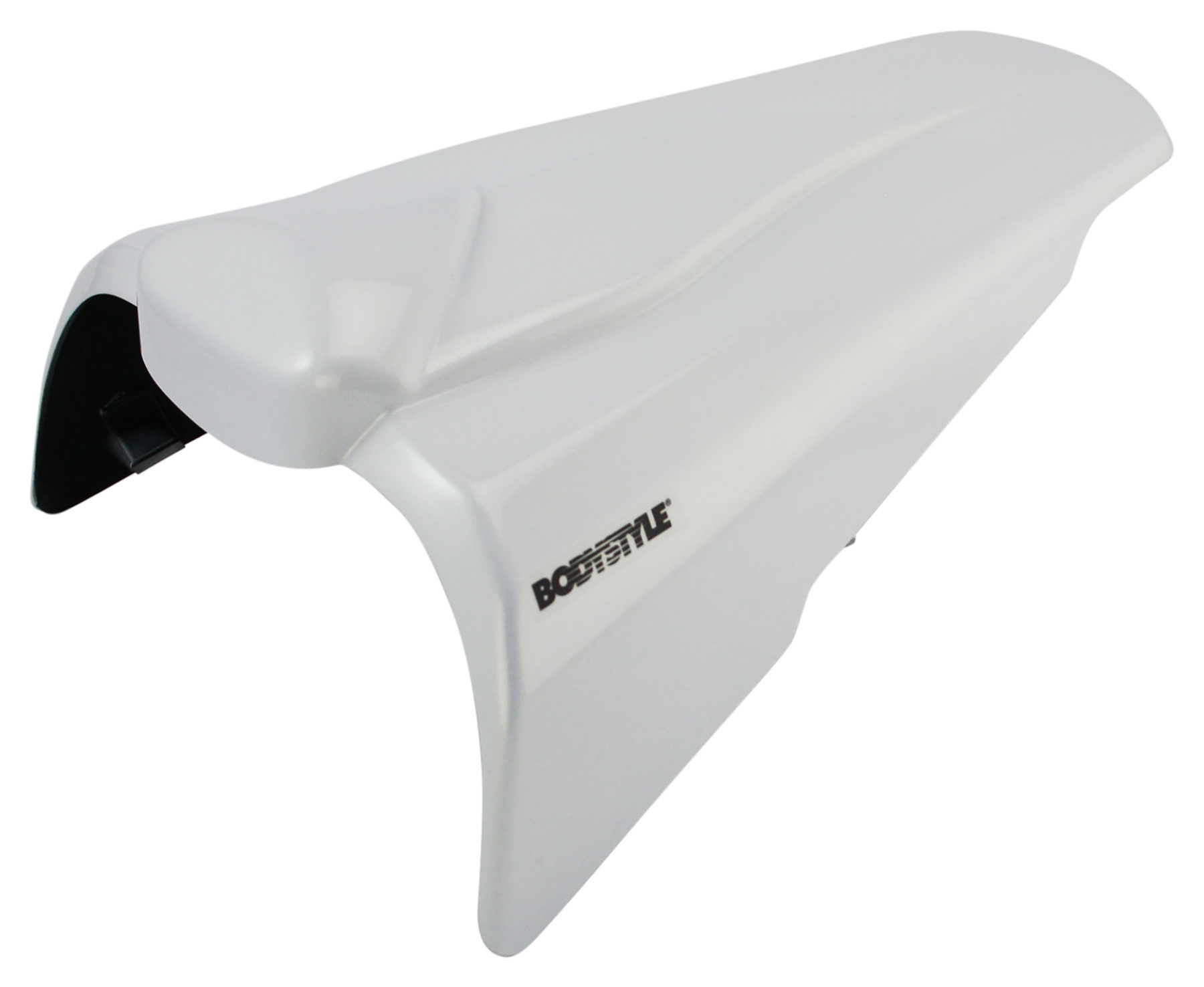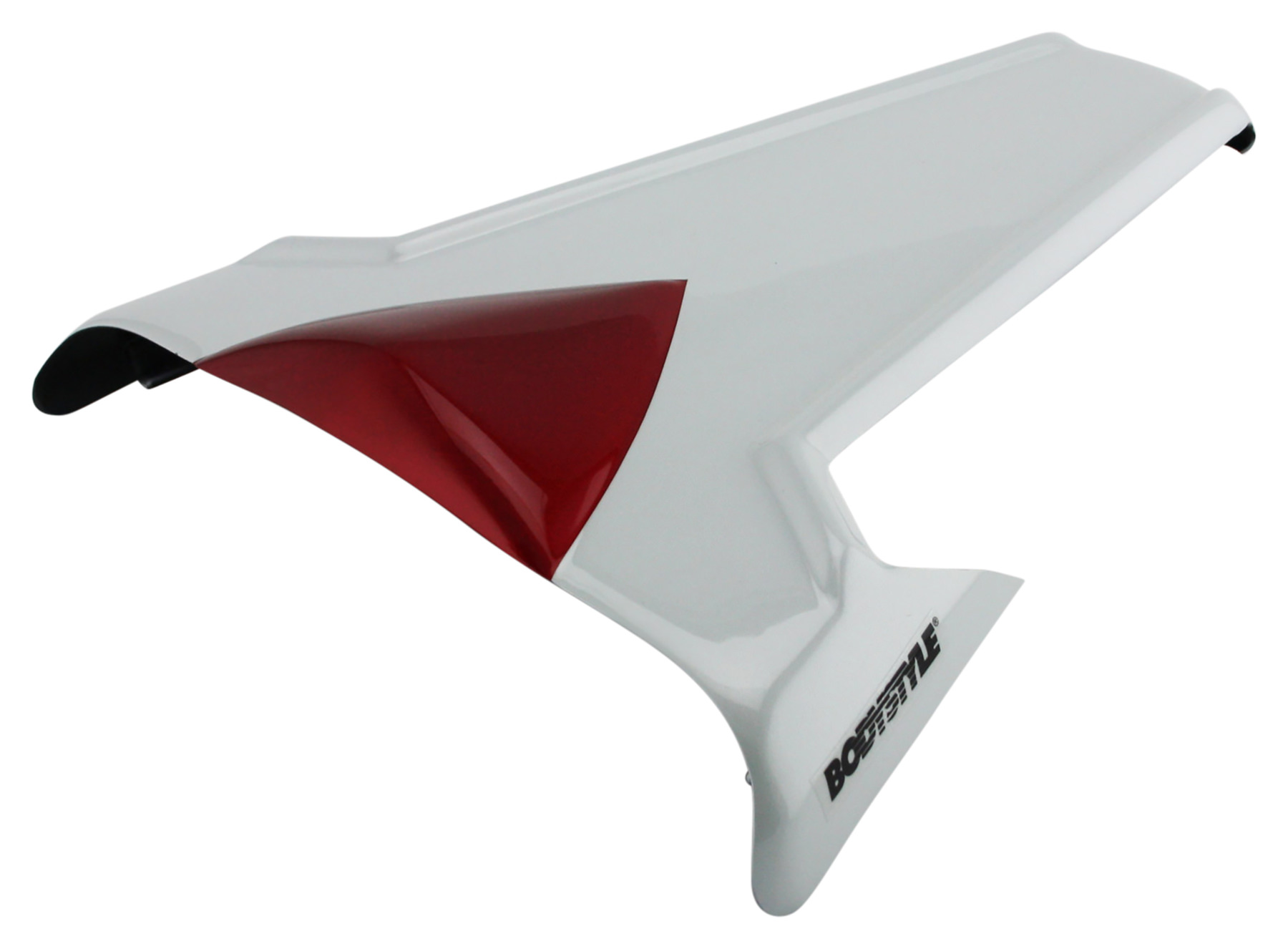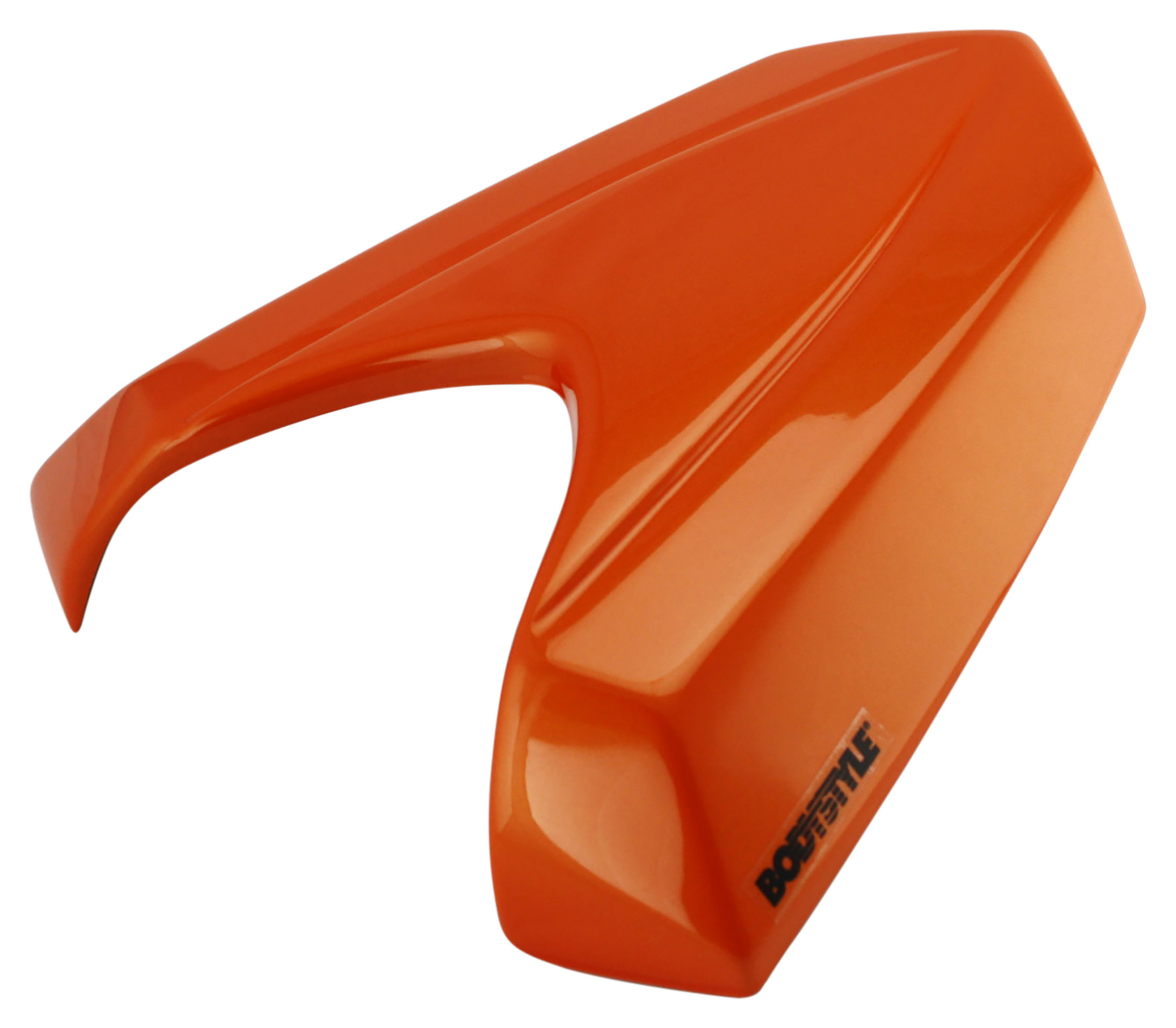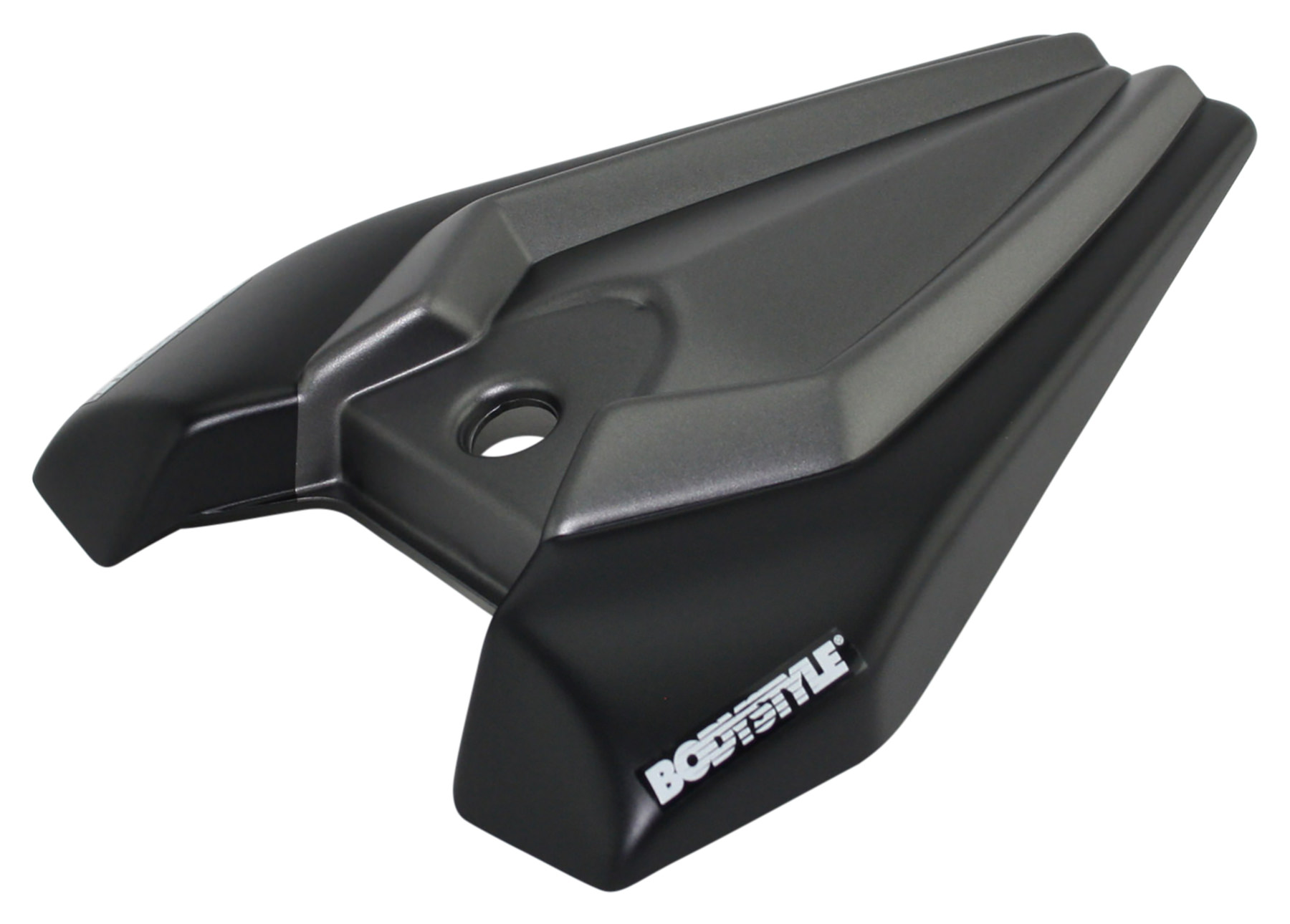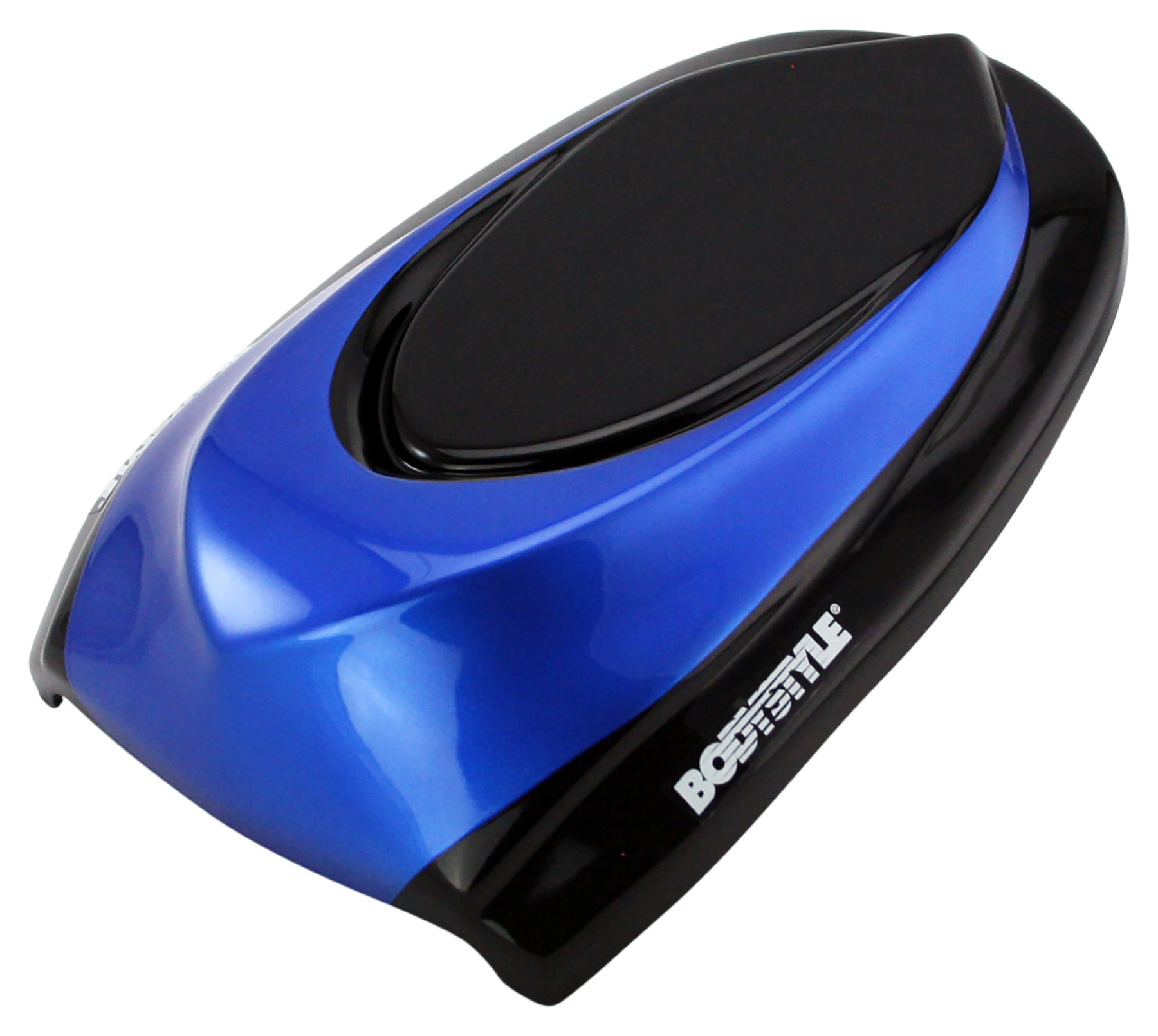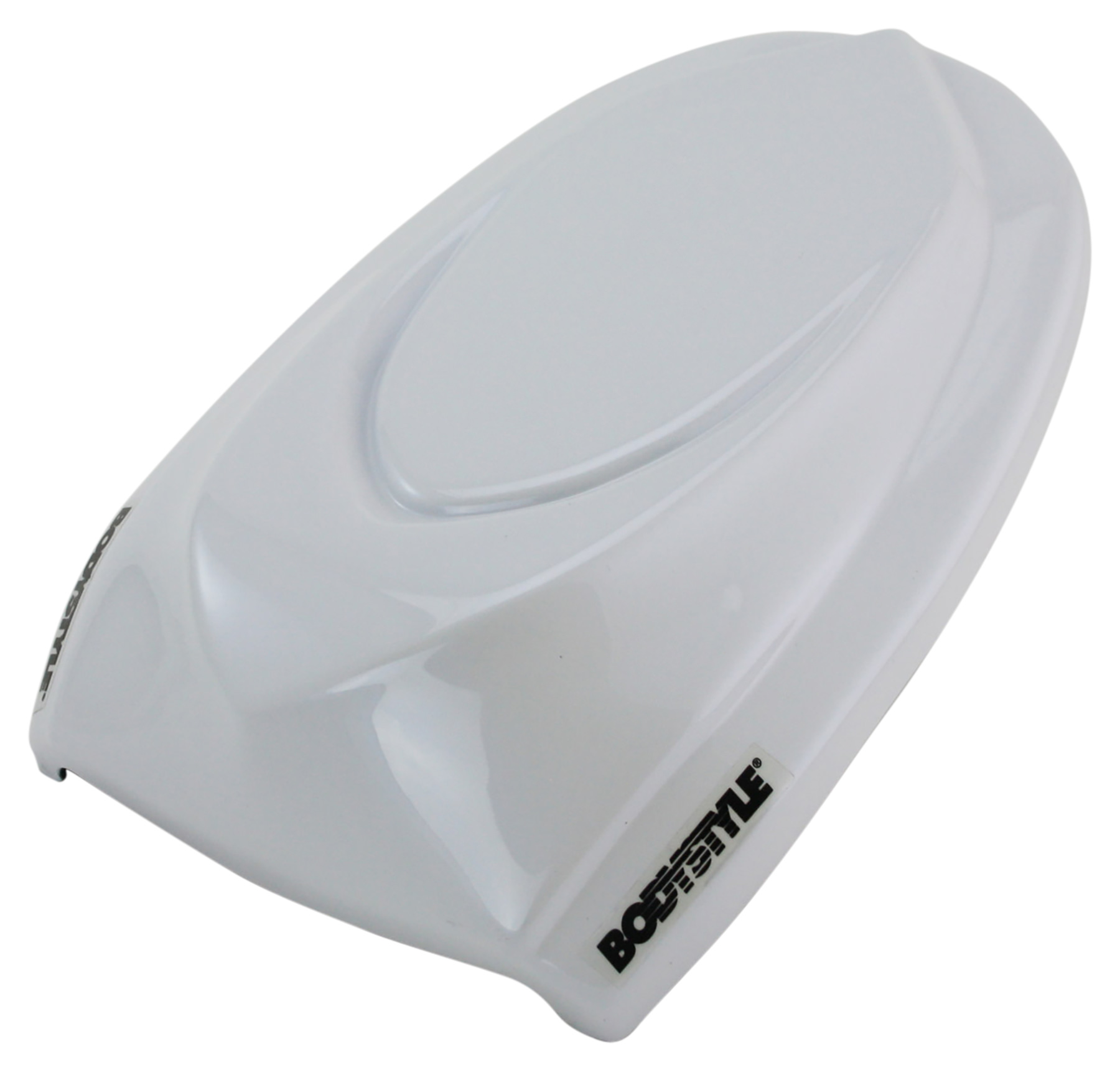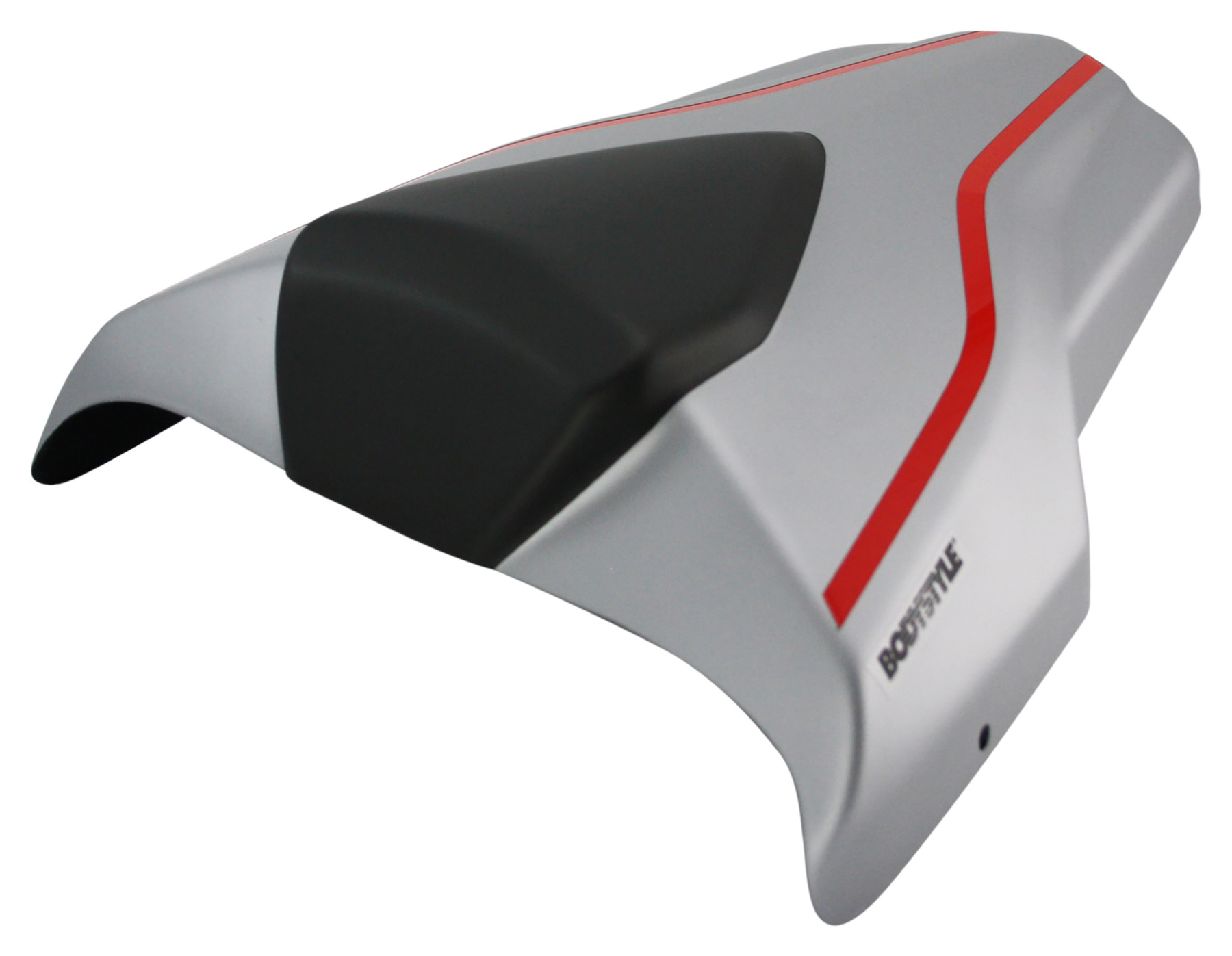 Bodystyle Seat Cowl
Painted and unpainted
Unfortunately, this product is not compatible with this motorcycle.
Unfortunately, this product is not compatible with this motorcycle. You can find the right for the here: .
€

89.951
2
from
€

79.991
(-11%)
2 Price comparison with current recommended retail price.
Free delivery on orders over €199.00
2 year return policy
Fast delivery
Bodystyle Seat Cowl
Painted and unpainted
The "seat cowl" from Bodystyle is ideal for emphasising the sportiness of many motorbikes. And it will give your bike a look that you're sure to love - whether in matching colour or unpainted.
In next to no time, you can convert the original two-up seat into a sporty single-seater.
Mounted on top of or in place of the original pillion seat. The seat cowls come without a back cushion
Made of ABS plastic
Available in the exact original colours or unpainted
You can find the original colour code for coloured fairing elements under "Important Information."
Supplied ready to install, with type approval valid for Germany
And examples for installation are available in our "Documents" section.
Manufacturer details: Bodystyle

Styling Parts

Styling parts from the market leader Bodystyle are enjoying growing popularity across Europe: well-designed and often installed in minutes, they give many popular touring and naked bikes that individual, exclusive look. The beautifully formed designer products are made from high-quality, shatterproof, robust ABS plastic. They come with a TÜV certificate (if required), and are available either unpainted or finished in selected original colours.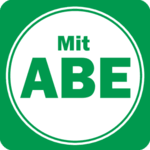 German type approval ("ABE)" allows the relevant accessory to be used on the vehicle models listed in the test report. Here it is the type abbreviation and not the maker's designation that is important for identifying the vehicle. The test report must be carried when riding in case it needs to be presented at a road-side check or vehicle safety inspection.
Accessories with type approval do not have to be registered in the vehicle documents! Those who do not want to carry the test report with them all the time can (for example) arrange to have the product registered by the Technical Inspection Association (subject to a charge).
If the accessory is to be used on a vehicle that is not listed in the type approval, an individual component approval is required. Although ABE type approval confirms the proper installation and safety of the product, it is the inspector who has to decide according to his technical expertise whether it is suitable for use on the vehicle.

An electric scooter with "ABE" approval has a type approval for Germany stating that the relevant vehicle satisfies all the relevant requirements of the eKFV (Small Electric Vehicle Ordinance in Germany) for the approval. In addition, insurance of the electric scooter is compulsory and use on pavements is forbidden. It can only be ridden on cycle paths and on the road (if a cycle path is not available). The minimum age for riding an electric scooter is 14 years. Although a driving license and helmet are not mandatory, they are highly recommended. An electric scooter must always be ridden solo.
Product
Art. No.
Availability
Price
Actions
*BODYSTYLE* SEAT COWL - CB 1000 R 08- ,SCHWARZ

Important notes

Manufacturer Colour code: Pearl Night Star, NHA84

10008070

The item is in stock and will be delivered in 2-5 working days. Note: Stocks are updated online every hour on working days from 7 a.m. to 8 p.m., so there is a good chance that the products are available if they appear online.

Available

€179.95

1 2 €169.99 1
*BODYSTYLE* SEAT COWL - CB 1000 R 08-,UNLACKIERT
10008072

The product will be ordered from the manufacturer for you. Depending on availability, longer delivery times are also possible. We'll let you know if that's the case. You can of course cancel your delivery at any time free of charge.

Available in 7-21 days

€129.95

1 2 €122.99 1
*BODYSTYLE* SEAT COWL - CB 1000 R 11- ,WEISS

Important notes

Manufacturer Colour code: Pearl Cool White, NHA16

10008069

The item is in stock and will be delivered in 2-5 working days. Note: Stocks are updated online every hour on working days from 7 a.m. to 8 p.m., so there is a good chance that the products are available if they appear online.

Available

€179.95

1 2 €169.99 1
*BODYSTYLE* SEAT COWL - CB 1000 R 18- BLACK

Important notes

Manufacturer Colour code: Graphite Black, NHB01

The photo shows an example in a different colour.

10012448

The product will be ordered from the manufacturer for you. Depending on availability, longer delivery times are also possible. We'll let you know if that's the case. You can of course cancel your delivery at any time free of charge.

Available in 7-21 days

€209.95

1 2 €198.99 1
*BODYSTYLE* SEAT COWL - CB 1000 R 18- RED

Important notes

Manufacturer Colour code: Candy Chromosphere Red, R 381C

The photo shows an example in a different colour.

10012449

The item is in stock and will be delivered in 2-5 working days. Note: Stocks are updated online every hour on working days from 7 a.m. to 8 p.m., so there is a good chance that the products are available if they appear online.

Available

€209.95

1 2 €109.99 1
*BODYSTYLE* SEAT COWL - CB 1000 R 18- SILVER

Important notes

The photo shows an example in a different colour.

Code: Matt Bullet Silver Metallic, NH389M

10012447

The item is in stock and will be delivered in 2-5 working days. Note: Stocks are updated online every hour on working days from 7 a.m. to 8 p.m., so there is a good chance that the products are available if they appear online.

Available

€209.95

1 2 €198.99 1
*BODYSTYLE* SEAT COWL - CB 1000 R 18- UNPAINTED

Important notes

The photo shows an example in a different colour.

10012465

The product will be ordered from the manufacturer for you. Depending on availability, longer delivery times are also possible. We'll let you know if that's the case. You can of course cancel your delivery at any time free of charge.

Available in 7-21 days

€159.95

1 2 €150.99 1
*BODYSTYLE* SEAT COWL - CB 1000R 16- RED/BLACK

Important notes

Manufacturer Colour code: Hyper Red, R3486 / Black, NH1

60197624

The product will be ordered from the manufacturer for you. Depending on availability, longer delivery times are also possible. We'll let you know if that's the case. You can of course cancel your delivery at any time free of charge.

Available in 7-21 days

€199.95

1 2 €188.99 1
*BODYSTYLE* SEAT COWL - CB 1000R 18- SILVER/BLACK

Important notes

The photo shows an example in a different colour.

Code: Matt Bullet Silver Metallic, NH389M/Matt Gunpowder Black, NH436M

10012466

The product will be ordered from the manufacturer for you. Depending on availability, longer delivery times are also possible. We'll let you know if that's the case. You can of course cancel your delivery at any time free of charge.

Available in 7-21 days

€229.95

1 2 €217.99 1
*BODYSTYLE* SEAT COWL - CB 500 F (19-) BLACK

Important notes

Manufacturer Colour code: Mat Gunpowder Black Metallic, NH436M

The photo shows an example in a different colour.

10012469

The product will be ordered from the manufacturer for you. Depending on availability, longer delivery times are also possible. We'll let you know if that's the case. You can of course cancel your delivery at any time free of charge.

Available in 7-21 days

€189.95

1 2 €179.99 1
*BODYSTYLE* SEAT COWL - CB 500 F (19-) UNPAINTED

Important notes

The photo shows an example in a different colour.

10012468

The product will be ordered from the manufacturer for you. Depending on availability, longer delivery times are also possible. We'll let you know if that's the case. You can of course cancel your delivery at any time free of charge.

Available in 7-21 days

€129.95

1 2 €122.99 1
*BODYSTYLE* SEAT COWL - CB 600 HORNET -02 UNPAINT
10007506

The item is in stock and will be delivered in 2-5 working days. Note: Stocks are updated online every hour on working days from 7 a.m. to 8 p.m., so there is a good chance that the products are available if they appear online.

Available

€129.95

1 2 €122.99 1
*BODYSTYLE* SEAT COWL - CB 650 F 14- UNPAINTED
10009080

The product will be ordered from the manufacturer for you. Depending on availability, longer delivery times are also possible. We'll let you know if that's the case. You can of course cancel your delivery at any time free of charge.

Available in 7-21 days

€129.95

1 2 €122.99 1
*BODYSTYLE* SEAT COWL - CB 650 R 21- UNPAINTED
10015090

The item is in stock and will be delivered in 2-5 working days. Note: Stocks are updated online every hour on working days from 7 a.m. to 8 p.m., so there is a good chance that the products are available if they appear online.

Available

€159.95

1 2 €150.99 1
*BODYSTYLE* SEAT COWL - CB 650F 16- BLACK

Important notes

Manufacturer Colour code: Graphite Black, NHB01

60197623

The item is in stock and will be delivered in 2-5 working days. Note: Stocks are updated online every hour on working days from 7 a.m. to 8 p.m., so there is a good chance that the products are available if they appear online.

Available

€179.95

1 2 €139.99 1
*BODYSTYLE* SEAT COWL - CB 650F 2017- BLUE

Important notes

Manufacturer Colour code: Pearl Spencer Blue, PB308M

The photo shows an example in a different colour.

10012433

The product will be ordered from the manufacturer for you. Depending on availability, longer delivery times are also possible. We'll let you know if that's the case. You can of course cancel your delivery at any time free of charge.

Available in 7-21 days

€179.95

1 2 €169.99 1
*BODYSTYLE* SEAT COWL - CB 650F 2017- SILVER

Important notes

Manufacturer Colour code: Sword Silver Metallic, NHA95

10012434

The product will be ordered from the manufacturer for you. Depending on availability, longer delivery times are also possible. We'll let you know if that's the case. You can of course cancel your delivery at any time free of charge.

Available in 7-21 days

€179.95

1 2 €169.99 1
*BODYSTYLE* SEAT COWL - CB 650F 2017- WHITE

Important notes

Manufacturer Colour code: Pearl Metalloid White, NHA96

The photo shows an example in a different colour.

10012432

The item is in stock and will be delivered in 2-5 working days. Note: Stocks are updated online every hour on working days from 7 a.m. to 8 p.m., so there is a good chance that the products are available if they appear online.

Available

€179.95

1 2 €169.99 1
*BODYSTYLE* SEAT COWL - CB 650R 2021- BLUE

Important notes

Manufacturer colour code: Matt Jeans Blue Metallic

10015092

The item is in stock and will be delivered in 2-5 working days. Note: Stocks are updated online every hour on working days from 7 a.m. to 8 p.m., so there is a good chance that the products are available if they appear online.

Available

€209.95

1 2 €198.99 1
*BODYSTYLE* SEAT COWL - CB/CBR 650F 14 WHITE

Important notes

Manufacturer Colour code: Pearl Himalayas White, NHA87

60197612

The product will be ordered from the manufacturer for you. Depending on availability, longer delivery times are also possible. We'll let you know if that's the case. You can of course cancel your delivery at any time free of charge.

Available in 7-21 days

€179.95

1 2 €169.99 1
*BODYSTYLE* SEAT COWL - CB/CBR 650F 16- SILVER

Important notes

Manufacturer Colour code: Sword Silver Metallic, NHA95M

60197622

The item is in stock and will be delivered in 2-5 working days. Note: Stocks are updated online every hour on working days from 7 a.m. to 8 p.m., so there is a good chance that the products are available if they appear online.

Available

€179.95

1 2 €169.99 1
*BODYSTYLE* SEAT COWL - CB1000R 11- WHITE/RED

Important notes

Manufacturer Colour code: Pearl Cool White, NHA16 / Pearl Siena Red, R320

60197621

The product will be ordered from the manufacturer for you. Depending on availability, longer delivery times are also possible. We'll let you know if that's the case. You can of course cancel your delivery at any time free of charge.

Available in 7-21 days

€199.95

1 2 €188.99 1
*BODYSTYLE* SEAT COWL - CB1000R 12- GRAUMATT/GOLD

Important notes

Manufacturer Colour code: Mat Cynos Grey Metallic, NH312F

Manufacturer Colour code: Gold

The photo shows an example in a different colour.

10008387

The product will be ordered from the manufacturer for you. Depending on availability, longer delivery times are also possible. We'll let you know if that's the case. You can of course cancel your delivery at any time free of charge.

Available in 7-21 days

€199.95

1 2 €188.99 1
*BODYSTYLE* SEAT COWL - CB1000R 15- BLACK(NH1)

Important notes

Manufacturer Colour code: Black, NH1

60197617

The product will be ordered from the manufacturer for you. Depending on availability, longer delivery times are also possible. We'll let you know if that's the case. You can of course cancel your delivery at any time free of charge.

Available in 7-21 days

€179.95

1 2 €169.99 1
*BODYSTYLE* SEAT COWL - CB1000R 19- SILVER

Important notes

Manufacturer Colour code: Sword Silver Metallic, NHA95

The photo shows an example in a different colour.

10013484

The item is in stock and will be delivered in 2-5 working days. Note: Stocks are updated online every hour on working days from 7 a.m. to 8 p.m., so there is a good chance that the products are available if they appear online.

Available

€209.95

1 2 €149.99 1
*BODYSTYLE* SEAT COWL - CB1000R 2018- RED/BLACK
60197647

The product will be ordered from the manufacturer for you. Depending on availability, longer delivery times are also possible. We'll let you know if that's the case. You can of course cancel your delivery at any time free of charge.

Available in 7-21 days

€229.95

1 2 €217.99 1
*BODYSTYLE* SEAT COWL - CB1000R 21-22, BLACK

Important notes

The photo shows an example in a different colour.

Manufacturer Colour code: Matt Ballistic Black Metallic, NHA86M

10054827

The product will be ordered from the manufacturer for you. Depending on availability, longer delivery times are also possible. We'll let you know if that's the case. You can of course cancel your delivery at any time free of charge.

Available in 7-21 days

€209.95 1
*BODYSTYLE* SEAT COWL - CB1000R 21-22, BLACK

Important notes

Manufacturer Colour code: Graphite Black, NHB01

The photo shows an example in a different colour.

10054829

The product will be ordered from the manufacturer for you. Depending on availability, longer delivery times are also possible. We'll let you know if that's the case. You can of course cancel your delivery at any time free of charge.

Available in 7-21 days

€209.95 1
*BODYSTYLE* SEAT COWL - CB1000R 21-22, RED

Important notes

Manufacturer Colour code: Candy Chromosphere Red, R 381C

The photo shows an example in a different colour.

10054828

The product will be ordered from the manufacturer for you. Depending on availability, longer delivery times are also possible. We'll let you know if that's the case. You can of course cancel your delivery at any time free of charge.

Available in 7-21 days

€209.95 1
*BODYSTYLE* SEAT COWL - CB1000R 21-22, SILVER

Important notes

The photo shows an example in a different colour.

Manufacturer colour code: Matt Beta Silver Metallic

10054826

The product will be ordered from the manufacturer for you. Depending on availability, longer delivery times are also possible. We'll let you know if that's the case. You can of course cancel your delivery at any time free of charge.

Available in 7-21 days

€209.95 1
*BODYSTYLE* SEAT COWL - CB1000R 21-22, UNPAINTED

Important notes

The photo shows an example in a different colour.

10054825

The product will be ordered from the manufacturer for you. Depending on availability, longer delivery times are also possible. We'll let you know if that's the case. You can of course cancel your delivery at any time free of charge.

Available in 7-21 days

€159.95 1
*BODYSTYLE* SEAT COWL - CB500F 16- BLACK

Important notes

Manufacturer Colour code: Mat Gunpowder Black Metallic, NH436M

60197632

The item is in stock and will be delivered in 2-5 working days. Note: Stocks are updated online every hour on working days from 7 a.m. to 8 p.m., so there is a good chance that the products are available if they appear online.

Available

€159.95

1 2 €150.99 1
*BODYSTYLE* SEAT COWL - CB500F 16- ORANGE

Important notes

Manufacturer Colour code: Candy Energy Orange, YR249

60197634

The product will be ordered from the manufacturer for you. Depending on availability, longer delivery times are also possible. We'll let you know if that's the case. You can of course cancel your delivery at any time free of charge.

Available in 7-21 days

€159.95

1 2 €150.99 1
*BODYSTYLE* SEAT COWL - CB500F 16- RED

Important notes

Manufacturer Colour code: Millenium Red, R263

60197633

The product will be ordered from the manufacturer for you. Depending on availability, longer delivery times are also possible. We'll let you know if that's the case. You can of course cancel your delivery at any time free of charge.

Available in 7-21 days

€159.95

1 2 €150.99 1
*BODYSTYLE* SEAT COWL - CB500F 2018- BLUE/B189

Important notes

Manufacturer Colour code: Candy Carribean Blue Sea, B189

The photo shows an example in a different colour.

10012437

The product will be ordered from the manufacturer for you. Depending on availability, longer delivery times are also possible. We'll let you know if that's the case. You can of course cancel your delivery at any time free of charge.

Available in 7-21 days

€159.95

1 2 €150.99 1
*BODYSTYLE* SEAT COWL - CB500F 2018- RED/R381C

Important notes

Manufacturer Colour code: Candy Chromosphere Red, R 381C

The photo shows an example in a different colour.

10012436

The product will be ordered from the manufacturer for you. Depending on availability, longer delivery times are also possible. We'll let you know if that's the case. You can of course cancel your delivery at any time free of charge.

Available in 7-21 days

€159.95

1 2 €150.99 1
*BODYSTYLE* SEAT COWL - CB500F 2018- SILV./NH411M

Important notes

Manufacturer Colour code: Force Silver Metallic, NH 411M

The photo shows an example in a different colour.

10012435

The product will be ordered from the manufacturer for you. Depending on availability, longer delivery times are also possible. We'll let you know if that's the case. You can of course cancel your delivery at any time free of charge.

Available in 7-21 days

€159.95

1 2 €150.99 1
*BODYSTYLE* SEAT COWL - CB500F 2021 BLUE

Important notes

The photo shows an example in a different colour.

Manufacturer colour code: Candy Caribbean Blue Sea, B189

10051592

The item is in stock and will be delivered in 2-5 working days. Note: Stocks are updated online every hour on working days from 7 a.m. to 8 p.m., so there is a good chance that the products are available if they appear online.

Available

€189.95

1 2 €179.95 1
*BODYSTYLE* SEAT COWL - CB500F 2021 YELLOW

Important notes

The photo shows an example in a different colour.

Manufacturer colour code: Candy Moon Glow Yellow, Y192C

10051593

The product will be ordered from the manufacturer for you. Depending on availability, longer delivery times are also possible. We'll let you know if that's the case. You can of course cancel your delivery at any time free of charge.

Available in 7-21 days

€169.95

1 2 €160.99 1
*BODYSTYLE* SEAT COWL - CB500F 22- GREY

Important notes

Manufacturer Colour code: Matt Axis Gray Metallic, NH303M

The photo shows an example in a different colour.

10054822

The product will be ordered from the manufacturer for you. Depending on availability, longer delivery times are also possible. We'll let you know if that's the case. You can of course cancel your delivery at any time free of charge.

Available in 7-21 days

€189.95 1
*BODYSTYLE* SEAT COWL - CB500F 22- GREY
10054823

The product will be ordered from the manufacturer for you. Depending on availability, longer delivery times are also possible. We'll let you know if that's the case. You can of course cancel your delivery at any time free of charge.

Available in 7-21 days

€189.95 1
*BODYSTYLE* SEAT COWL - CB500F/CBR500R SCHW.GRAPH

Important notes

Manufacturer Colour code: Graphite Black, NHB01

The photo shows an example in a different colour.

10008384

The product will be ordered from the manufacturer for you. Depending on availability, longer delivery times are also possible. We'll let you know if that's the case. You can of course cancel your delivery at any time free of charge.

Available in 7-21 days

€149.95

1 2 €141.99 1
*BODYSTYLE* SEAT COWL - CB500F/CBR500R WHITE

Important notes

Manufacturer Colour code: Ross White, NH196

60197616

The product will be ordered from the manufacturer for you. Depending on availability, longer delivery times are also possible. We'll let you know if that's the case. You can of course cancel your delivery at any time free of charge.

Available in 7-21 days

€159.95

1 2 €150.99 1
*BODYSTYLE* SEAT COWL - CB650F 2018- RED/R381C

Important notes

Manufacturer Colour code: Candy Chromosphere Red, R 381C

The photo shows an example in a different colour.

10012438

The product will be ordered from the manufacturer for you. Depending on availability, longer delivery times are also possible. We'll let you know if that's the case. You can of course cancel your delivery at any time free of charge.

Available in 7-21 days

€179.95

1 2 €169.99 1
*BODYSTYLE* SEAT COWL - CB650F/CBR650F, M-BLACK

Important notes

Manufacturer Colour code: Mat Gunpowder Black Metallic, NH436M

The photo shows an example in a different colour.

10009232

The item is in stock and will be delivered in 2-5 working days. Note: Stocks are updated online every hour on working days from 7 a.m. to 8 p.m., so there is a good chance that the products are available if they appear online.

Available

€179.95

1 2 €169.99 1
*BODYSTYLE* SEAT COWL - CB650F/CBR650F, TRICOLOR

Important notes

Manufacturer Colour code: Pearl Metalloid White, NHA96

Manufacturer Colour code: Millenium Red, R263

Manufacturer Colour code: Candy Tahitian Blue, PB215

10009231

The item is in stock and will be delivered in 2-5 working days. Note: Stocks are updated online every hour on working days from 7 a.m. to 8 p.m., so there is a good chance that the products are available if they appear online.

Available

€209.95

1 2 €198.99 1
*BODYSTYLE* SEAT COWL - CB650R (2019-) BLACK

Important notes

Manufacturer Colour code: Graphite Black, NHB01

10012471

The item is in stock and will be delivered in 2-5 working days. Note: Stocks are updated online every hour on working days from 7 a.m. to 8 p.m., so there is a good chance that the products are available if they appear online.

Available

€209.95

1 2 €198.99 1
*BODYSTYLE* SEAT COWL - CB650R 2019- BLUE

Important notes

Manufacturer colour code: Matt Jeans Blue Metallic

60197654

The product will be ordered from the manufacturer for you. Depending on availability, longer delivery times are also possible. We'll let you know if that's the case. You can of course cancel your delivery at any time free of charge.

Available in 7-21 days

€209.95

1 2 €198.99 1
*BODYSTYLE* SEAT COWL - CB650R 2019- RED

Important notes

Manufacturer Colour code: Candy Chromosphere Red, R 381C

60197652

The item is in stock and will be delivered in 2-5 working days. Note: Stocks are updated online every hour on working days from 7 a.m. to 8 p.m., so there is a good chance that the products are available if they appear online.

Available

€209.95

1 2 €198.99 1
*BODYSTYLE* SEAT COWL - CB650R 2019-, SILVER

Important notes

Manufacturer colour code: Matt Crypton Silver Metallic

60197653

The item is in stock and will be delivered in 2-5 working days. Note: Stocks are updated online every hour on working days from 7 a.m. to 8 p.m., so there is a good chance that the products are available if they appear online.

Available

€209.95

1 2 €198.99 1
*BODYSTYLE* SEAT COWL - CB650R 2021 GREY

Important notes

The photo shows an example in a different colour.

Manufacturer colour code: Pearl Smokey Grey

10051597

The product will be ordered from the manufacturer for you. Depending on availability, longer delivery times are also possible. We'll let you know if that's the case. You can of course cancel your delivery at any time free of charge.

Available in 7-21 days

€189.95

1 2 €179.99 1
*BODYSTYLE* SEAT COWL - CB650R 2021- BLACK

Important notes

Manufacturer Colour code: Mat Gunpowder Black Metallic, NH436M

10015091

The item is in stock and will be delivered in 2-5 working days. Note: Stocks are updated online every hour on working days from 7 a.m. to 8 p.m., so there is a good chance that the products are available if they appear online.

Available

€209.95

1 2 €198.99 1
*BODYSTYLE* SEAT COWL - CB650R 2021- RED

Important notes

Candy Chromosphere Red, R381C

10015093

The product will be ordered from the manufacturer for you. Depending on availability, longer delivery times are also possible. We'll let you know if that's the case. You can of course cancel your delivery at any time free of charge.

Available in 7-21 days

€209.95

1 2 €198.99 1
*BODYSTYLE* SEAT COWL - CB650R 22- SILVER

Important notes

Manufacturer Colour code: Sword Silver Metallic, NHA95M

The photo shows an example in a different colour.

10054824

The product will be ordered from the manufacturer for you. Depending on availability, longer delivery times are also possible. We'll let you know if that's the case. You can of course cancel your delivery at any time free of charge.

Available in 7-21 days

€209.95 1
*BODYSTYLE* SEAT COWL - CBF 500 F 2016- WHITE

Important notes

Manufacturer Colour code: Ross White, NH196

60197651

The product will be ordered from the manufacturer for you. Depending on availability, longer delivery times are also possible. We'll let you know if that's the case. You can of course cancel your delivery at any time free of charge.

Available in 7-21 days

€159.95

1 2 €150.99 1
*BODYSTYLE* SEAT COWL - CBF 500 F 2019- ORANGE

Important notes

Manufacturer Colour code: Candy Energy Orange, YR249

60197650

The item is in stock and will be delivered in 2-5 working days. Note: Stocks are updated online every hour on working days from 7 a.m. to 8 p.m., so there is a good chance that the products are available if they appear online.

Available

€189.95

1 2 €179.99 1
*BODYSTYLE* SEAT COWL - CBF 500 F 2019- RED

Important notes

Manufacturer Colour code: Grand Prix Red, R380

60197648

The product will be ordered from the manufacturer for you. Depending on availability, longer delivery times are also possible. We'll let you know if that's the case. You can of course cancel your delivery at any time free of charge.

Available in 7-21 days

€189.95

1 2 €179.99 1
*BODYSTYLE* SEAT COWL - CBF 500 F 2019- WHITE

Important notes

Manufacturer Colour code: Pearl Metalloid White, NHA96

60197649

The item is in stock and will be delivered in 2-5 working days. Note: Stocks are updated online every hour on working days from 7 a.m. to 8 p.m., so there is a good chance that the products are available if they appear online.

Available

€189.95

1 2 €179.99 1
*BODYSTYLE* SEAT COWL - CBR 1000 RR -05 UNLACK.
10007534

The product will be ordered from the manufacturer for you. Depending on availability, longer delivery times are also possible. We'll let you know if that's the case. You can of course cancel your delivery at any time free of charge.

Available in 7-21 days

€129.95

1 2 €122.99 1
*BODYSTYLE* SEAT COWL - CBR 500 R 17- WHITE

Important notes

Manufacturer Colour code: Pearl Metalloid White, NHA96

The photo shows an example in a different colour.

10012431

The product will be ordered from the manufacturer for you. Depending on availability, longer delivery times are also possible. We'll let you know if that's the case. You can of course cancel your delivery at any time free of charge.

Available in 7-21 days

€159.95

1 2 €150.99 1
*BODYSTYLE* SEAT COWL - CBR 600 F 11-, SCHWARZ

Important notes

Manufacturer Colour code: Pearl Night Star, NHA84

10008033

The item is in stock and will be delivered in 2-5 working days. Note: Stocks are updated online every hour on working days from 7 a.m. to 8 p.m., so there is a good chance that the products are available if they appear online.

Available

€159.95

1 2 €150.99 1
*BODYSTYLE* SEAT COWL - CBR 600 F 11-, UNLACKIERT
10008035

The product will be ordered from the manufacturer for you. Depending on availability, longer delivery times are also possible. We'll let you know if that's the case. You can of course cancel your delivery at any time free of charge.

Available in 7-21 days

€129.95

1 2 €122.99 1
*BODYSTYLE* SEAT COWL - CBR 600 F 11-, WEISS

Important notes

Manufacturer Colour code: Pearl Cool White, NHA16

10008034

The item is in stock and will be delivered in 2-5 working days. Note: Stocks are updated online every hour on working days from 7 a.m. to 8 p.m., so there is a good chance that the products are available if they appear online.

Available

€159.95

1 2 €150.99 1
*BODYSTYLE* SEAT COWL - CBR 600F 99-07 UNLACKIERT
10007502

The item is in stock and will be delivered in 2-5 working days. Note: Stocks are updated online every hour on working days from 7 a.m. to 8 p.m., so there is a good chance that the products are available if they appear online.

Available

€129.95

1 2 €122.99 1
*BODYSTYLE* SEAT COWL - CBR500R 16- UNPAINTED
10010215

The product will be ordered from the manufacturer for you. Depending on availability, longer delivery times are also possible. We'll let you know if that's the case. You can of course cancel your delivery at any time free of charge.

Available in 7-21 days

€129.95

1 2 €122.99 1
*BODYSTYLE* SEAT COWL - CBR500R 16- BLACK (NHB01

Important notes

Manufacturer Colour code: Graphite Black, NHB01

The photo shows an example in a different colour.

10010214

The product will be ordered from the manufacturer for you. Depending on availability, longer delivery times are also possible. We'll let you know if that's the case. You can of course cancel your delivery at any time free of charge.

Available in 7-21 days

€159.95

1 2 €150.99 1
*BODYSTYLE* SEAT COWL - CBR500R 2018- RED

Important notes

Manufacturer Colour code: Grand Prix Red, R380

60197656

The product will be ordered from the manufacturer for you. Depending on availability, longer delivery times are also possible. We'll let you know if that's the case. You can of course cancel your delivery at any time free of charge.

Available in 7-21 days

€159.95

1 2 €150.99 1
*BODYSTYLE* SEAT COWL - CBR500R 2019- GREY

Important notes

Manufacturer Colour code: Matt Axis Gray Metallic, NH303M

60197655

The product will be ordered from the manufacturer for you. Depending on availability, longer delivery times are also possible. We'll let you know if that's the case. You can of course cancel your delivery at any time free of charge.

Available in 7-21 days

€189.95

1 2 €179.99 1
*BODYSTYLE* SEAT COWL - CBR650 R (19-) UNPAINTED

Important notes

The photo shows an example in a different colour.

10012470

The item is in stock and will be delivered in 2-5 working days. Note: Stocks are updated online every hour on working days from 7 a.m. to 8 p.m., so there is a good chance that the products are available if they appear online.

Available

€159.95

1 2 €99.99 1
*BODYSTYLE* SEAT COWL - CBR650F 17- RED

Important notes

Manufacturer Colour code: Millenium Red, R263

The photo shows an example.

60197646

The item is in stock and will be delivered in 2-5 working days. Note: Stocks are updated online every hour on working days from 7 a.m. to 8 p.m., so there is a good chance that the products are available if they appear online.

Available

€179.95

1 2 €169.99 1
*BODYSTYLE* SEAT COWL - CBR650F 2018- RED/R380

Important notes

Manufacturer Colour code: Grand Prix Red, R380

The photo shows an example in a different colour.

10012439

The product will be ordered from the manufacturer for you. Depending on availability, longer delivery times are also possible. We'll let you know if that's the case. You can of course cancel your delivery at any time free of charge.

Available in 7-21 days

€179.95

1 2 €169.99 1
*BODYSTYLE* SEAT COWL - CBR650R 2019- BLACK

Important notes

Manufacturer Colour code: Mat Gunpowder Black Metallic, NH436M

10013499

The product will be ordered from the manufacturer for you. Depending on availability, longer delivery times are also possible. We'll let you know if that's the case. You can of course cancel your delivery at any time free of charge.

Available in 7-21 days

€209.95

1 2 €198.99 1
*BODYSTYLE* SEAT COWL - CBR650R 2019- RED/WHI/BLK

Important notes

The photo shows an example in a different colour.

Manufacturer Colour code: Grand Prix Red, R380/Ross White, NH196/Black, NH1

10013498

The item is in stock and will be delivered in 2-5 working days. Note: Stocks are updated online every hour on working days from 7 a.m. to 8 p.m., so there is a good chance that the products are available if they appear online.

Available

€259.95

1 2 €245.99 1
*BODYSTYLE* SEAT COWL - CBR650R 2021 RED

Important notes

Manufacturer Colour code: Grand Prix Red, R380

The photo shows an example in a different colour.

10051603

The item is in stock and will be delivered in 2-5 working days. Note: Stocks are updated online every hour on working days from 7 a.m. to 8 p.m., so there is a good chance that the products are available if they appear online.

Available

€189.95

1 2 €179.99 1
*BODYSTYLE* SEAT COWL - ER-6 N/F 09-11 UNLACKIERT
10008025

The item is in stock and will be delivered in 2-5 working days. Note: Stocks are updated online every hour on working days from 7 a.m. to 8 p.m., so there is a good chance that the products are available if they appear online.

Available

€129.95

1 2 €122.99 1
*BODYSTYLE* SEAT COWL - ER-6 N/F 12-, SCHWARZ

Important notes

Manufacturer Colour code: Metallic Spark Black, 660

10008377

The item is in stock and will be delivered in 2-5 working days. Note: Stocks are updated online every hour on working days from 7 a.m. to 8 p.m., so there is a good chance that the products are available if they appear online.

Available

€179.95

1 2 €169.99 1
*BODYSTYLE* SEAT COWL - ER-6 N/F 12-, UNLACKIERT
10008379

The product will be ordered from the manufacturer for you. Depending on availability, longer delivery times are also possible. We'll let you know if that's the case. You can of course cancel your delivery at any time free of charge.

Available in 7-21 days

€129.95

1 2 €122.99 1
*BODYSTYLE* SEAT COWL - FZ 8/FAZER 09- SCHWARZ

Important notes

Manufacturer Colour code: Black Metallic x, SMX

10008080

The item is in stock and will be delivered in 2-5 working days. Note: Stocks are updated online every hour on working days from 7 a.m. to 8 p.m., so there is a good chance that the products are available if they appear online.

Available

€159.95

1 2 €150.99 1
*BODYSTYLE* SEAT COWL - FZ 8/FAZER 09- WEISS

Important notes

Manufacturer Colour code: Competition White, BWC1

10008081

The item is in stock and will be delivered in 2-5 working days. Note: Stocks are updated online every hour on working days from 7 a.m. to 8 p.m., so there is a good chance that the products are available if they appear online.

Available

€159.95

1 2 €150.99 1
*BODYSTYLE* SEAT COWL - FZ 8/FAZER 09- UNLACKIERT
10008082

The product will be ordered from the manufacturer for you. Depending on availability, longer delivery times are also possible. We'll let you know if that's the case. You can of course cancel your delivery at any time free of charge.

Available in 7-21 days

€129.95

1 2 €122.99 1
*BODYSTYLE* SEAT COWL - FZ1 BJ.06- UNLACKIERT
10007545

The product will be ordered from the manufacturer for you. Depending on availability, longer delivery times are also possible. We'll let you know if that's the case. You can of course cancel your delivery at any time free of charge.

Available in 7-21 days

€129.95

1 2 €122.99 1
*BODYSTYLE* SEAT COWL - FZ1 BJ. 06-09 SCHWARZ

Important notes

Manufacturer Colour code: Black Metallic x, SMX

10007543

The item is in stock and will be delivered in 2-5 working days. Note: Stocks are updated online every hour on working days from 7 a.m. to 8 p.m., so there is a good chance that the products are available if they appear online.

Available

€189.95

1 2 €179.99 1
*BODYSTYLE* SEAT COWL - FZ6/FAZER/ S2 04- UNLACK.
10007531

The item is in stock and will be delivered in 2-5 working days. Note: Stocks are updated online every hour on working days from 7 a.m. to 8 p.m., so there is a good chance that the products are available if they appear online.

Available

€129.95

1 2 €122.99 1
*BODYSTYLE* SEAT COWL - GSR 600 06- UNLACKIERT
10007547

The item is in stock and will be delivered in 2-5 working days. Note: Stocks are updated online every hour on working days from 7 a.m. to 8 p.m., so there is a good chance that the products are available if they appear online.

Available

€129.95

1 2 €122.99 1
*BODYSTYLE* SEAT COWL - GSR 750 11-, SCHWARZ

Important notes

Manufacturer Colour code: Mat Black Metallic, YKV

The photo shows an example in a different colour.

10008030

The product will be ordered from the manufacturer for you. Depending on availability, longer delivery times are also possible. We'll let you know if that's the case. You can of course cancel your delivery at any time free of charge.

Available in 7-21 days

€189.95

1 2 €179.99 1
*BODYSTYLE* SEAT COWL - GSR 750 11-, WEISS

Important notes

Manufacturer Colour code: Pearl Glacier White, YWW

10008029

The item is in stock and will be delivered in 2-5 working days. Note: Stocks are updated online every hour on working days from 7 a.m. to 8 p.m., so there is a good chance that the products are available if they appear online.

Available

€189.95

1 2 €179.99 1
*BODYSTYLE* SEAT COWL - GSR 750 11-, UNLACKIERT

Important notes

The photo shows an example in a different colour.

10008032

The item is in stock and will be delivered in 2-5 working days. Note: Stocks are updated online every hour on working days from 7 a.m. to 8 p.m., so there is a good chance that the products are available if they appear online.

Available

€129.95

1 2 €122.99 1
*BODYSTYLE* SEAT COWL - GSX-S 1000 (2017-), BLACK

Important notes

Manufacturer Colour code: Metallic Matte Black No. 2, YKV

The photo shows an example in a different colour.

Original soziussit cushion must be dismantled.

10012474

The product will be ordered from the manufacturer for you. Depending on availability, longer delivery times are also possible. We'll let you know if that's the case. You can of course cancel your delivery at any time free of charge.

Available in 7-21 days

€189.95

1 2 €179.99 1
*BODYSTYLE* SEAT COWL - GSX-S 1000/F 15-, BLACK

Important notes

Manufacturer Colour code: Glass Sparkle Black, YVB

The photo shows an example in a different colour.

10010202

The item is in stock and will be delivered in 2-5 working days. Note: Stocks are updated online every hour on working days from 7 a.m. to 8 p.m., so there is a good chance that the products are available if they appear online.

Available

€189.95

1 2 €129.99 1
*BODYSTYLE* SEAT COWL - GSX-S 1000/F 15-, BLUE

Important notes

Manufacturer Colour code: Metallic Triton Blue, YSF

10010200

The item is in stock and will be delivered in 2-5 working days. Note: Stocks are updated online every hour on working days from 7 a.m. to 8 p.m., so there is a good chance that the products are available if they appear online.

Available

€189.95

1 2 €179.99 1
*BODYSTYLE* SEAT COWL - GSX-S 1000/F 15-, GREY

Important notes

Manufacturer Colour code: Metallic Mat Fibroin Gray, PGZ

The photo shows an example in a different colour.

10010203

The item is in stock and will be delivered in 2-5 working days. Note: Stocks are updated online every hour on working days from 7 a.m. to 8 p.m., so there is a good chance that the products are available if they appear online.

Available

€189.95

1 2 €179.99 1
*BODYSTYLE* SEAT COWL - GSX-S 1000/F 15-, RED

Important notes

Manufacturer Colour code: Candy Daring Red, YYG

10010201

This product is available at week 37.
Current calendar week: 33

Available as of calendar week 37

€189.95

1 2 €119.99 1
*BODYSTYLE* SEAT COWL - GSX-S 1000/F 15-, UNPAINT
10010204

The item is in stock and will be delivered in 2-5 working days. Note: Stocks are updated online every hour on working days from 7 a.m. to 8 p.m., so there is a good chance that the products are available if they appear online.

Available

€129.95

1 2 €122.99 1
*BODYSTYLE* SEAT COWL - GSX-S 1000S 19- BLACK
10013483

The product will be ordered from the manufacturer for you. Depending on availability, longer delivery times are also possible. We'll let you know if that's the case. You can of course cancel your delivery at any time free of charge.

Available in 7-21 days

€149.95

1 2 €141.99 1
*BODYSTYLE* SEAT COWL - GSX-S 750 20- BLACK/WHITE

Important notes

The photo shows an example in a different colour.

Manufacturer Colour code: Glass Sparkle Black, YVB/Pearl Glacier White, YWW

10013482

The product will be ordered from the manufacturer for you. Depending on availability, longer delivery times are also possible. We'll let you know if that's the case. You can of course cancel your delivery at any time free of charge.

Available in 7-21 days

€209.95

1 2 €198.99 1
*BODYSTYLE* SEAT COWL - GSX-S 750 2017- BLUE

Important notes

Manufacturer Colour code: Metallic Triton Blue, YSF

The photo shows an example in a different colour.

10012407

The product will be ordered from the manufacturer for you. Depending on availability, longer delivery times are also possible. We'll let you know if that's the case. You can of course cancel your delivery at any time free of charge.

Available in 7-21 days

€189.95

1 2 €179.99 1
*BODYSTYLE* SEAT COWL - GSX-S 750 2017- RED

Important notes

Manufacturer Colour code: Pearl Mira Red, YVZ

10012406

The product will be ordered from the manufacturer for you. Depending on availability, longer delivery times are also possible. We'll let you know if that's the case. You can of course cancel your delivery at any time free of charge.

Available in 7-21 days

€189.95

1 2 €179.99 1
*BODYSTYLE* SEAT COWL - GSX-S 750 2017- UNPAINTED
10012408

The product will be ordered from the manufacturer for you. Depending on availability, longer delivery times are also possible. We'll let you know if that's the case. You can of course cancel your delivery at any time free of charge.

Available in 7-21 days

€129.95

1 2 €122.99 1
*BODYSTYLE* SEAT COWL - GSX-S 950/1000 21-22 BLK

Important notes

Manufacturer Colour code: Metallic Matte Black No. 2, YKV

The photo shows an example in a different colour.

10054835

The product will be ordered from the manufacturer for you. Depending on availability, longer delivery times are also possible. We'll let you know if that's the case. You can of course cancel your delivery at any time free of charge.

Available in 7-21 days

€149.95 1
*BODYSTYLE* SEAT COWL - GSX-S1000 2019- WHITE

Important notes

Manufacturer Colour code: Pearl Glacier White, YWW

60197672

The product will be ordered from the manufacturer for you. Depending on availability, longer delivery times are also possible. We'll let you know if that's the case. You can of course cancel your delivery at any time free of charge.

Available in 7-21 days

€189.95

1 2 €179.99 1
*BODYSTYLE* SEAT COWL - GSX-S750 2017- BLACK

Important notes

Manufacturer Colour code: Metallic Matte Black No. 2, YKV

The photo shows an example in a different colour.

10012405

The product will be ordered from the manufacturer for you. Depending on availability, longer delivery times are also possible. We'll let you know if that's the case. You can of course cancel your delivery at any time free of charge.

Available in 7-21 days

€189.95

1 2 €179.99 1
*BODYSTYLE* SEAT COWL - GSX-S750 2017- BLUE/BLACK

Important notes

Manufacturer Colour code: Metallic Triton Blue, YSF/Black

60197673

The product will be ordered from the manufacturer for you. Depending on availability, longer delivery times are also possible. We'll let you know if that's the case. You can of course cancel your delivery at any time free of charge.

Available in 7-21 days

€209.95

1 2 €198.99 1
*BODYSTYLE* SEAT COWL - GSX-S750 2018-, BLACK

Important notes

Manufacturer Colour code: Glass Sparkle Black, YVB

The photo shows an example in a different colour.

10012413

The product will be ordered from the manufacturer for you. Depending on availability, longer delivery times are also possible. We'll let you know if that's the case. You can of course cancel your delivery at any time free of charge.

Available in 7-21 days

€189.95

1 2 €179.99 1
*BODYSTYLE* SEAT COWL - GSX-S750 2018-19 RED

Important notes